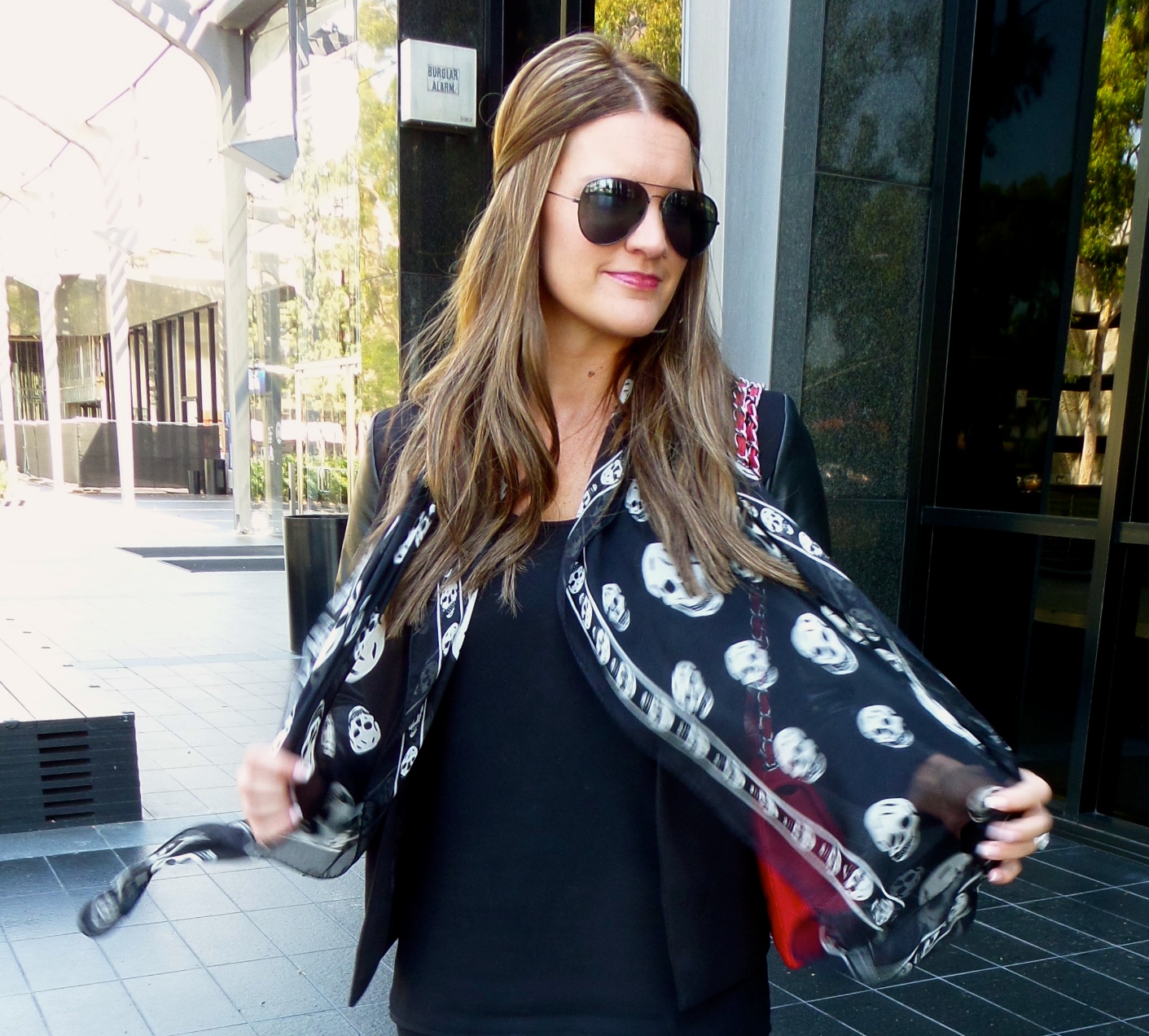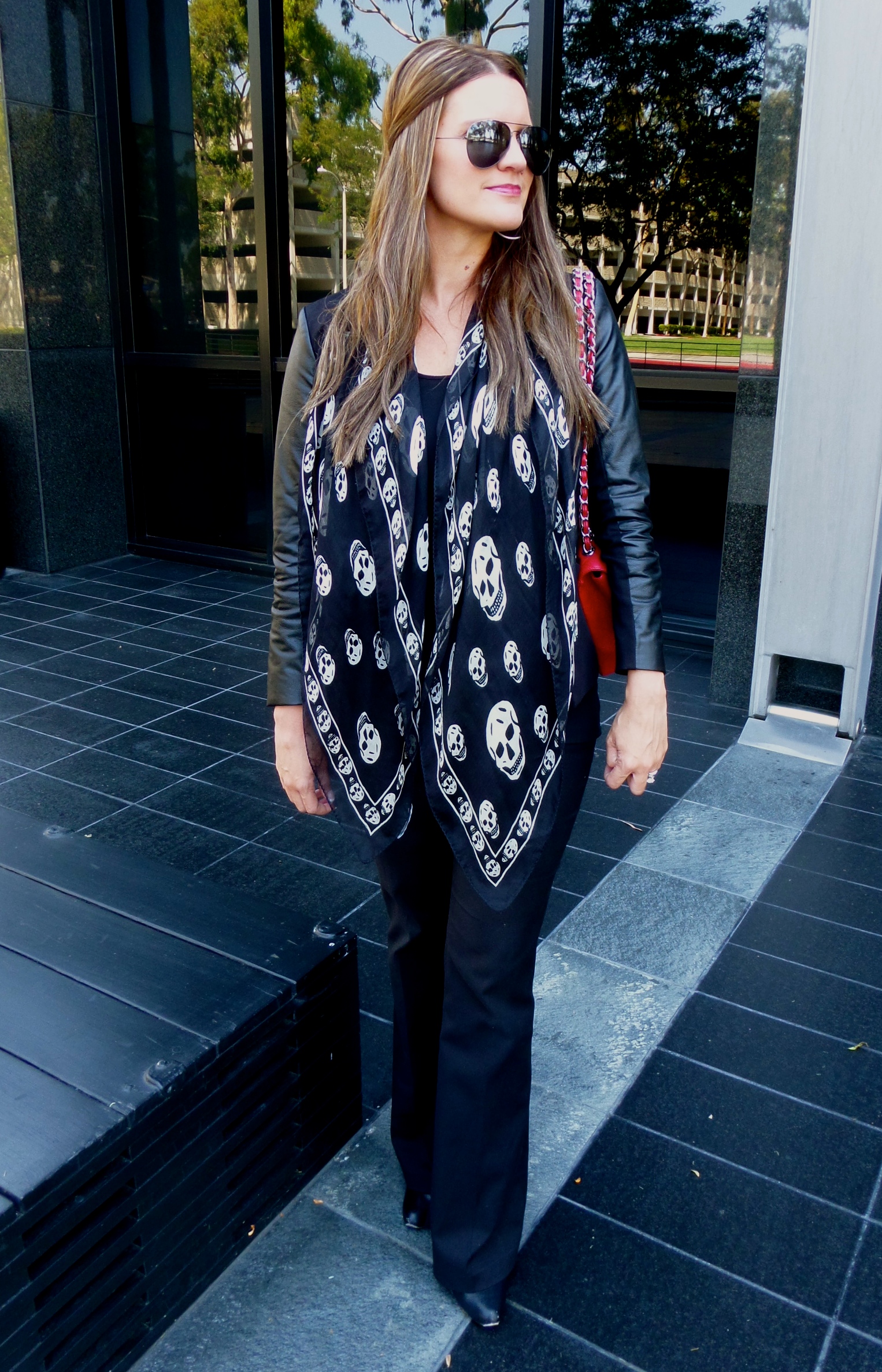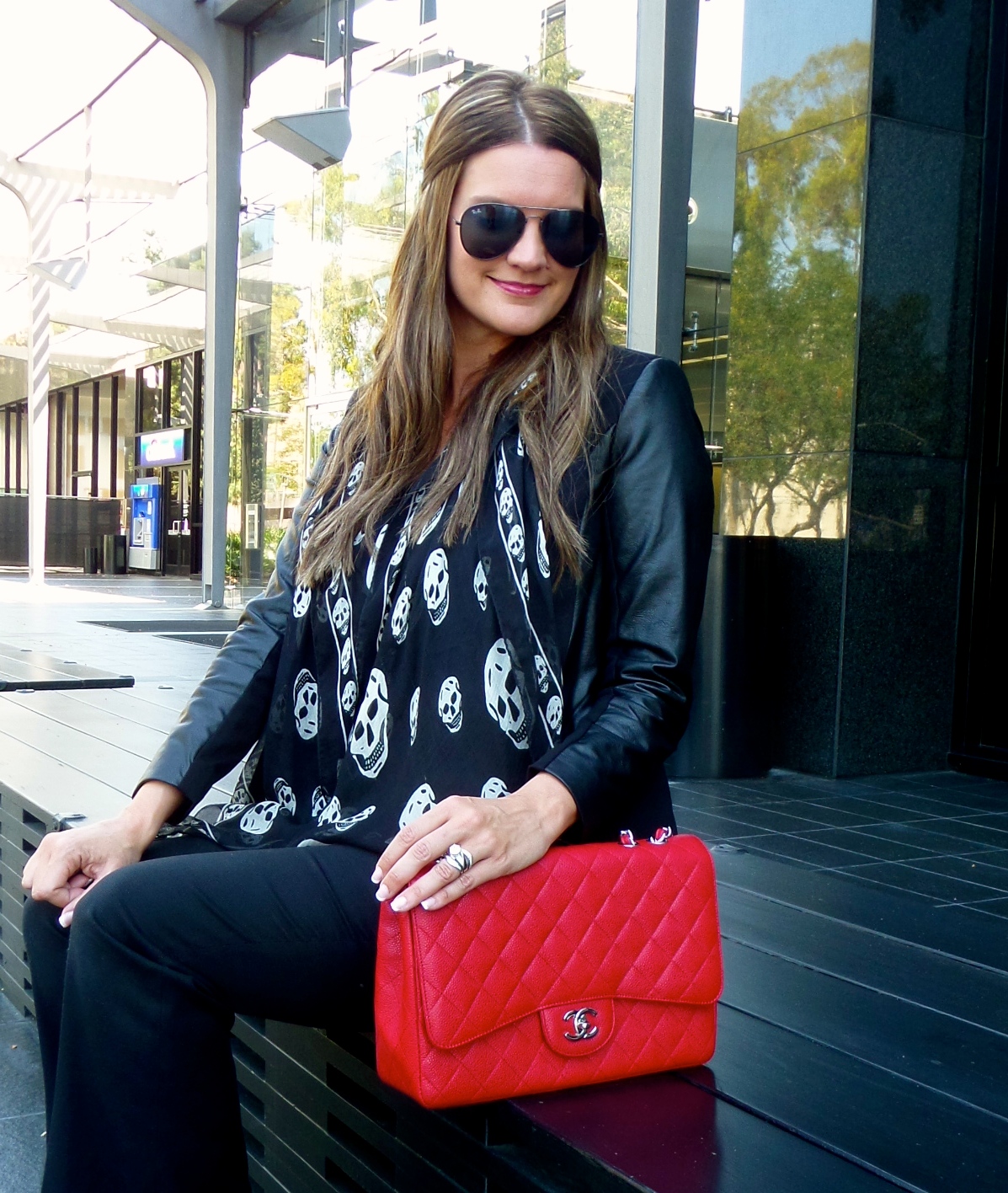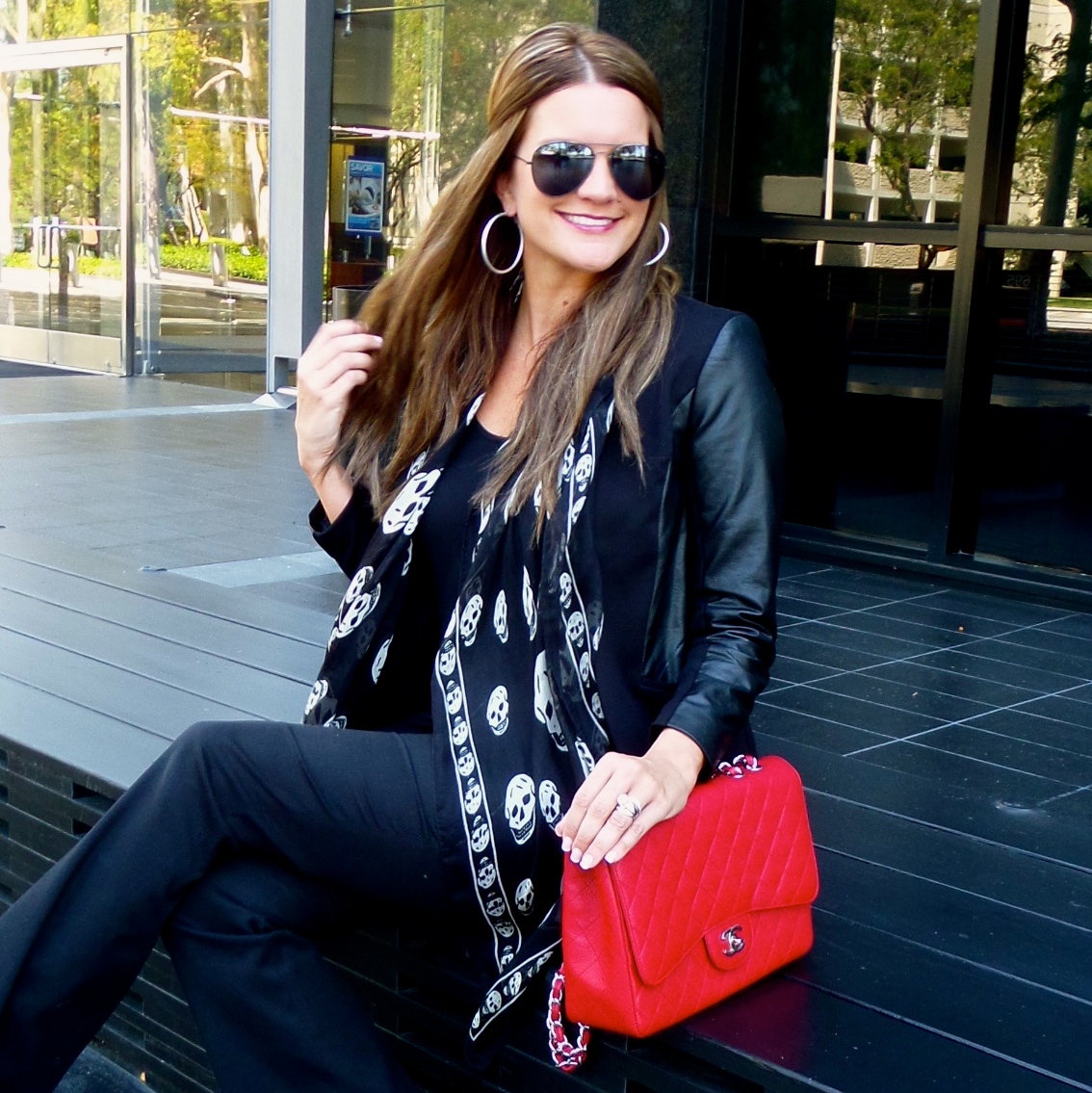 Blazer:
H&M
| Top: Nordstrom | Pants: Rachel Zoe | Scarf:
Alexander
McQueen
| Sunglasses:
Ray-Ban
| Bag: Chanel    
Alexander McQueen's iconic skull print scarves are absolutely fabulous. They are the perfect accessory for the days you're feeling a little more dark and edgy than sweet and feminine. And are they not the perfect Halloween accessory?
No matter how old I get, Halloween is still one of my favorite holidays. You are never too old to dress up! Not to mention, my Mom makes THE BEST chili on that day, and I have been seriously counting down the days until I can have it again. So glad the time has finally come!
Have a spooky night! – xo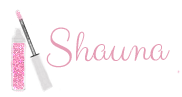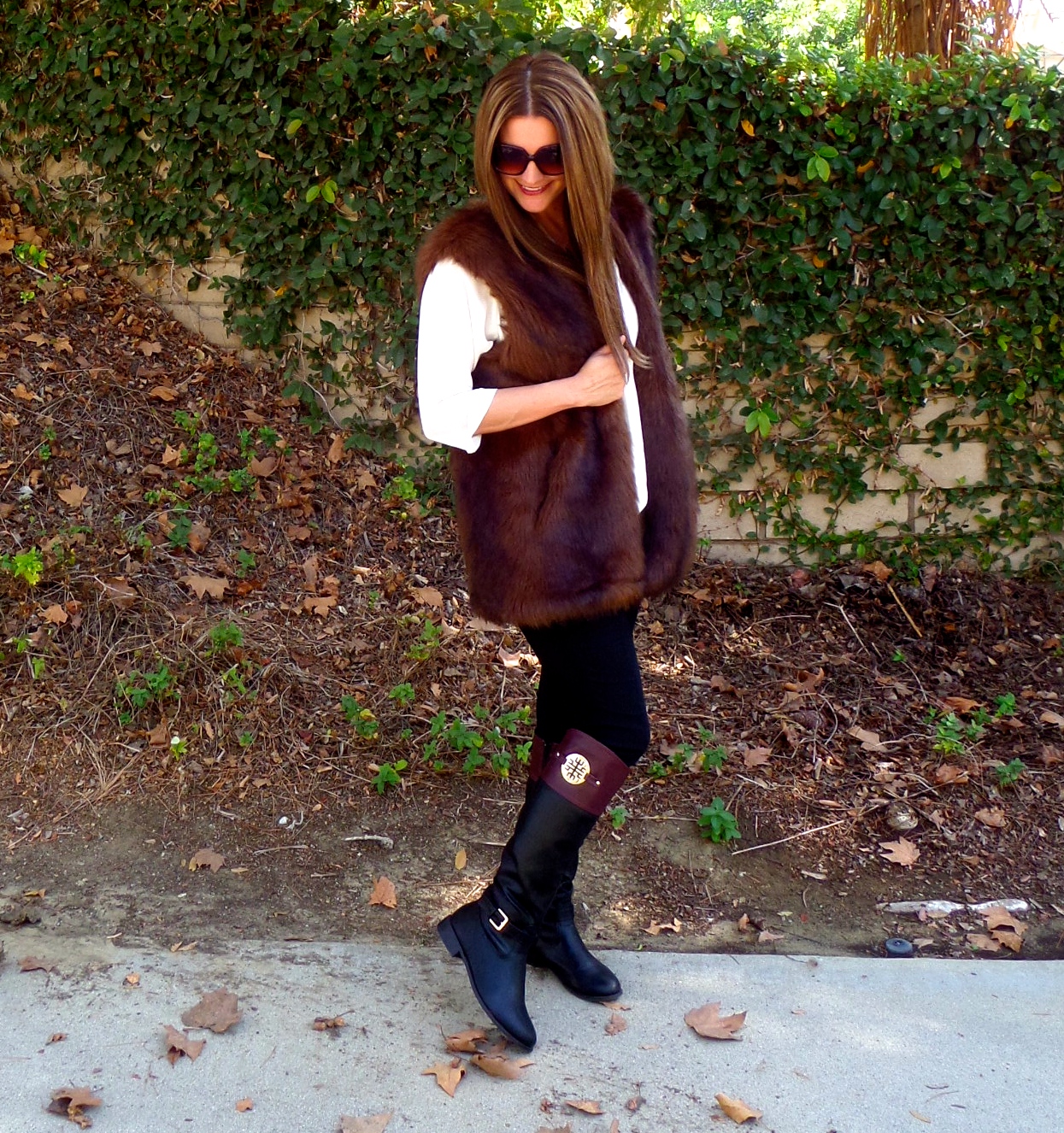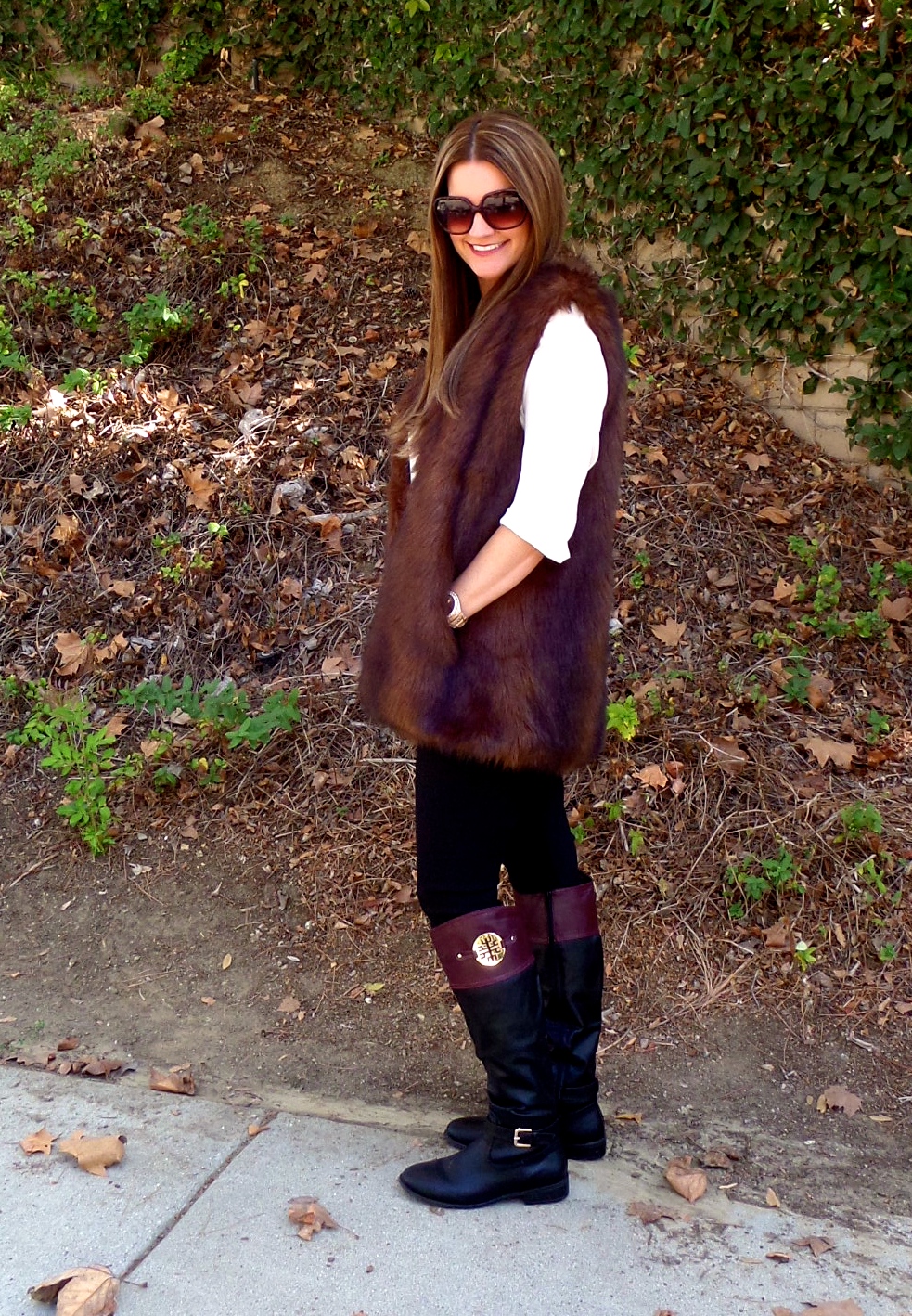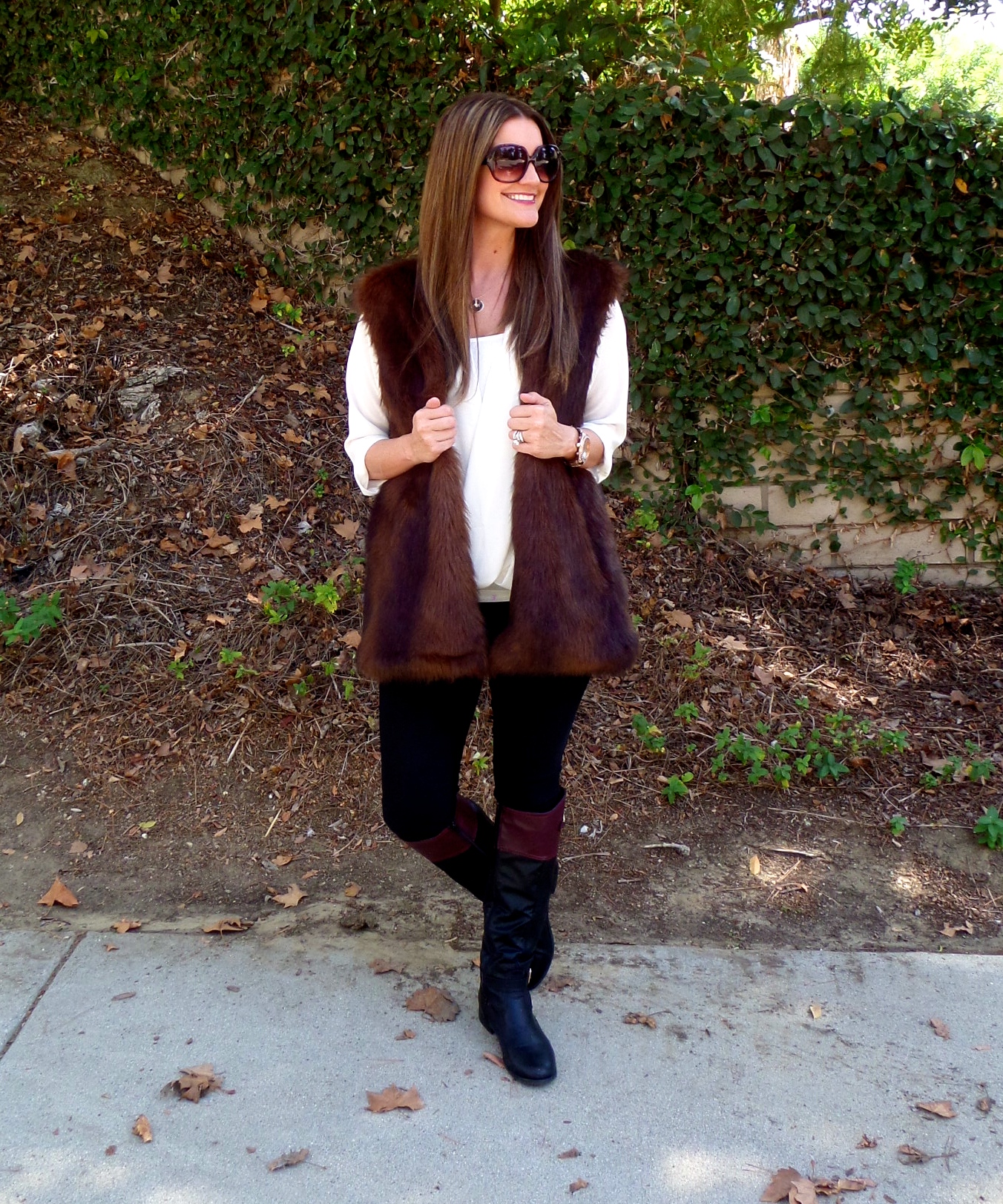 Vest:
Zara
| Blouse:
Forever 21
| Pants: old | Boots:
Windsor
| Sunglasses: Steve Madden (old) | Necklace: Express | Watch: Bebe (old)    
Unfortunately, it's still been insanely warm here, but recently we were treated to a " cool front" – temps in the 70's!! I could not have been more excited for a little fall-like weather. The mornings were chilly, so the time had finally come to bust the faux fur out of hiding. This vest from Zara is extremely soft and comfortable. I definitely didn't think twice about adding it to my collection. Instant love
. 
♥
xo-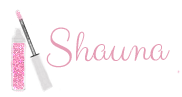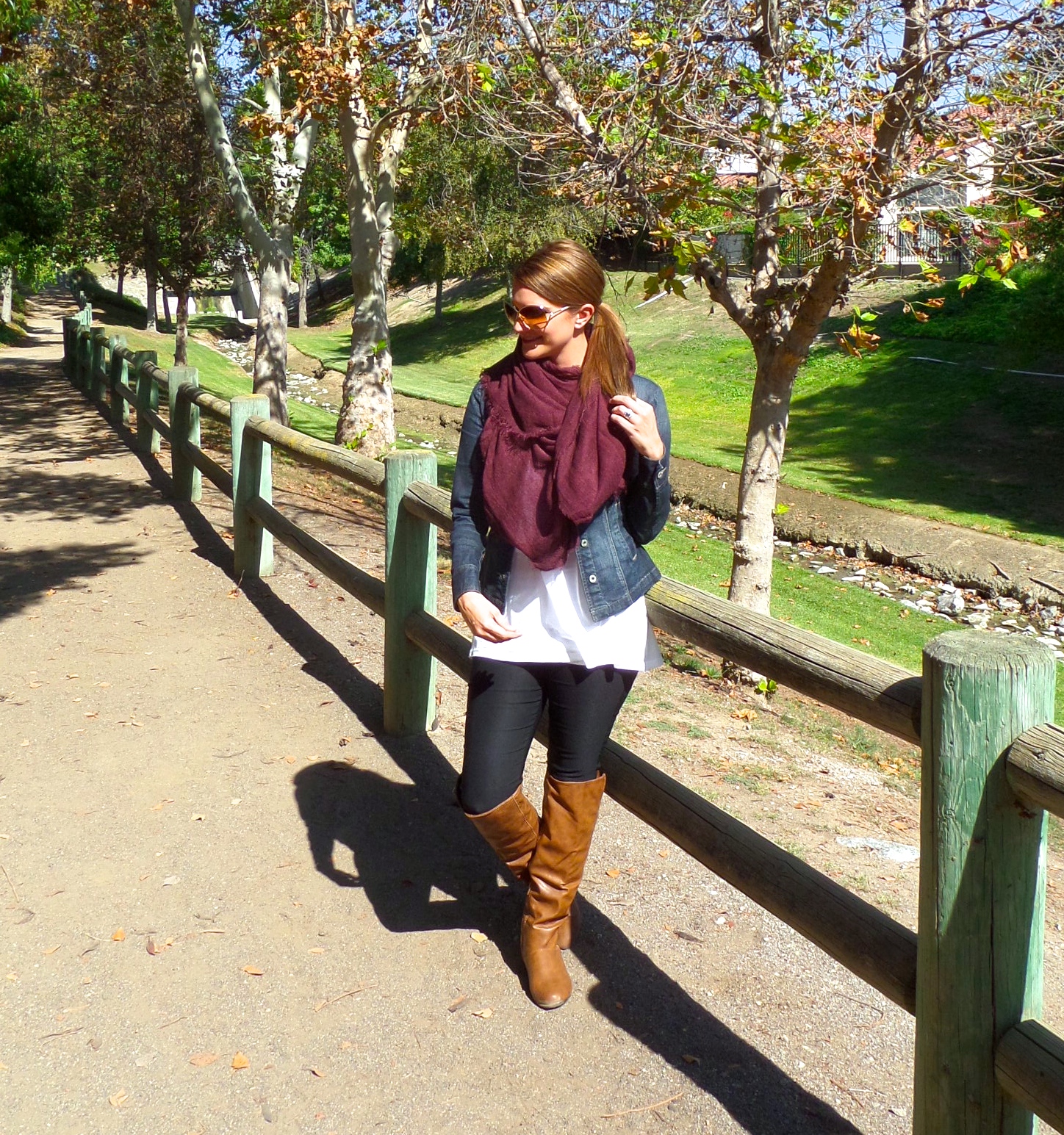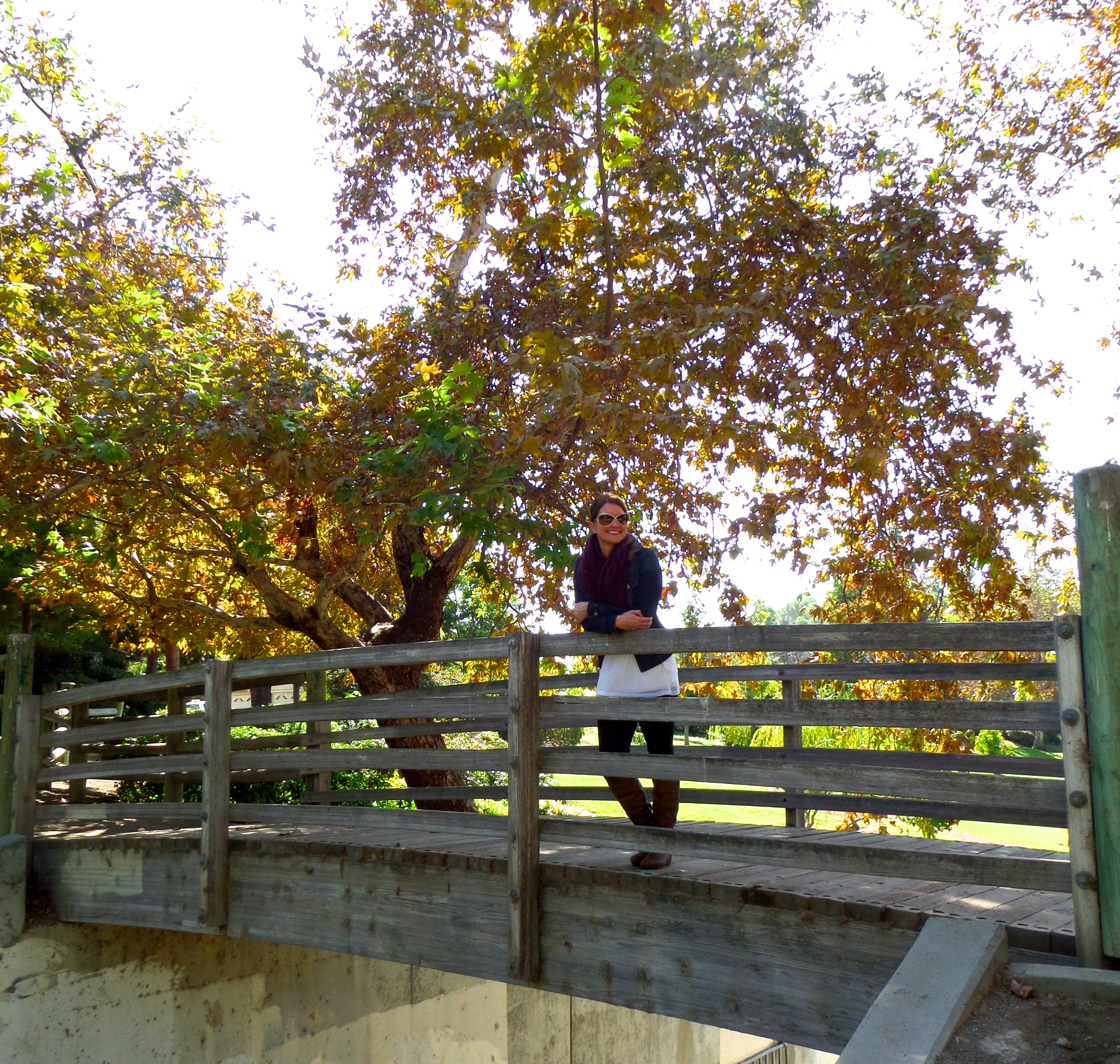 Denim Jacket:
Tommy Hilfiger

|
Top: H&M | Pants: old | Scarf:
Forever 21
| Boots:
Call It Spring
| Sunglasses:
Tom Ford
Dear Fall,
Thank you for giving me the following reasons to absolutely LOVE you:
-Knee-high boots
-Dark nail polish
-Leggings
-Pumpkin flavored everything
-Oversized sweaters
-Apple candles
-Cozy cardigans
-Leather jackets
-Thanksgiving
-Moms chili
Sincerely,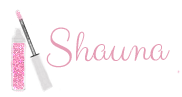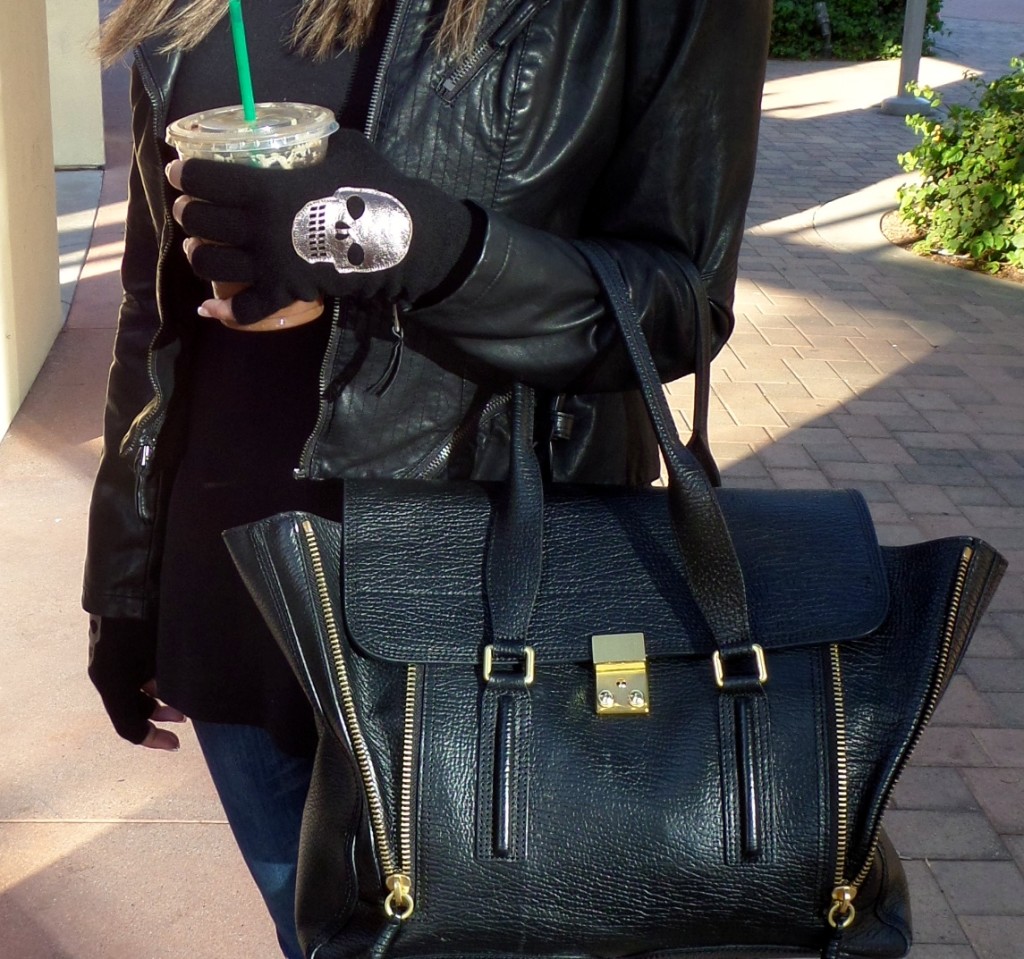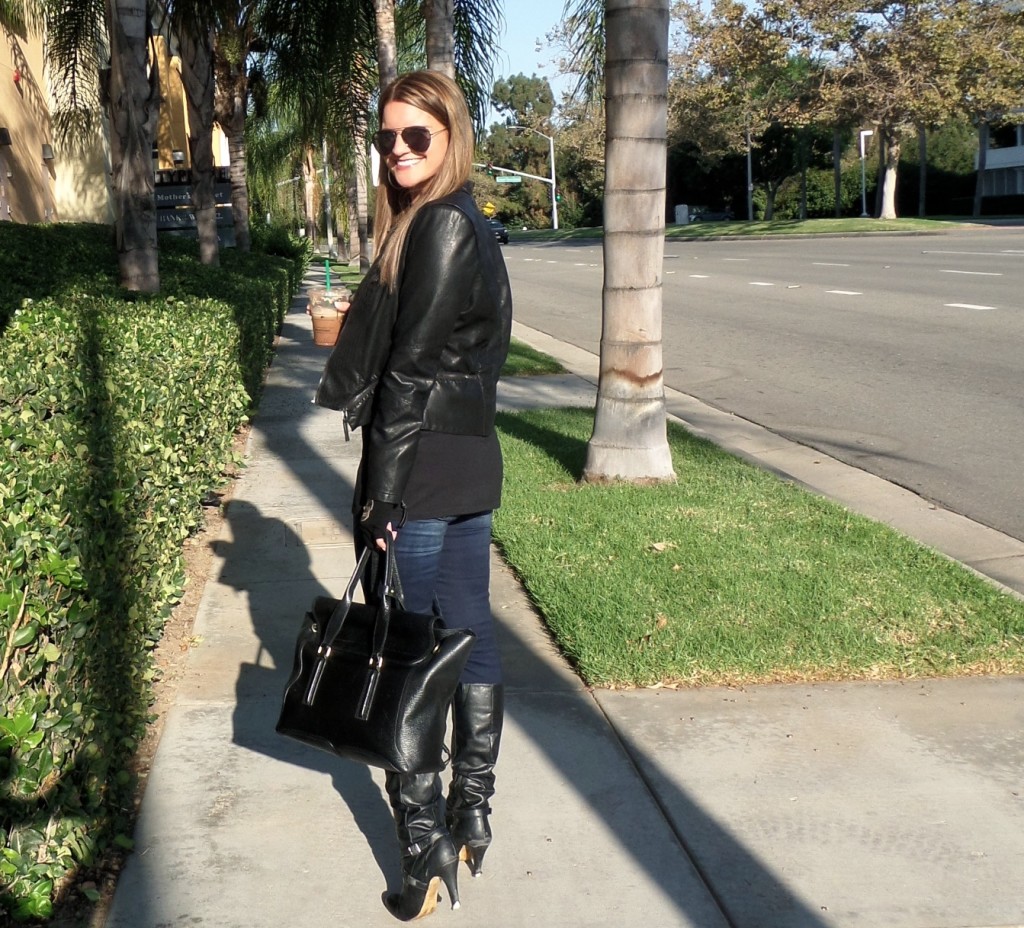 Jacket:
Nordstrom  

(

identical

) 
| Top: old | Jeans: Bebe | Boots: old | Gloves:
Revolve Clothing
 (

similar

)
 | Bag:
Phillip Lim
| Sunglasses:
Ray Ban
What can I say about moto jackets, except for that they are genius. They go with literally everything from lace and chiffon to plain old denim. It's the one edgy piece that just works. I'm currently obsessed with this one from

Nordstrom

. Can't seem to get it out of my head!
So I seem to be on an all black kick lately, right?  Thursday's post will not be black – promise! 😉
Thanks so much for reading!
xo-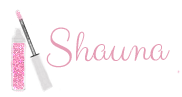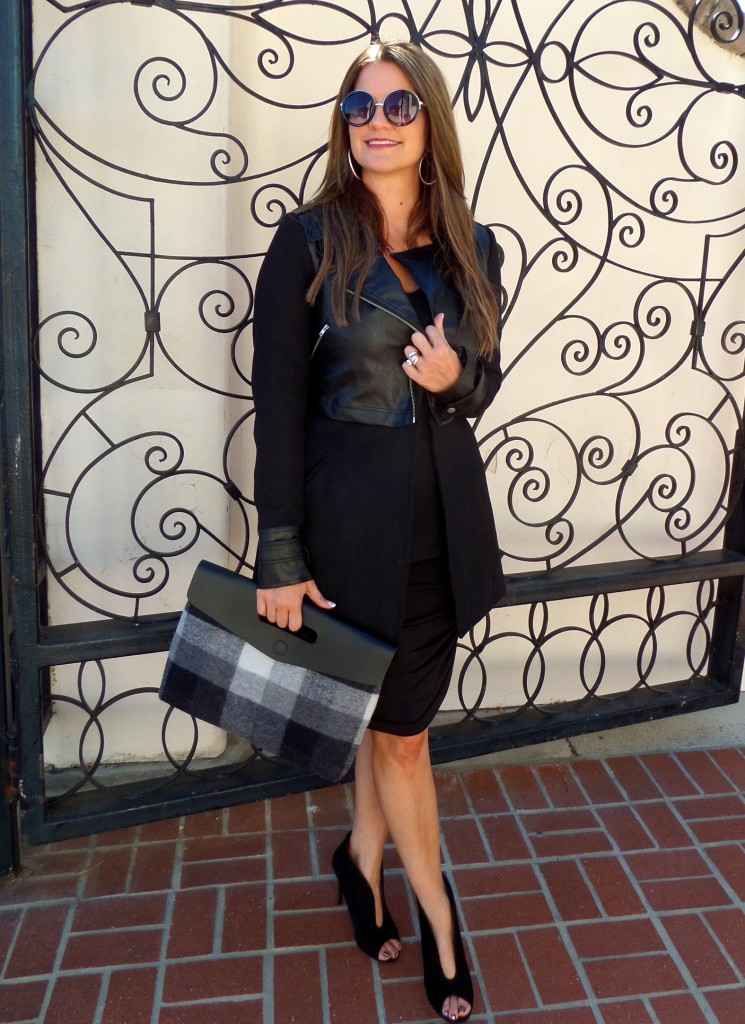 Coat:
Asos

(

similar

), (

similar

)
| Dress:
Nordstrom  
| Shoes: Steve Madden
(

similar

)
| Sunglasses:
Topshop
| Clutch:
Asos
My biggest fall obsession has to be leather. It doesn't matter if it's on coats or sweater sleeves…I seem to want it all. I can be brave and admit that I own a lot of leather pieces, probably more than I'll ever wear, but better safe than sorry, right? 😉 Nothing haunts you like the things you wished you bought, but didn't!  I had been eyeing this coat for weeks, and scooped it up as soon as it went on sale. And so it begins, more leather for the closet…
Enjoy your weekend!
xo-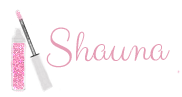 Boyfriend Cardigan:
Love Culture
| Tank: H&M | Jeans:
Free People
| Booties:
Express
| Necklace:
Express
| Sunglasses: H&M    
Ahh…the boyfriend sweater. The appeal of it is pretty obvious – it's comfortable and relaxed for those times when you just want a simple, easy outfit. This cardigan was just the right amount of layering for a cooler day we had here. Paired with a simple jean, it was the perfect outfit for running errands and enjoying a fall day with the pup.
Thanks for stopping by!
xo-