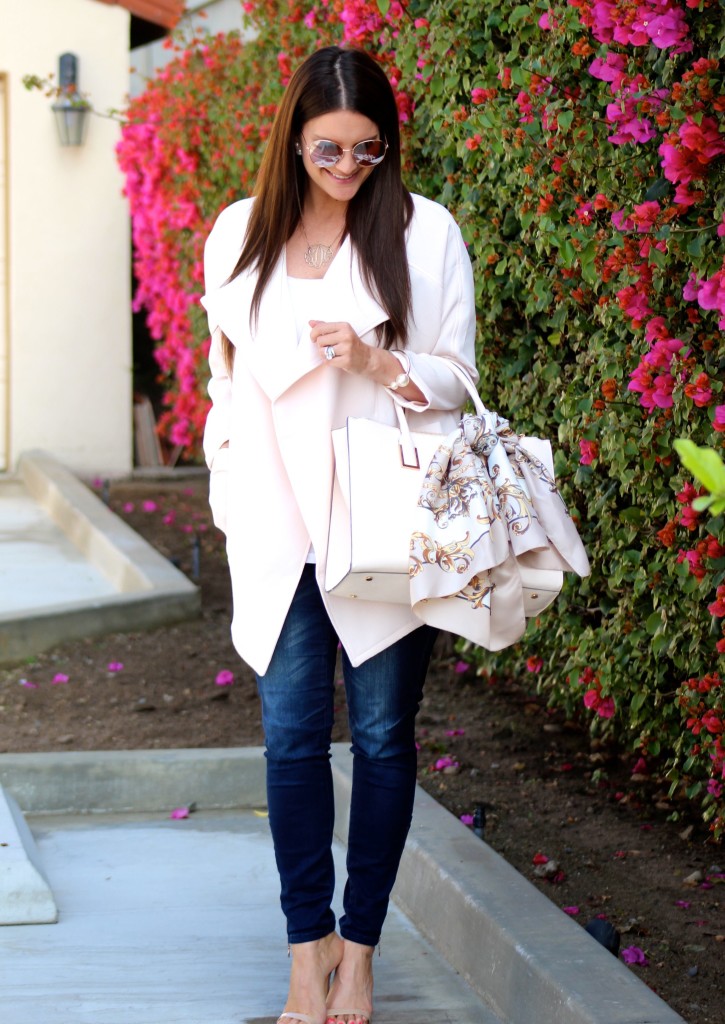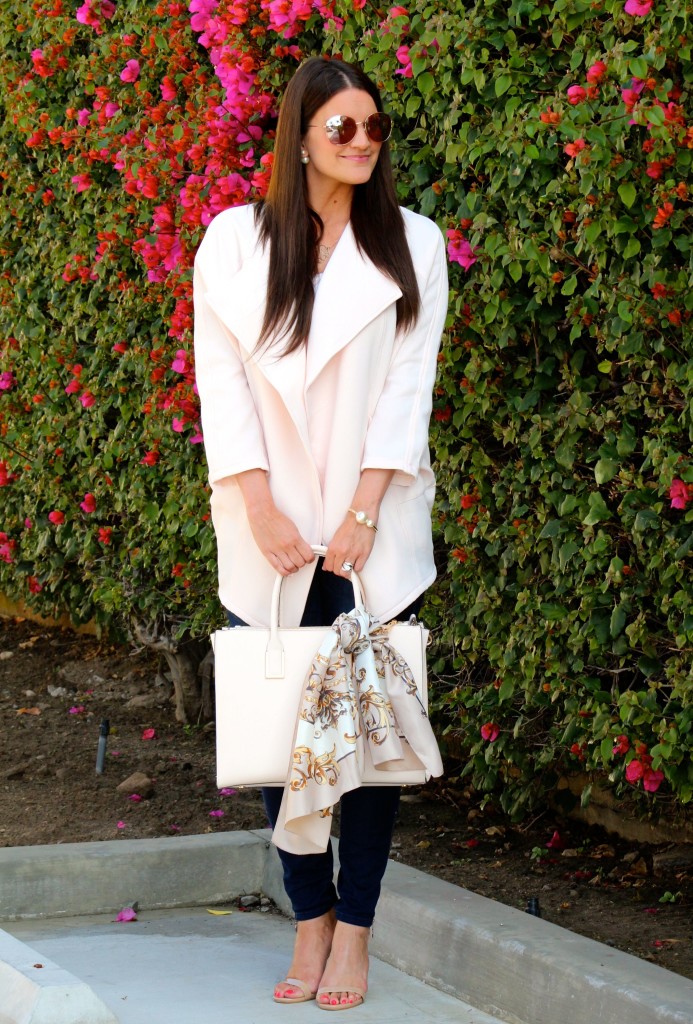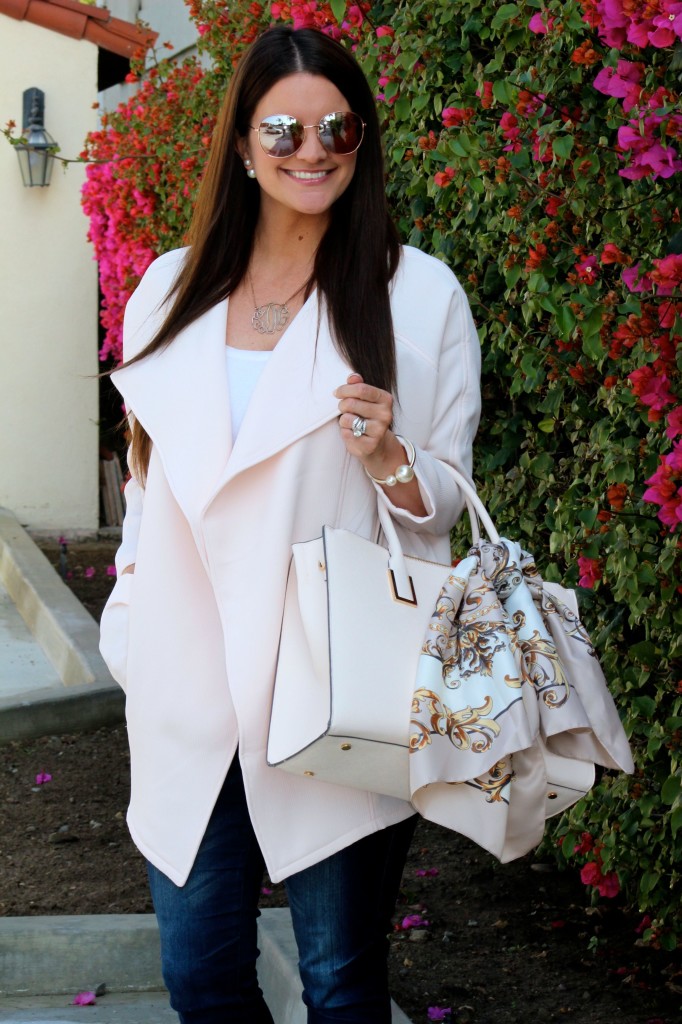 Coat: H&M, in stores now (
similar

, 

similar
) | Top: H&M | Denim: Bebe | Heels:
Steve Madden
| Bag:
H&M
 | Scarf:
H&M
| Necklace: Etsy | Bracelet:
Express
| Earrings:
ILY Couture
 | Sunglasses: old    
Apparently, I'm really loving H&M's Spring line right now. I know this because as I was styling this outfit, I realized all the key pieces were from there! No, that was not planned either 😉 This pastel coat is literally one of my new favorite finds. I think the soft shades of pink look even better when mixed with tough textures like denim or leather. I couldn't find the jacket online yet, but I linked a few of my other favs…
Today I'm Co-Hosting a link up with the fabulous ladies of Pumps & Push-Ups

,

so make sure to share your looks below!  
Have a wonderful week, see you back here Monday -xx

<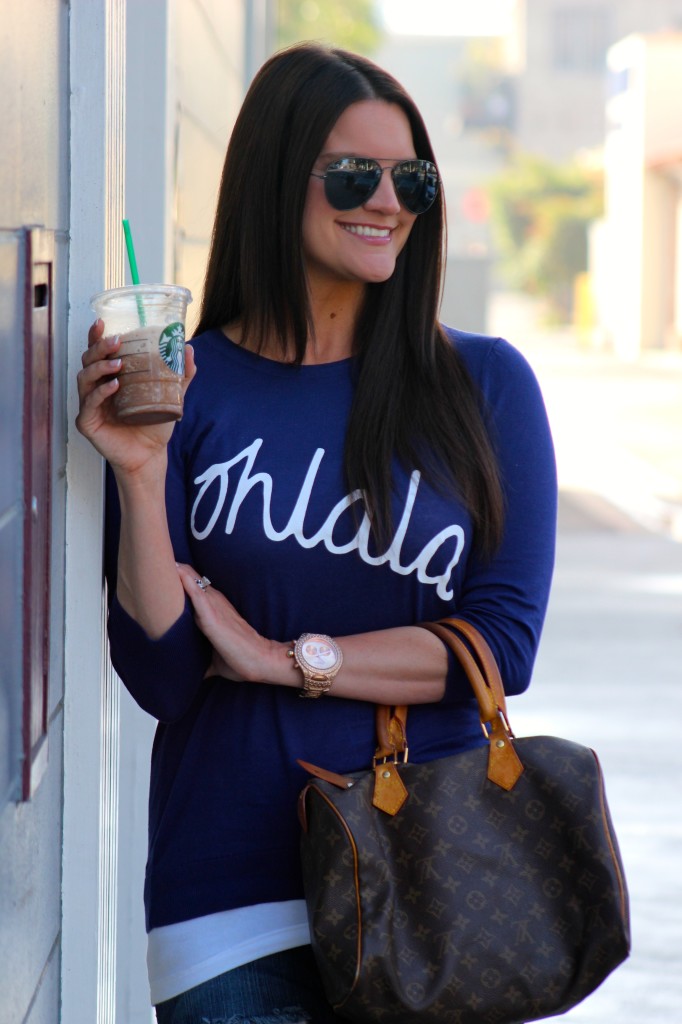 Sweater:
ASOS 
| Jeans: Foreign Exchange
(

almost exact

)
| Booties: old | Glasses:
Ray-Ban
| Bag: Louis Vuitton    
I have to say, this was just one of those shoots that didn't go right. Not only did I realize that I had forgotten to pack my flash in the camera bag (a little too late), but after only a few pictures in – my camera died. Did I forgot to put the backup battery in my bag too? That would be a huge, YES. Technically, I could have made my way all the way home to grab the things I needed, but at that point I pretty much over it 😉  What I'm not over, is this sweater. How cute, right? 
This week is your last chance to enter these two (

Amazon

,

Target

) giveaways, so don't wait! 
Have a great week! -xx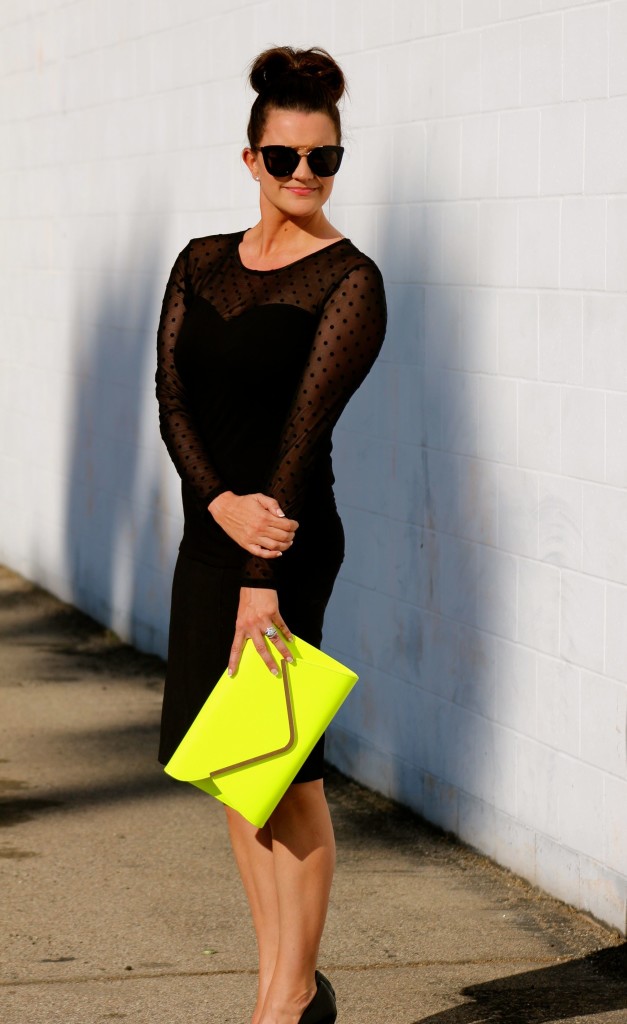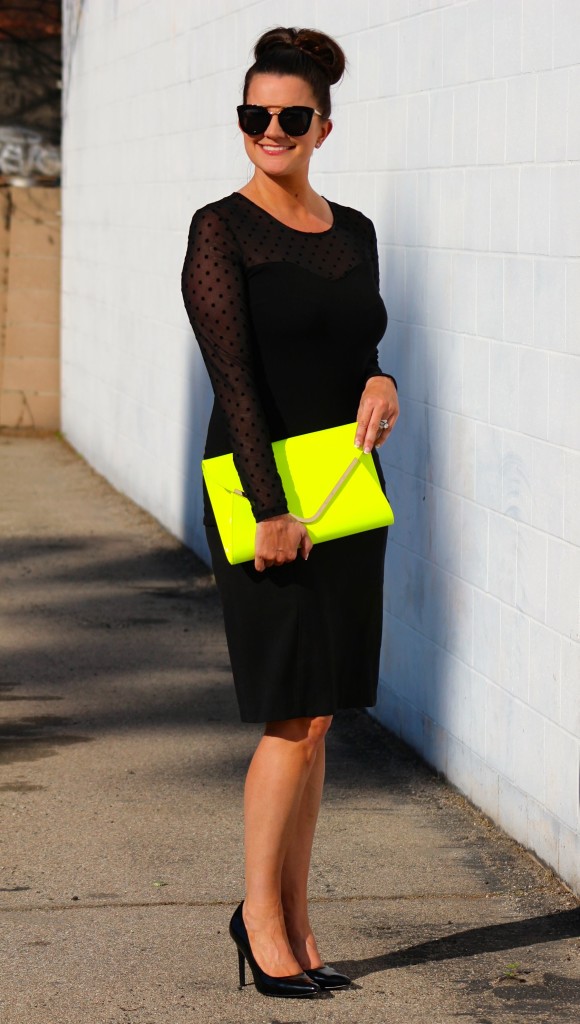 Dress: H&M, old (
similar
) | Clutch: Local Boutique (
similar
,
similar
) | Heels: Express (
similar
) | Sunglasses:
Prada
So I might be a little obsessed with neon yellow. Not gonna lie. Considering I purchased this clutch, heels and a sweater all in that color (all in the same day, oops!), it may be time for a mini intervention. And Spring isn't even here yet! Not sure about you, but yellow always brightens my mood and I know I always do a double take when I see someone wearing it.
Thanks for reading!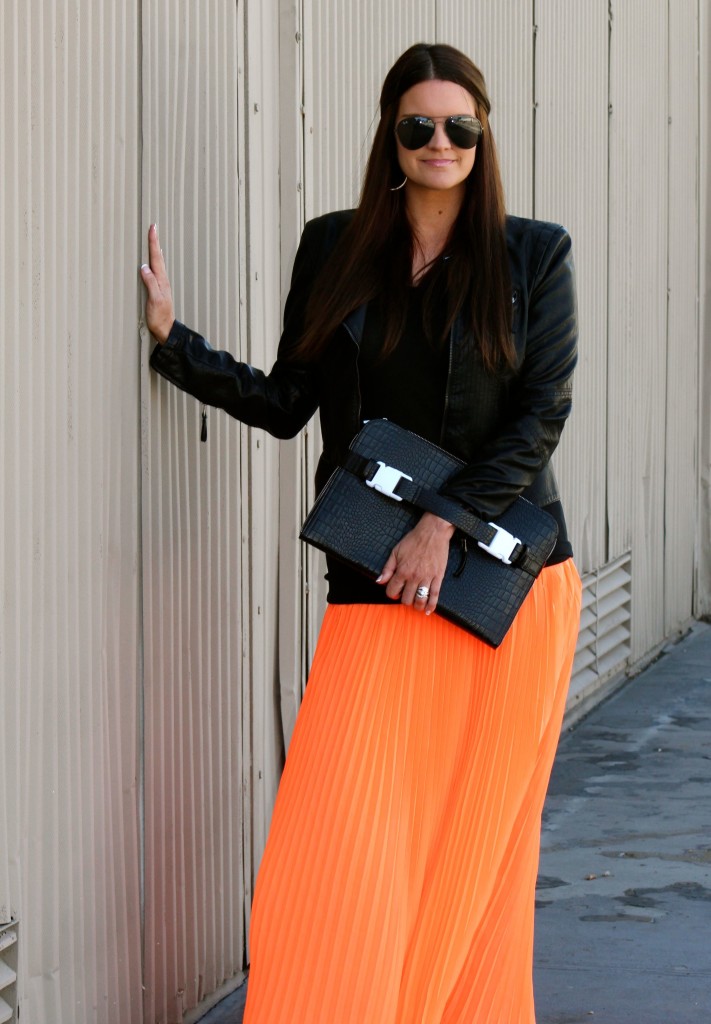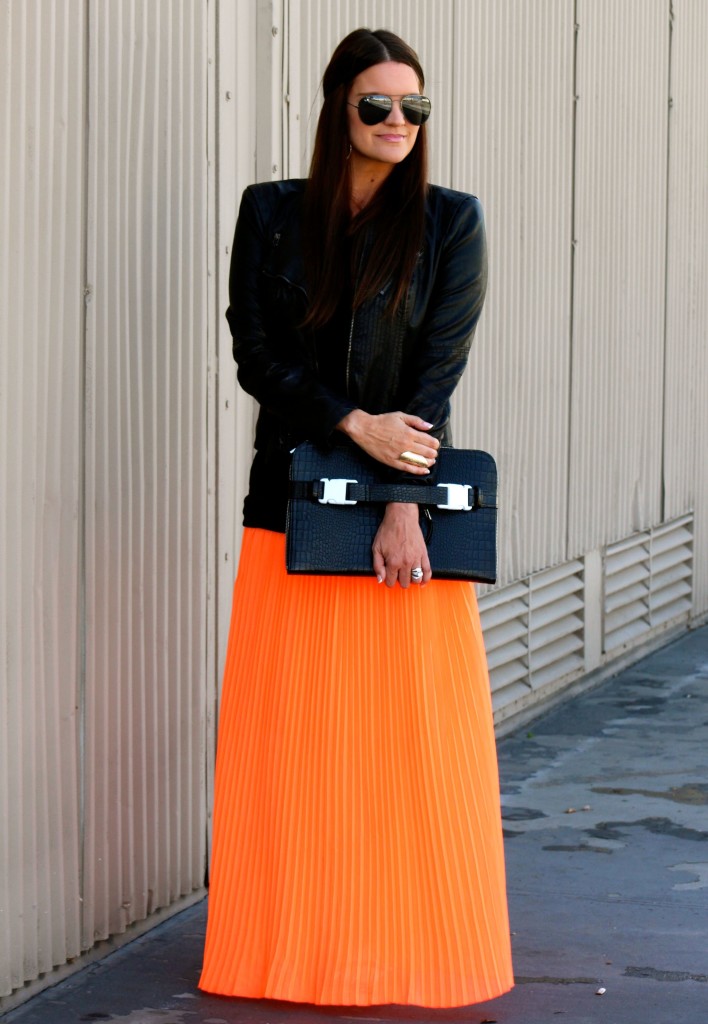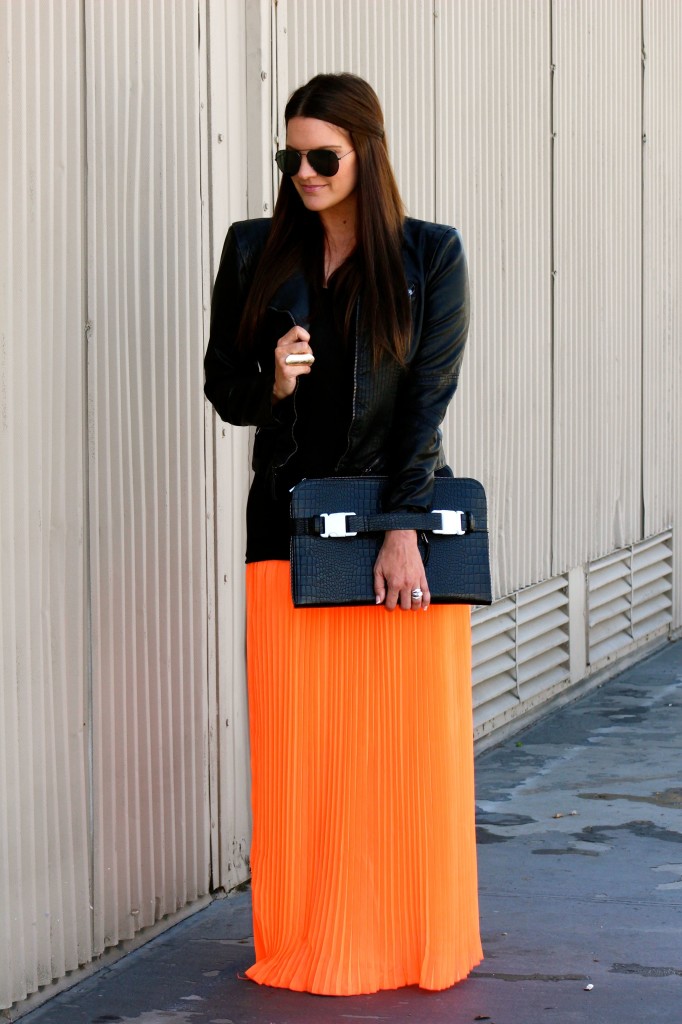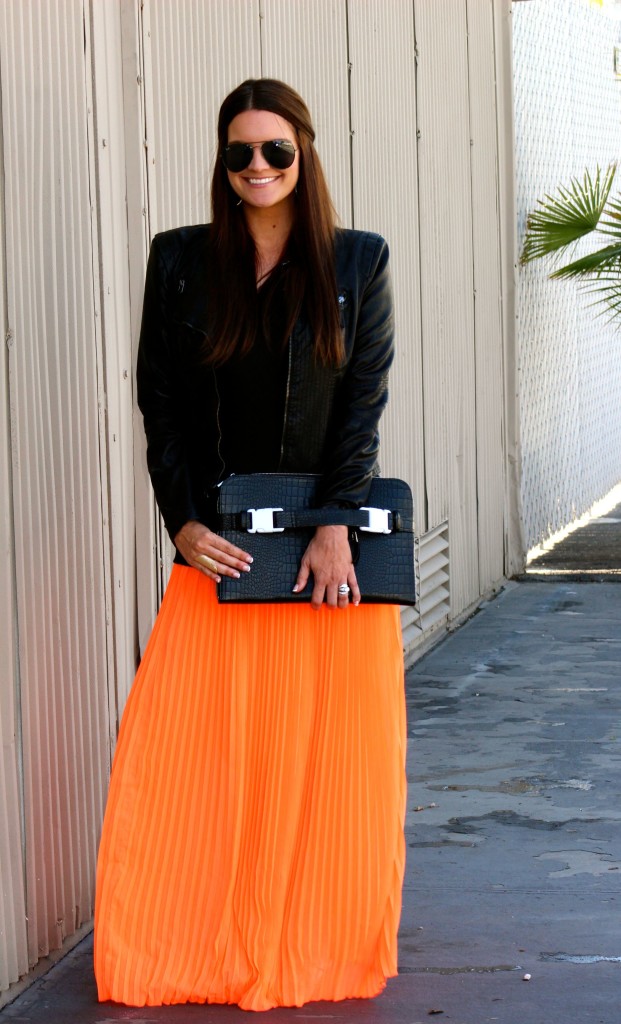 Moto Jacket:
Nordstrom
| Maxi Skirt: Local boutique (
similar
,
similar
,
similar
) | Clutch:
Nasty Gal
| Sunglasses:
Ray-Ban
The color of this skirt about knocked my socks off when I saw it in the store. The camera doesn't even capture how vibrant it really is! Definitely a WOW when you see it in person..
Not to rub it in (sorry East Coasters), but it has been feeling like Summer here for the past week. I'm talking in the high 80's everyday. Needless to say, we are all loving it! It's definitely got me in the mood to pack away my darks, and start bringing out the brights 😉
Have a great week! And don't forget you can still enter these two awesome giveaways, too! (

here

&

here

)
Thanks for reading!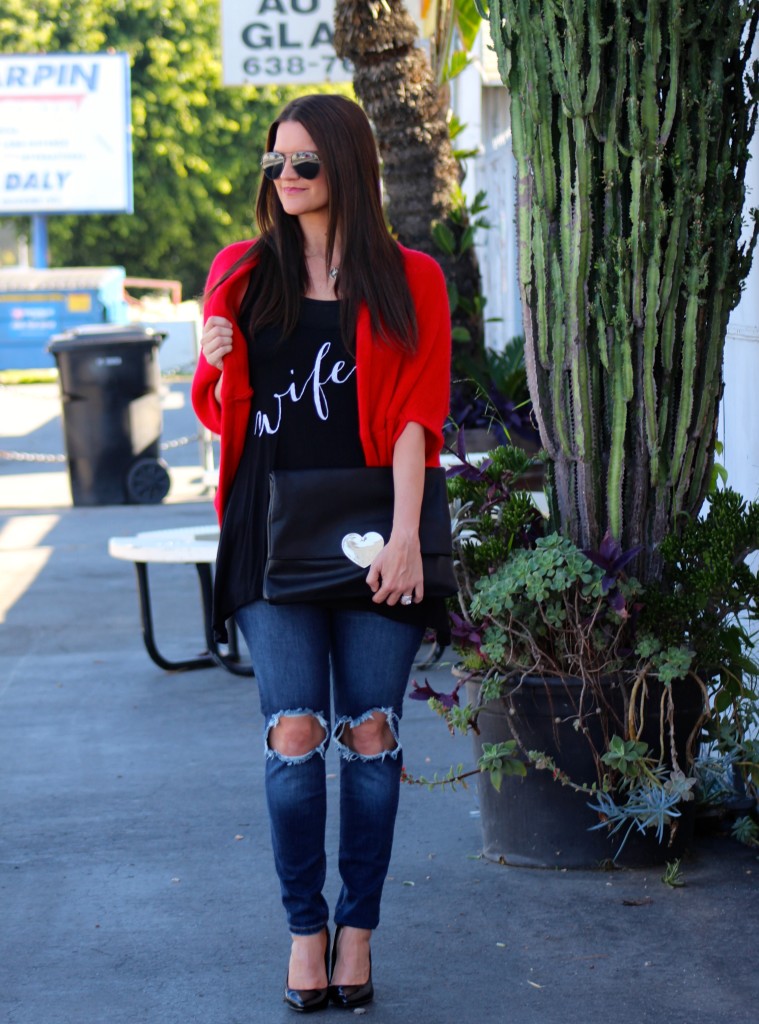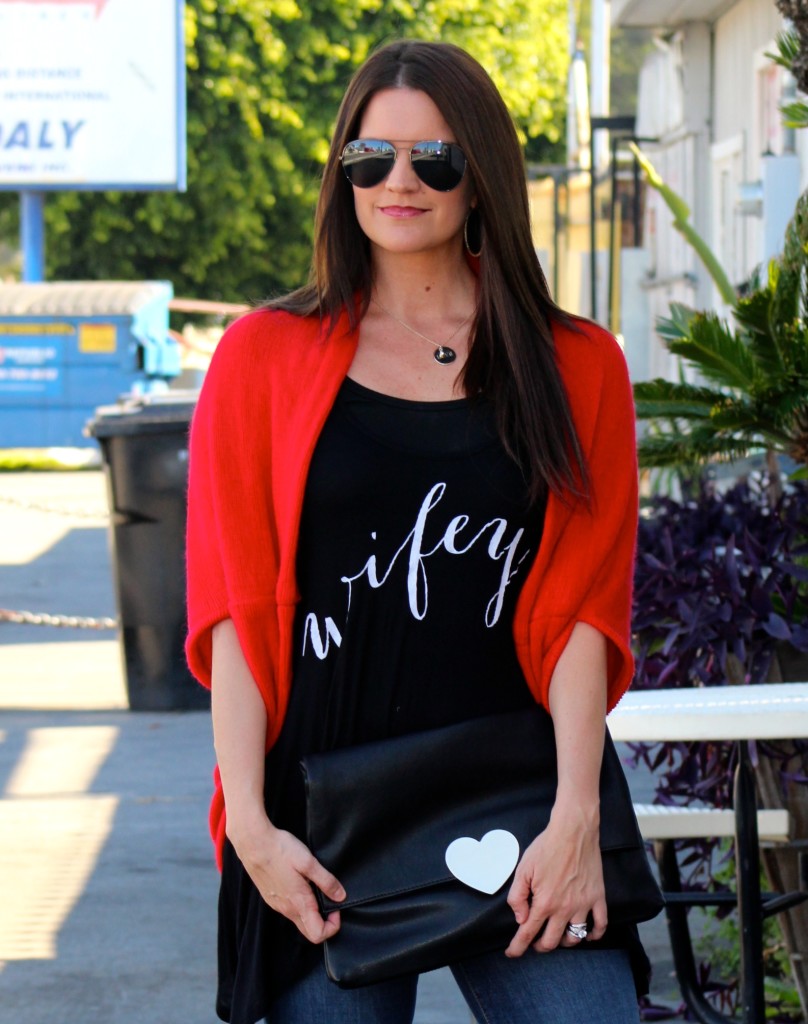 Sweater:
ILY Couture
| Tank:
ILY Couture
| Jeans: Bebe
(

similar

,

simliar

)
| Heels: Express | Clutch:
Asos

(

smaller version

)
| Sunglasses:
Ray-Ban
 "LIVE every moment
LOVE beyond words
LAUGH every day" 
Wishing you all a beautiful love-filled weekend! 

♥-♥
 I'm excited to be guest co-hosting with

Carrie

and

Sherri

for the What Wives Wear Linkup today! Be sure to check out these two beautiful Bloggers, and link up below!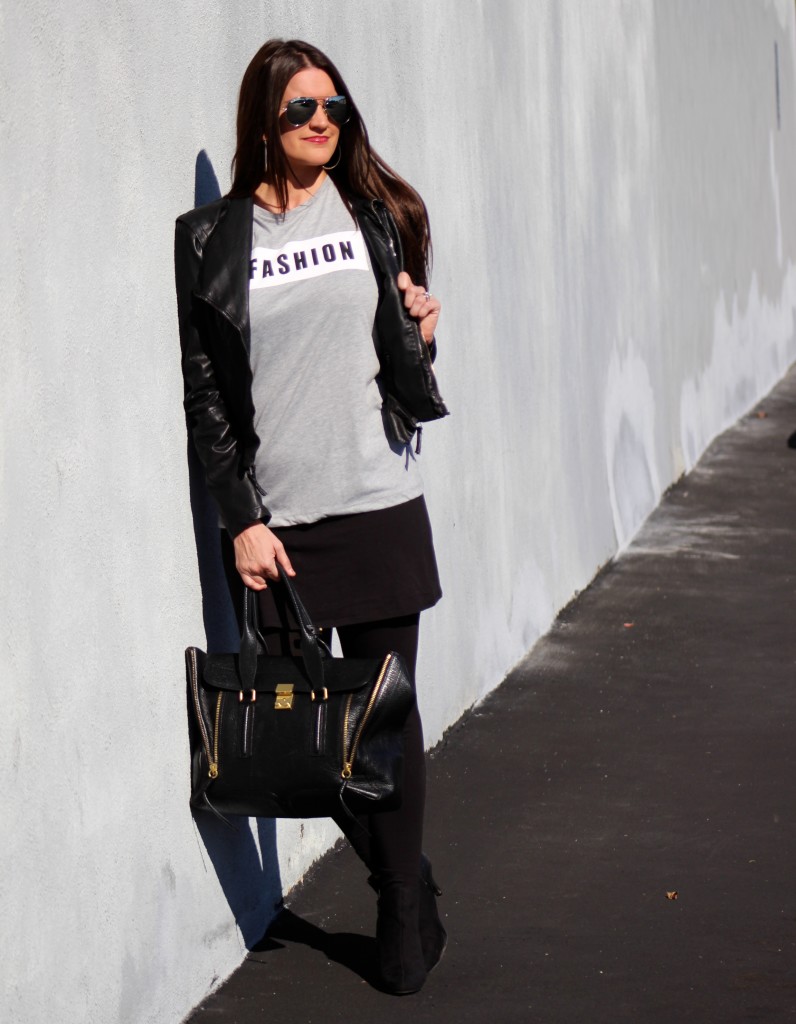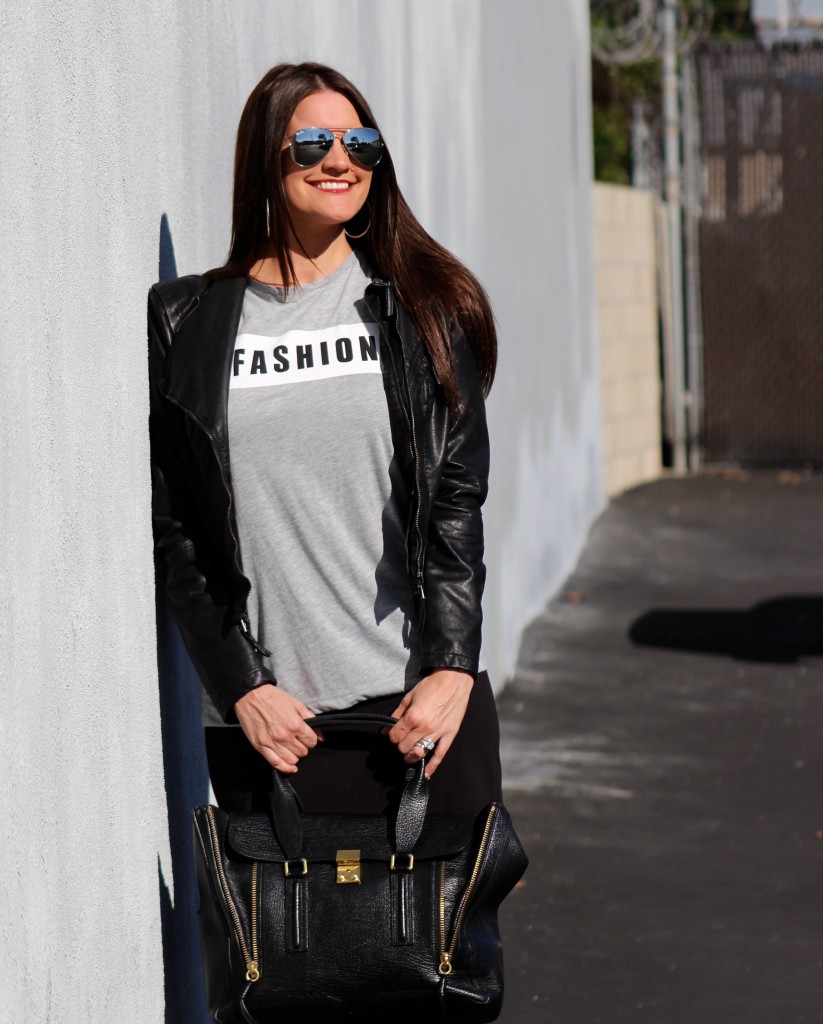 Jacket:
Nordstrom
| Top: Asos, old | Skirted Leggings:
Nordstrom
| Booties: Express | Sunglasses:
Ray-Ban
| Bag:
Phillip Lim
Ahh…New York Fashion Week. That magical time of year when we get to spot some stellar street style and live vicariously through our favorite Bloggers (who are actually lucky enough to be there!). It's a week full of fashion shows, fashion presentations, and fashion parties…all of which I can only dream of attending one day (don't we all?). Personally, I'm looking forward to watching some of the live stream shows, and am interested in seeing what the big trends will be…
Thanks for reading!  As always, have a fashionable week 😉
*Don't forget to enter the $750 Amazon giveaway
here
and 
the $400 Target giveaway
here