I wanted to take a moment to wish you all the happiest of New Years and to thank you for taking the time to visit my blog, whether it's on a regular basis or for a monthly catch-up sesh. From the bottom of my heart, your time and comments mean so much to me! Love you guys!!
"A new year is like a blank book. The pen is in your hands. It is your chance to write a beautiful story for yourself".
♥ Happy New Year! ♥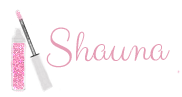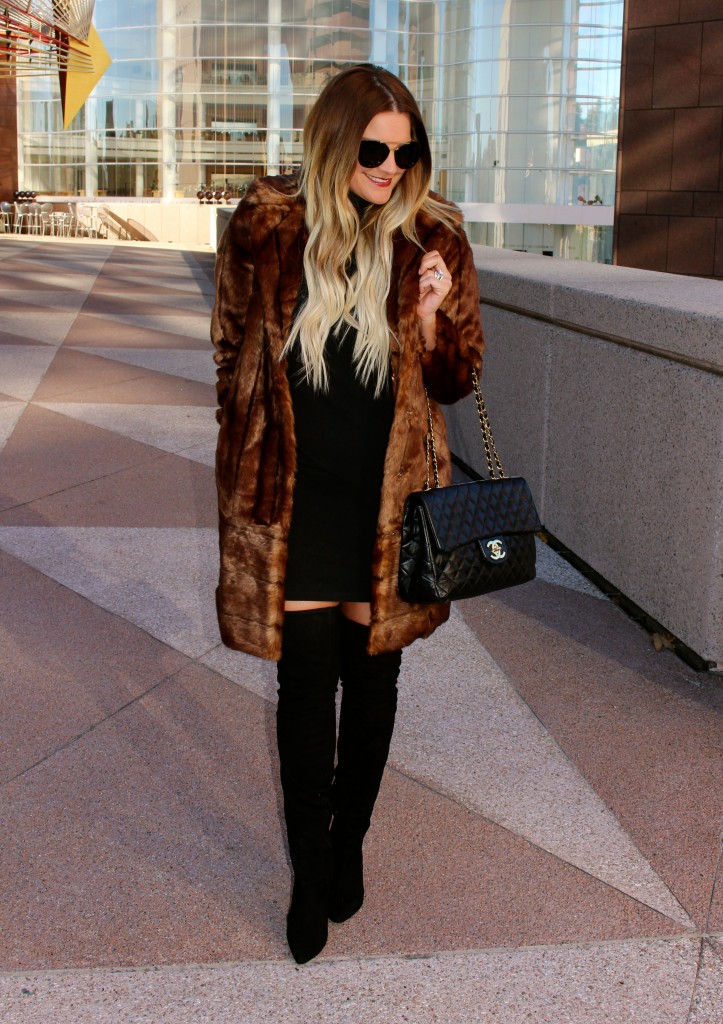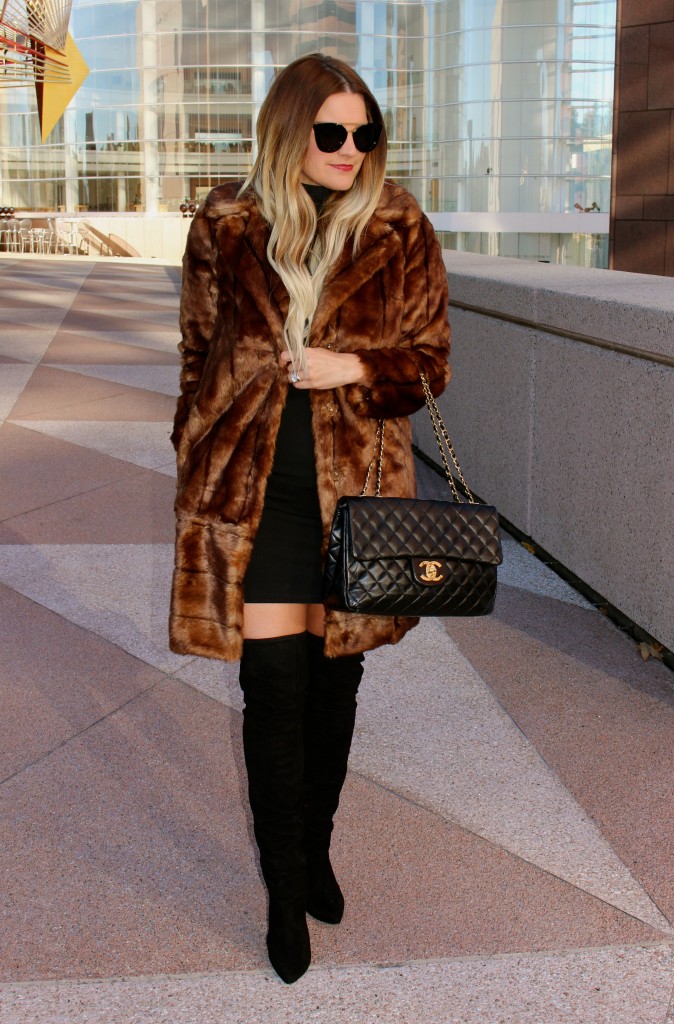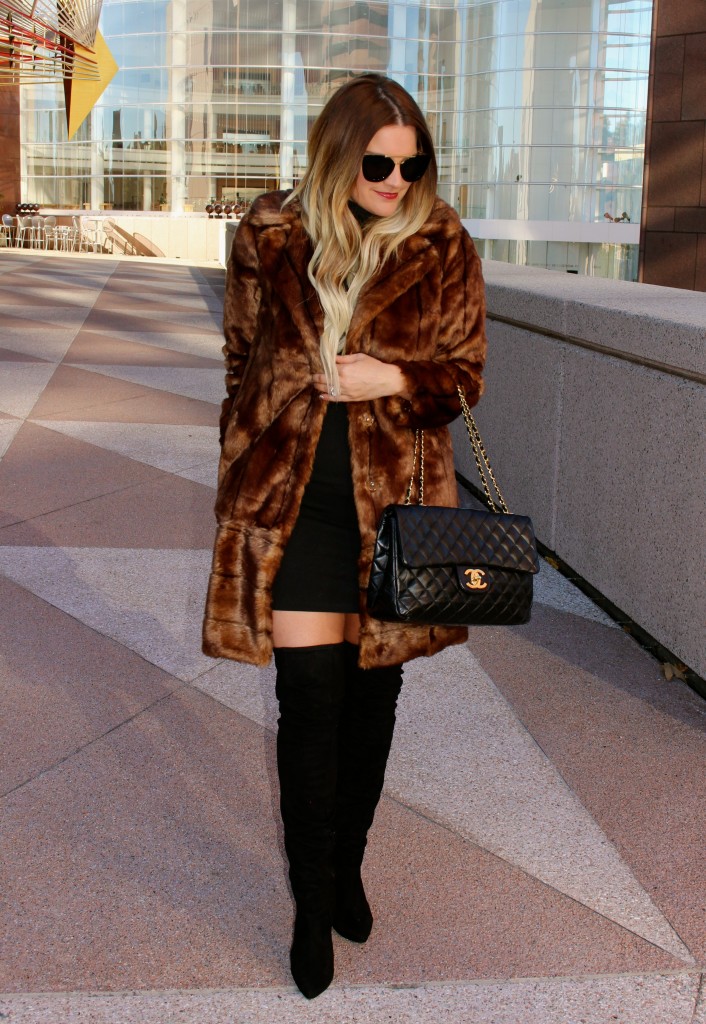 Coat:
Asos
| Dress:
Asos
| Boots:
Forever 21
| Glasses:
Prada
As you all know by this point, I'm slightly obsessed with faux fur coats. But a pelted faux, that actually feels like real fur? Pretty much sold. People never believe me when I have to break it to them that no, it's not real. It's what I like to call "luxe for less" 😉
I'm taking a little blogging break, so this will be my only post this week. But I will be back next Monday with my last post of the year. I hope you all have a wonderful Christmas! I'm so ready for some family time. It really is the best and most special part 
♥
Merry Christmas! See you next week, friends!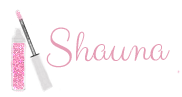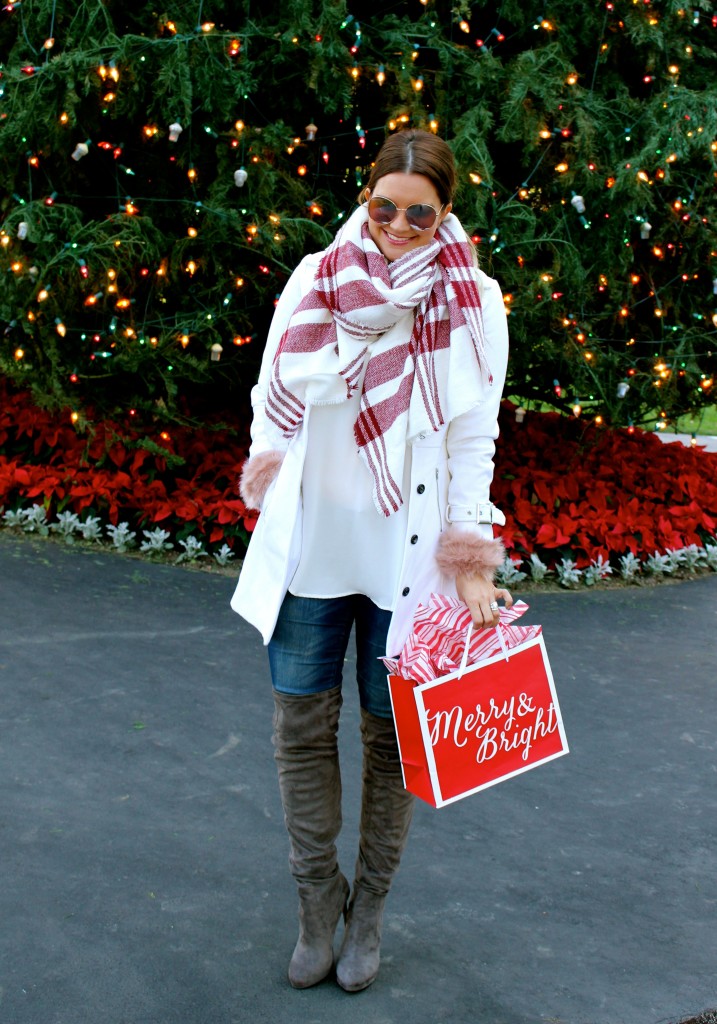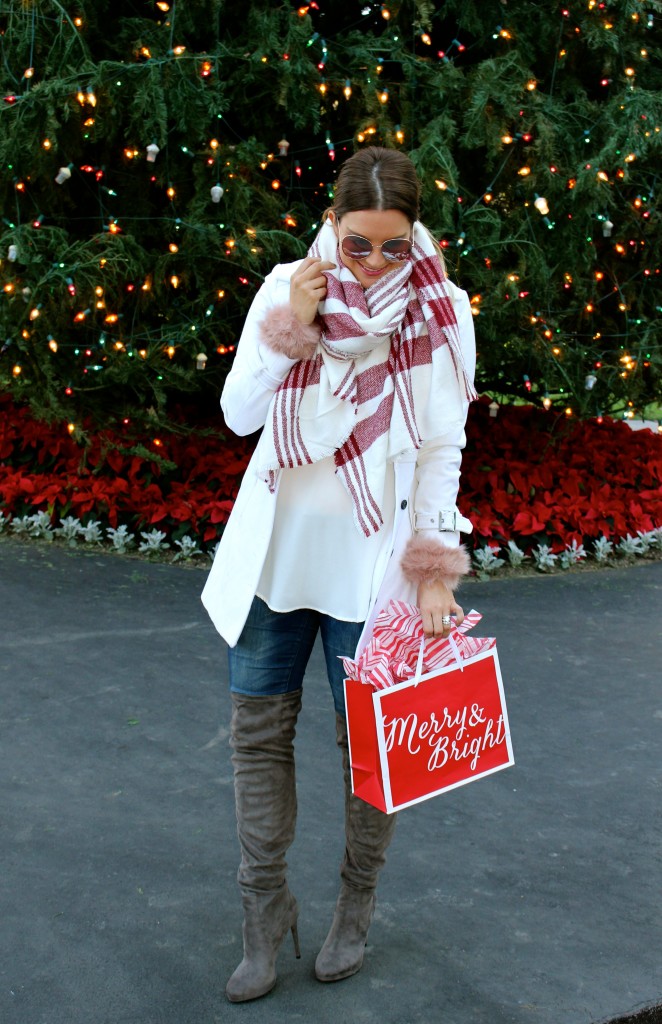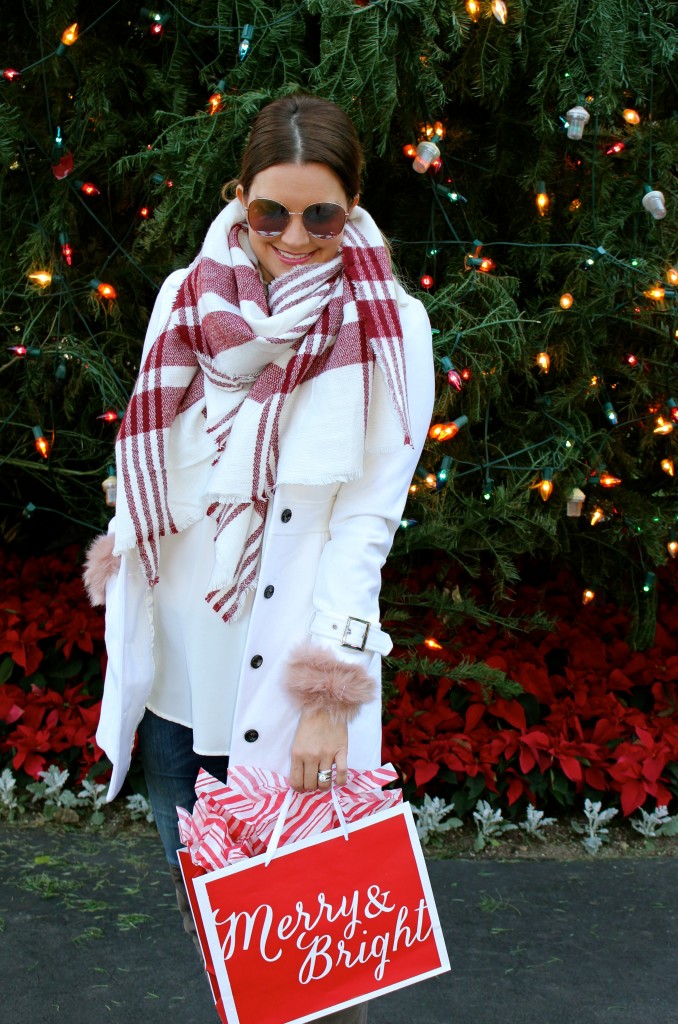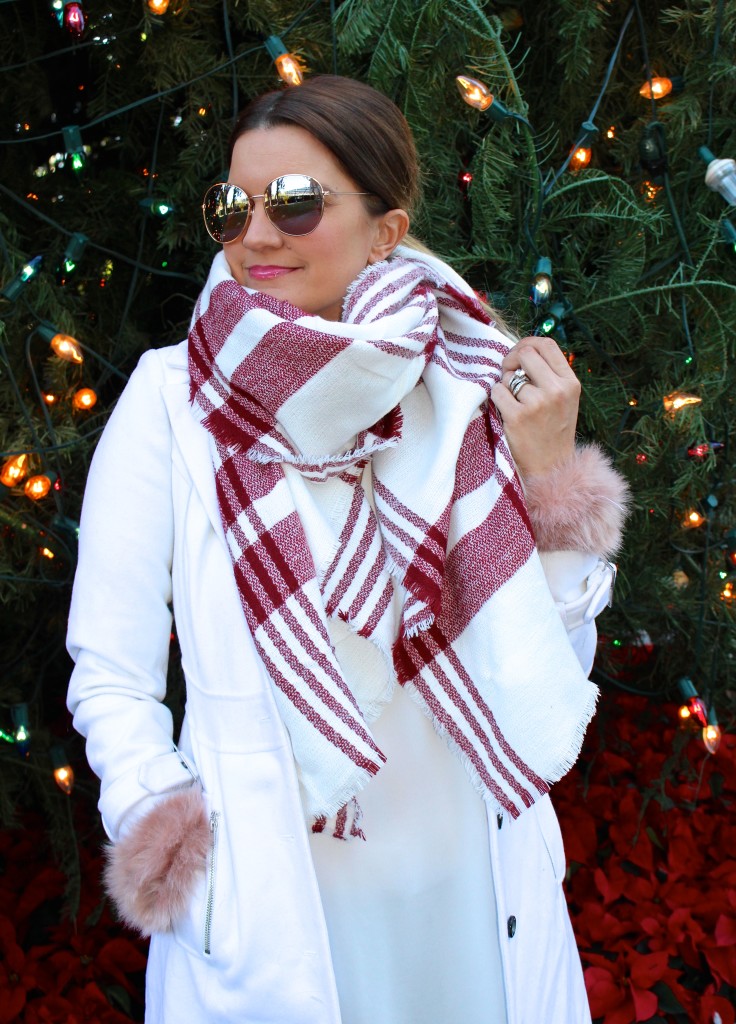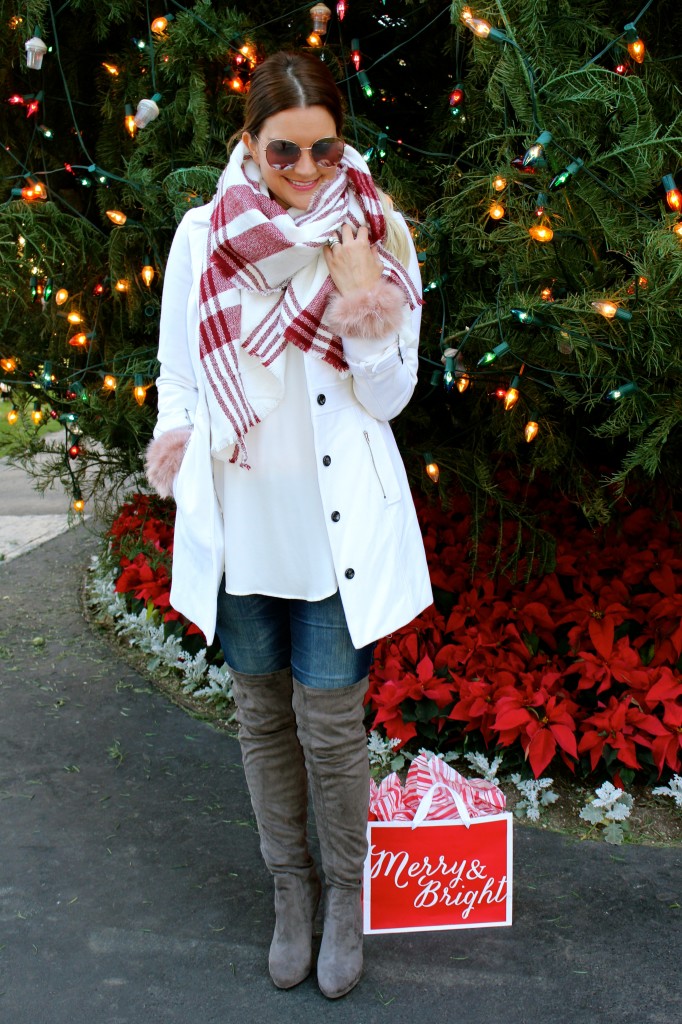 Top:
Lush
| Denim:
Joes
 | Boots:
Forever 21
| Coat: Bebe
(

similar

) |
Scarf:
ILY Couture
| Fur Cuffs:
Asos

(

similar in

black

)
| Glasses: old    
I'm so in love with this scarf from ILY Couture. It screams Christmas candy canes to me! I just checked, and unfortunately it's sold out..but they always restock pretty quickly, so keep your eyes peeled!
On a totally random note, we shot these pictures last weekend at one of my favorite Christmas trees in Orange County. It's so beautiful in person, and pretty great for blog pics 🙂 I'm so glad we got these shots done when we did, because the tree literally burned down the next morning! Like, burned to the ground – gone. So sad!
Oh Christmas tree…R.I.P.
 -xx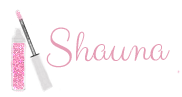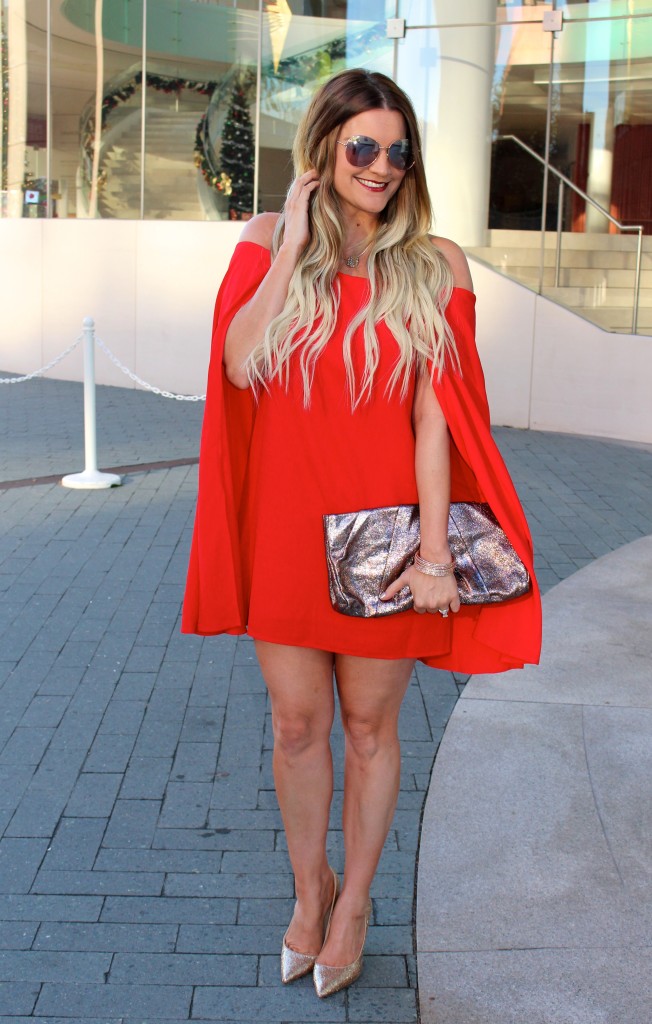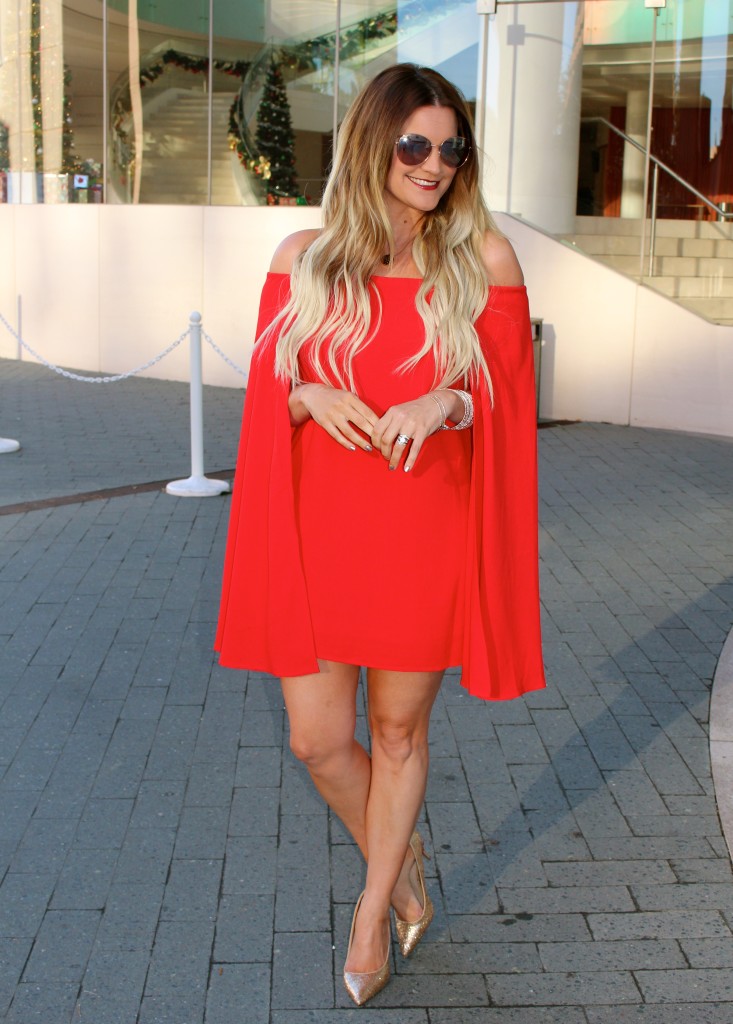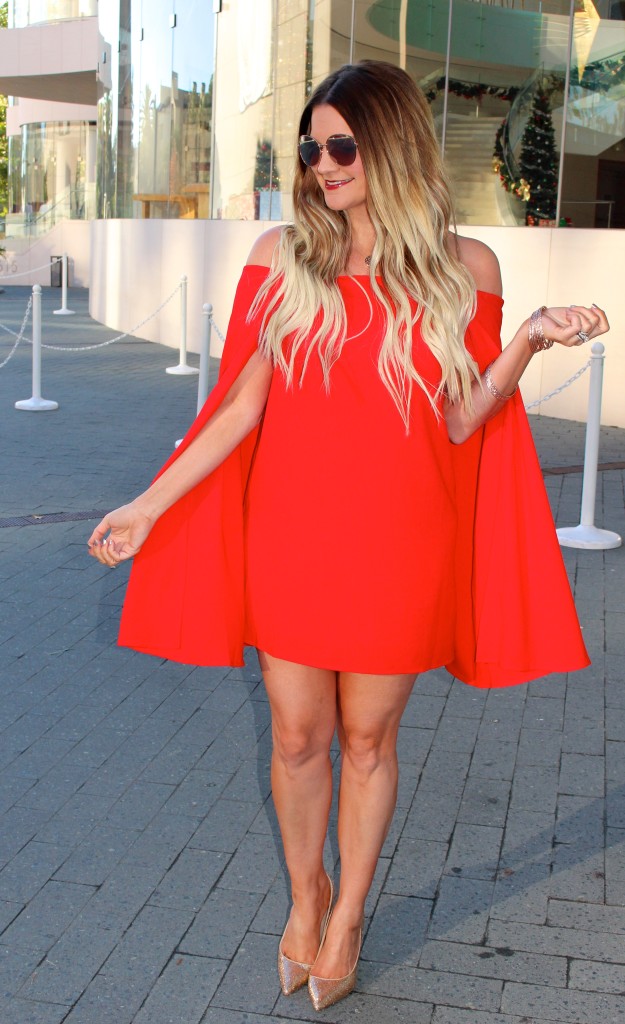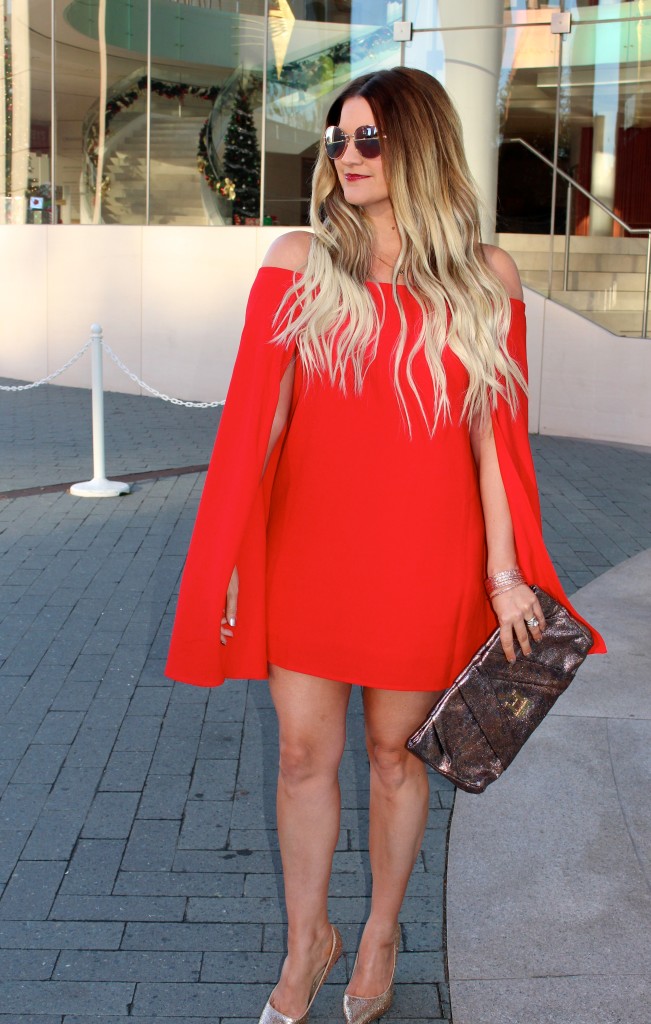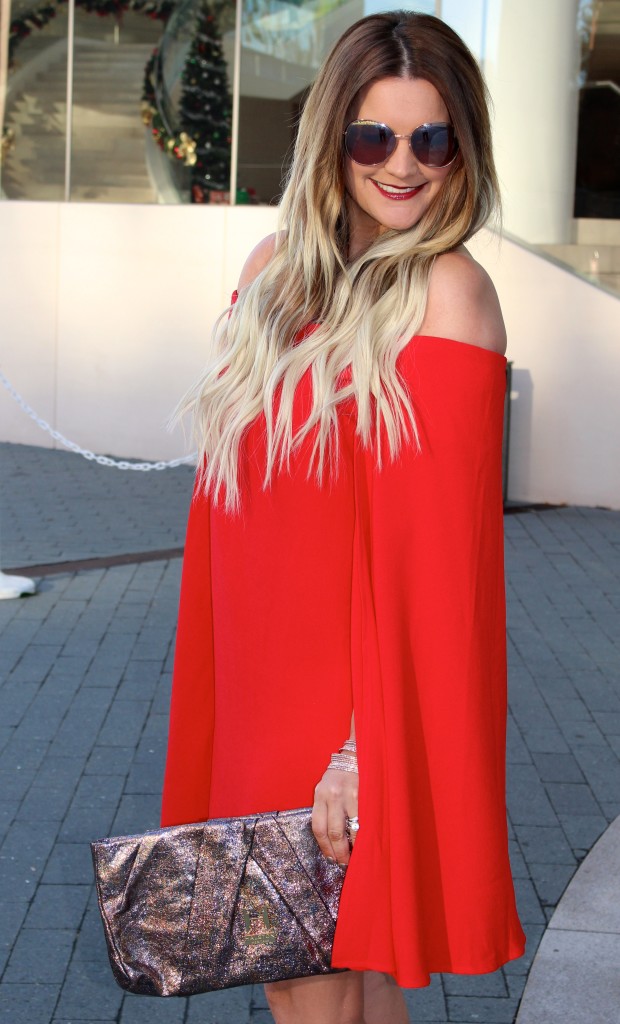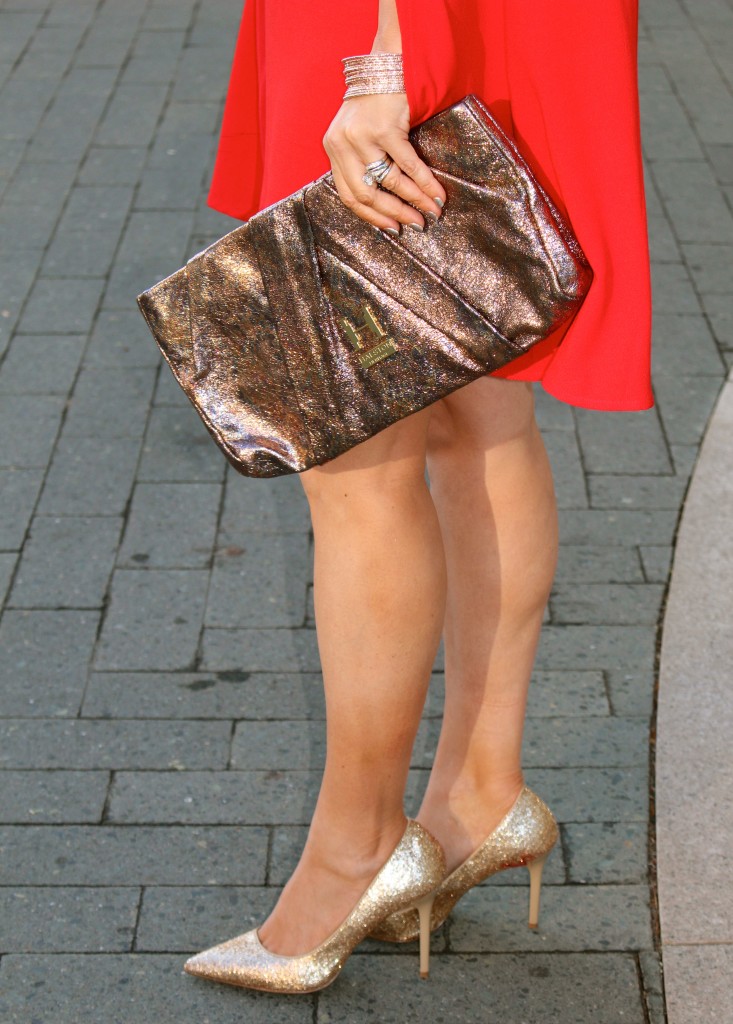 Dress:
Nasty Gal
| Heels:
Forever 21
| Clutch: Halston | Bracelets: H&M | Sunnies: old
(

similar

)
It's official – the holiday cocktail parties are in full swing! Talk about the perfect excuse to indulge, catch up with family and friends, and of course get all dolled up. This cape dress is the perfect choice for that special Christmas gathering, or can we talk about how perfect for New Years Eve? Also, these glitter pumps from Forever are probably my most favorite heels right now. The picture didn't really do them justice, but wow – SO sparkly!!
Thank you for reading! Have a great week.. 

♥

♥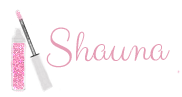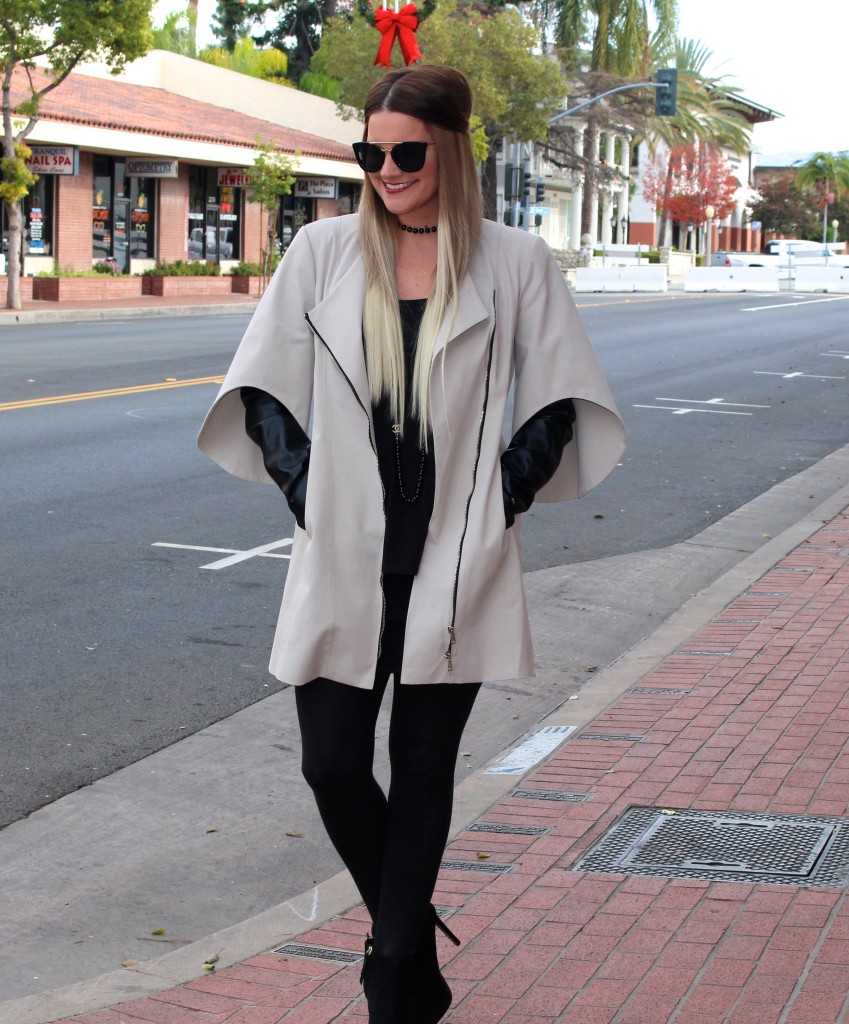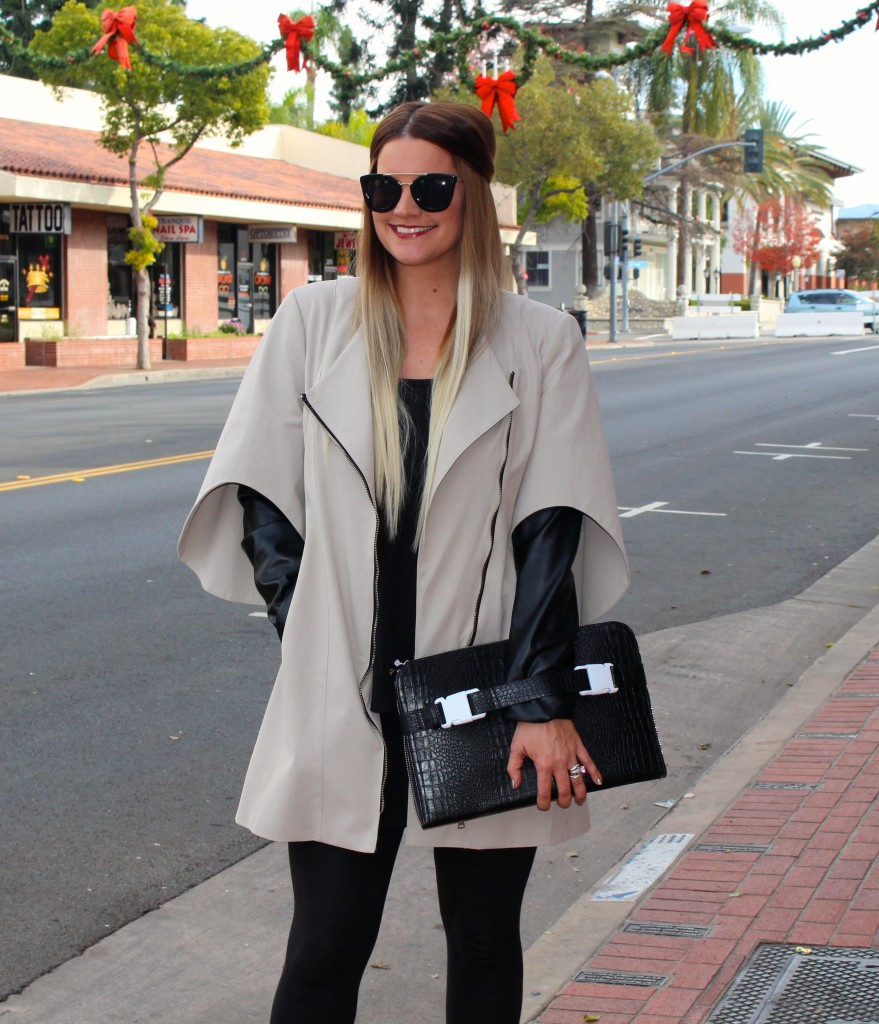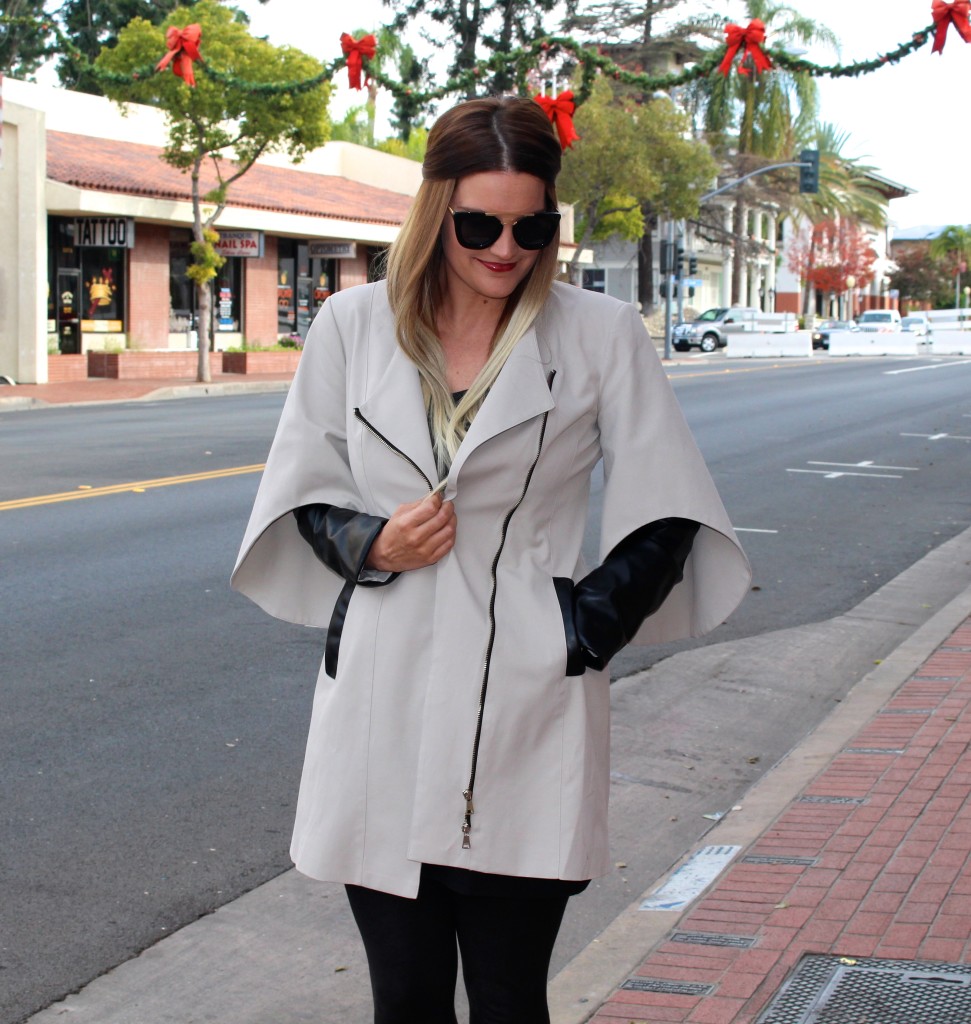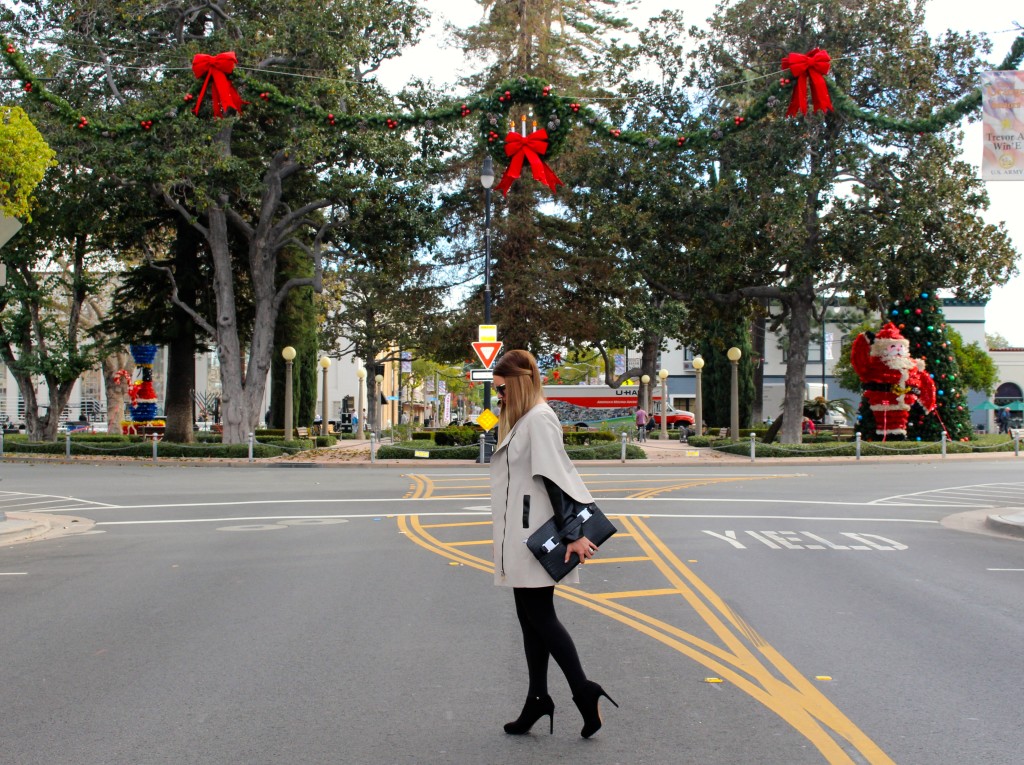 Coat:
Bebe

( almost

exact

)
| Leggings:
Forever 21
| Clutch: old | Heels:
H&M
| Sunnies:
Prada
One of the comments I received on Monday's post was that I am the official "Coat Queen". It made me laugh, but I have to agree that I do indeed own A LOT of coats. Which is funny, because I live in Southern CA and it never really gets cold enough to wear most of them! Weird, right? 😉 For me, it's my one investment piece that I allow myself to splurge on. And after seeing this coat

↑ 

from Bebe, I knew it would be a great addition to my collection. I love how it looks like 2 separate pieces, but really it's just one!
Thanks for stopping by! Hope you all enjoy the weekend ahead. See you back here Monday! -xo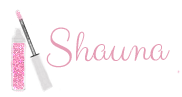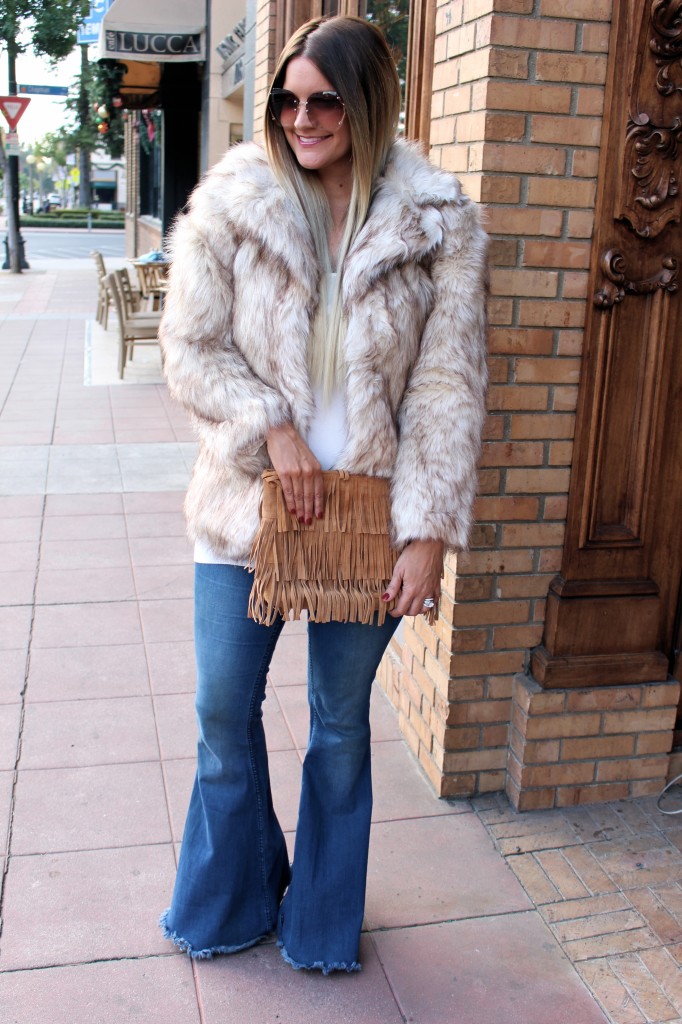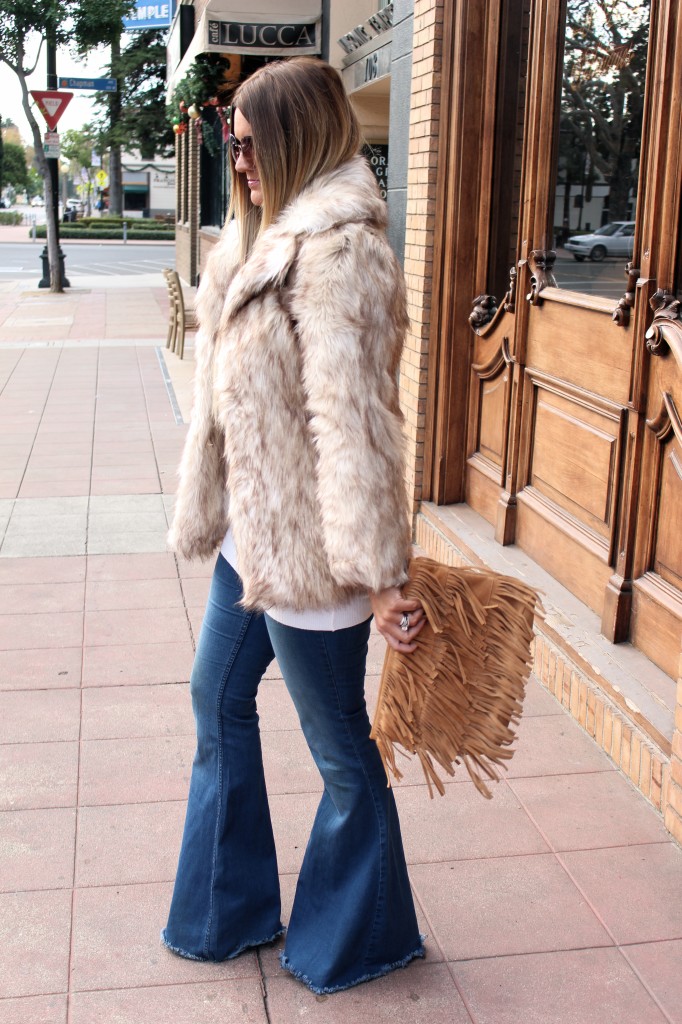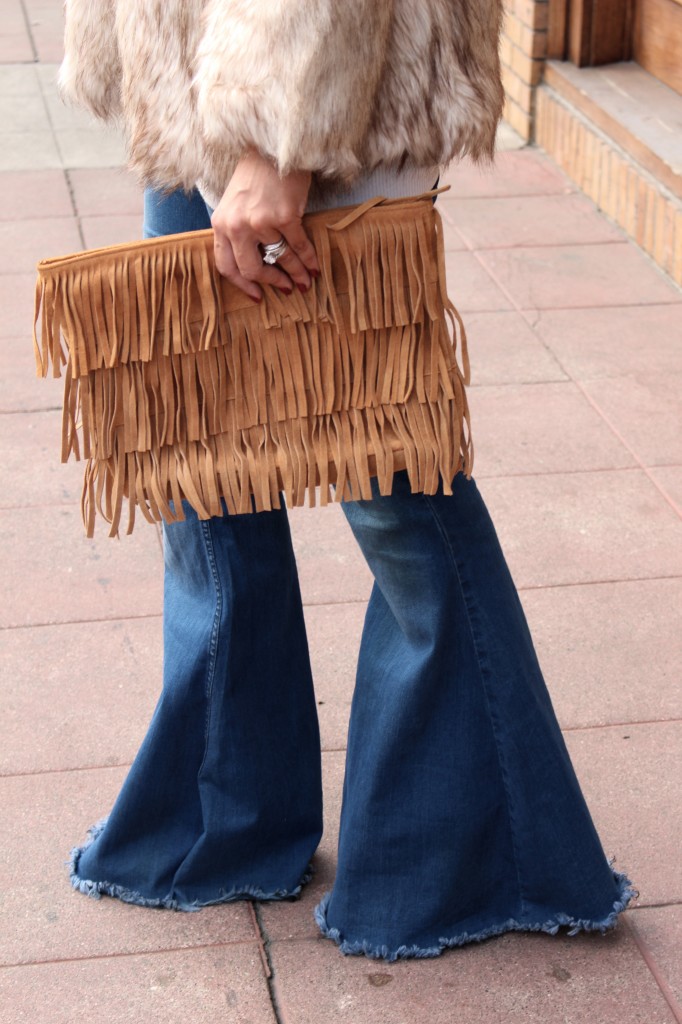 Coat:
Asos
| Sweater:
The Limited
| Denim: Free People
(

similar

)
| Clutch:
(

similar

)
| Glasses:
(

similar

)
I couldn't resist this coat. I REALLY tried my hardest, but the soft colors and how incredibly cozy it looked (and felt), was too much for me to turn down. It runs large, so size down if you decide that Santa must bring it to you in a few weeks.. 😉
Hope you all had a  great weekend. I tackled a lot of my Christmas shopping, so it feels great to almost be finished with that. I love giving gifts, but searching for the perfect one stresses.me.out.!
Have a great week!