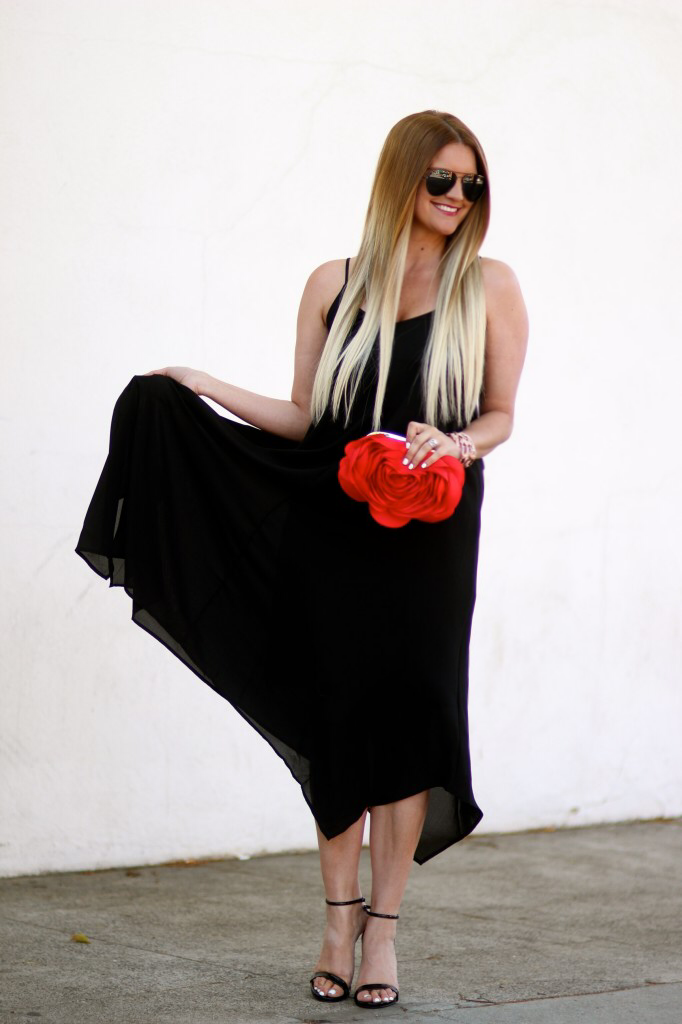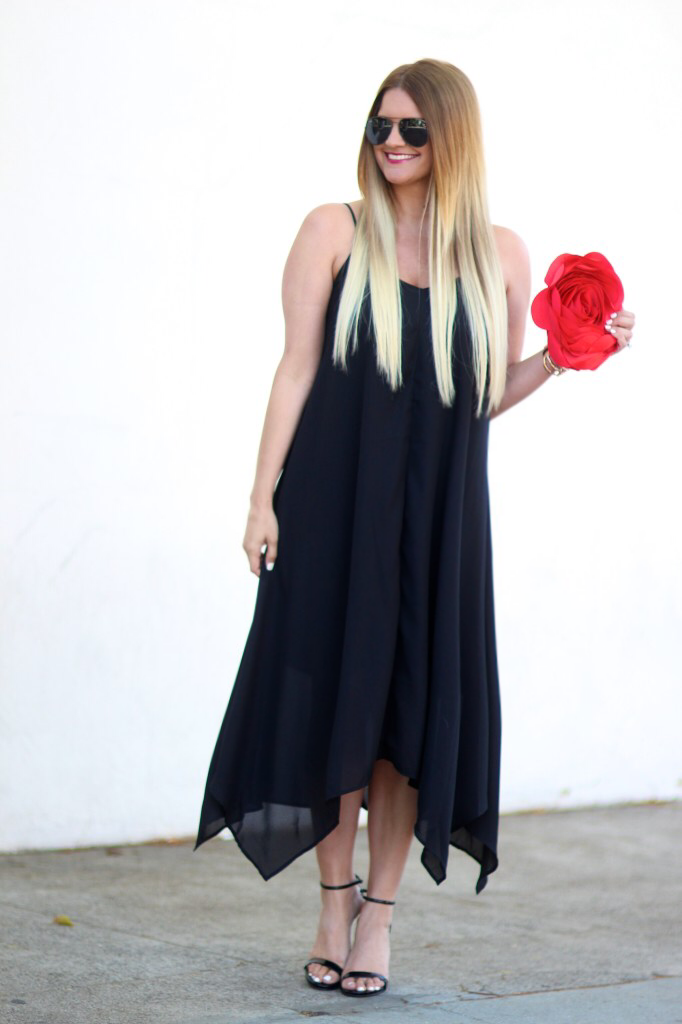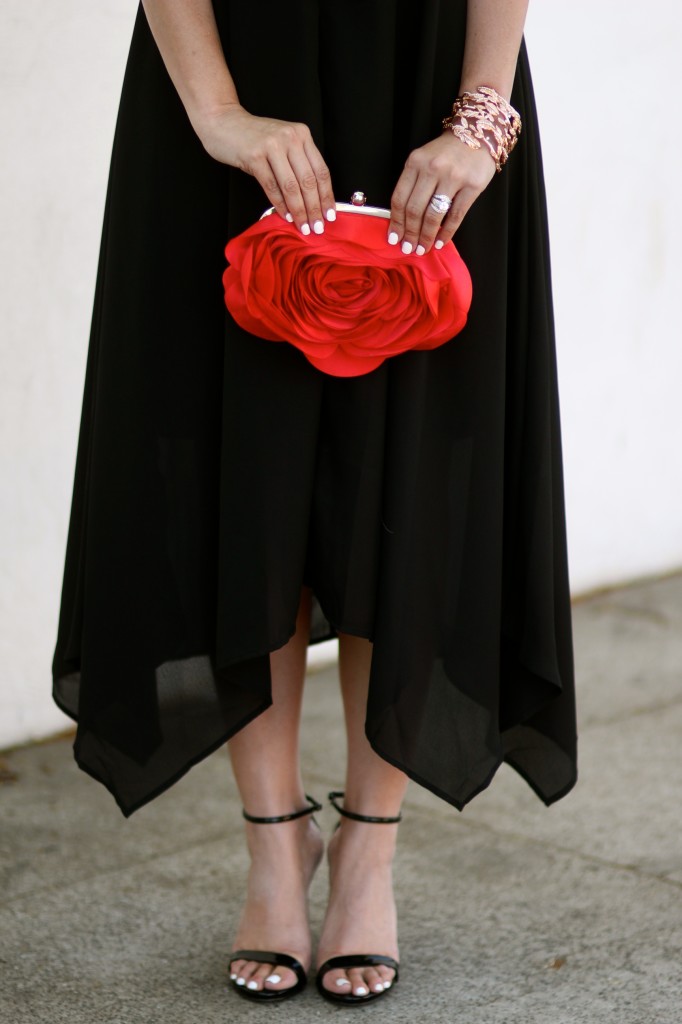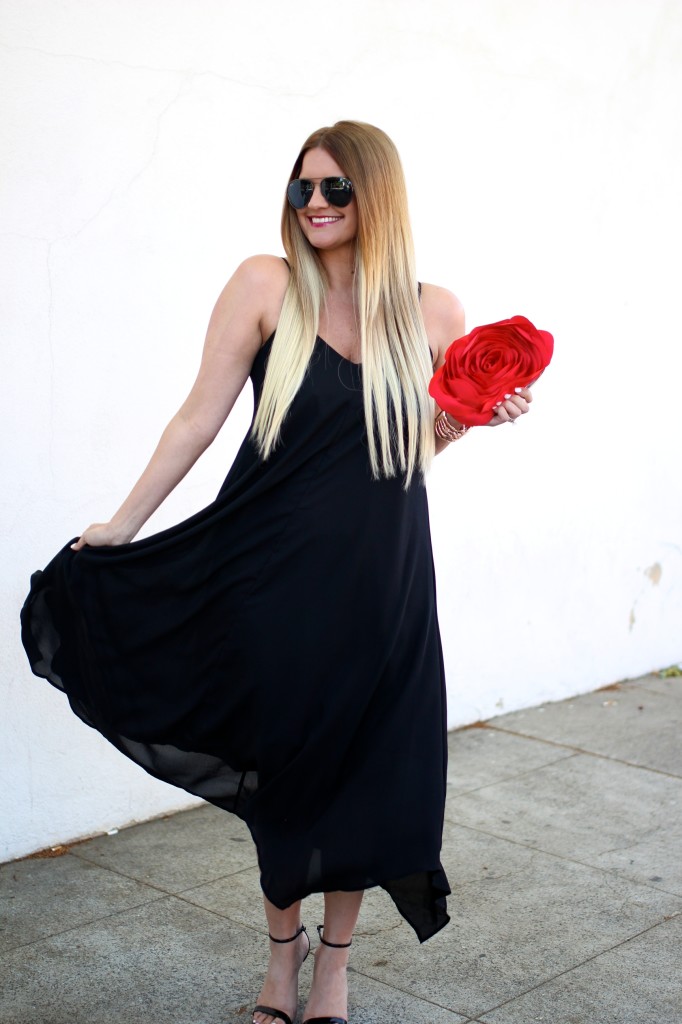 Dress:
LuLu's
| Clutch:
Ebay
| Heels:
Steve Madden
| Bracelet:
Rachel Zoe
| Glasses:
Ray-Ban
This dress should look a tad bit familiar because what do ya know – I own it in blue too (see

here

)! You can never go wrong with having a few fabulous cocktail dresses to choose from at any given moment. 
I hope you all the best holiday weekend ahead! The 4th of July is like my version of Christmas morning, so I'm totally stoked that it's finally here!
Stay safe, and have fun!! – XO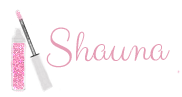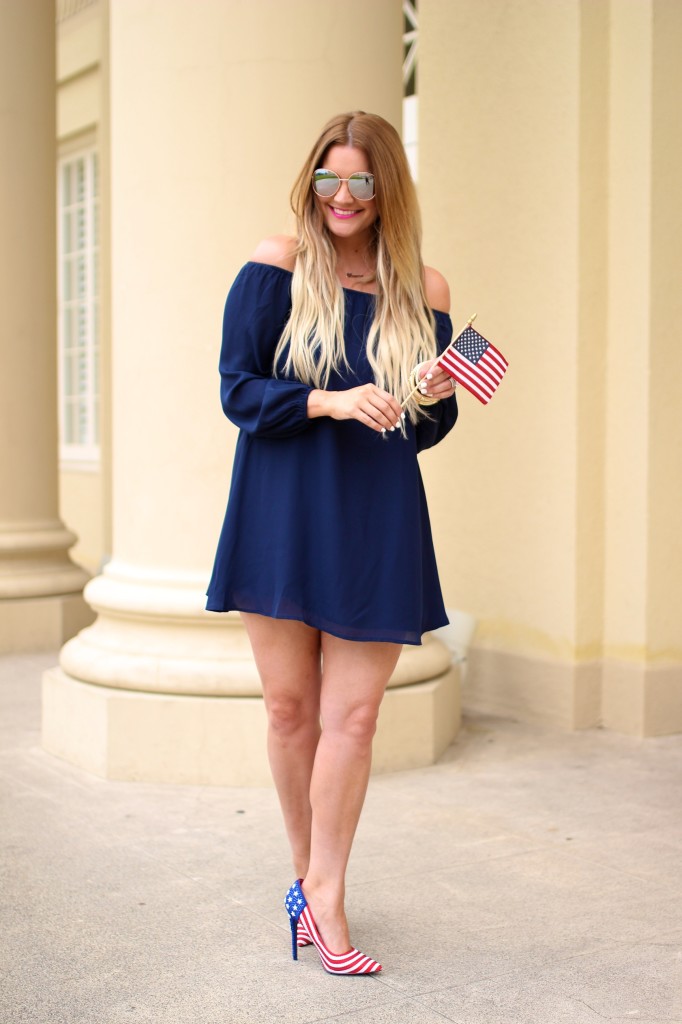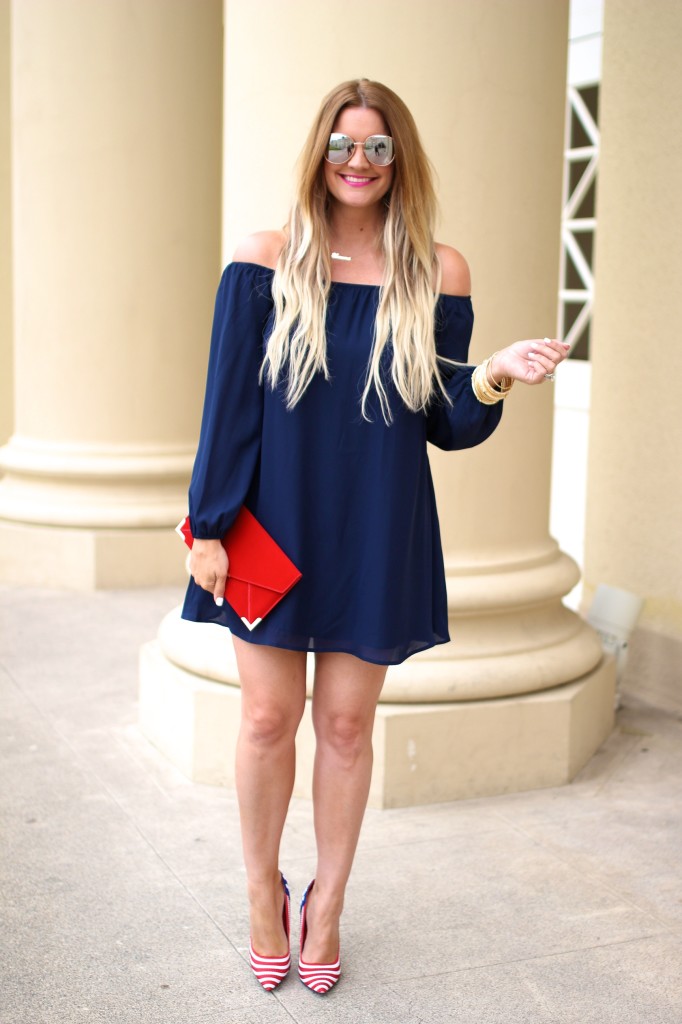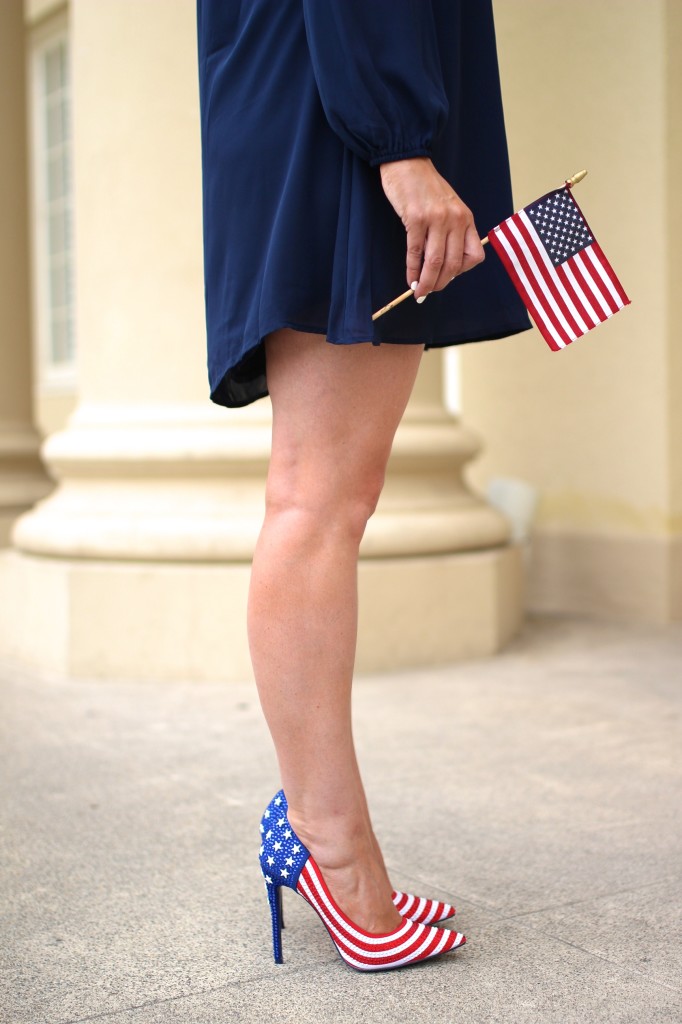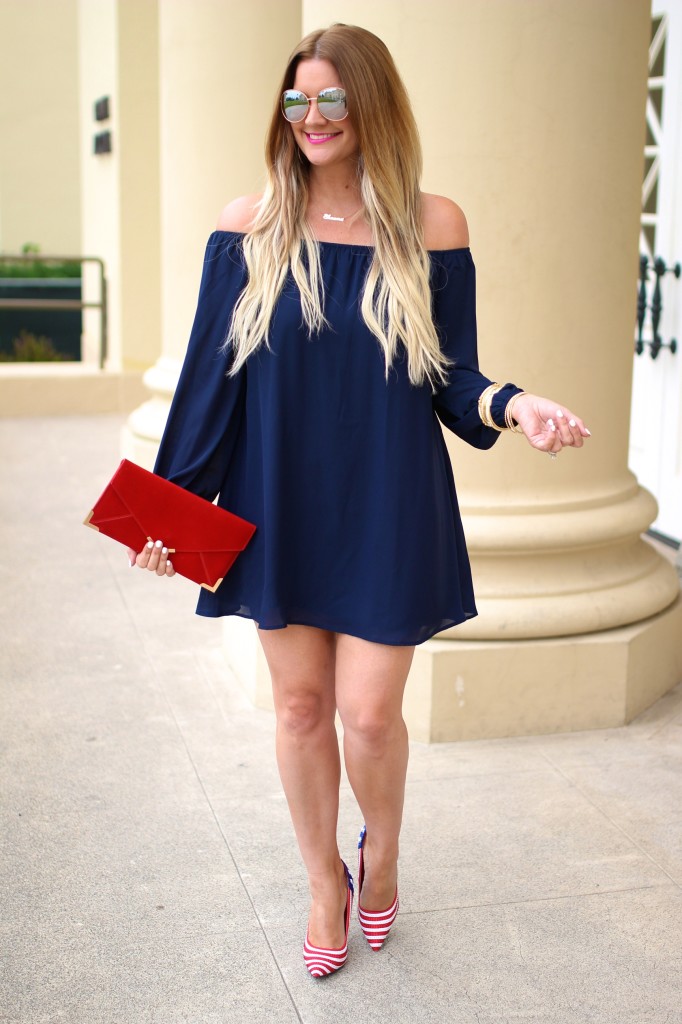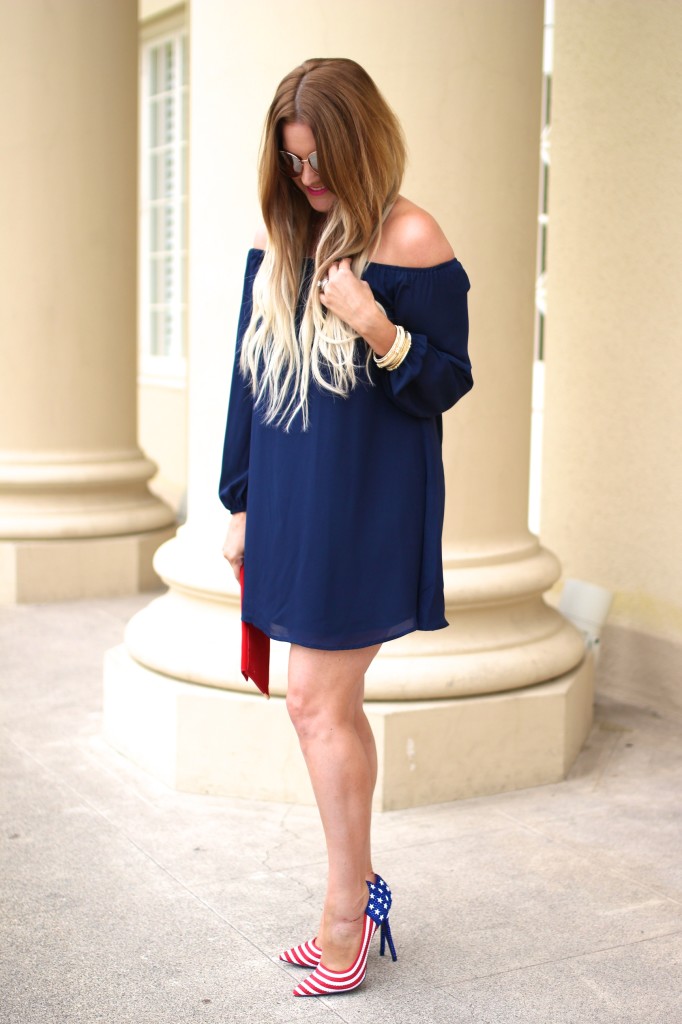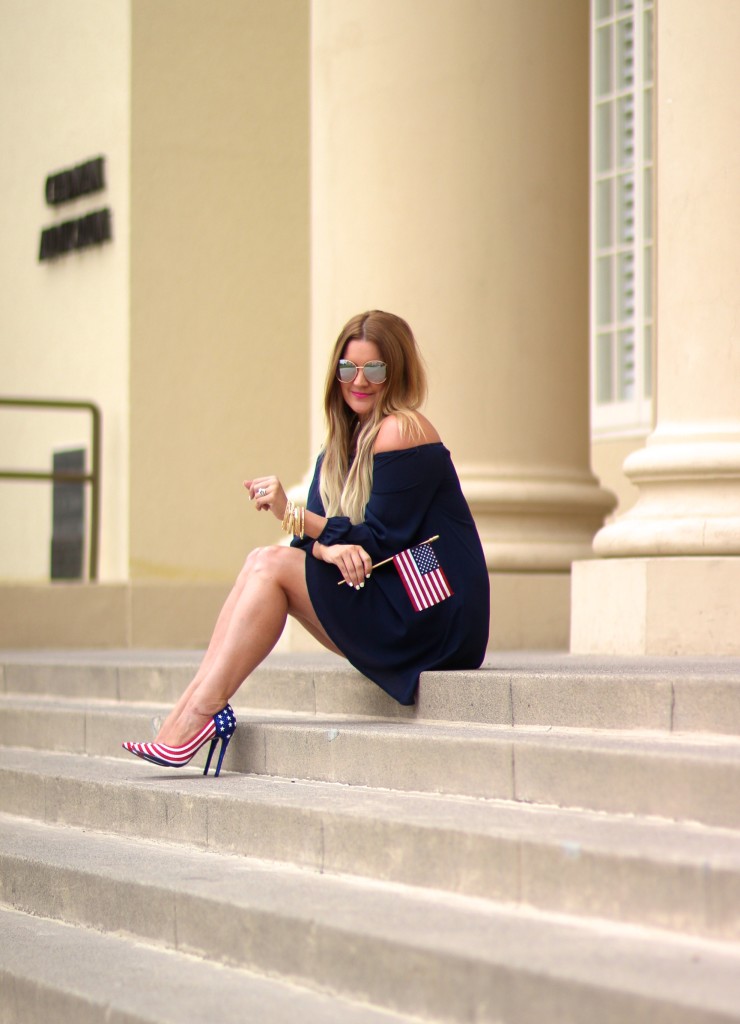 Dress:
Urban Outfitters
 | Heels:
Windsor
| Bracelets:
c/o Charming Charlie
| Glasses: old
(

similar

)
When the 4th of July is your absolute, hands down most FAVORITE holiday of the year, there is no question about these heels except for: "Do they come in my size?".
I really try my hardest to make wise purchasing decisions when it comes to my closet, so I was a little hesitant on what to do when I saw these. A few thoughts came to mind:
PROS: no one else will have them, they have sparkles!, they will go with anything red, white or blue, they have sparkles!, they are actually super comfortable, they have sparkles!
CONS: you can only wear them once a year.
Moral of the story: Sparkles for the win 😉
What are your plans for the 4th? I'm excited to hear! Thanks for reading!! 

♥

♥

♥

♥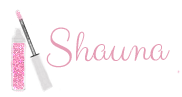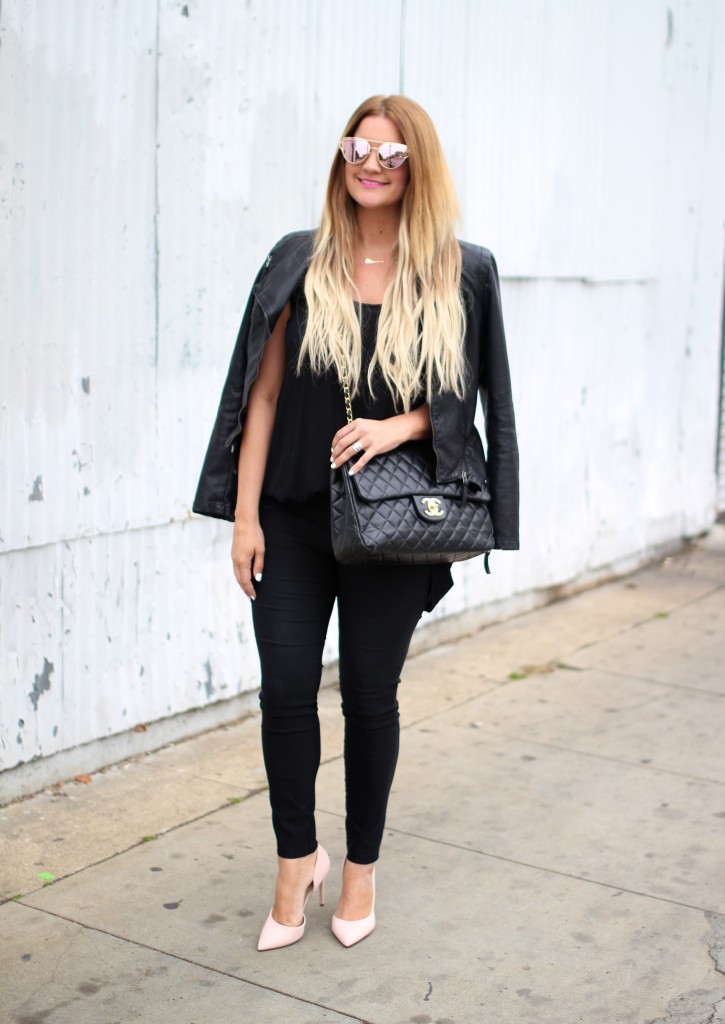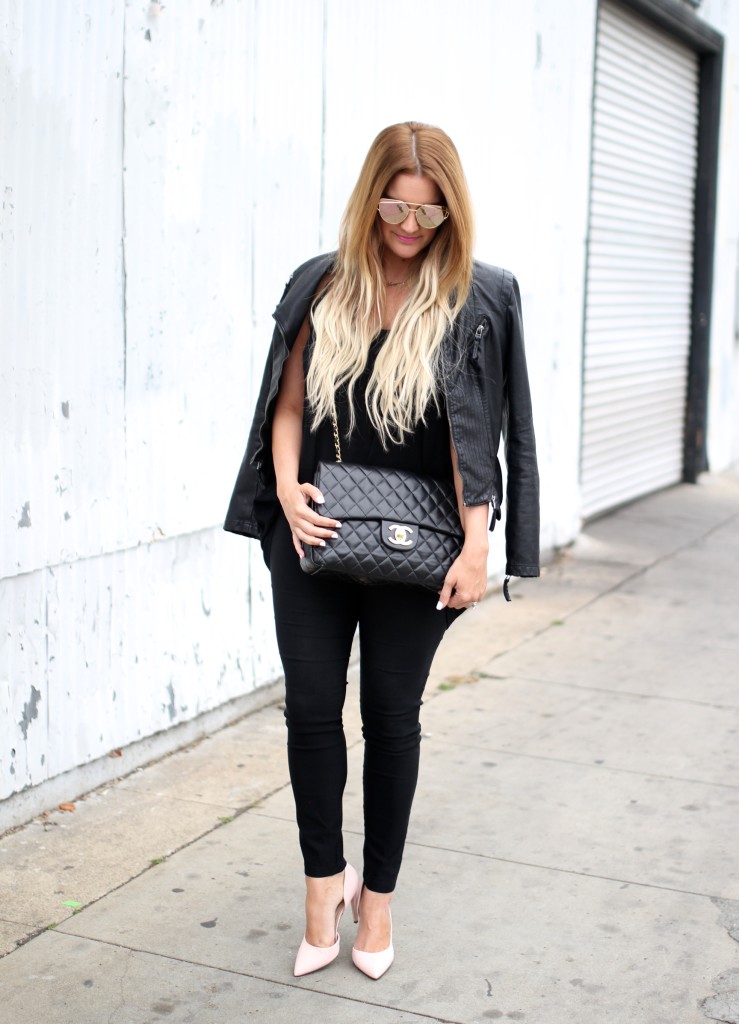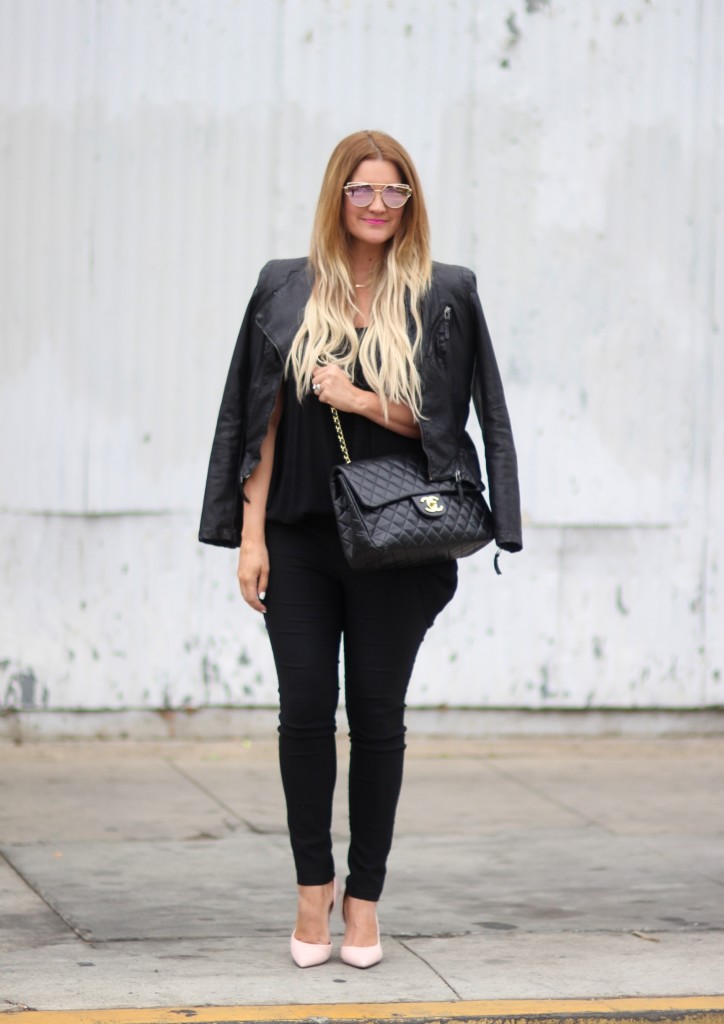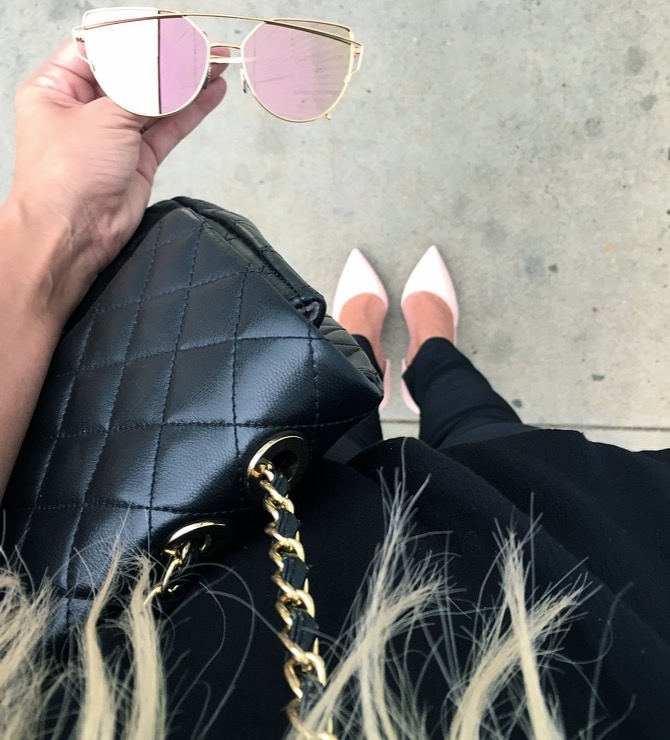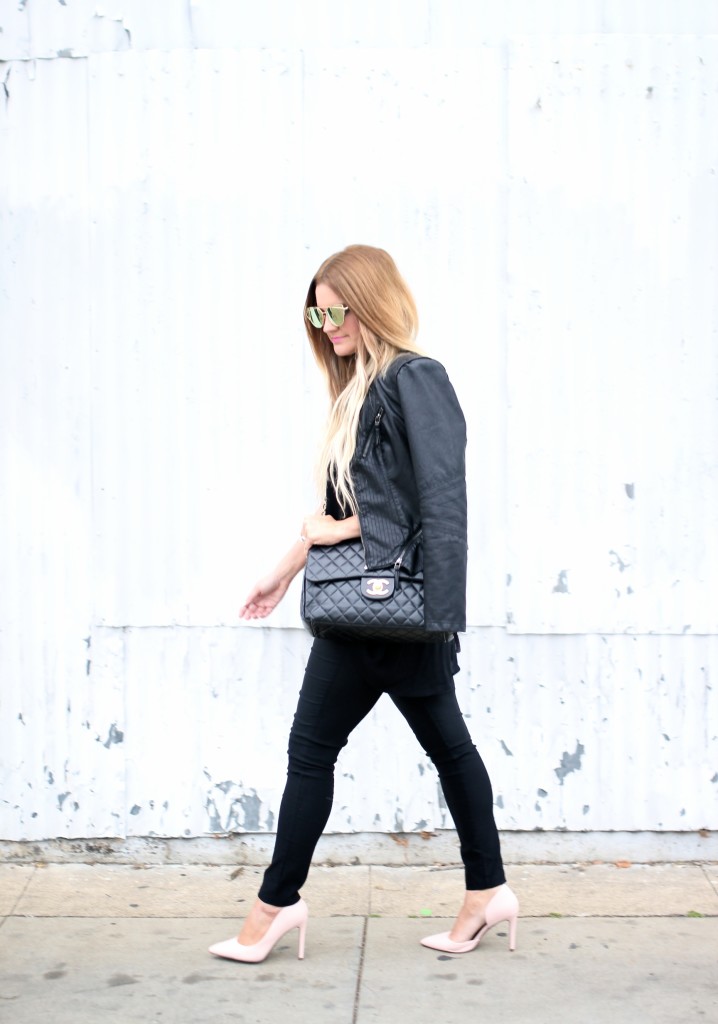 Tank:
Forever 21
| Pants:
Eileen Fisher
| Jacket:
BLANKNYC 
| Sunglasses:
Love Always 
| Heels:
Call It Spring
Mirrored Sunnies.
Probably my all time favorite summer accessory. They're shiny, colorful and any shape looks fabulous: aviators, round, cat-eye…the list could go on! I actually wear them on a daily basis in the summer months because they just add that extra something to any look. This

rose colored pair

is my absolute favorite right now. The mirror is so good, it was hard to find a shot that didn't have my reflection in it. Blogger problems, right? 
Hope you have a great weekend! I'm headed out on a girls trip to Palm Springs tomorrow. Super excited to see the ladies, but not that excited about how INSANELY HOT it's going to be. Hope I can survive that kind of heat in my old age! 😉
-XO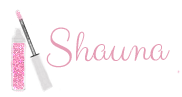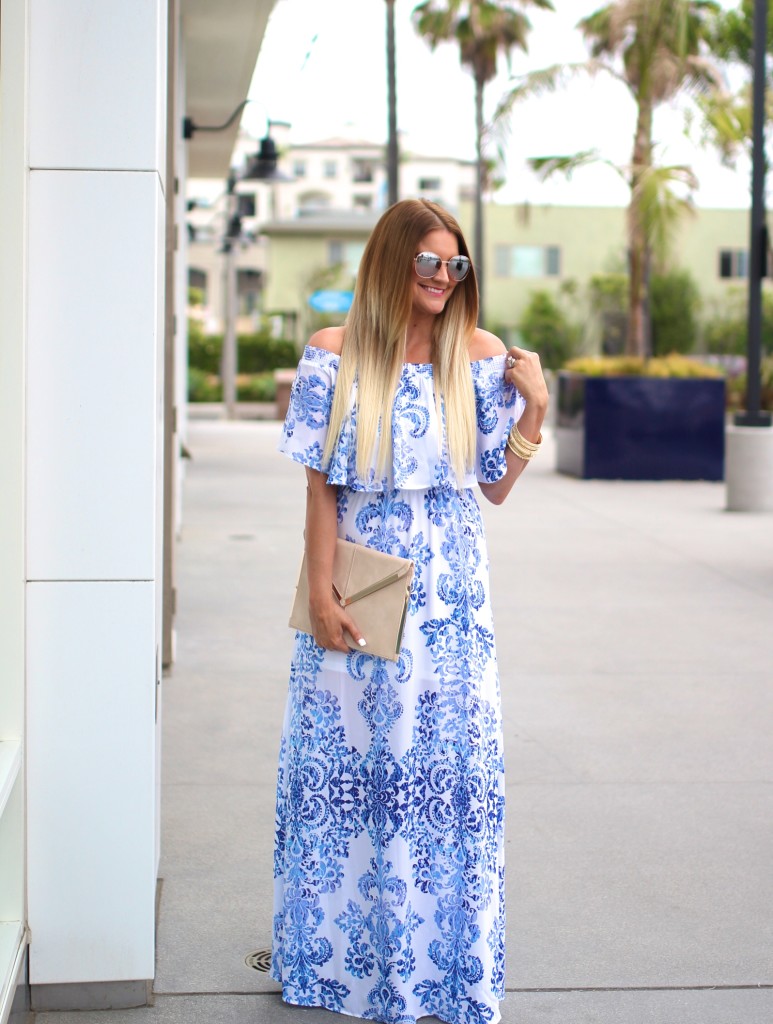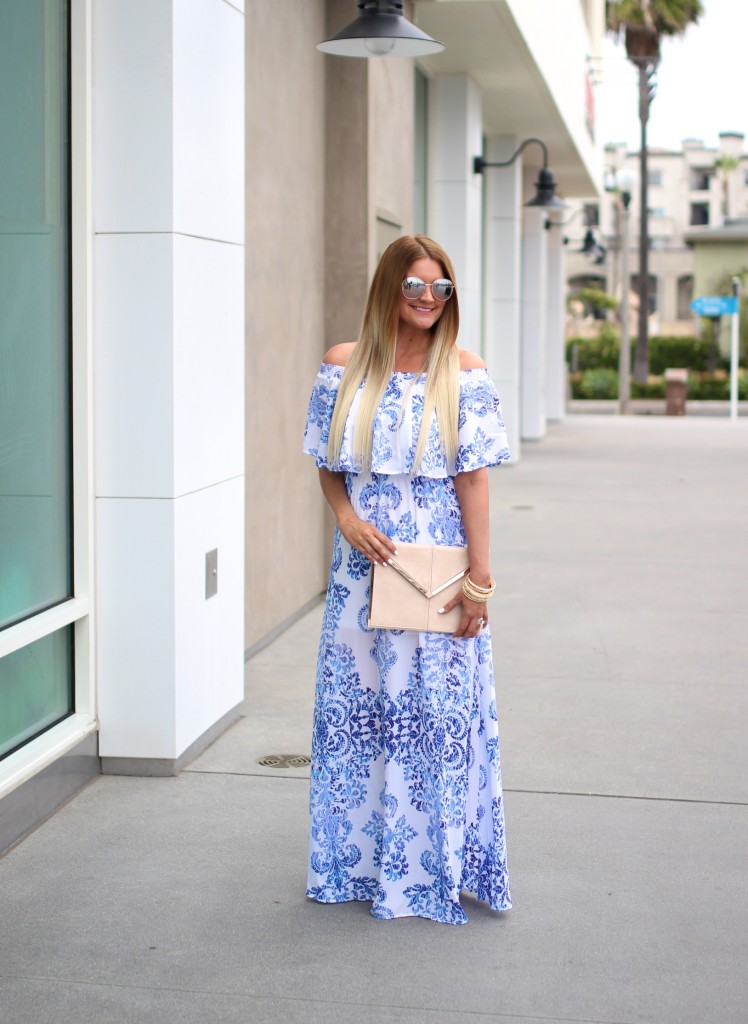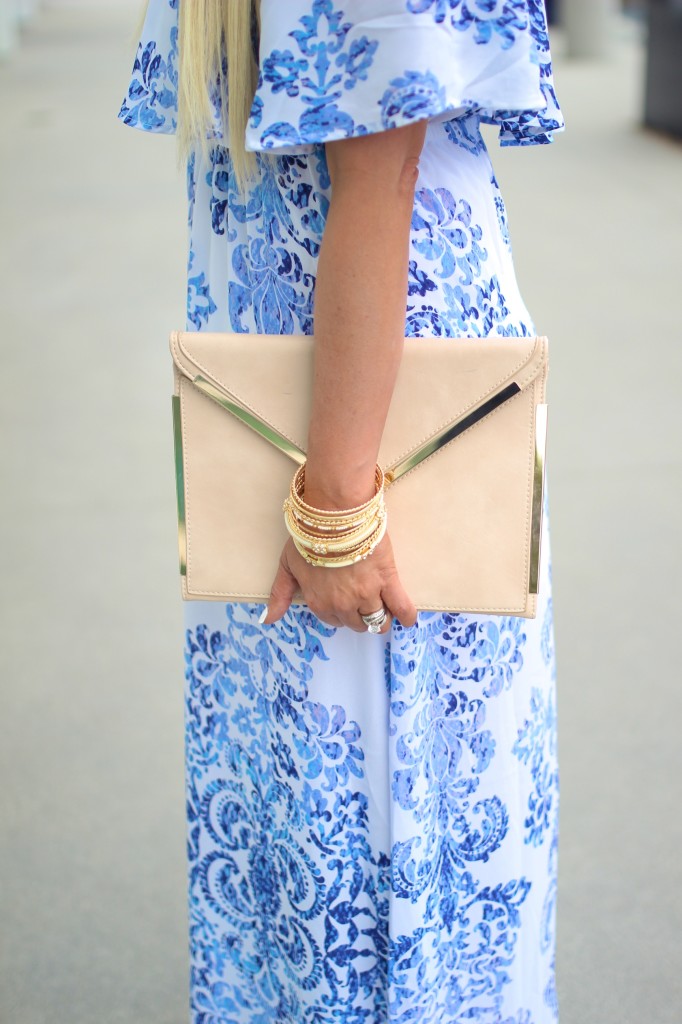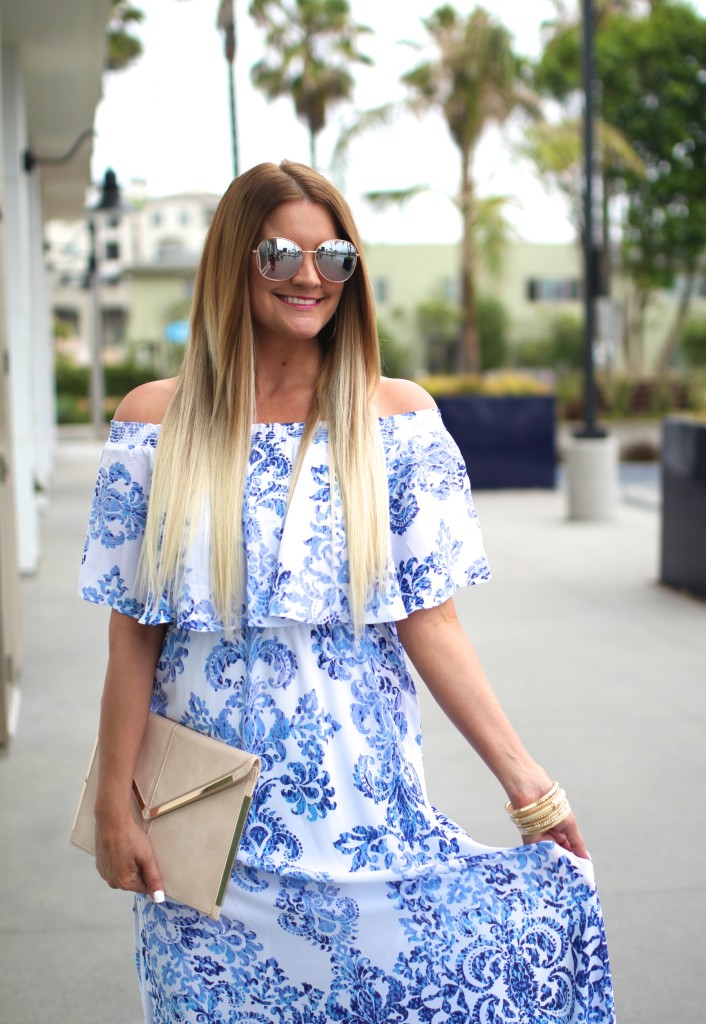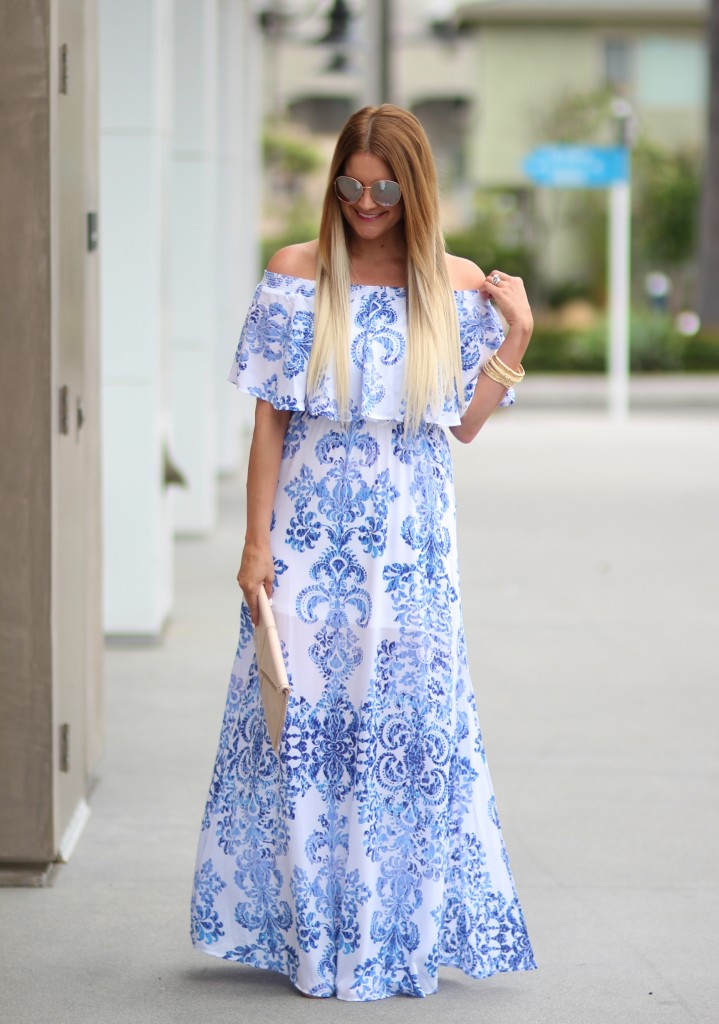 Dress:
Show Me Your Mumu
| Heels:
Steve Madden
| Clutch: Lulu's | Sunglasses: old
(

similar

)
| Bracelets:
c/o Charming Charlie
I saw this dress online a few weeks ago, and completely fell in love with it. Unfortunately for me, it was gone when I decide to finally grab it, so I searched every website and put good vibes out into the fashion universe, hoping it would come back in stock one day. When just like that – poof! – it came back in all sizes! The colors are what initially drew me in, but I love the fit and flow of it too. It would be so perfect for a graduation or summer wedding.
I appreciate you stopping by! Have a great week! 

♥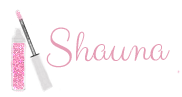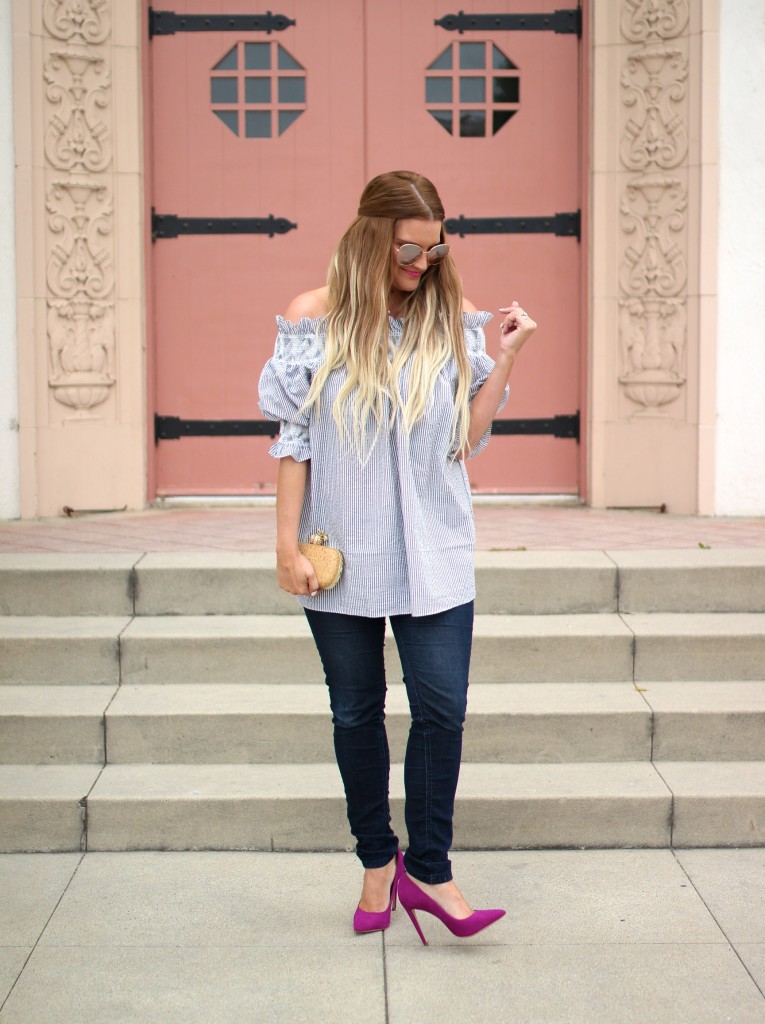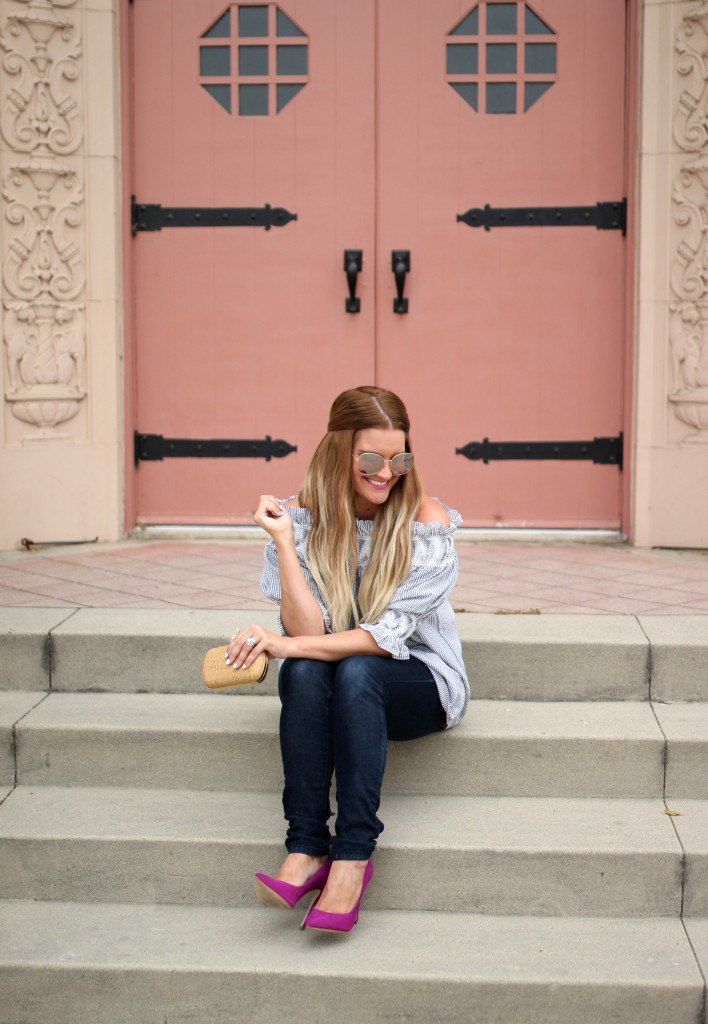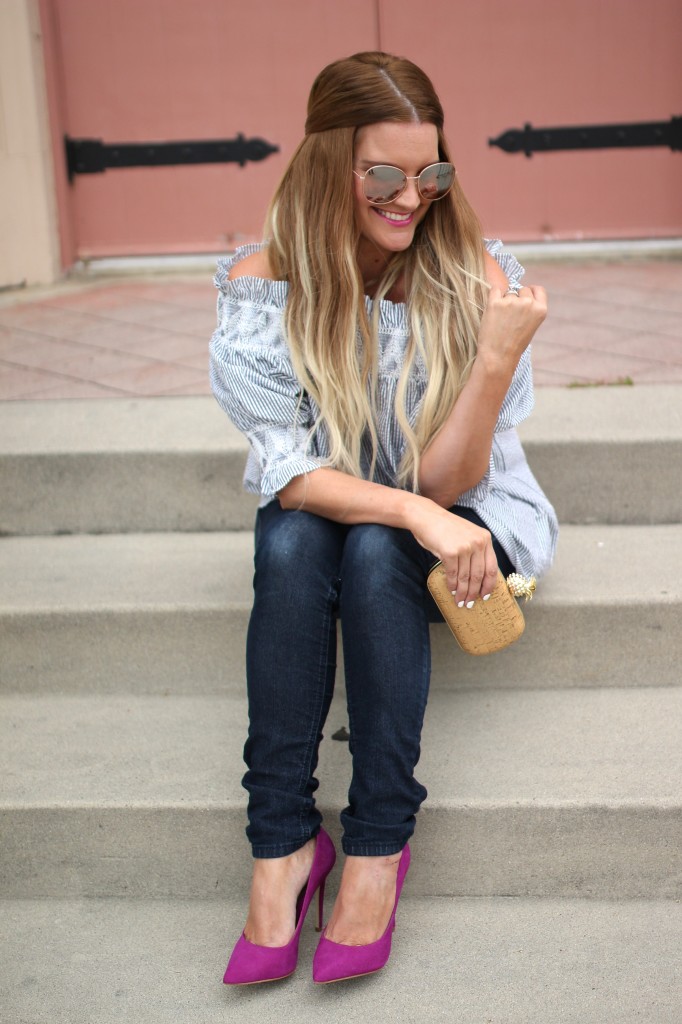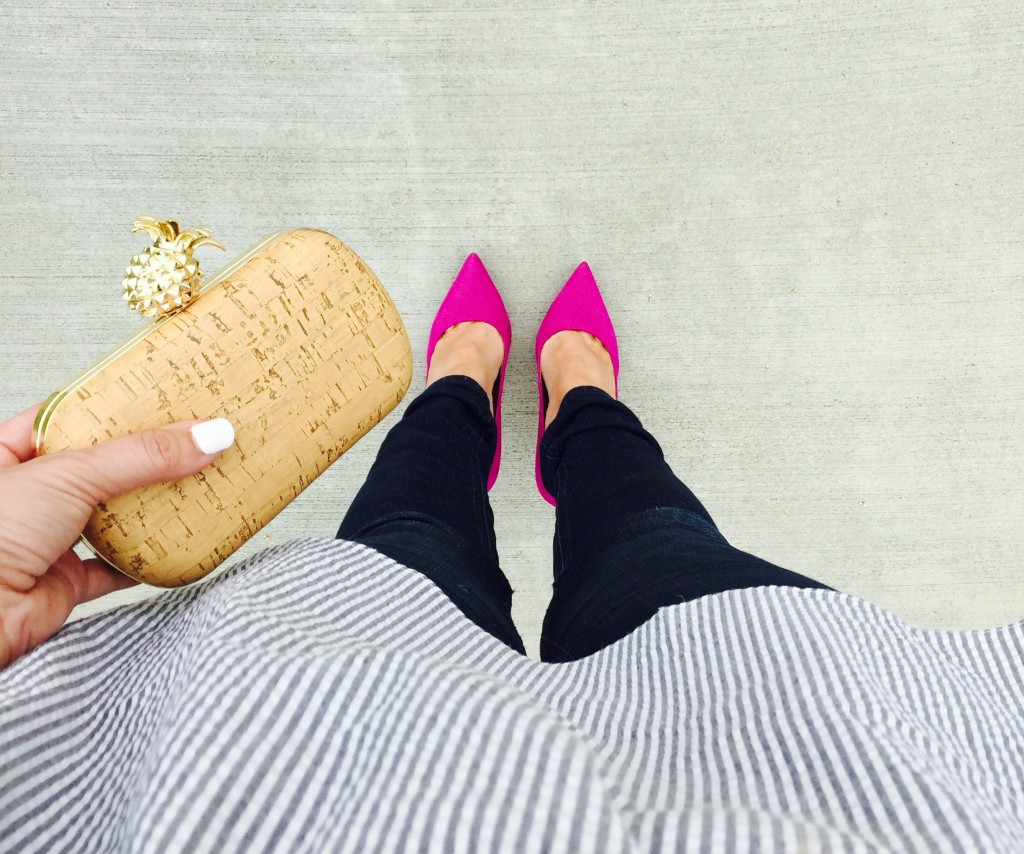 Top: Chicwish (love these options
here

,

here

,

here
) | Denim: old
(

similar

)
| Heels:
Steve Madden
| Clutch:
Charming Charlie
| Glasses: old
(

similar

)
The off-shoulder top is no longer a trend, it's a wardrobe essential. They are fun, flirty and most of all flattering, so what more could you want in a top? Unfortunately, this happens to be an old one from Chicwish, but I linked a few other options that are a close match.
And thanks to my little sis for this cute pineapple clutch! It was one of my favorite birthday gifts I received  a few weeks ago (the other was a giant inflateable swan for the pool that I am SO excited for and SO using alllll summer long!).
Thank you so much for reading! Hope you all have some fun plans in store for the weekend. I'm attending a special event tonight hosted by Chrissy Teigen, and still have no idea what to wear. Talk about waiting til the last minute, y'all. I mean, what do you wear when you have a private meet and greet with a supermodel? The pressure is real!!
-xo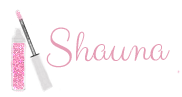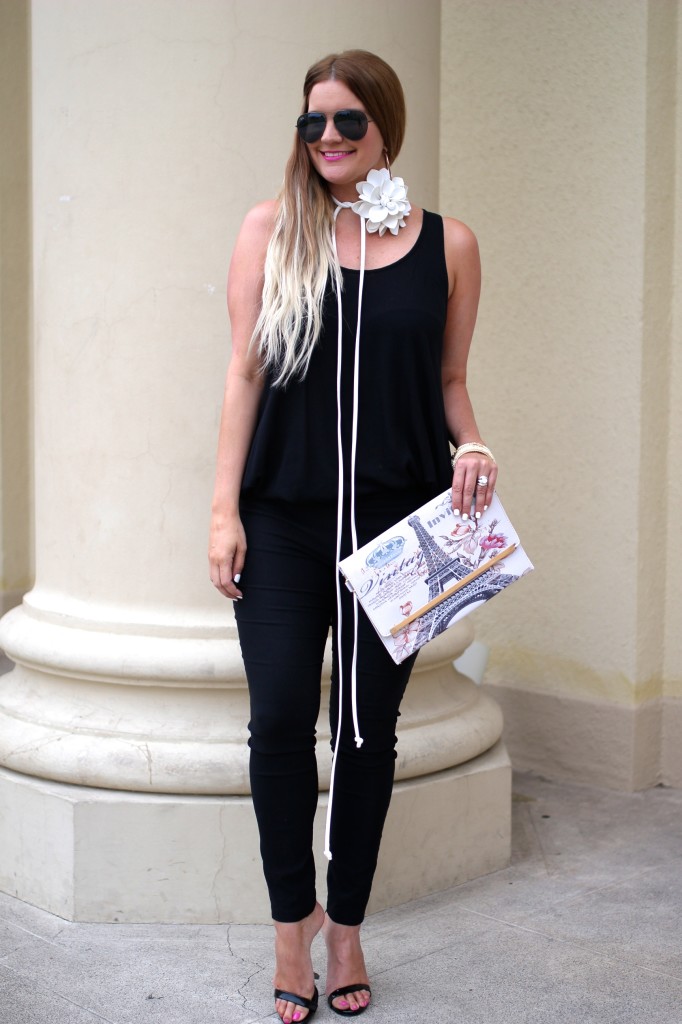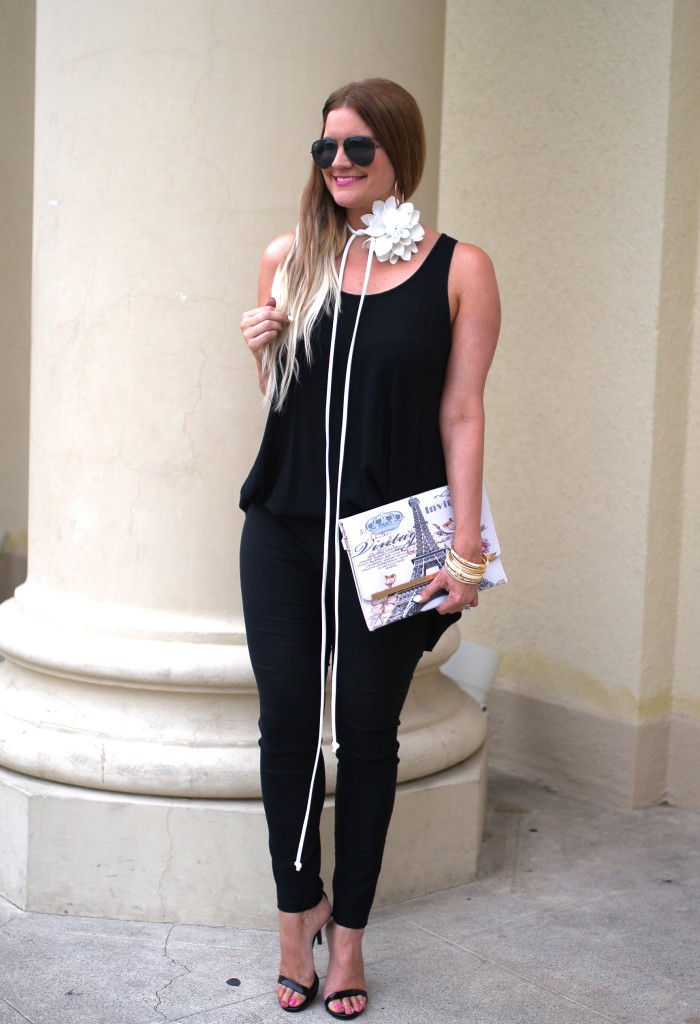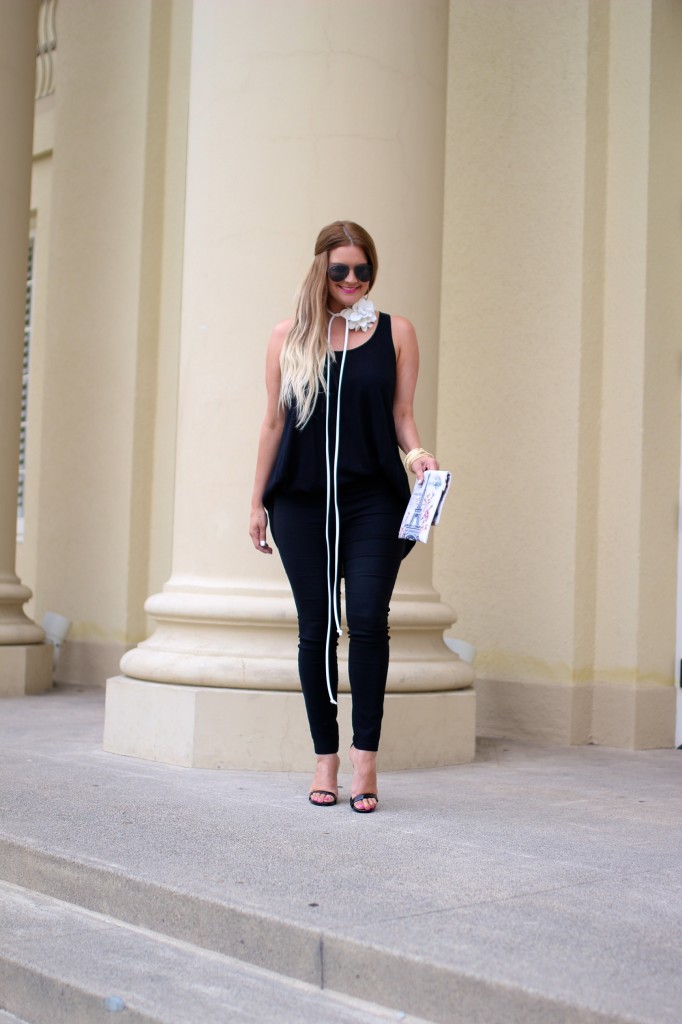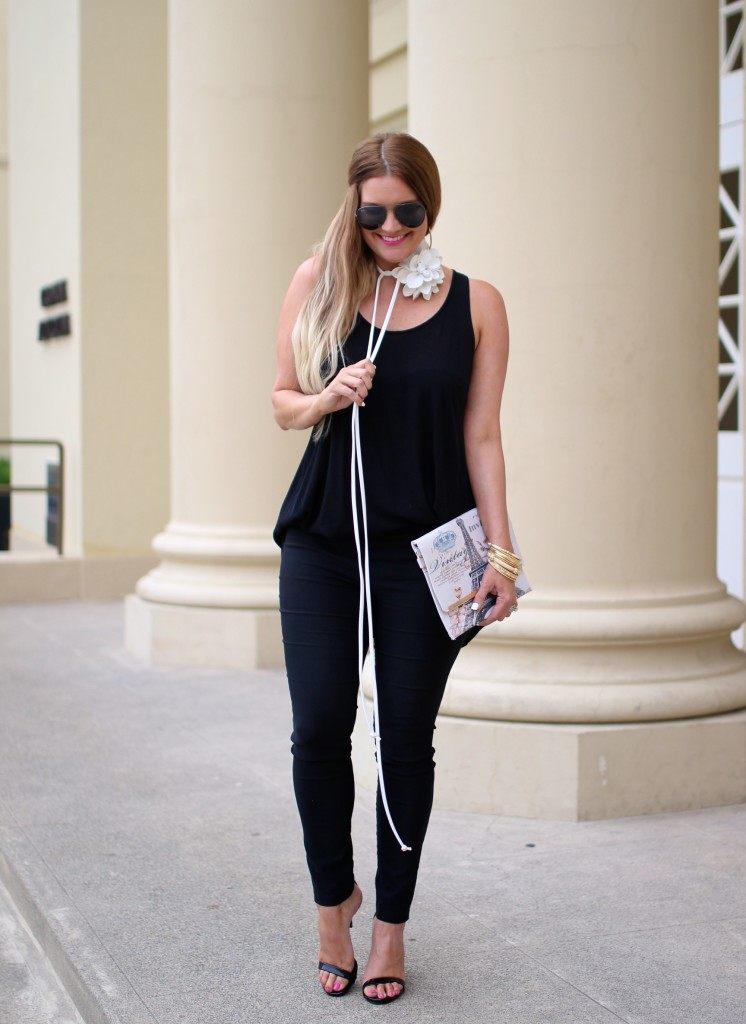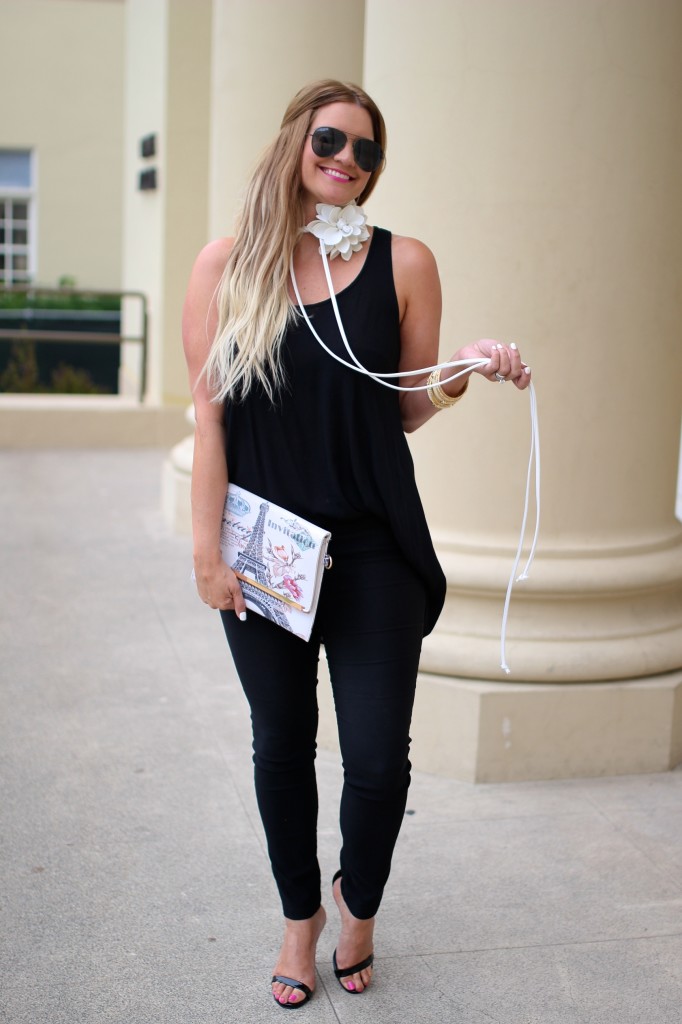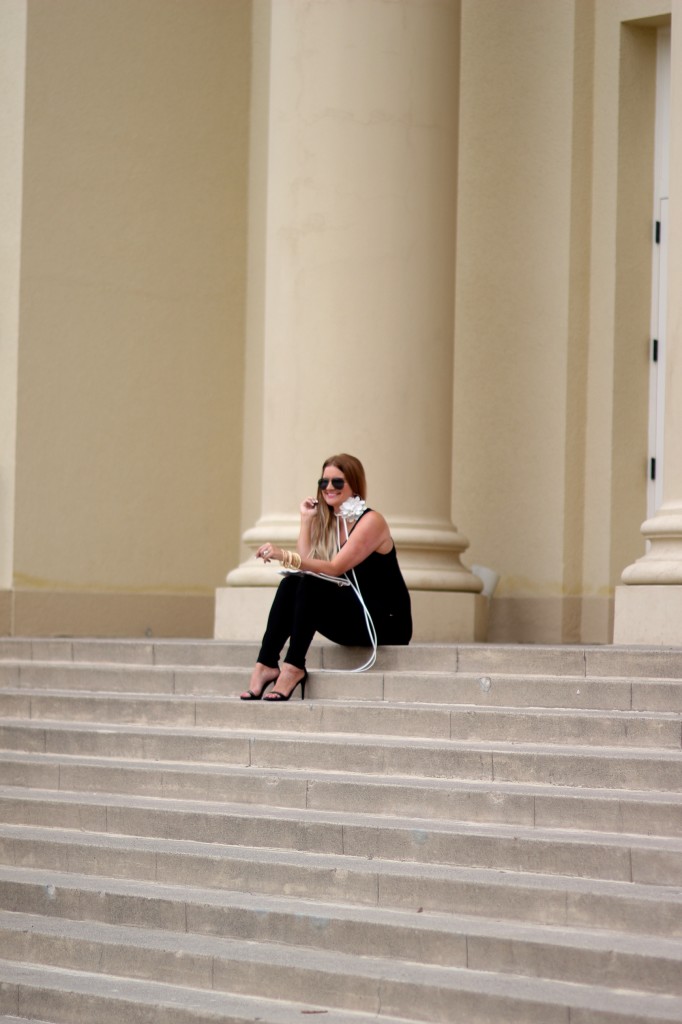 Tank:

F

orever 21

| Pants:

Eileen Fisher

| Flower: Nasty Gal (

white

version,

black

version) | Clutch:

Amazon

| Heels:

Steve Madden

| Glasses:

Ray-Ban

    Have you heard the not-so-shocking news that I'm a sucker for over-the-top accessories? What can I say? There's nothing like glamming up a basic date night look, with a little floral flair 🙂 Whether it be

a

feather skirt

, a

fun bag

, or

a

70's inspired out-of-this-world coat

, I always try and up my look by adding one piece of something fun. That's what fashion should be: pure & total fun. Don't be afraid to take a risk! I promise you'll thank me later 😉   Thank you so much for stopping by. Have a wonderful week!