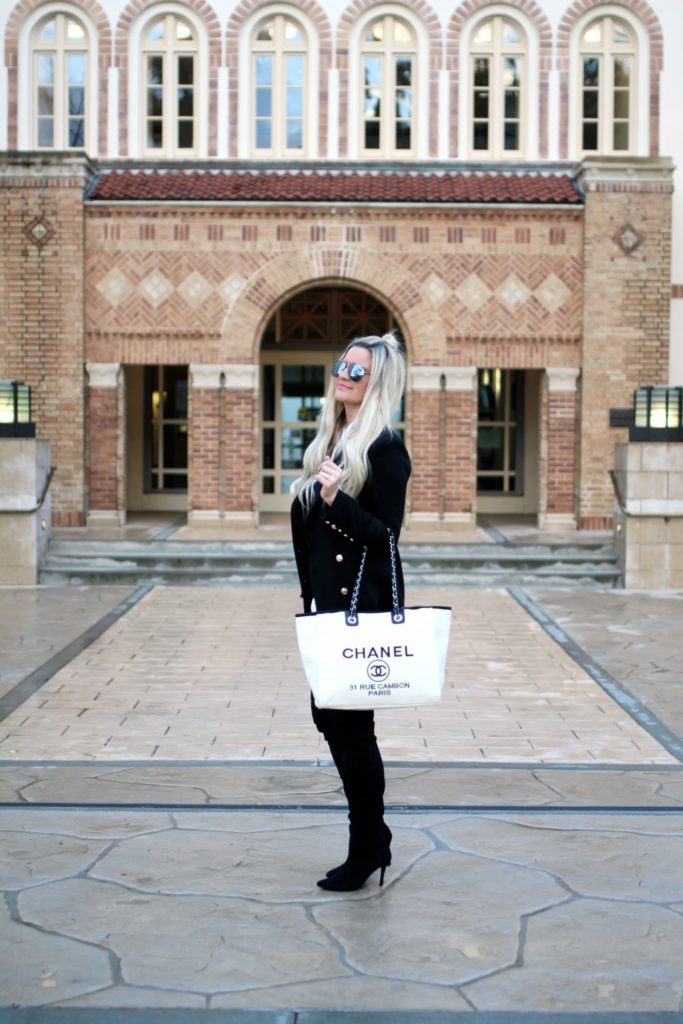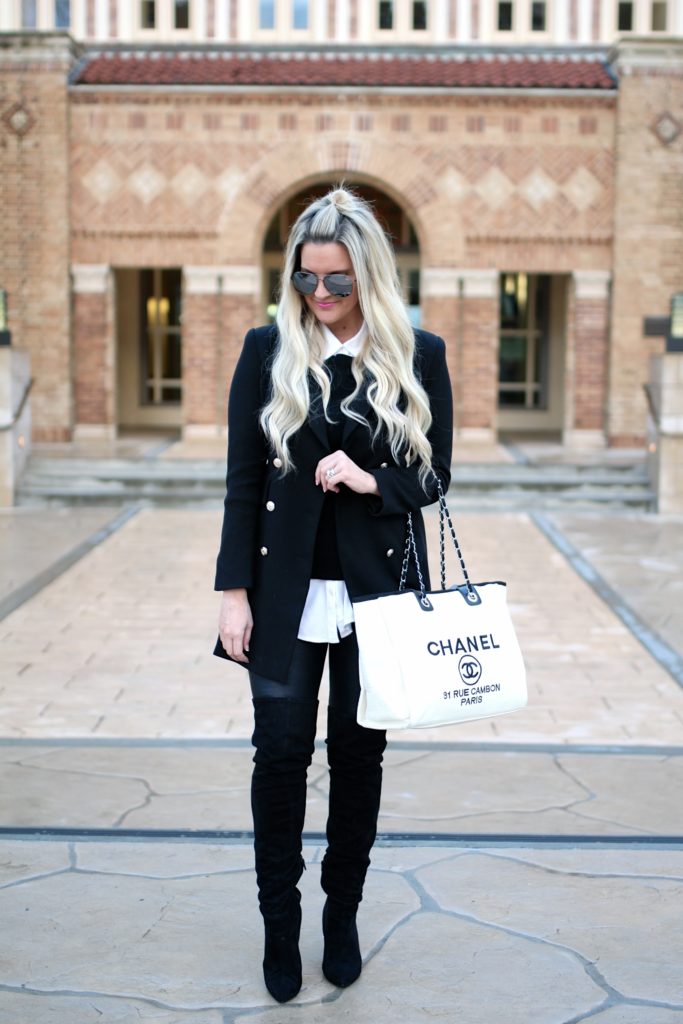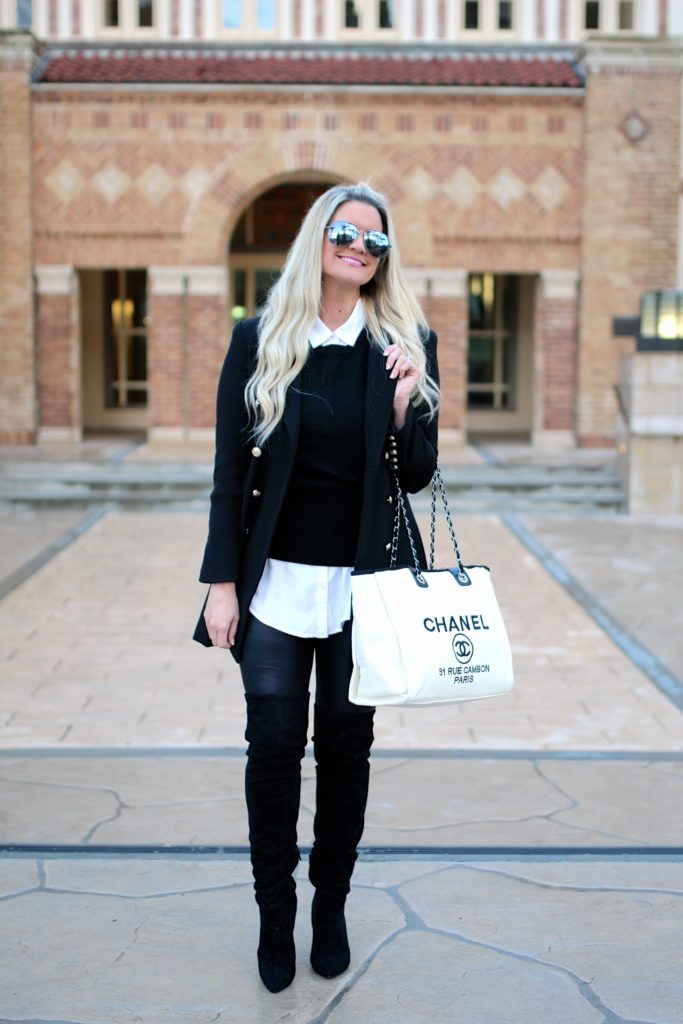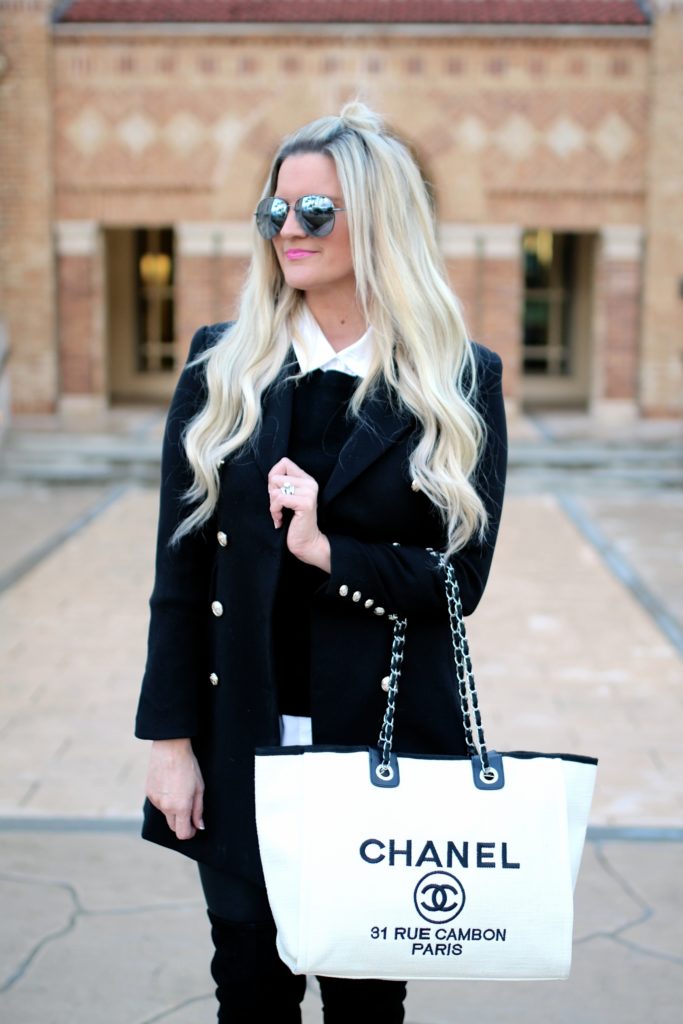 Blazer: LuLu's (also comes in red, white and beige) | Button down shirt: old (similar) | Leggings: old (similar) | Sweater: Walmart | Boots: sold out | Glasses: Quay | Bag: Chanel
Fashion lovers across the globe have always envied the French for their minimalist and effortless sense of style. While there are many versions of "French Chic", there is one thing they all have in common: making an effort and putting a lot of thought into an outfit, but making it LOOK effortless. 
Sound hard? It's not! Just follow these tips:
Simple Ensembles Rule. Always.
You know it – the classic white button down with skinny pants. The French stick with neutral color palettes and choose subtle over shocking.
Fast Fashion And Trends Are All A No.
No sweatpants, yoga pants, jeans with bling or skimpy tops. You're not fifteen anymore!
Invest In Quality.
French women take their time curating a wardrobe that flatters her. Do as French women do; take your time, savor, save and invest in garments you'll love for years to come.
Mix High And Low.
French women layer a mix of high and low pieces. It's what makes an outfit interesting. While my tote may be Chanel, the boots and leggings are both Forever 21!
No Hiding! Embrace Who You Are.
The French say no to anything that doesn't flatter. Knowing your body type and what colors work best for you goes a long way to feeling comfortable, confident and loving what's in your closet. When you love your closet, you won't feel the need to buy more, and you'll embrace your body.  
Thanks for reading, have a great week!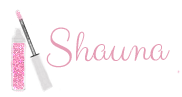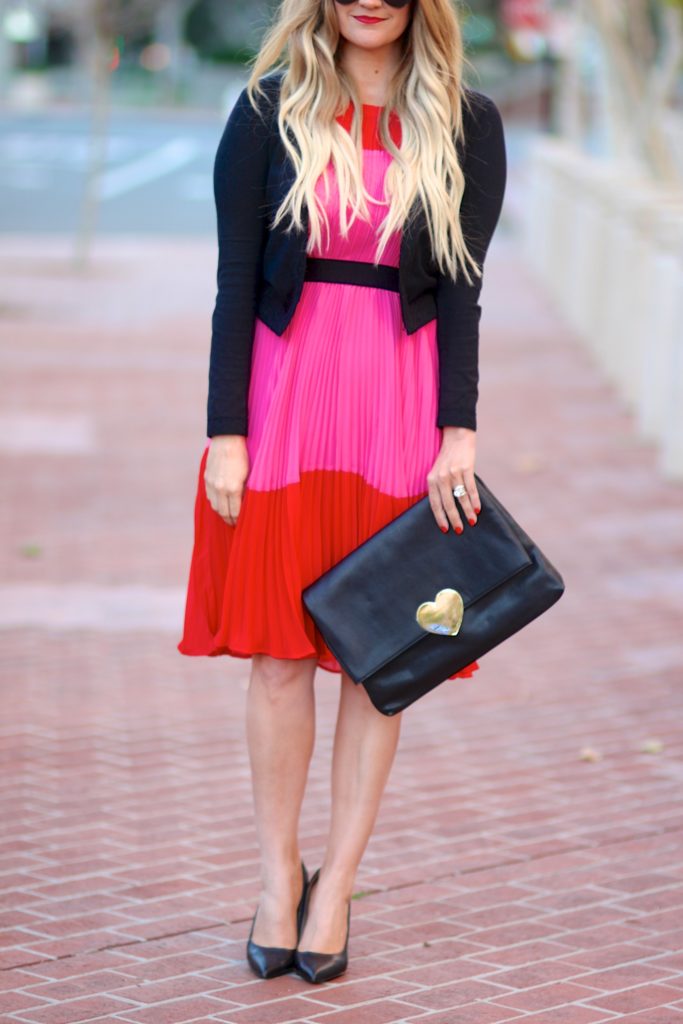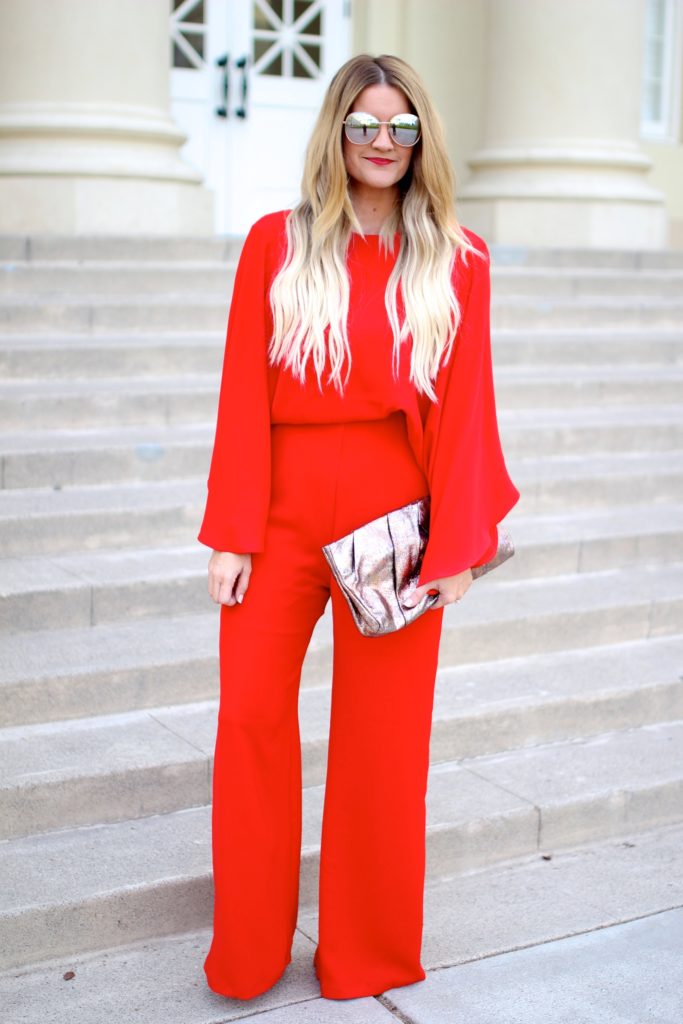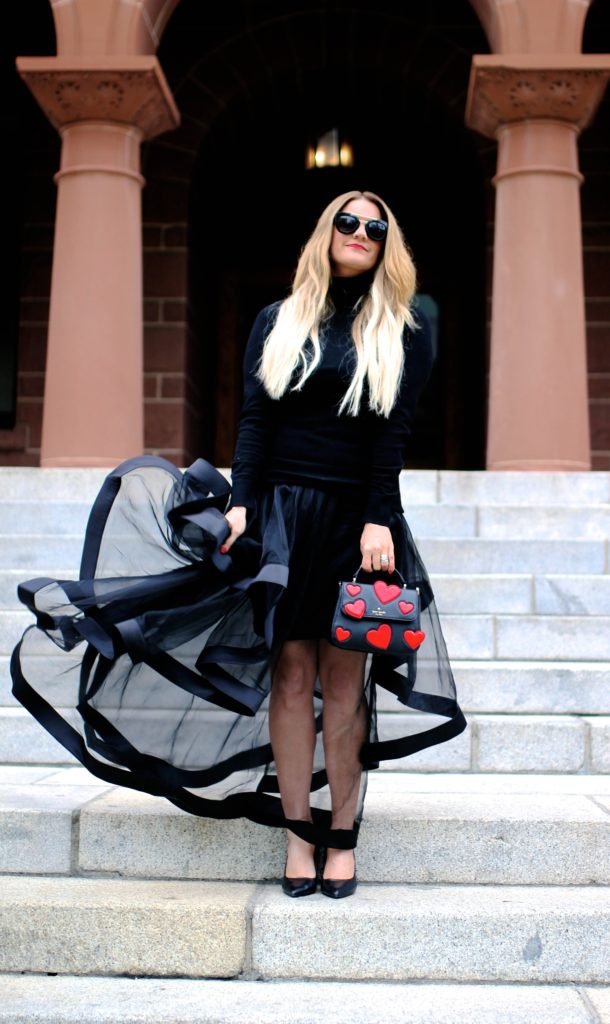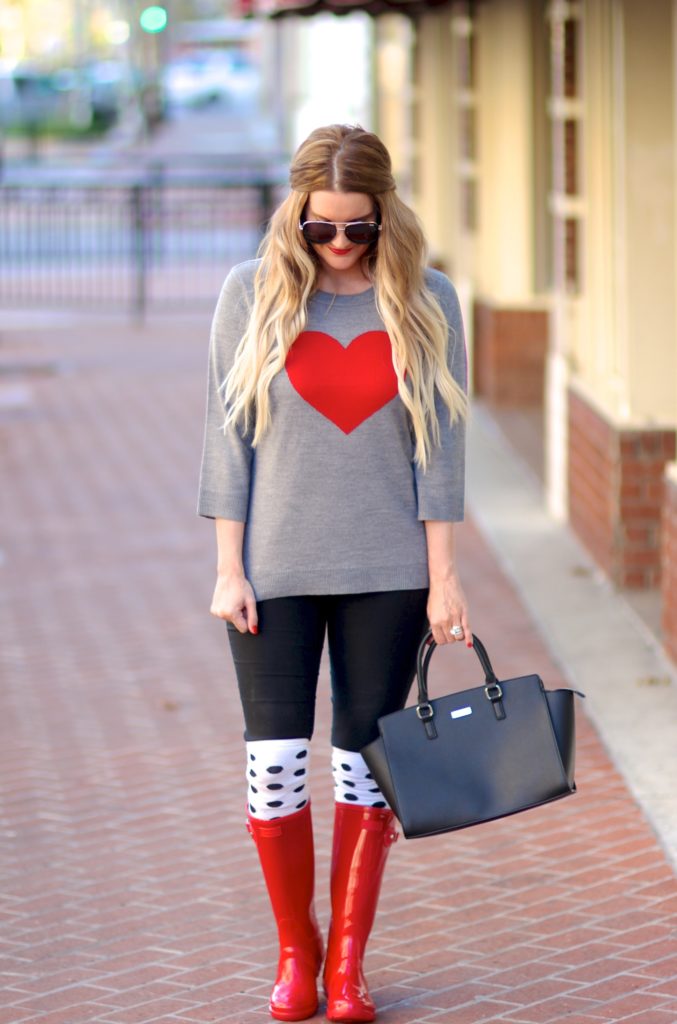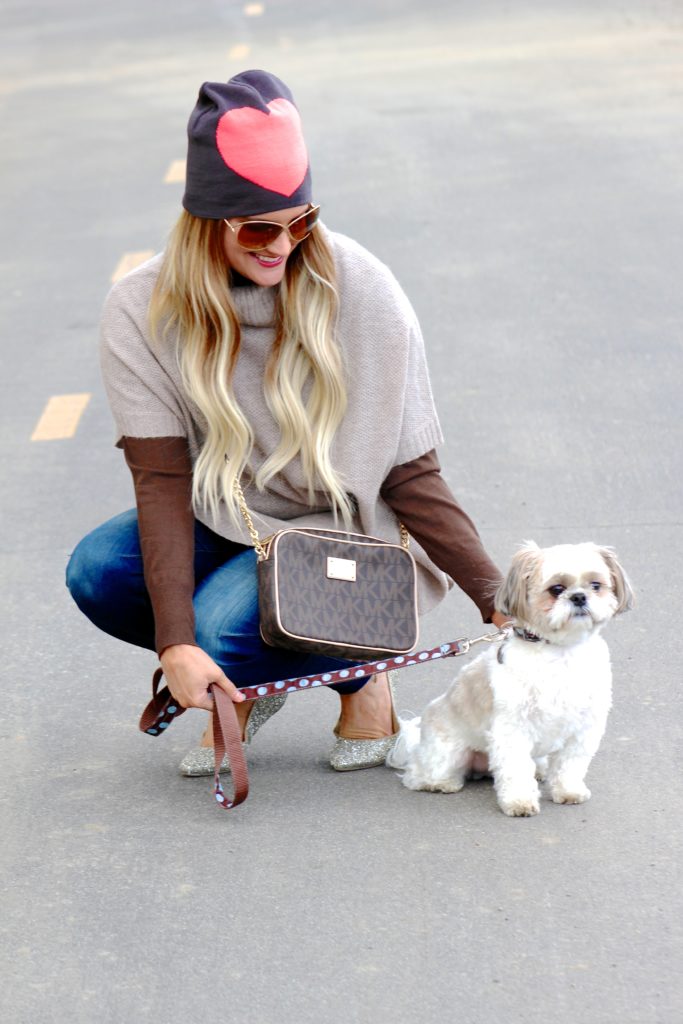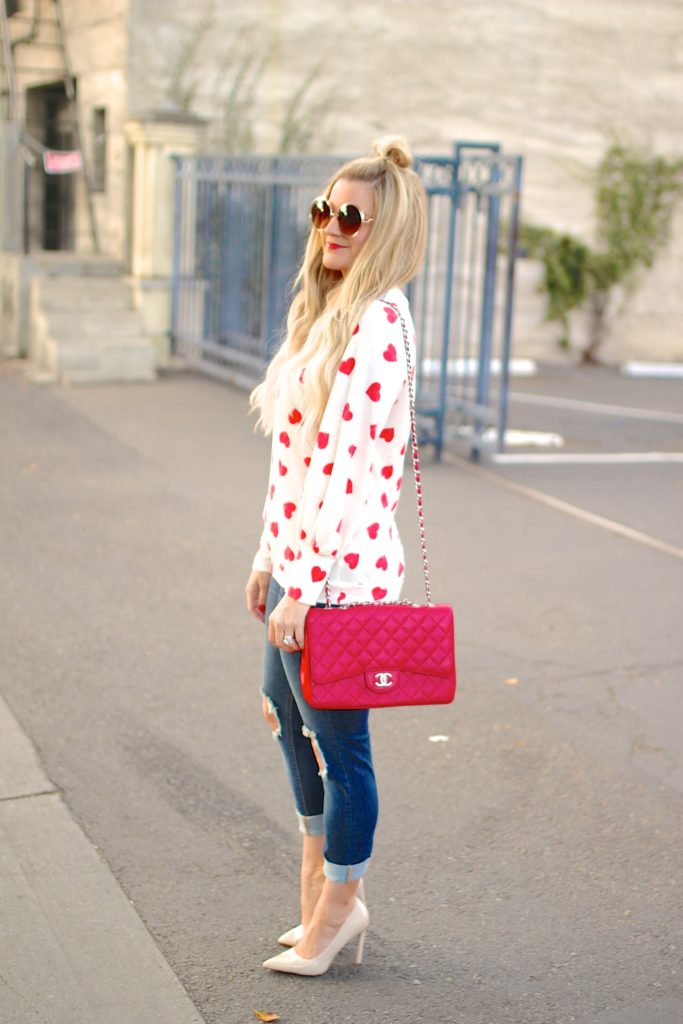 Just wanted to share a few of my favorite Valentine's looks from over the years!
I hope you and your loved one have a Happy Valentine's Day! Whether you're spending it with your significant other, best friend or furry friend, squeeze the ones you love a little tighter today.
Love & big hugs to you all! 
♥♥ XOXO ♥♥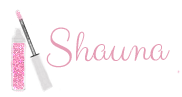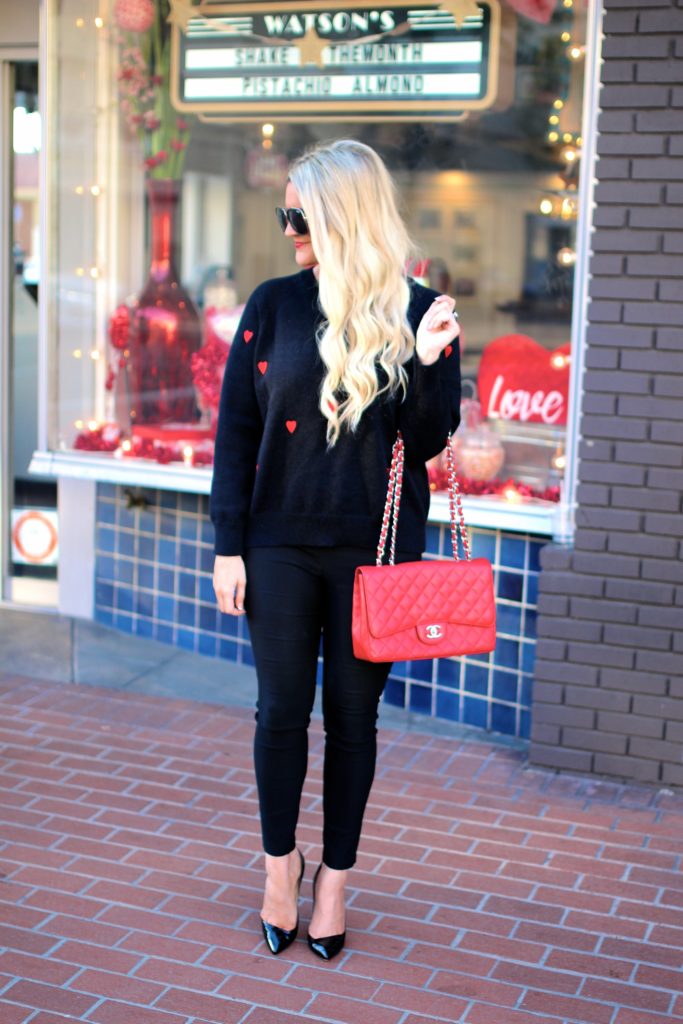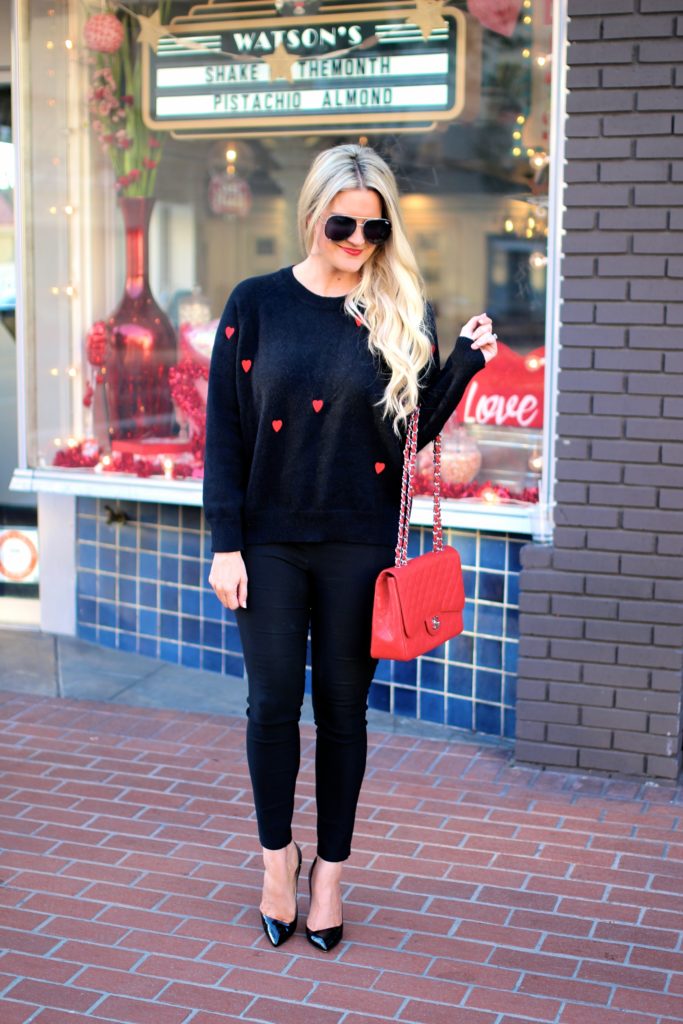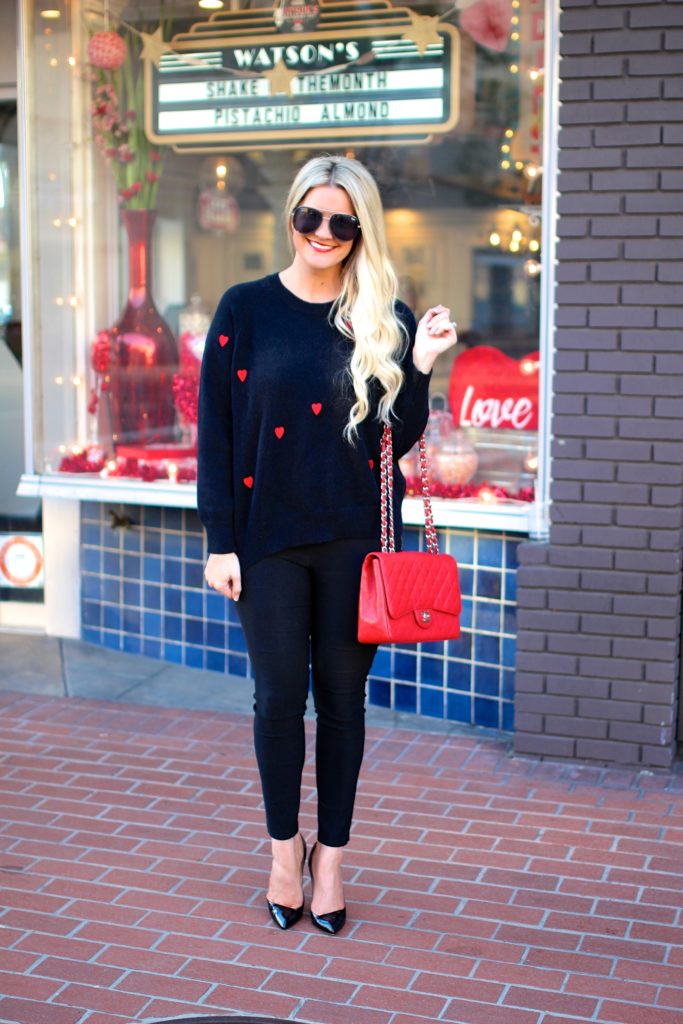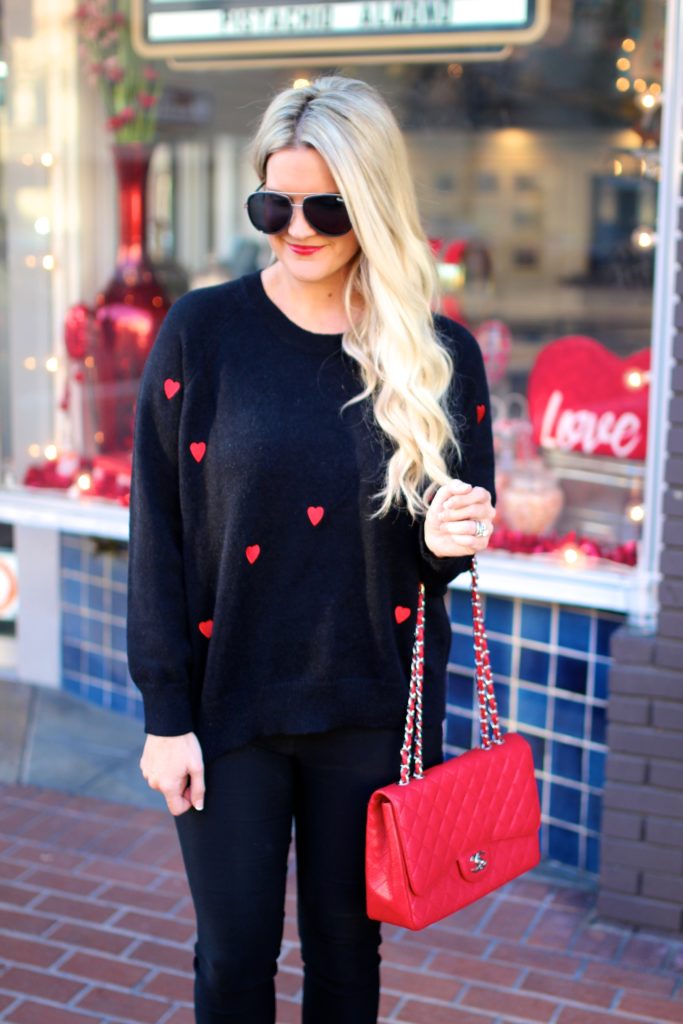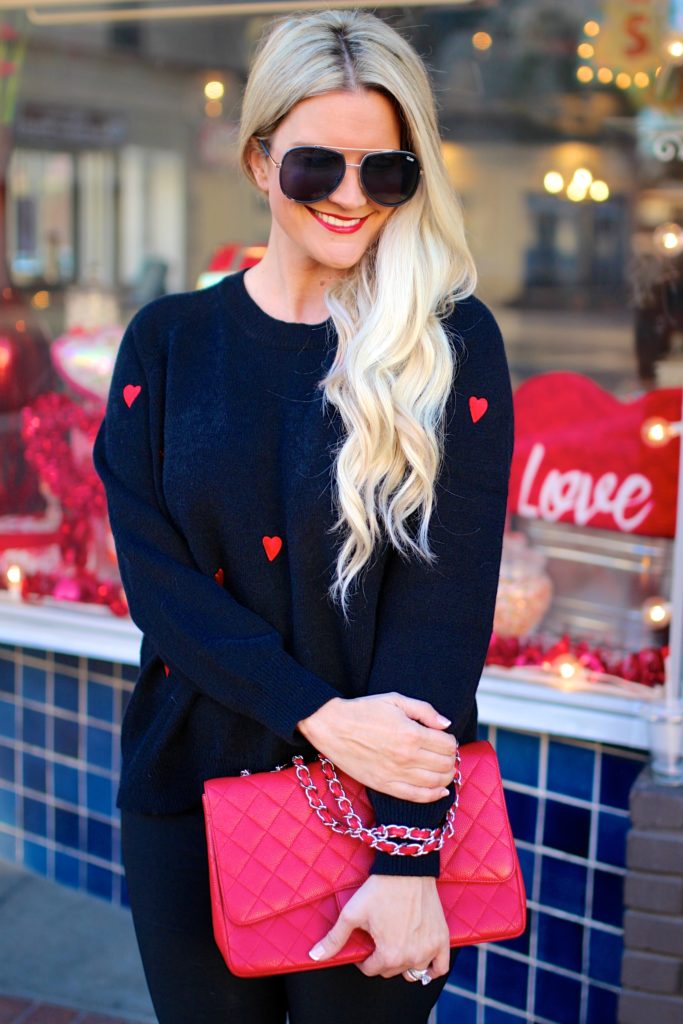 Sweater: Chicwish | Shoes: Louboutin | Glasses: Quay | Bag: Chanel
This sweater is one of my faves for Valentine's Day! The tiny heart detail is super subtle, so it's the perfect cozy knit for a low key Valentines look. Next time I'd pair it with red heels for something extra festive!
Can we talk about how lucky I was to find this store window at the exact moment we needed a place to shoot this look? It wasn't my original plan, but when we drove past this corner…I was like STOOOOOPPPPPPPPP! It's actually an old fashioned soda shop in town. Not only do they have the best ice cream, but the cutest holiday windows too 🙂
Thank you so much for stopping by! It always means so much -xo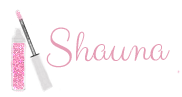 Cardigan: Shein | Top: old | Skirt: old (similar) | Boots: Forever 21 | Glasses: Prada | Bag: Chanel
No fake news here – this cute cardi is only $14! How very Carrie Bradshaw, right?! I think she'd most definitely approve 🙂
Thanks for reading – Happy Weekend! ♥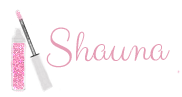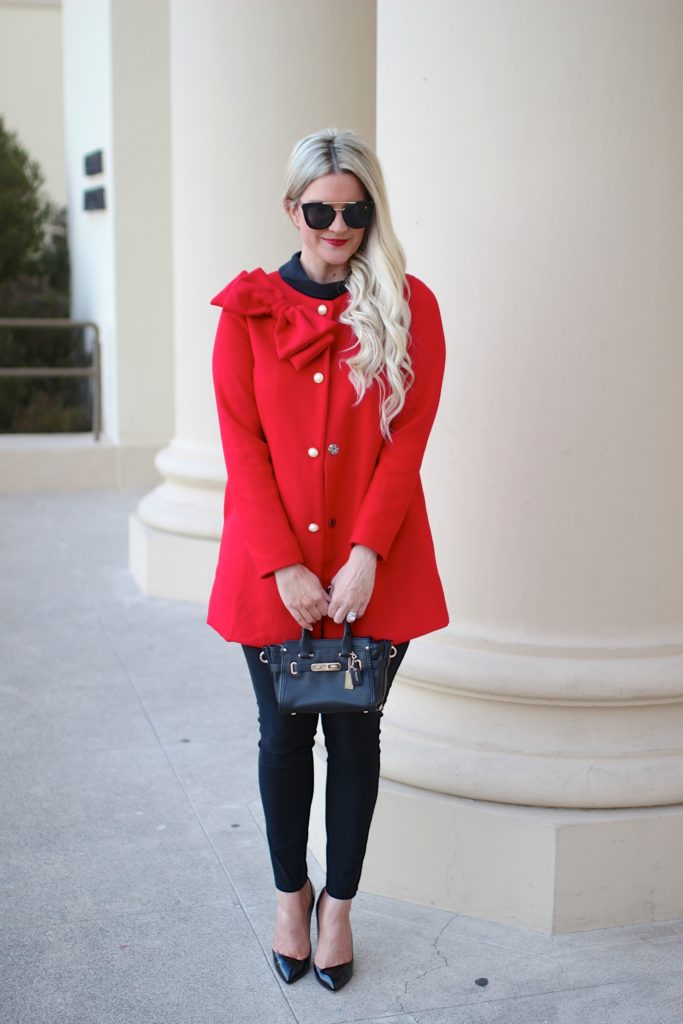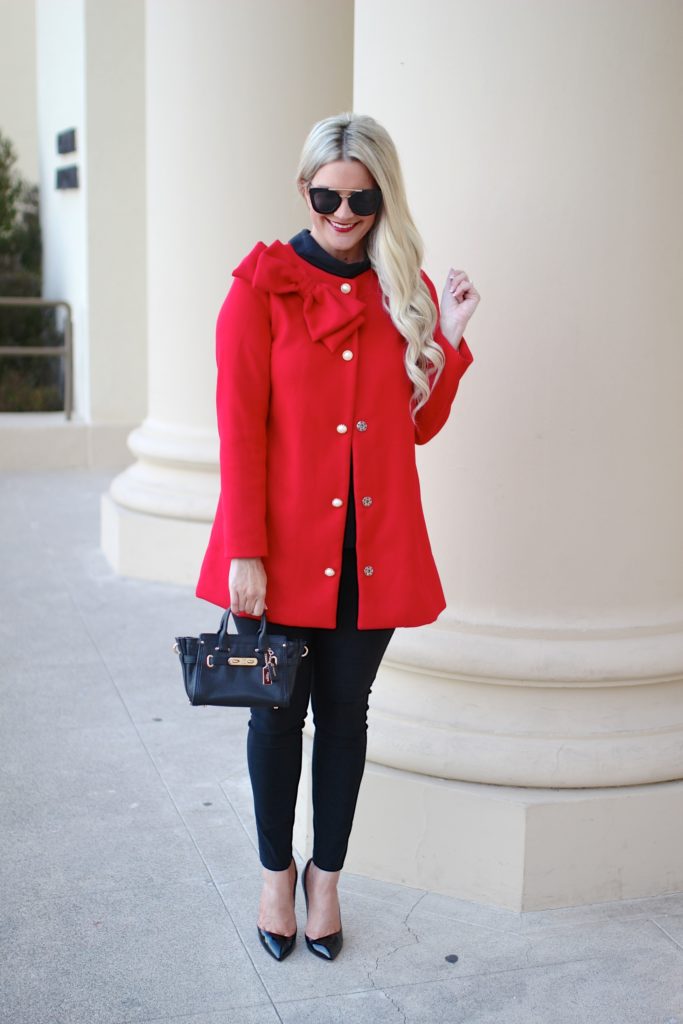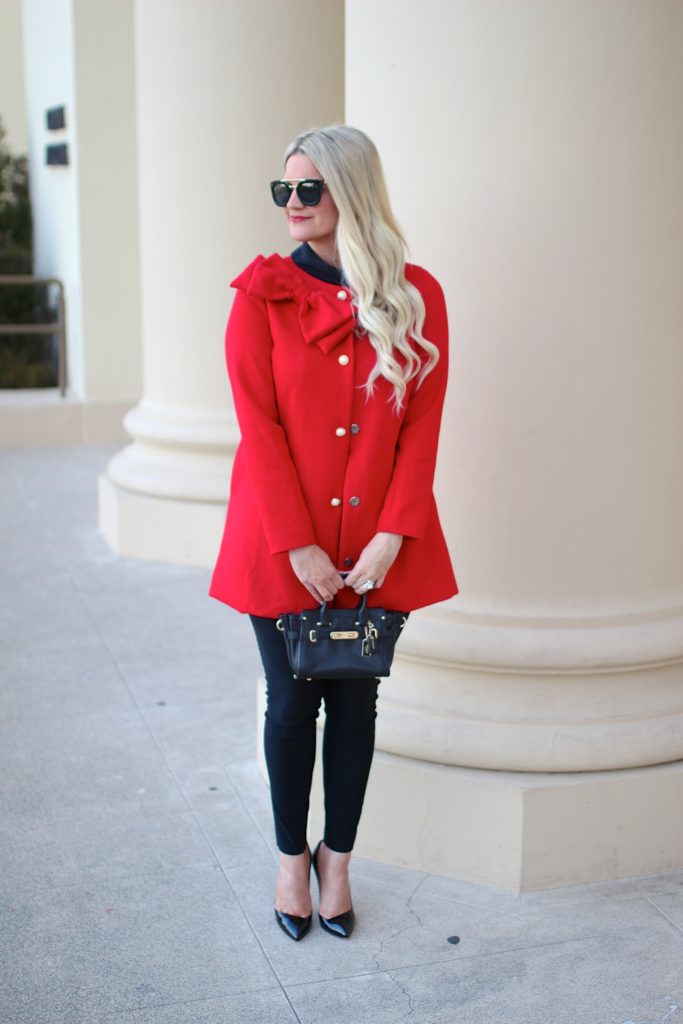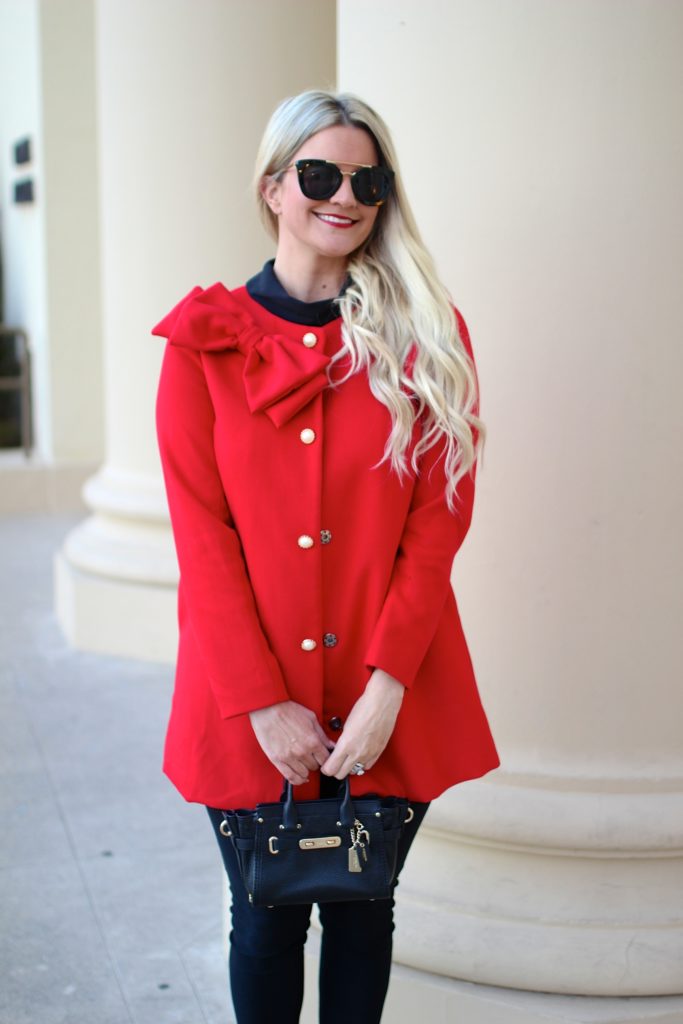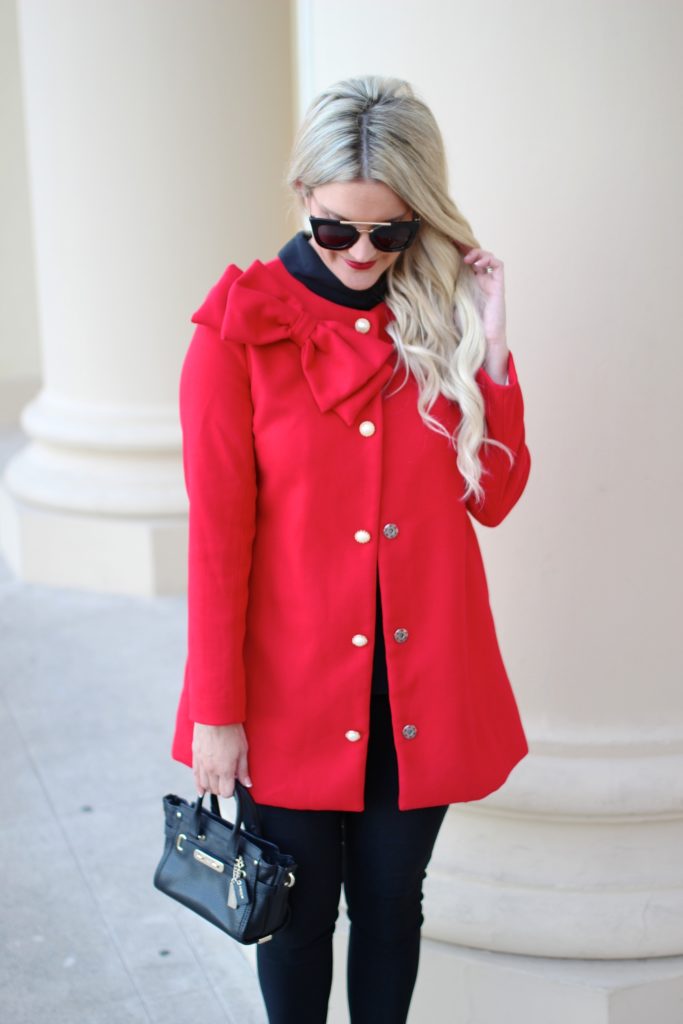 Coat: Red Dress Boutique (also comes in pink, green, and black!) | Shoes: Louboutin | Glasses: Prada | Bag: Coach
Can you feel it? Valentine's Day is next week and it seems as though everyone is full of that loving feeling. But why should Valentine's Day be the only day where you show your significant other how much you care for them? Why shouldn't you do it each and every day of the year?
Here are a few of the little things you can do to make February 14th last longer than just 24 hours:
♥ Start the Day with a Connection ♥
When you wake up in the morning, let them know how happy you are to see them and hear their voice. Before you go to bed, remind them once more!
♥ Give Hugs ♥
Something that takes very little to make happen but can mean so much.
♥ Say the Words ♥
Whether those words are "I love you" or "You're the best", it doesn't matter. Sometimes it's nice to hear them, especially if they're out of the blue.
♥ Actively Listen ♥
It seems simple, but try and recall the last time you gave them your full attention. Just taking time to put all of your focus on hearing your loved one can communicate more than you imagined. 
See? 4 simple ideas to make Valentine's Day last the whole year through.
You just need to take the time to make it happen! – XO