RAINBOW everything is my jam, as you all know! So there was no way I was passing up on these pumps and this fun clutch
LOVING the time change and the almost 80 degree weather we've been having this week!
MACYS has been killing it lately with their jumpsuit selection. I just grabbed this one for Palm Springs.
BOOK recs needed! Looking for a fun summer read for those afternoons by the pool.
SHARING the best Cadbury Creme Egg Cupcake recipe, courtesy one of my favorites, Andrea from Living on Cloud Nine
TEN Happiness tips for busy people here 
♥ Wishing you all a great weekend! ♥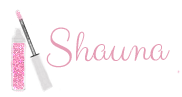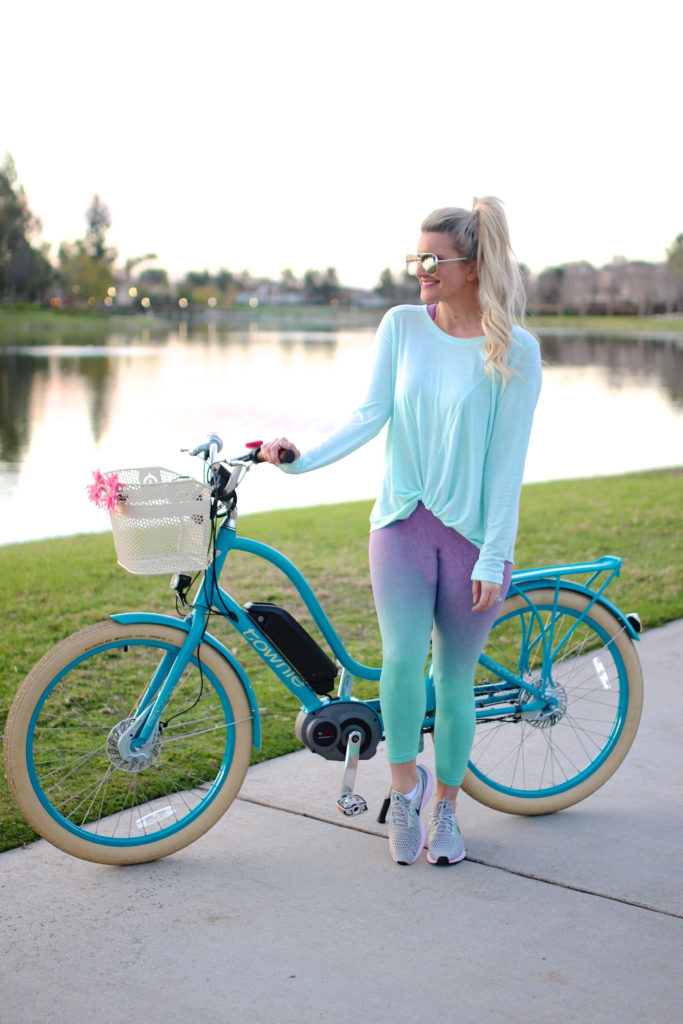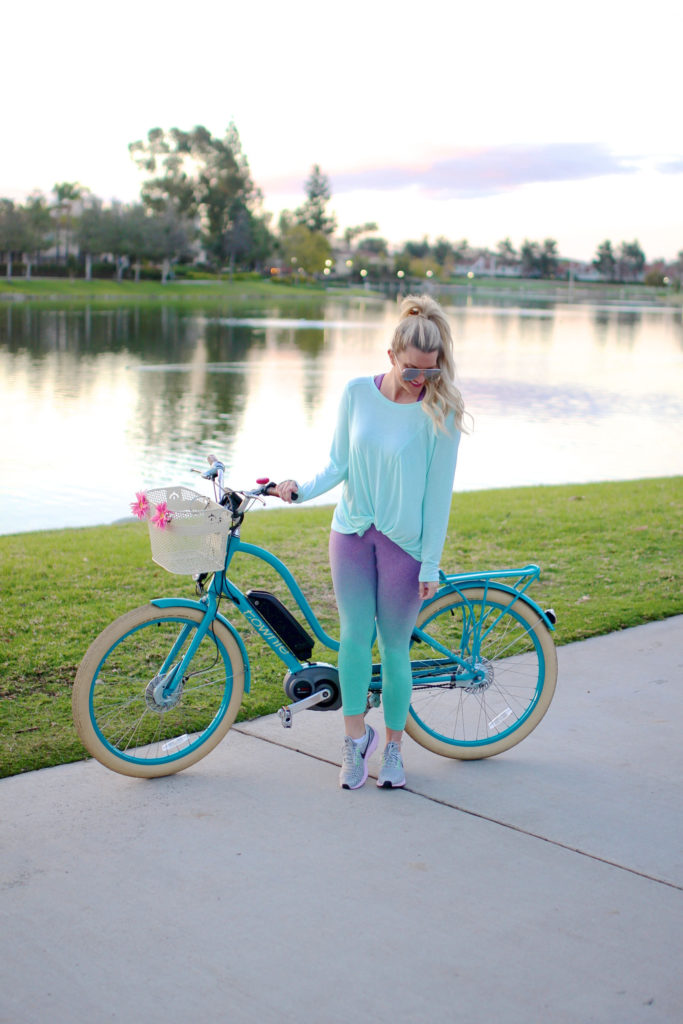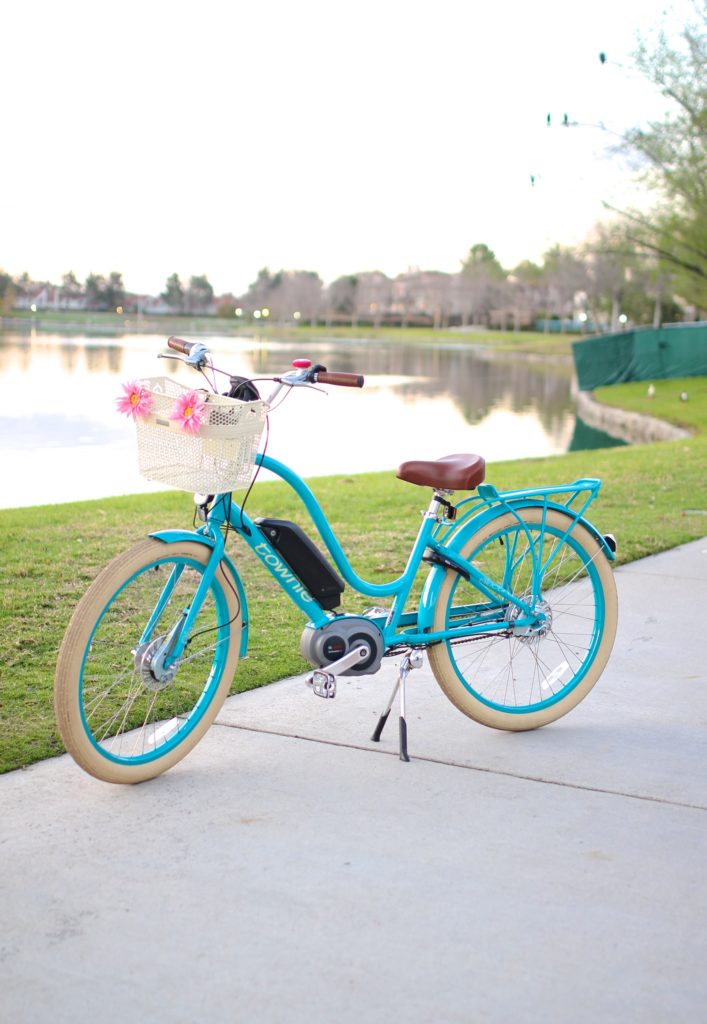 Tee: Nordstrom | Leggings: Asos (matching sports bra here) | Shoes: Nike | Glasses: Quay | Bike: Santa 🙂
We are 3 months into 2019…and how are you doing in keeping those resolutions to workout and eat healthier?!
Every year it's the same thing; I workout regularly until summer and then the time changes come Fall, and my workouts are the first thing to be ignored on my to-do list.
But doesn't having cute workout clothes give you more of an incentive to workout? I know it's a motivator for me! I've gone through phases where I spend a ridiculous amount of money on trendy athletic gear, which never last long after extensive wear.
So let me just say how surprised I was to discover all the cute athletic gear at a friendly price point over at Asos…as in these leggings are only $19! 
Fitness, fashion…AND frugal?! Ummm…that's almost as good as that high you get from working out, right? 🙂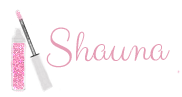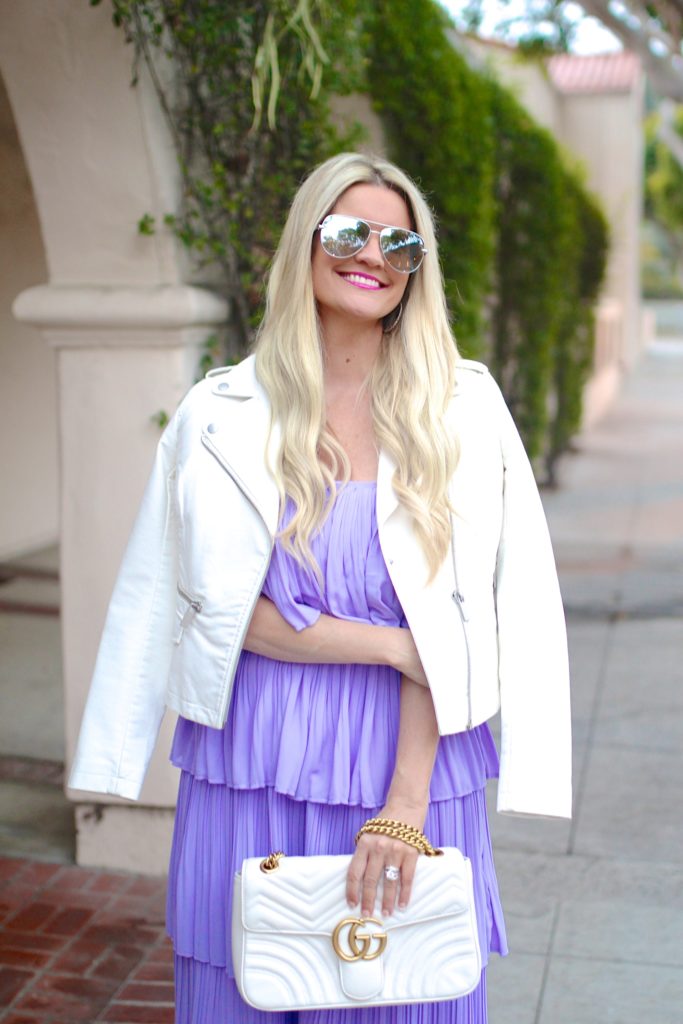 Dress: LuLu's (red version here) | Heels: Louboutin | Moto jacket: Macy's | Bag: Gucci
Funny to think that as type this post about Spring, it's literally pouring down rain and we are under a flash flood warning! I don't know about you guys, but I am here for all things sunny and bright, please!
On this particular day, it was so pretty and a little warm which was a nice change, so I decided to bring out my favorite tiered dress. LuLu's just released it in another 4 colors, and I already grabbed the rainbow version (I know, SHOCKER).
Thanks for stopping by! Happy weekend!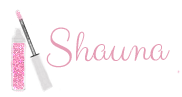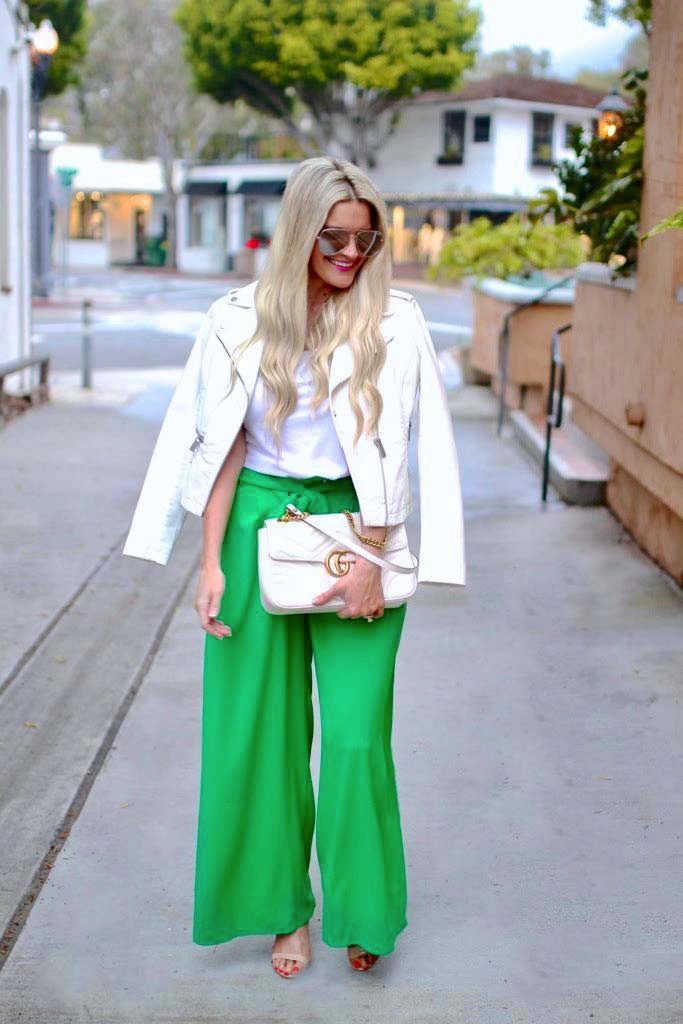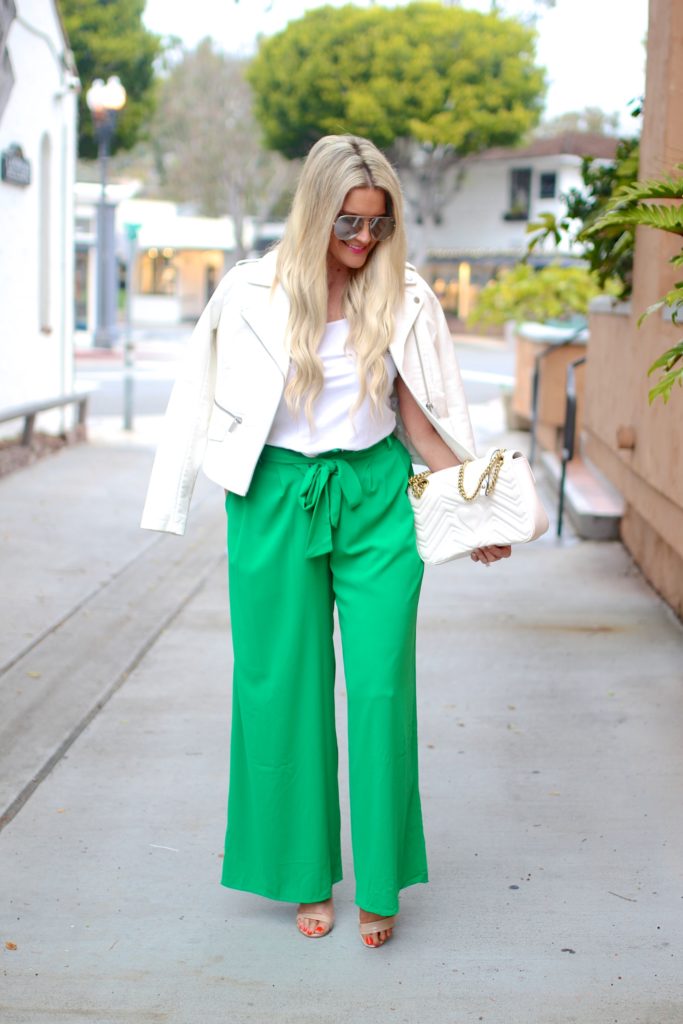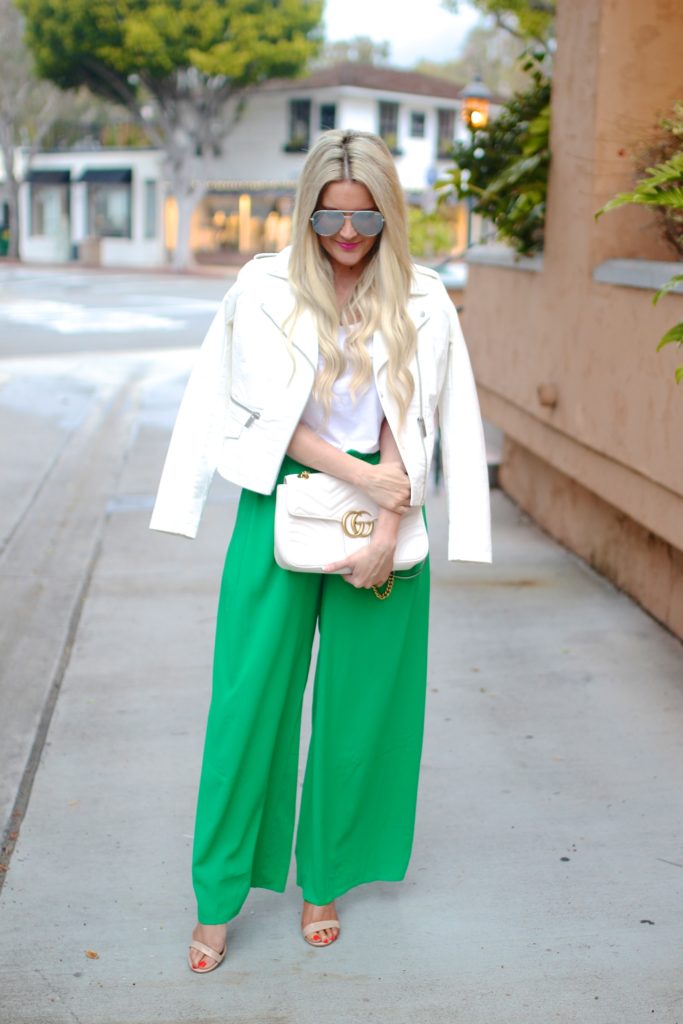 Moto jacket: Macy's | Tank: Macy's | Pants: Red Dress Boutique | Glasses: Quay | Bag: Gucci
While I'm not much into the graphic tees, I'm ALWAYS down for a more stylish wear to rock the green on St. Patrick's Day! And these wide leg trousers are just the ticket. They come in a total of 8 different colors and are only $42! 
Who will be celebrating this weekend? While I married a Cunningham, he really isn't a fan of this holiday either. But since it's on a Sunday, we'll be sure to hit up Mom & Dad's for some corned beef and cabbage, because while I may not be a fan of green beer, I'll never say no to Mom's home cooking!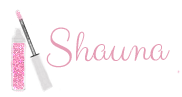 With all of this rain and cold weather lately, I am DREAMING of packing my bags, booking a flight and getting out of town. Luckily I've got a little trip planned to Palm Springs in April with my sister, and then the Hubby and I are headed on a pretty big trip later that month. But until then, I thought it might be fun to revisit some of my favorite travel spots thus far (some of these pictures are super old, so I apologize for the crummy quality and small size!)
What are some of your favorite summer destinations? I'd love to hear!
Thanks for sharing, and have a great weekend!
CABO SAN LUCAS
ST. JOHN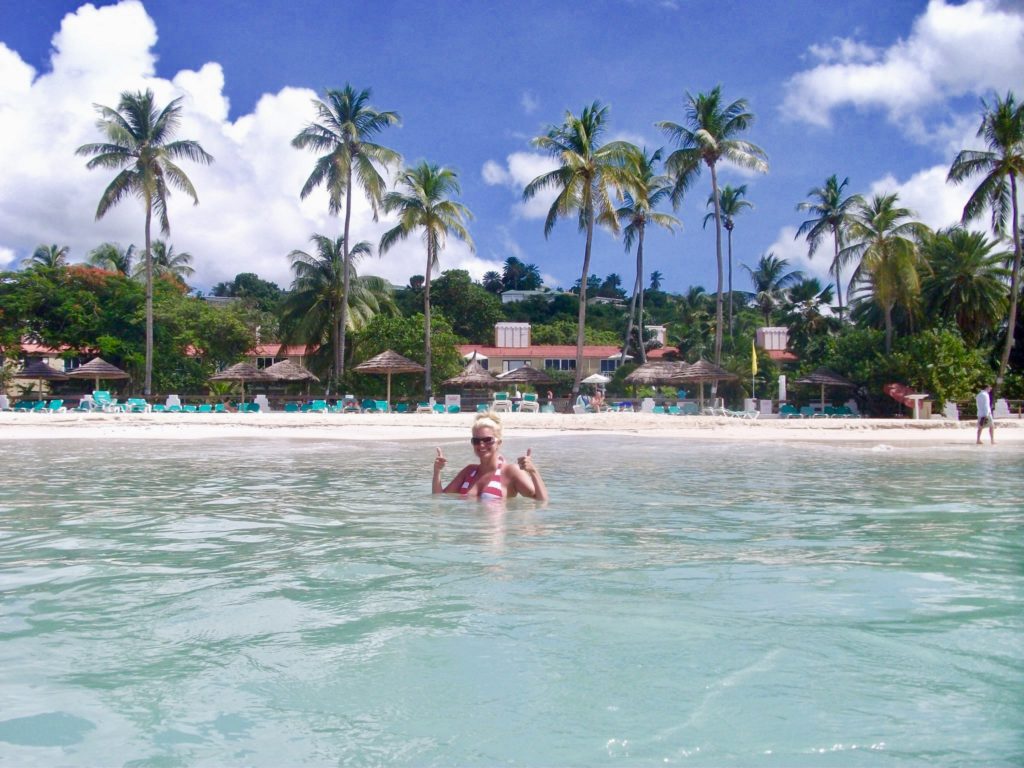 BELIZE
ST. KITTS
MIAMI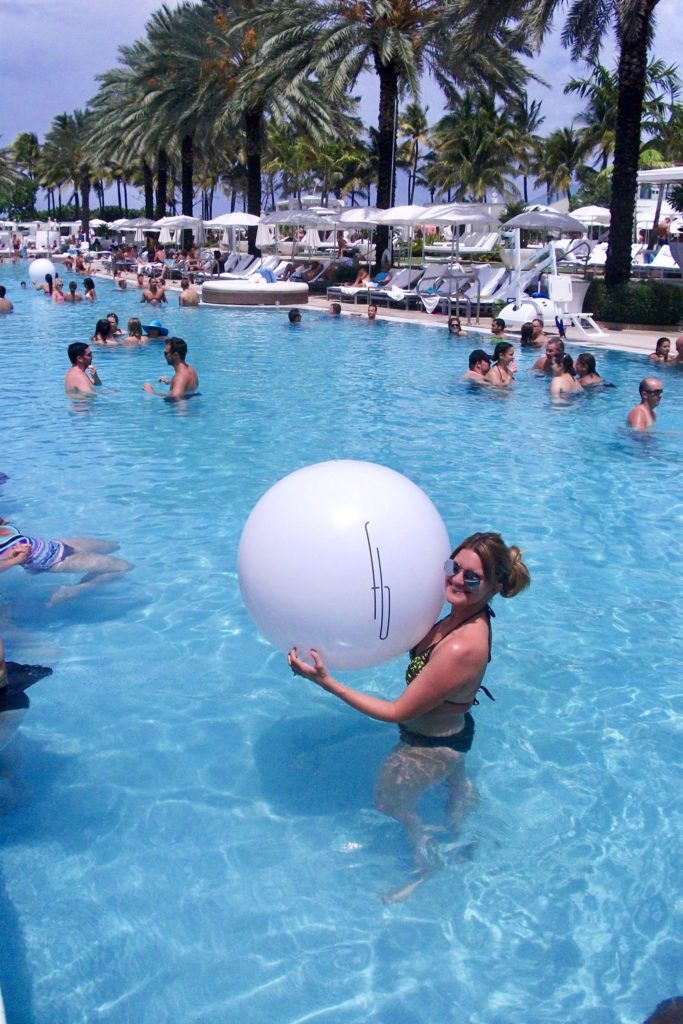 COSTA MAYA
BAHAMAS
MAUI
BARBADOS
LAKE TAHOE
ST. LUCIA
LAS VEGAS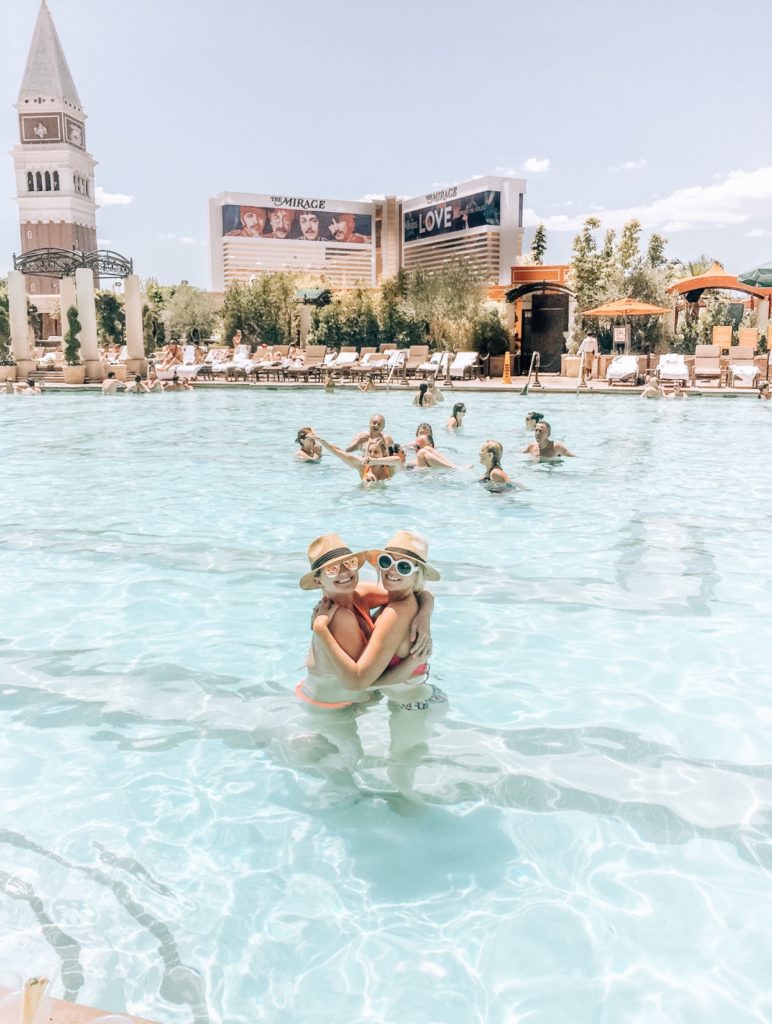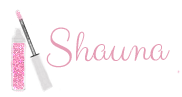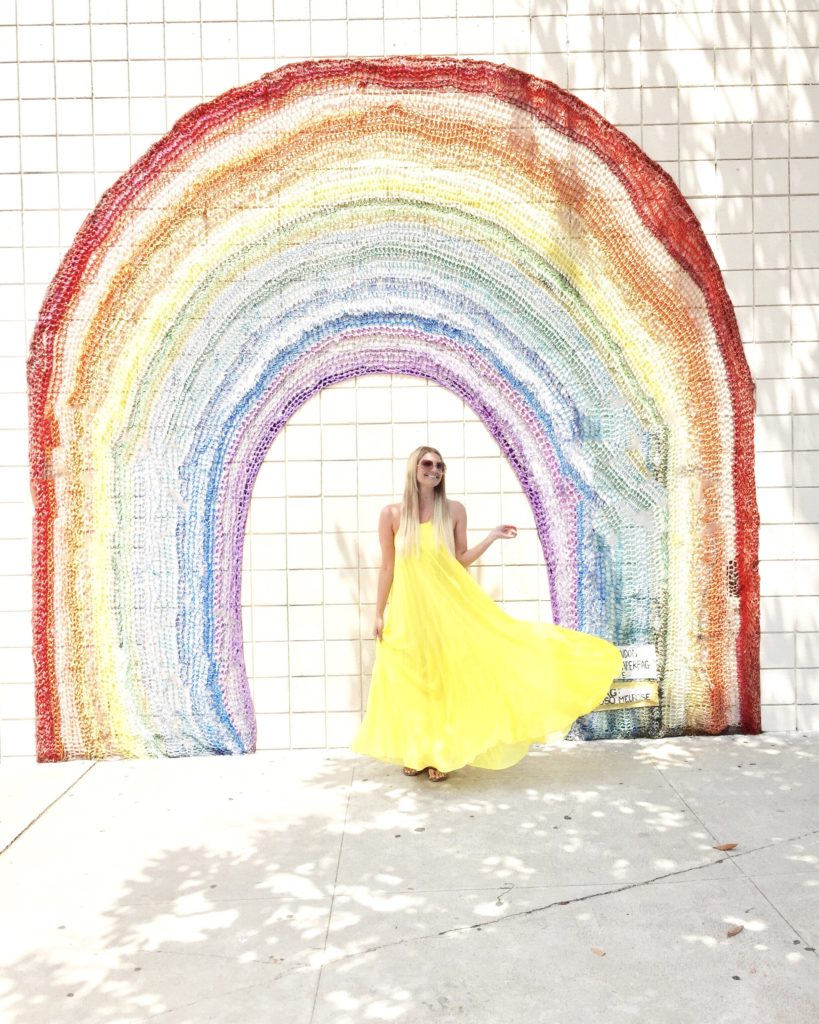 First off, thank you for taking the time to leave me a comment or send me a message with your questions. I enjoyed reading them as much as I enjoyed answering! I find it so interesting to see what you're all curious about. I'm breaking this Q&A into 2 posts, so stay tuned for the next batch!
For now, let's start off with these!
Q: Do you have any fashion dreams? Like designing something of your own or owning that iconic it-bag?
A: Loved this question! While I don't have any plans of designing something of my own, my ultimate fashion dream would be to become a stylist. Fashion has been in my blood for as long as I can remember (I was the 10 year old kid who wore giant clip on earrings and high heels to the hospital to visit my baby sister when she was born!). As far as that iconic it-bag, I finally found and purchased it last summer. It had been on my wish list for a year, so it was a special day when I finally grabbed the Rainbow Printed Chanel Le Boy (seen here)
Q: I want to know more about your job!
A: I got this question multiple times! When I'm not moonlighting as a Blogger, I work at one of the oldest mutual fund organizations called American Funds, and I basically help sell mutual funds to financial advisors. I just celebrated my 15 year anniversary with the company last month. Never thought I'd be there this long, especially after I started there as a temp.
Q: What is your favorite color and outfit formula to wear?
A: If you follow this blog, you know I love my colors! I love me some bright pink, but right now I'm really into lime green. I know, so random. My favorite formula to wear is pretty basic; skinny jeans, OTN boots, a classic tee and a good blazer.
Q: Other than fashion, what's another passion?
A: I love being outside and exercising. Taking hikes and riding my beach cruiser are my favorite! 
Q: If you could trade places with 1 Housewife for 1 week, who would it be?
A: I have to pick my girl Lisa Vanderpump from Real Housewives of Beverly Hills. Just to be able to live in a home with swans and the best most elaborate closet I've ever seen would the ultimate dream. 
Q: I want to hear more about that car in your Instagram Stories from Christmas!
A: Boy oh boy, Santa sure did surprise me this year. In case you missed it on Instagram, I was surprised with a brand new beautiful Bentley for Christmas (insert the monkey covering his eyes emoji here). Turns out, it is the exact one that Vanderpump drives, so I guess I get to channel her a little each time I drive it!