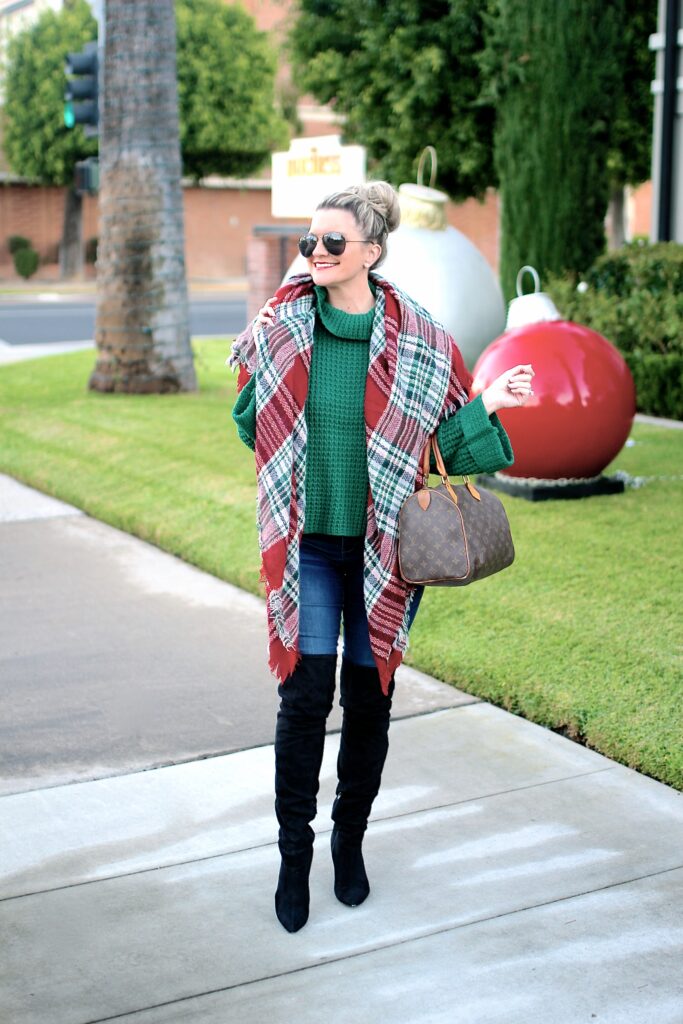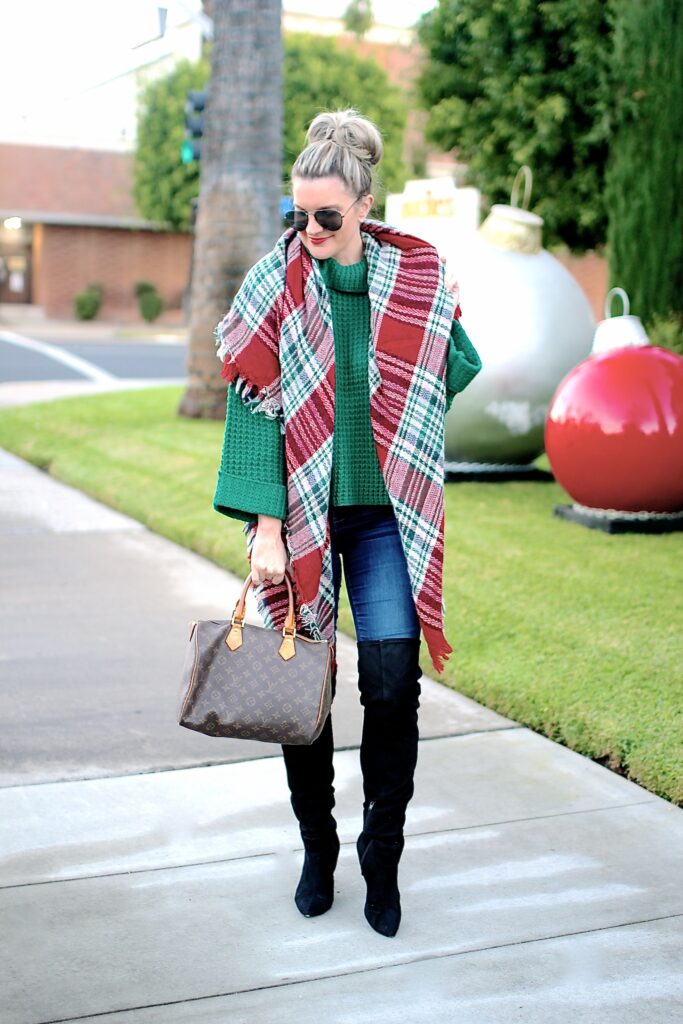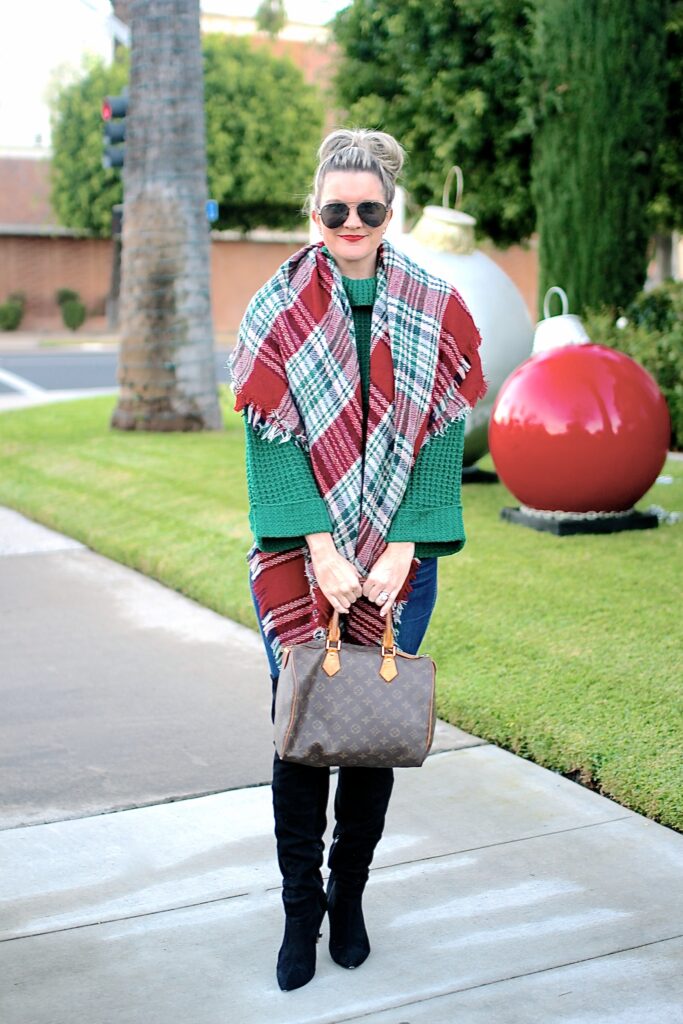 Sweater: Pink Lily Boutique | Scarf: Etsy | Boots: Forever 21 | Glasses: Ray-Ban
Bring on the seasonal sweaters, festive plaids and jolly backdrops!
I'm in full-on Christmas mode over here and it feels so good. I can't tell you how a few holiday tunes and some red & green around the house has really lifted my mood. Things outside feel a little scary and out of control, but inside is beaming with warm hugs, hot cocoa and all the happiness of the holidays.
So lets all take time to really enjoy the little things this holiday season. Because that's what really matters!
Hope you had a wonderful Thanksgiving! Thanks for reading.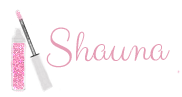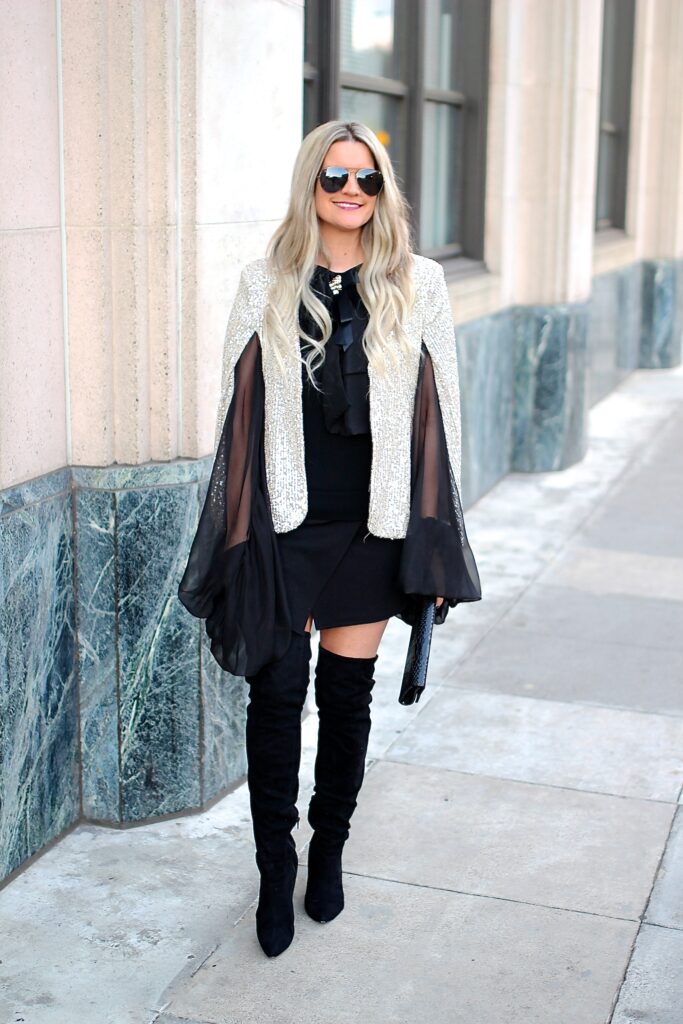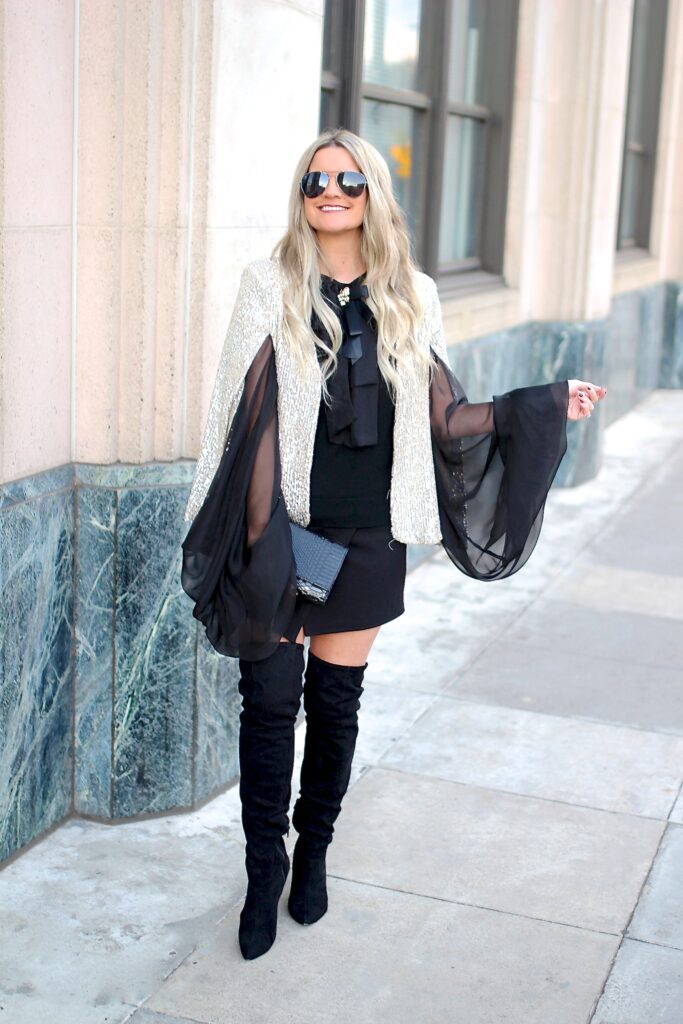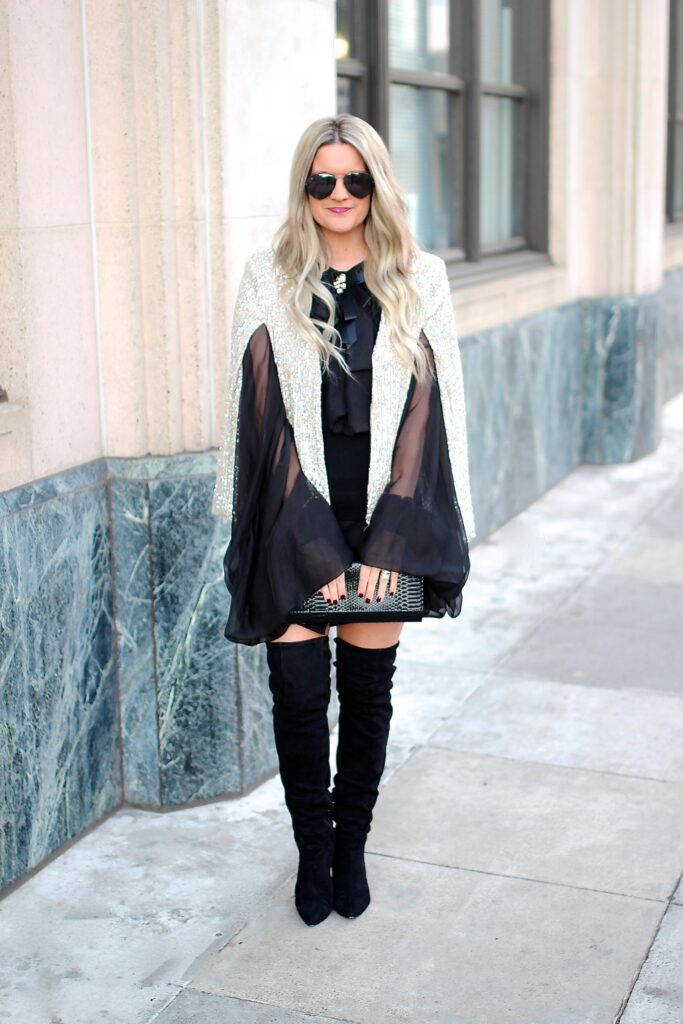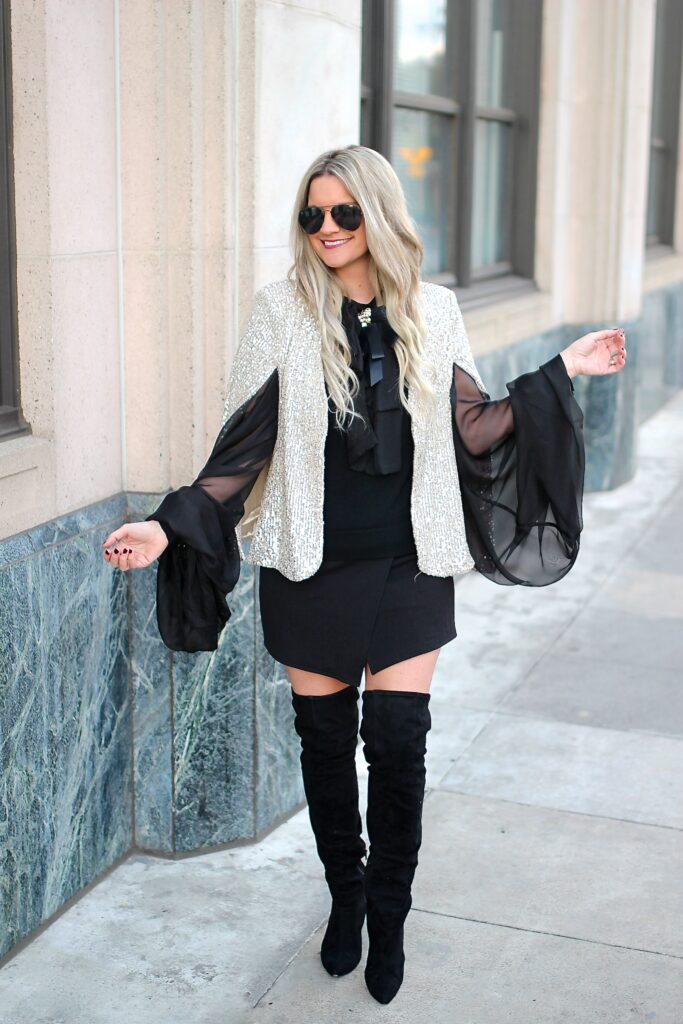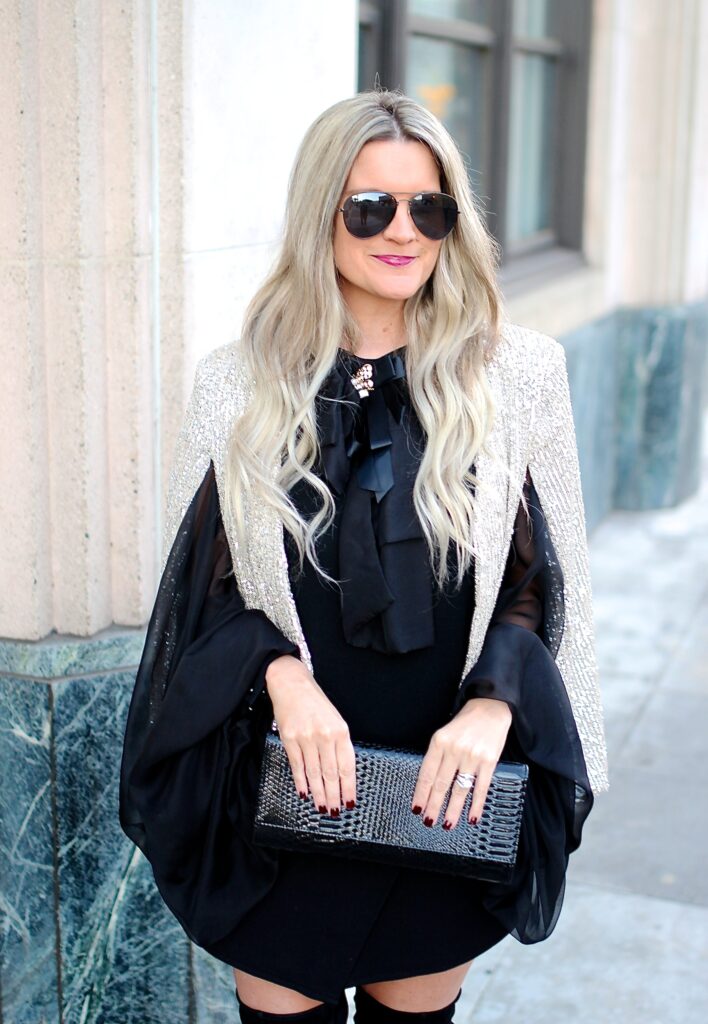 Top: Akira | Cape: Red Dress Boutique | Skirt: Express | Boots: Forever 21 | Clutch: Akira | Glasses: Ray-Ban
I don't know about you guys, but I feel like I need ALL THE EXTRA sparkles these days.
And now that it's Thanksgiving week, it finally feels acceptable to start talking about the holidays! This is the time of year that I get most excited about. Don't we all? I love that even if you aren't an "extra" dresser like me, you can still dare to sparkle, shine and wear all the bows.
I know this holiday season will be different. And honestly, I don't even know what that "different" will look like yet.
But I refuse to pack away the things that make me happy.
So shine on, everybody. SHINE ON.
I hope each of you have a Happy Thanksgiving. During these stressful times, try to reflect on everything good, even if everything else feels like it's falling apart. Remembering what's good in life right now will play a role in helping us all keep going.
Lots of love!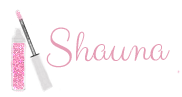 Cardigan: Mint Julep Boutique | Top: Diane Gilman | Jeans: old | Boots: Forever 21 | Beanie: old | Bag: Chanel
Once a lumberjack favorite, now a holiday wardrobe staple!
Buffalo plaid is one of my favorite patterns to style this time of year. It's always been synonymous with the holidays. From Christmas decor to holiday photos, it just screams festive.
Thanks for stopping by! Enjoy your weekend, see you Monday! ♥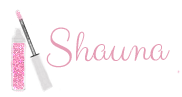 Coat: Nasty Gal | Top: Lush | Leggings: Express | Boots: old | Glasses: old | Bag: YSL
One of my favorite things about cooler weather is having the ability to use a piece of outerwear to change an entire look. It's the easiest way to transform the attitude of your outfit!
The unfortunate thing about living in Southern CA though, is that we aren't given a TON of days where a coat is even necessary… I'm lucky if I get to wear all the winter clothes I've already got within these next few months, which doesn't leave me much room to buy anything new. But of course there was no way I was passing on this coat whether I "needed" it or not. I knew most definitely… I needed it! 😉
Hope you have a great week, thanks for reading!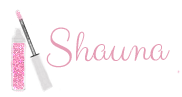 Today's post was supposed to be something totally different, but we've been dealing with rain, wind (and sleet!) this week, so unfortunately we couldn't shoot anything new. I think this is the first time in 6 years that it's happened to us!
So for now, I'm sharing some gift ideas if you're ready to get a head start on the holidays. It will be here before you know it! Thanks for reading and have a great weekend!
♥ The cozy robe that's still on my wishlist!
♥ My favorite flannel sheet set
♥ Yes please, on this cocktails mixers sampler
♥ The cutest petite monogram necklace
♥ An iconic link watch perfect for the man in your life
♥ The mug everyone needs for Christmas
♥ A cozy Christmas throw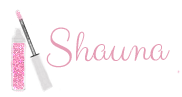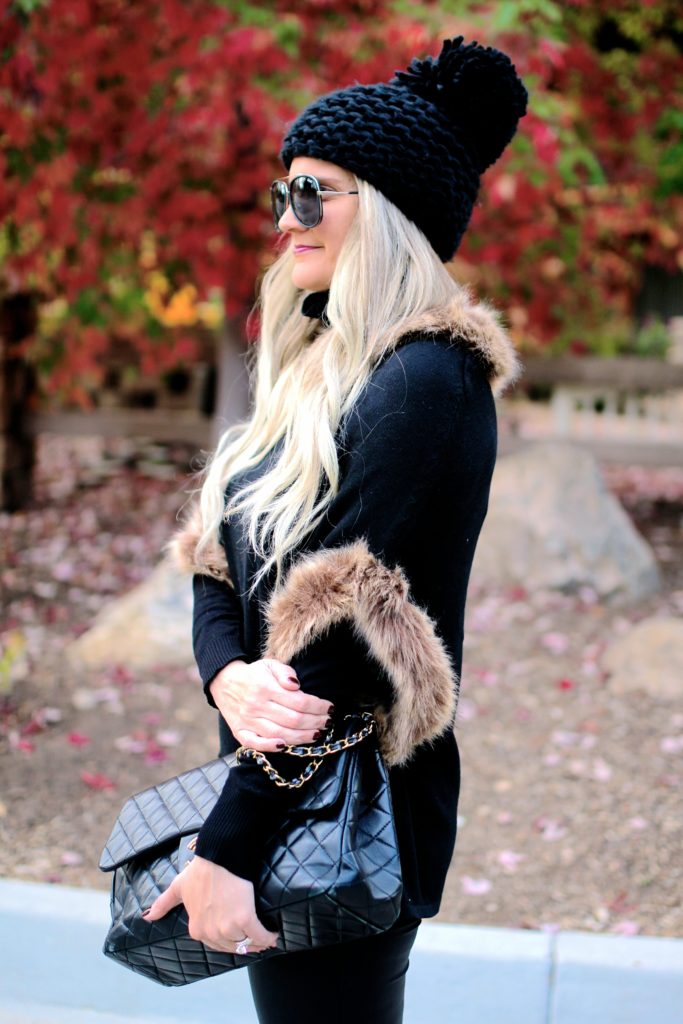 Poncho: Nordstrom Rack | Turtleneck Sweater: old | Leggings: Target | Boots: Forever 21 | Beanie: old (similar) | Glasses: Quay | Bag: Chanel
Poncho. Leggings. Boots. Beanie.
The basics that we all live in come fall/winter, right? But just because they're basic, doesn't mean they have to be boring! 
For example:
Poncho – but choose one with fur √
Leggings – but choose a pair with a leather look √
Boots – but don't spend a lot (mine are Forever 21!) √
Beanie – but find one with a fun knit √ 
See how simple it is?  How do you transform your basics?
Thanks for stopping by! XO