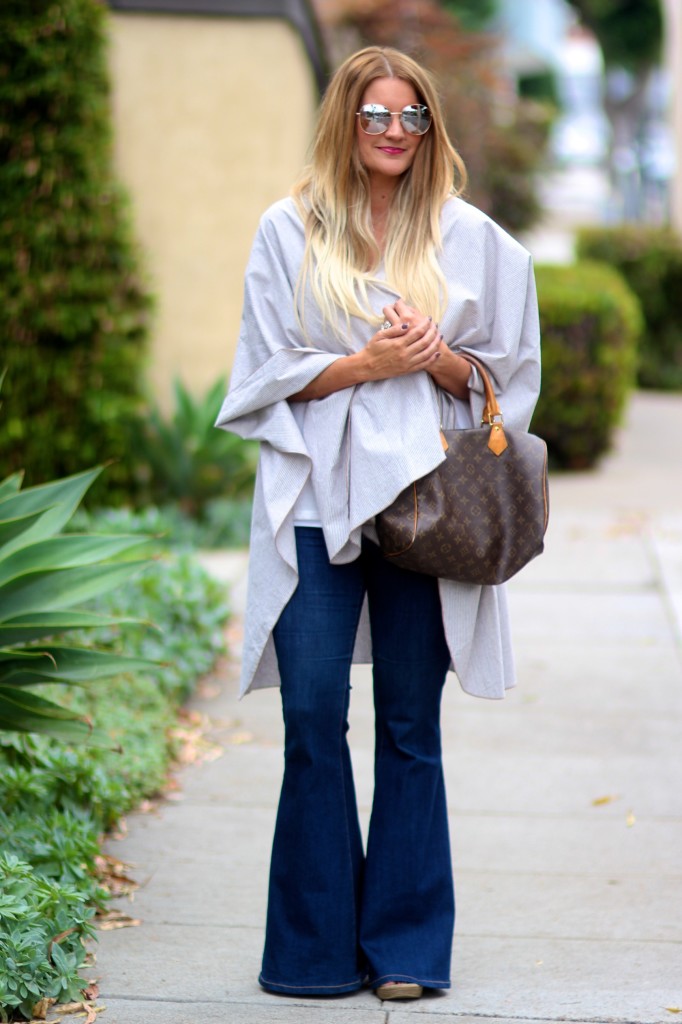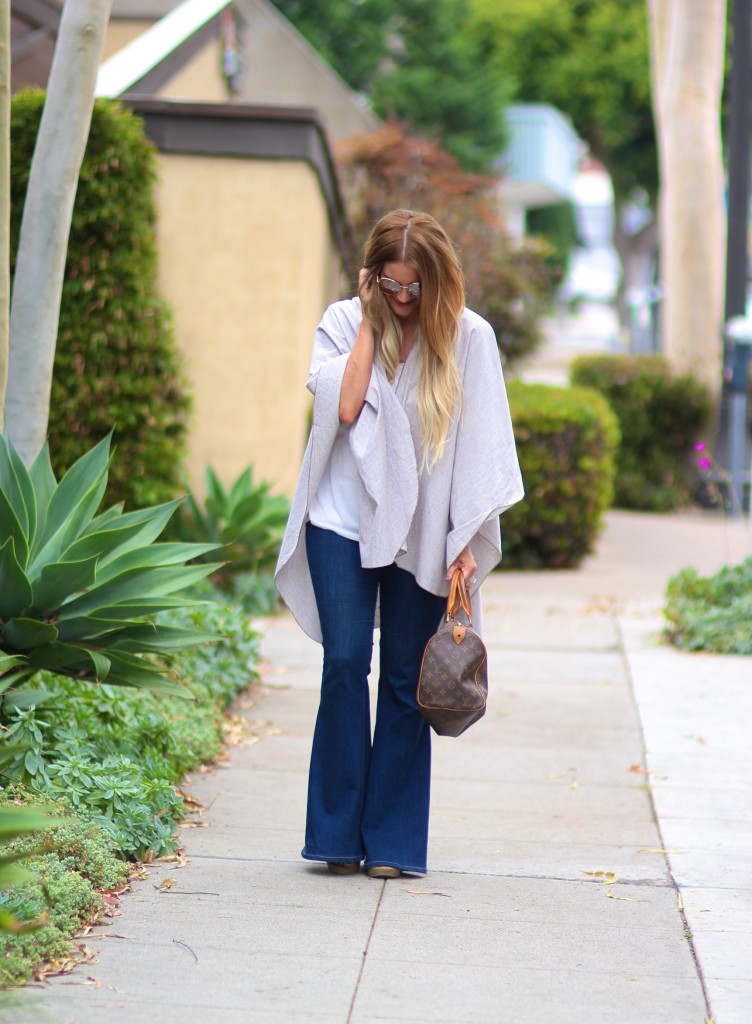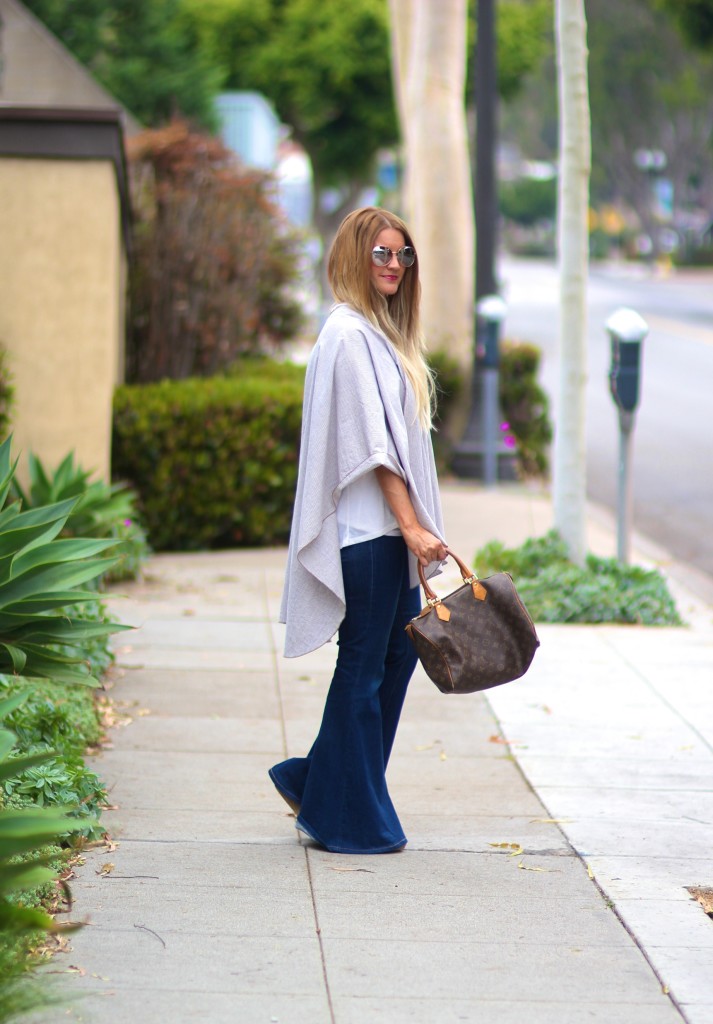 Wrap:
Donnie Charm
| Tank:
H&M
| Denim: J Brand
(similar)
| Glasses: old
(similar)
I love that the season for wraps is upon us. This one actually has small pinstripes and is on major sale right now too. I love how easy they are to just throw on and go (this one from

last year

 is still my ALL TIME favorite!). Truthfully, they are one of my favorite things to wear with a great pair of jeans. Can we say bell bottoms for the win? Love me a good flare, no matter what the season.
I'm currently out of town, and have a super fun weekend ahead of me! Follow along on Snap to find out where I'm at! (@lipgloss_lace). Oh, and for all of you wondering about my hair – it's fixed! So, thank you for all of the good hair vibes. I was a major stress case this weekend…
Have a beautiful weekend, and thanks for following along!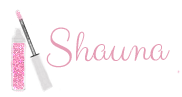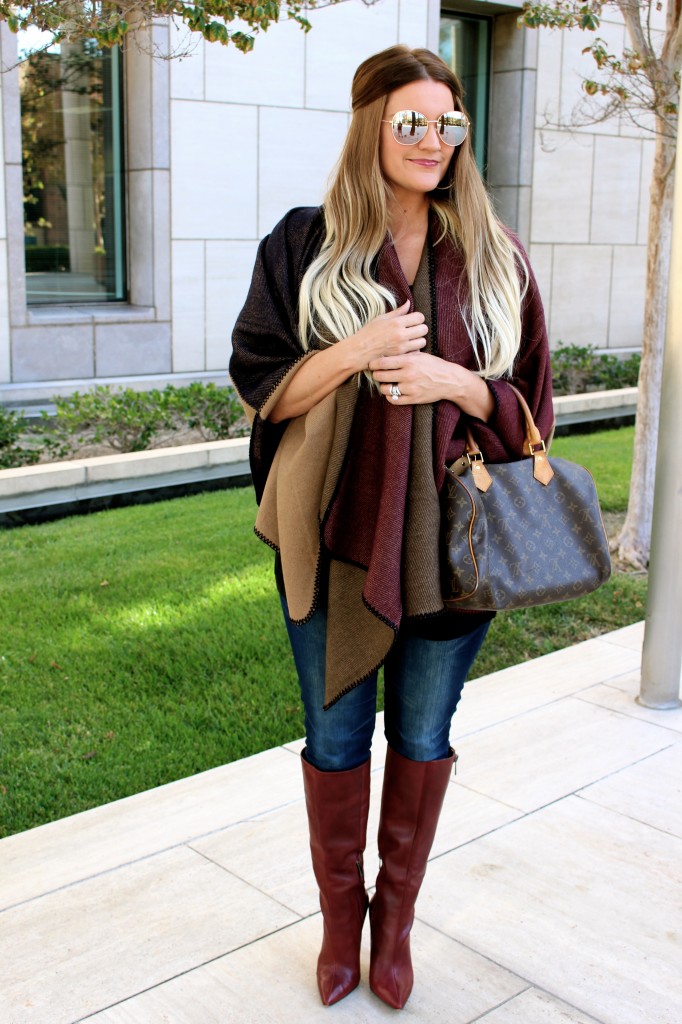 Wrap:
Asos
| Jeans:
(

similar

)
| Boots: Jessica Simpson
(

similar

)
| Glasses: old | Bag: Louis Vuitton    
I love wraps and oversized scarves in the fall. This one from Asos is super comfy and I know I'll be living in it all season. I also got these boots last year and was worried that I may not get much wear out of them because I was unsure about the color, but so far I have pulled them out a bunch already. There is something so rich and fabulous about this color.
Hope you all have a great weekend! I am looking forward to some serious down time. Life has been a little too hectic lately…
Thanks for reading!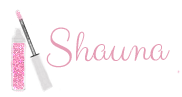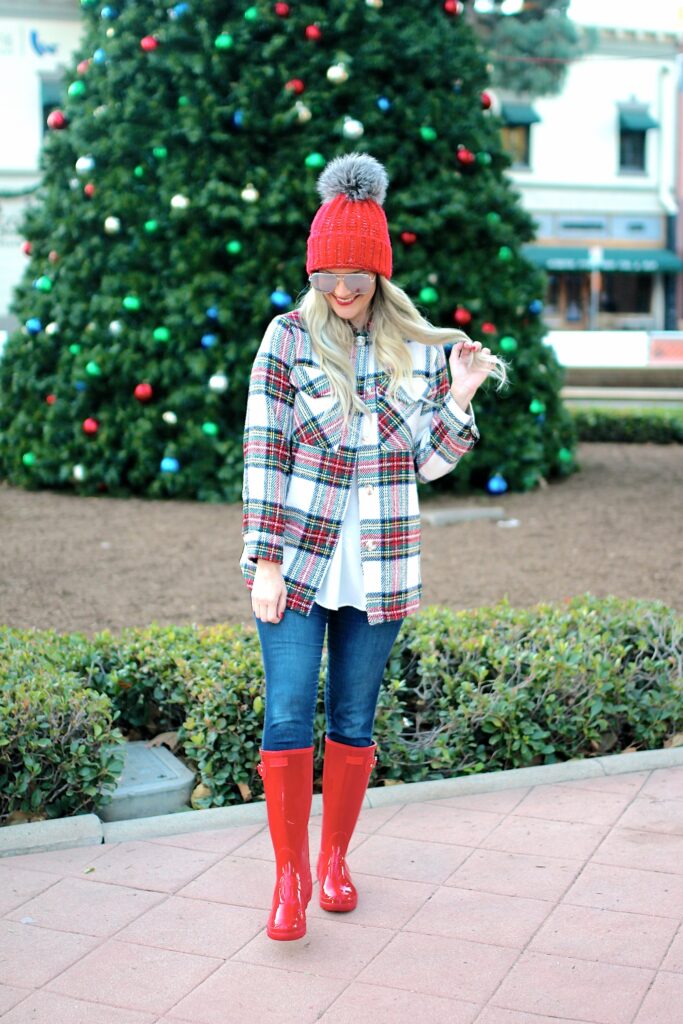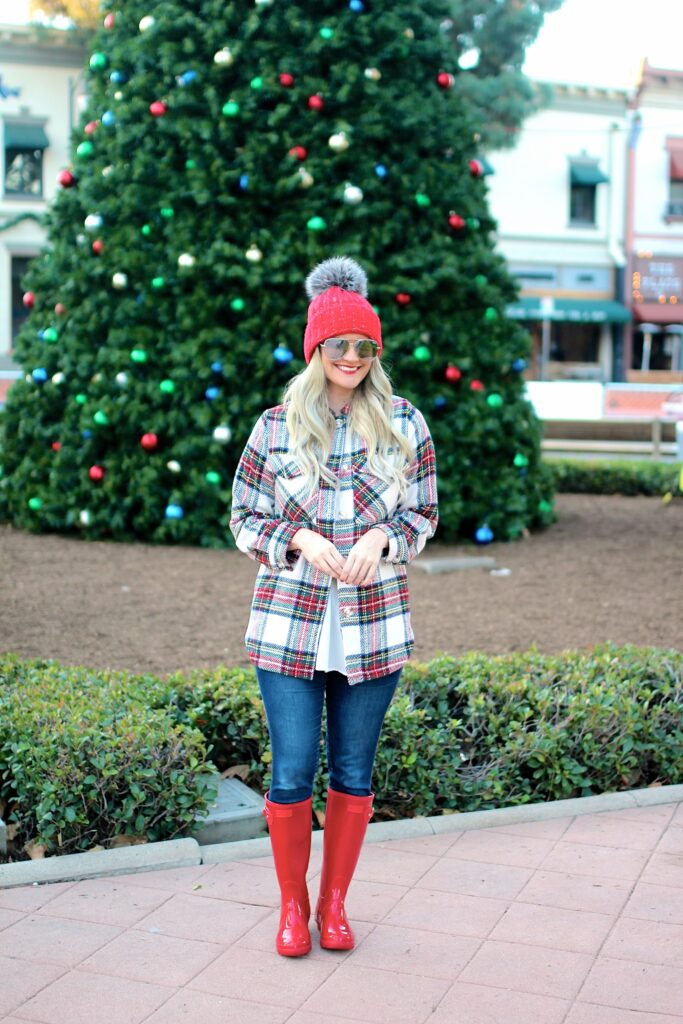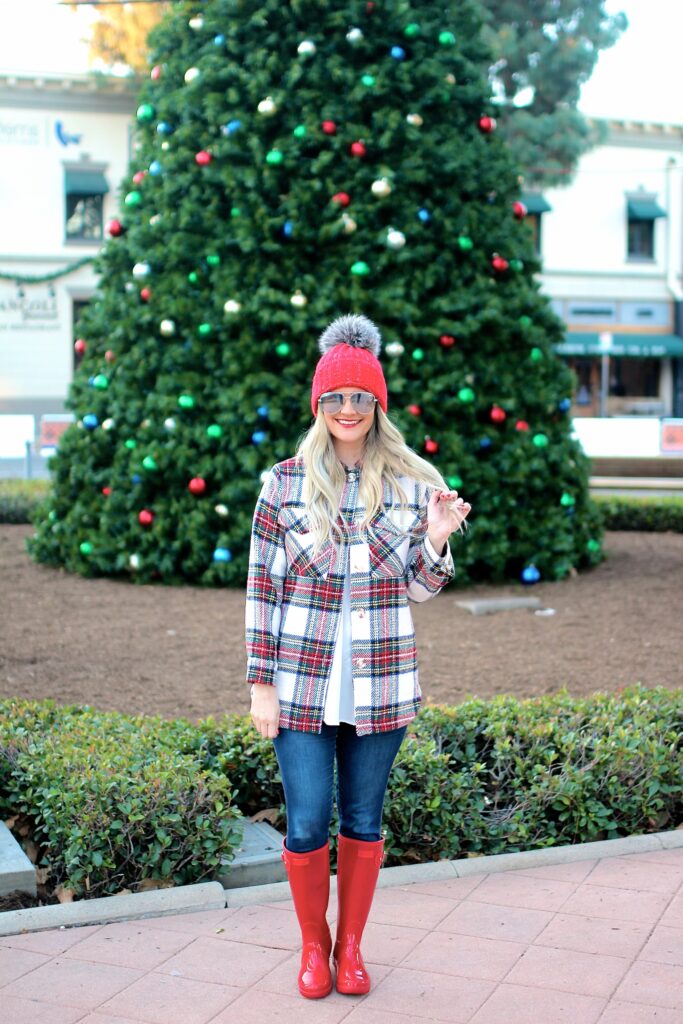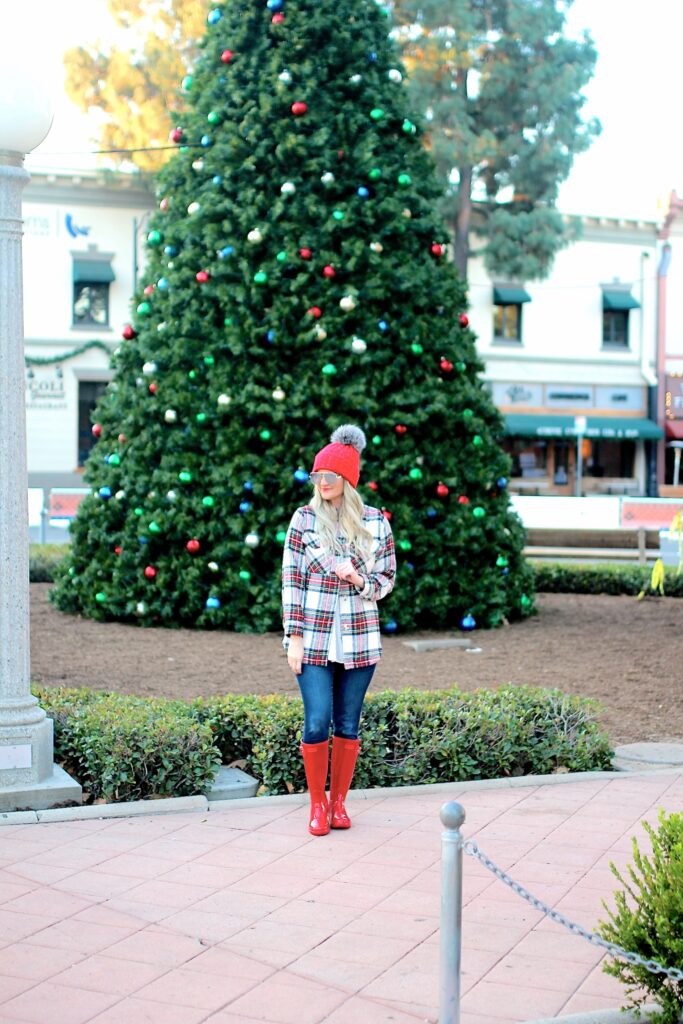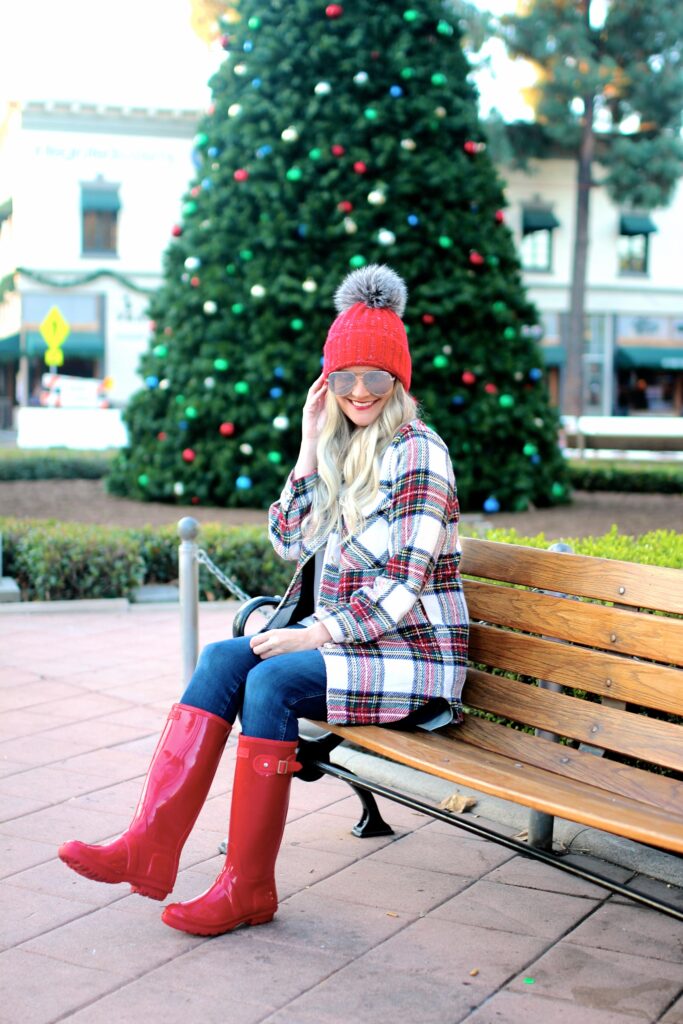 Jacket: Impressions Boutique | Denim: old | Boots: Amazon | Beanie: Nordstrom | Glasses: Quay
I can't believe it's Christmas week!
I hope you all enjoy these next few days and are able to get all of your last minute errands done. I plan on wrapping the last of my gifts and watching ALL the holiday movies. What is your go-to Christmas movie? Mine is Home Alone!
Happy Holidays to you and yours. May it be full of reminiscing on old memories and making new ones. Lots of love to you all and see you next week for the final post of 2020.
XO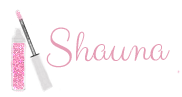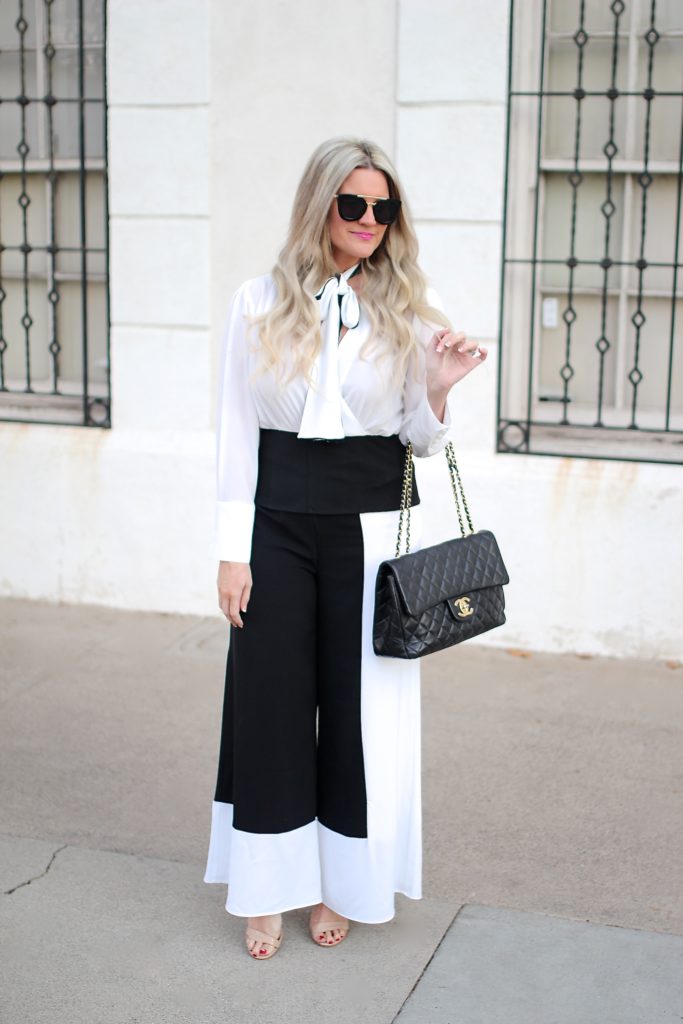 Top: Ny&Co | Bottoms: Ny&Co | Glasses: Prada | Bag: Chanel
I always love when an outfit looks like a jumpsuit, but really is a 2-piece set. I loved these colorblock wide legs pants, and when I discovered there was a wrap blouse to match, I couldn't resist! 
I also wanted to say a big thank you to everyone for your sweet comments on my post last week, where I penned my love letter to fashion (here). I loved reading all of your comments, and if you can leave this blog with a little fashion inspiration, then my job here is done.
You all make this blog so much fun, and I appreciate every single one of you! 
Thanks for reading!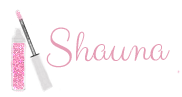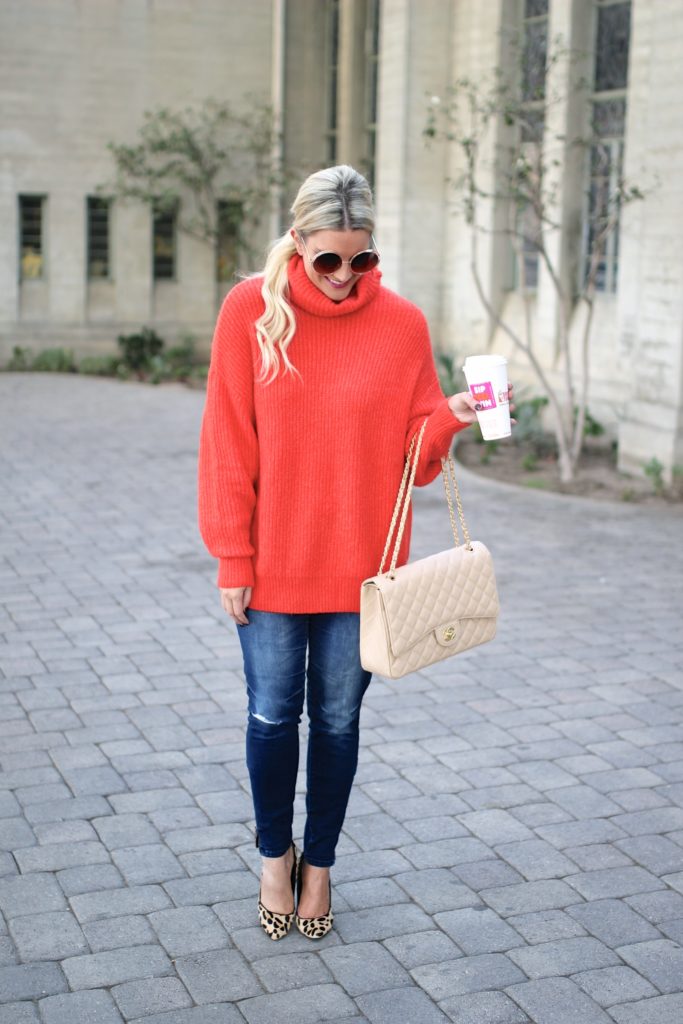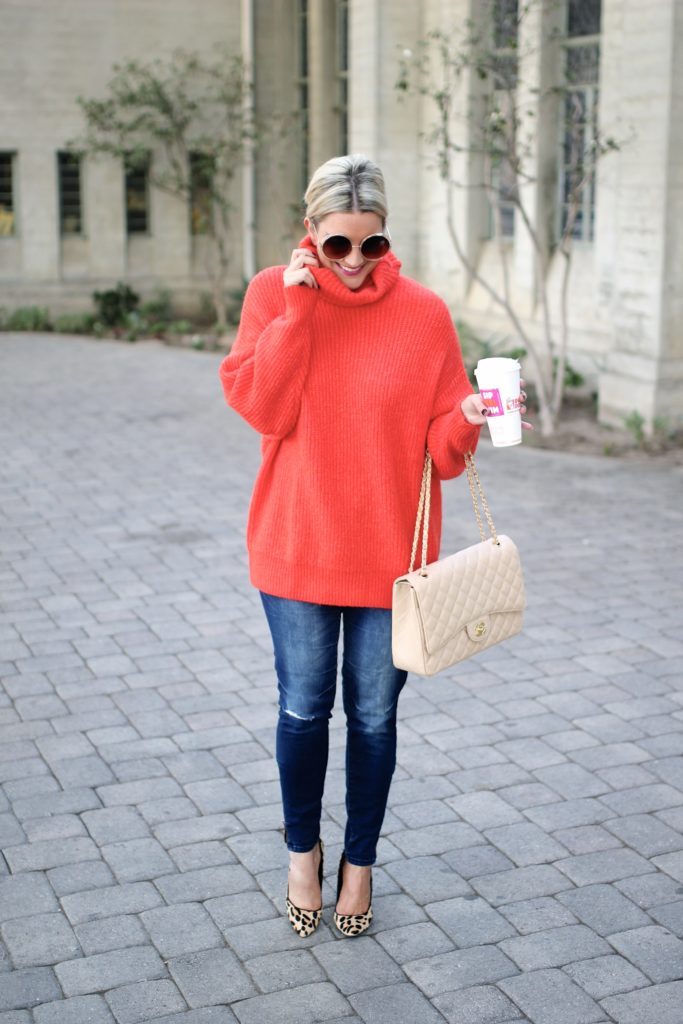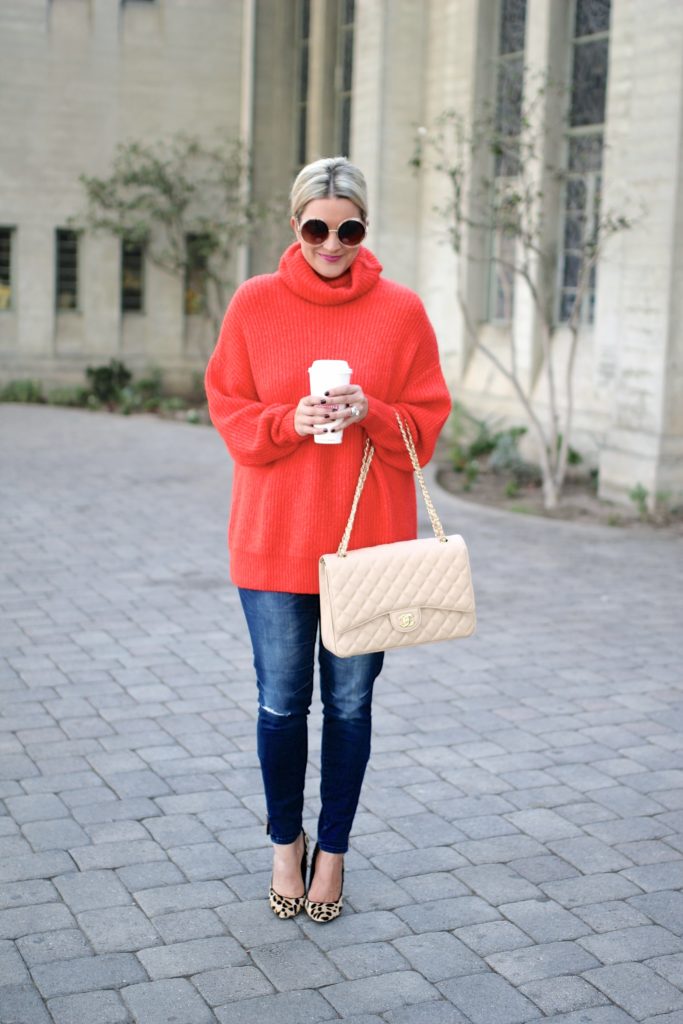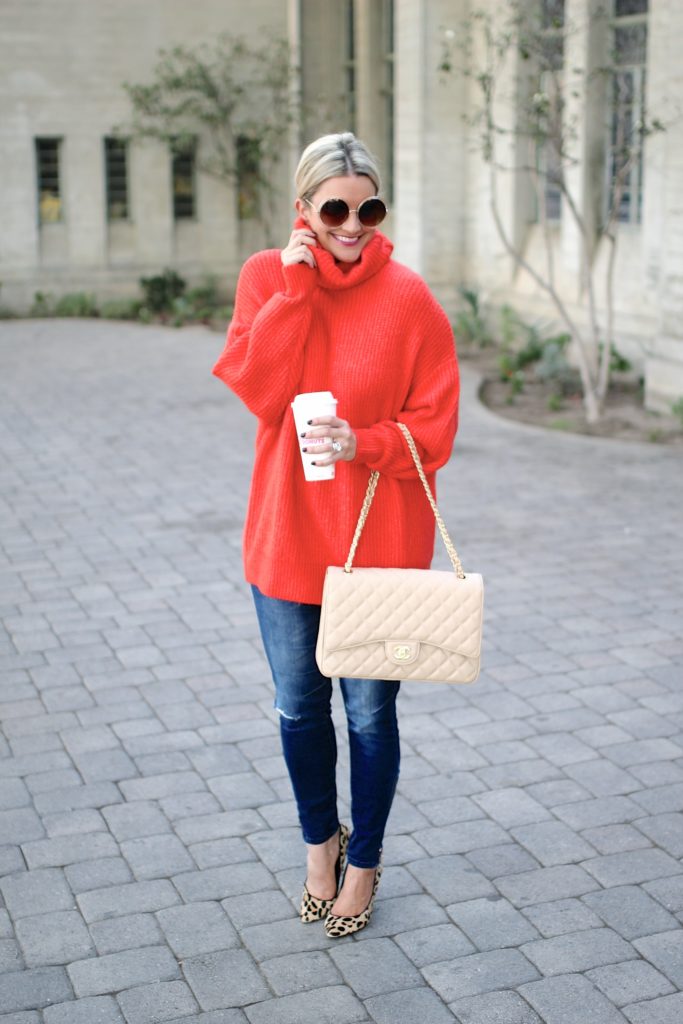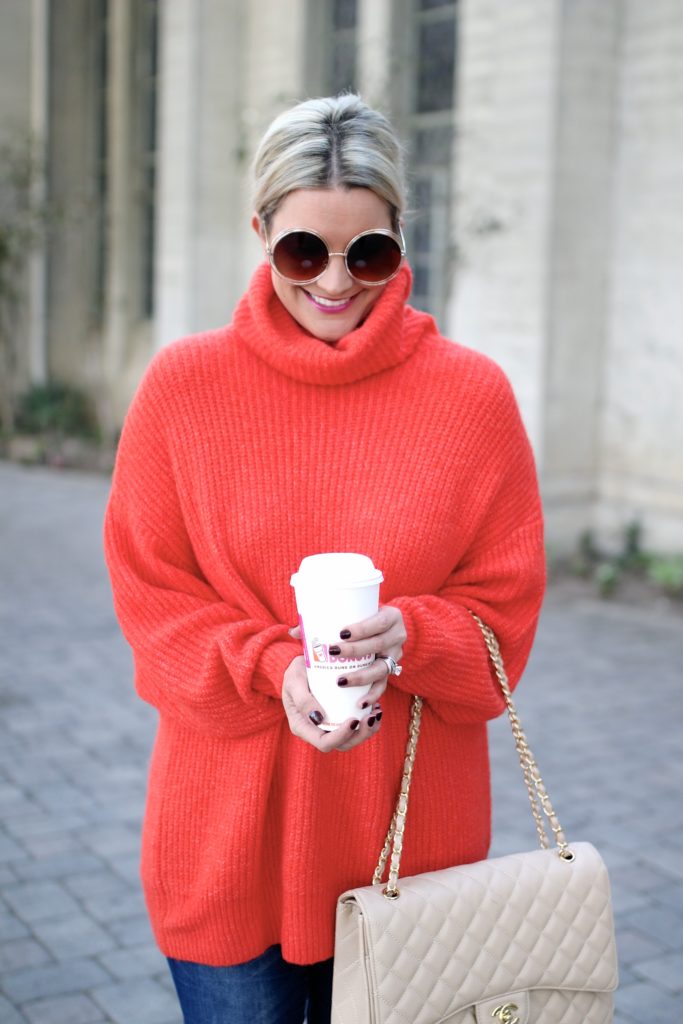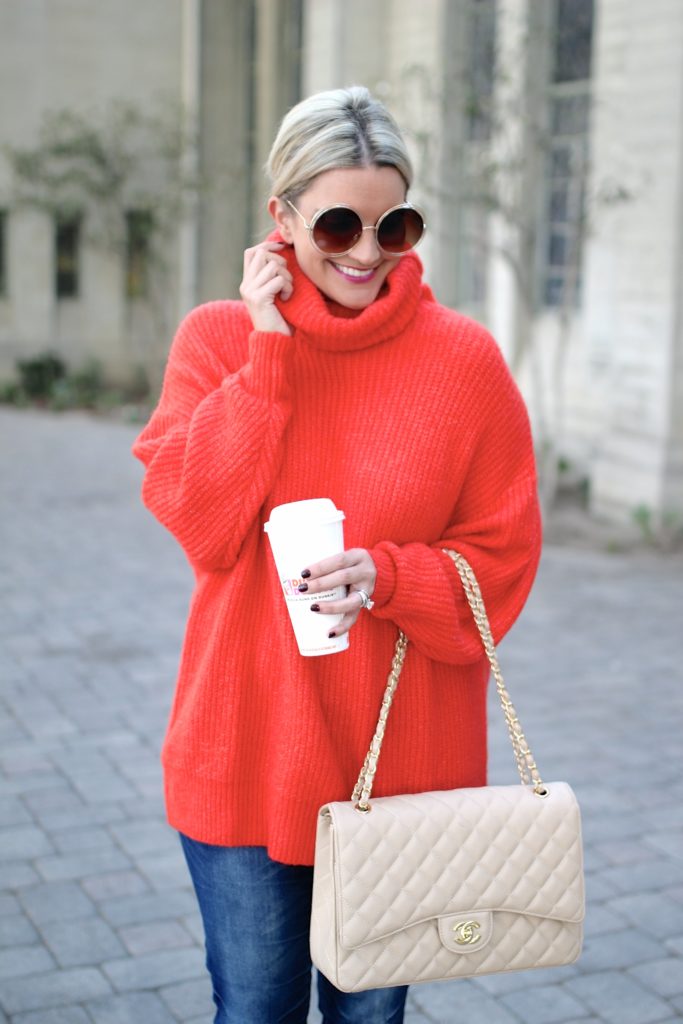 Sweater: Zara (not online yet, but in stores!) | Denim: old | Heels: old (similar) | Glasses: Chloe | Bag: Chanel
Thanksgiving is Thursday, which means we are officially on the bullet train to Christmas. And doesn't it feel overwhelming sometimes? Like, now it's REALLY time to decorate the house, get the tree, buy the gifts, wrap the gifts, attend the parties, bake the cookies, visit the family…ALL THE THINGS.
So take this week to reflect.
Slow down. Breathe. Take it all in. Embrace love, laughter, family, friends, rest & prayer. Smile at a stranger and say thank you for good deeds. Write down what you're grateful for so that you never forget it…then curl up on the couch with a cup of homemade apple cider and send up a prayer of thanks.
Thank you so much for reading Lipgloss and Lace – I'm truly thankful and appreciative of each and every one of you! Happy Thanksgiving! -XO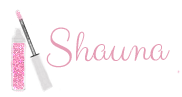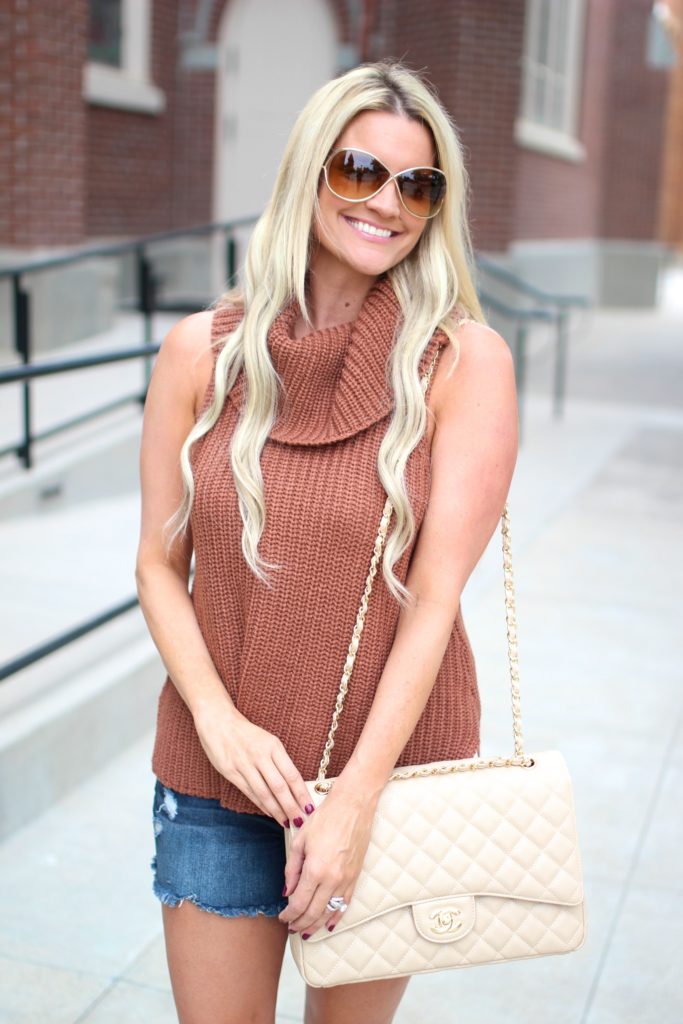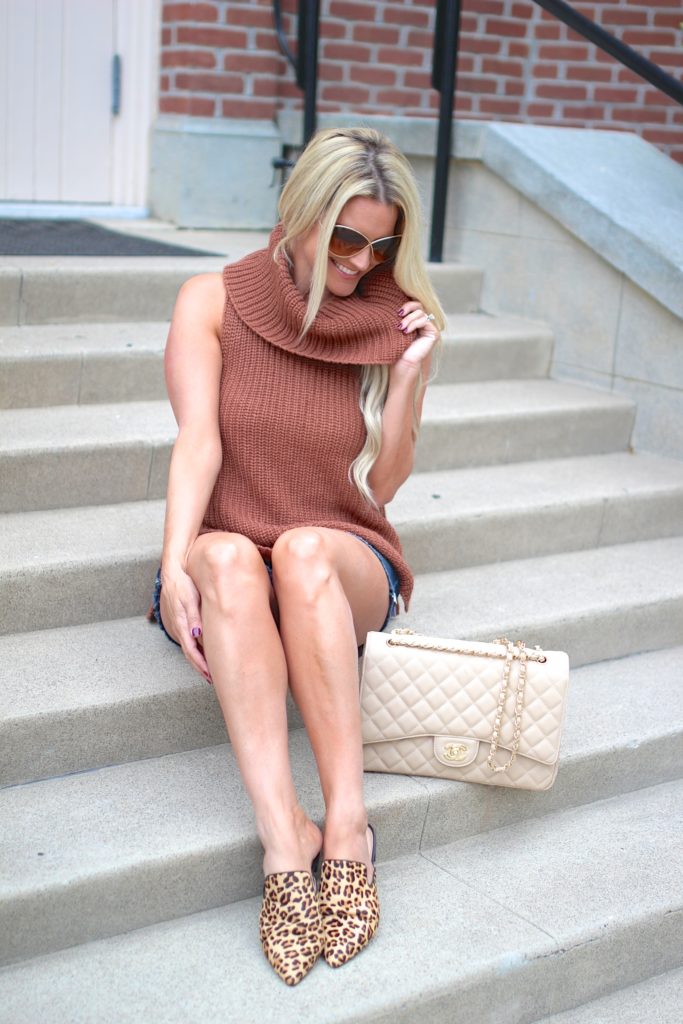 Sweater: Nordstrom | Shorts: JcPenny | Slides: Halogen | Glasses: Tom Ford | Bag: Chanel
And just like that, we're in September. How did that happen? Seriously? HOW??
Don't get me wrong. It's always been a favorite of mine because it leads into my most favorite month of the year, but I'm still having a hard time wrapping my head around it.
To welcome the month, I took the opportunity to wear 2 of my new fall staples I got from the #NSale, this sweater & the slides that every blogger on Earth apparently bought too…LOL. But I couldn't resist because they were the best price and I knew I'd get so much use out of them. And in case you're wondering, they've been restocked in a few sizes! 
Hope you guys have a great weekend, thanks so much for stopping by! xo