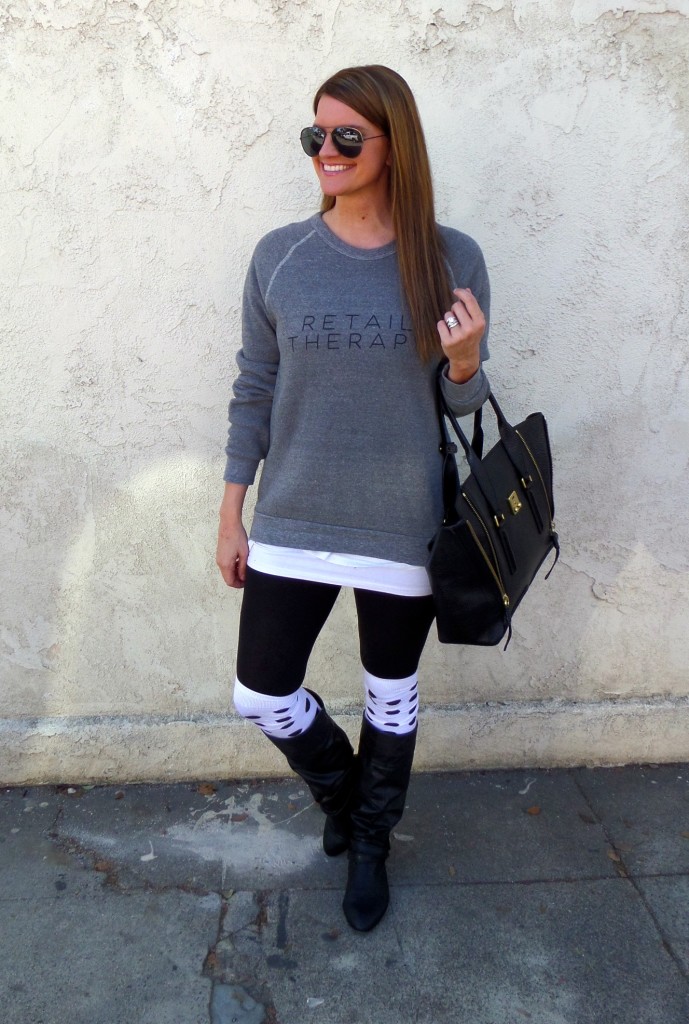 Sweatshirt:
ILY Couture
| Tank: H&M | Leggings: old | Socks:
Amazon
| Boots: old (
similar
)    
Hope you all had a wonderful and relaxing Thanksgiving! I am full and loving it!  Stay calm at those Black Friday sales today! 😉
-xo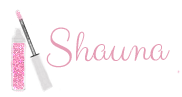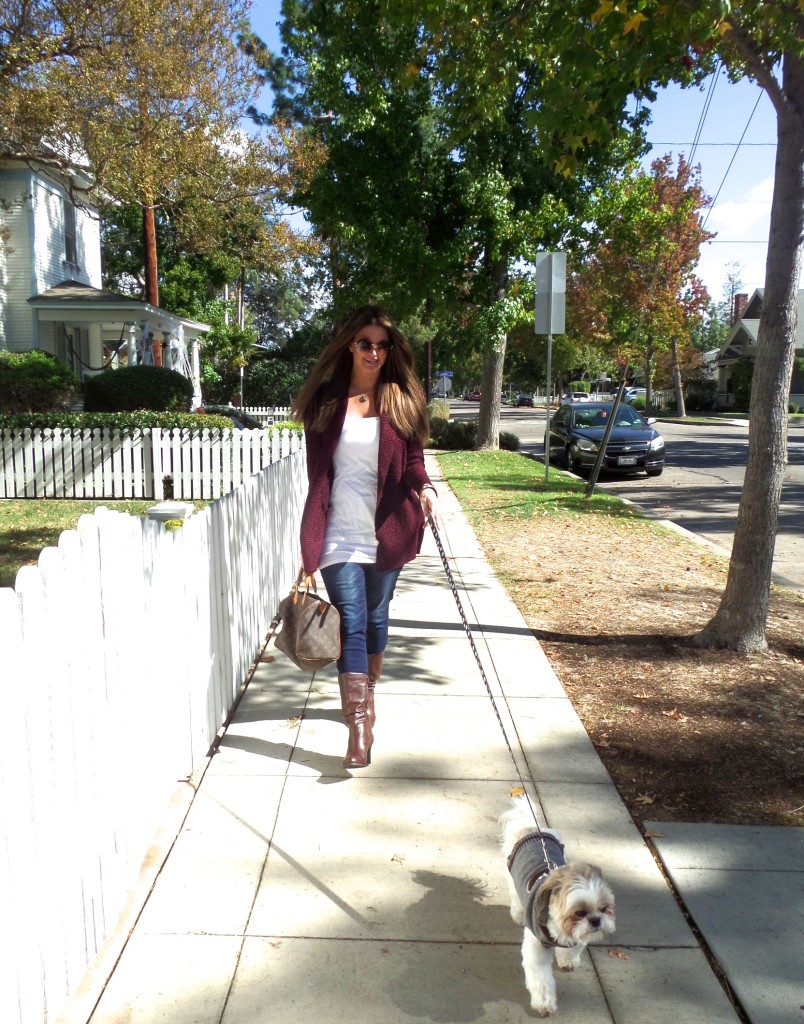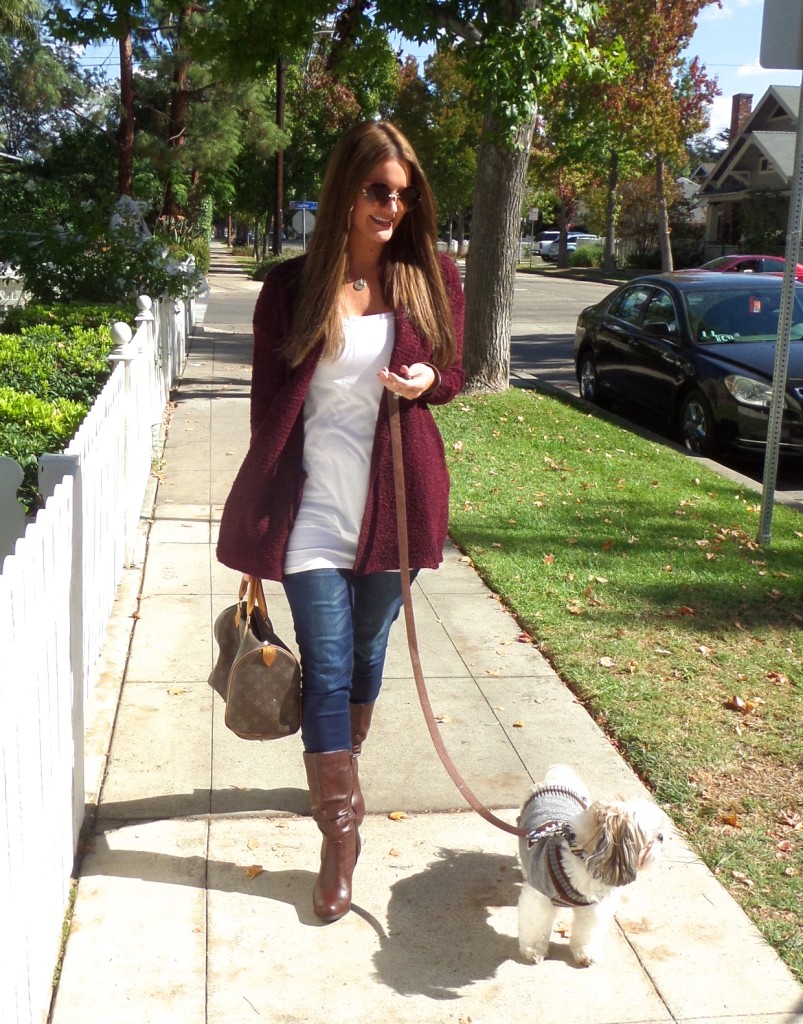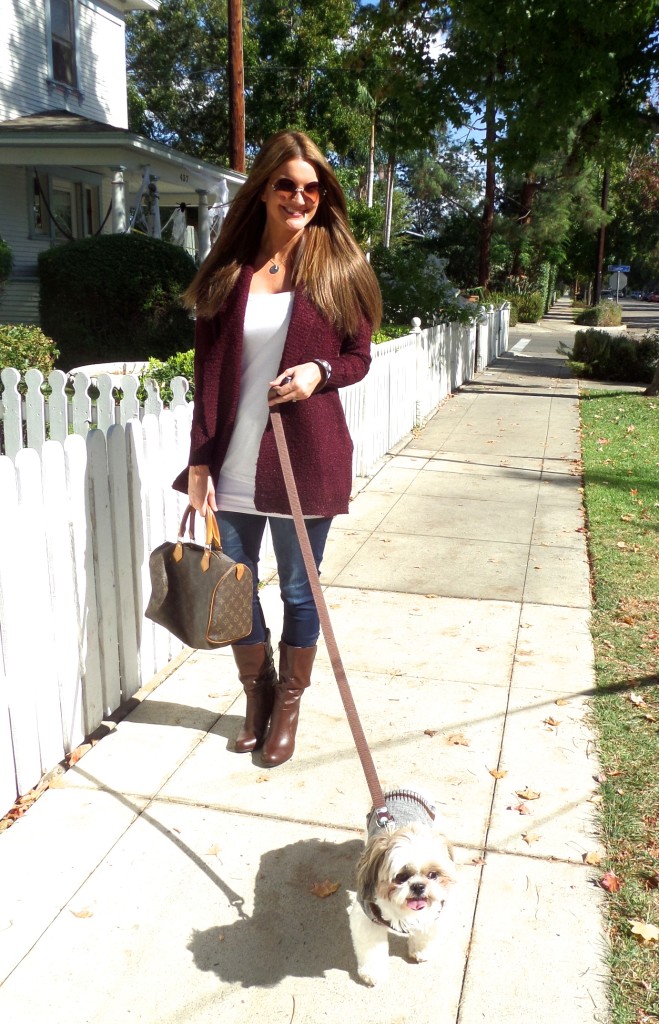 Cardigan:
Forever 21
| Tank: H&M | Jeans: Bebe | Boots:
a.n.a
| Sunglasses:
Express
| Bag: Louis Vuitton    
From our home to yours, wishing this Thanksgiving finds you with plenty of reasons to give thanks ..

♥
Thank you for taking the time to read my blog each week. I am truly grateful to all of you!! -xo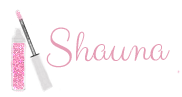 I was flattered when Tatiana Pujol, the beautiful Blogger behind
We Shop In Heels
nominated me to participate in "A Tour Through Blogland".  I have followed her blog for awhile now, and simply adore her stunning style. I'm a Southern California girl, living in a New York State of mind, so I love living vicariously through her NY/New Jersey based blog.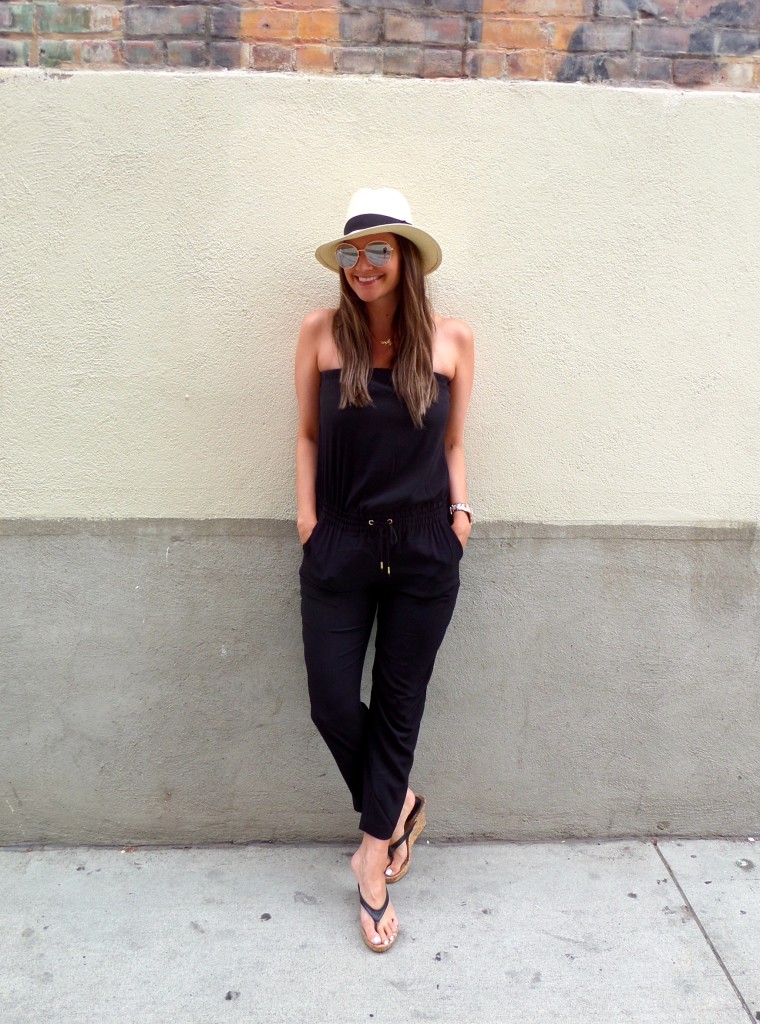 What am I working on?
At the moment, I'm working on potential blog posts for January/ February. Describing myself as a serious planner is a serious understatement! I like to have a clear idea of what I want my readers to see each month. Right now, I only post every Monday & Thursday, so narrowing it down to 8 potential outfits each month can be challenging, when you have a closet full of fabulous ideas.    
How does my work differ from others in it's genre?
I've only been blogging for 6 months, so I'm still trying to find what direction I want my blog to go in. As of now, I'd venture to say that my blog may be like others out there, but I'm proud with what I've accomplished so far and look forward to improving each week. I started this blog as a creative outlet for myself, not looking to compete with other Bloggers, and there are A LOT of us! What's great about the blogging community is that there  is definitely room for everyone 🙂    
Why do I write/create what I do?
Because I have a closet full of fabulous finds, and want to share it with others who obsess over fashion as much as I do.    
How does my writing process work?
I'm a planner (as I mentioned), so I created a spreadsheet for each month to jot down ideas of what I'd potentially like to shoot in the future (outfits/locations). It
constantly
changes, but it keeps my head straight. I shoot a few weeks ahead of when I'm actually going to post each blog. It gives me time to edit and revise, and I don't feel as though I'm on a short time restraint. The hardest part so far has been shooting "fall" looks, while it's 90 degrees out! But I want to keep the fashion consistent with the changing seasons, so if it means sweating my leather jacket off in order to get a good post – it's totally worth it.     Now I want to introduce you to these fabulous Bloggers. Make sure you stop by their blogs today and also next week when they share their answers to the questions above -xo  
Danica and Jessica @ Brooke & Jane ♥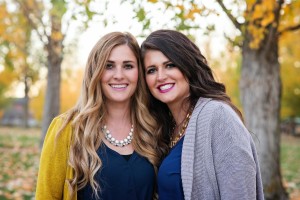 Hello everyone! We are Danica & Jessica, the Utah sister-in-law blogging duo behind Brooke & Jane. Jessica is a lawyer from Texas, while Danica is a hairstylist born and raised in Utah. We are very different, but share a love in all things fashion, decorating, party planning, cooking, and in general making life more beautiful! We love sharing our ideas and helping to make our readers' life at least a little bit more fabulous! Check out our blog for your daily dose of inspiration! XOXO!    
Erin @ With a Wink & a Twirl ♥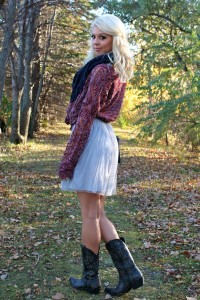 Hello there! My name is Erin Elizabeth and I blog over at With a Wink and a Twirl. I am an Arizona girl that loves her palm trees, sunshine, and perfect weather all year round! I believe that fashion is an expression of one's self. What better way to share yourself with the world than with a fabulous pair of heels and the perfect statement necklace! No matter what life brings, nothing can hold a fashionista down! So, stay true to who you are, rock that closet, and do it with A Wink and a Twirl!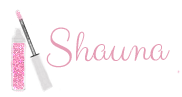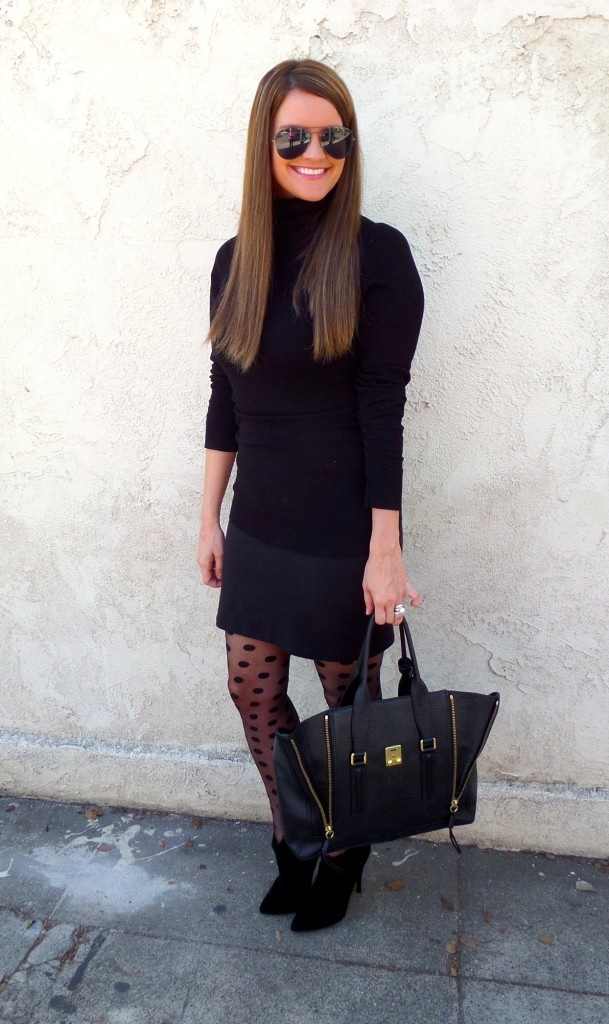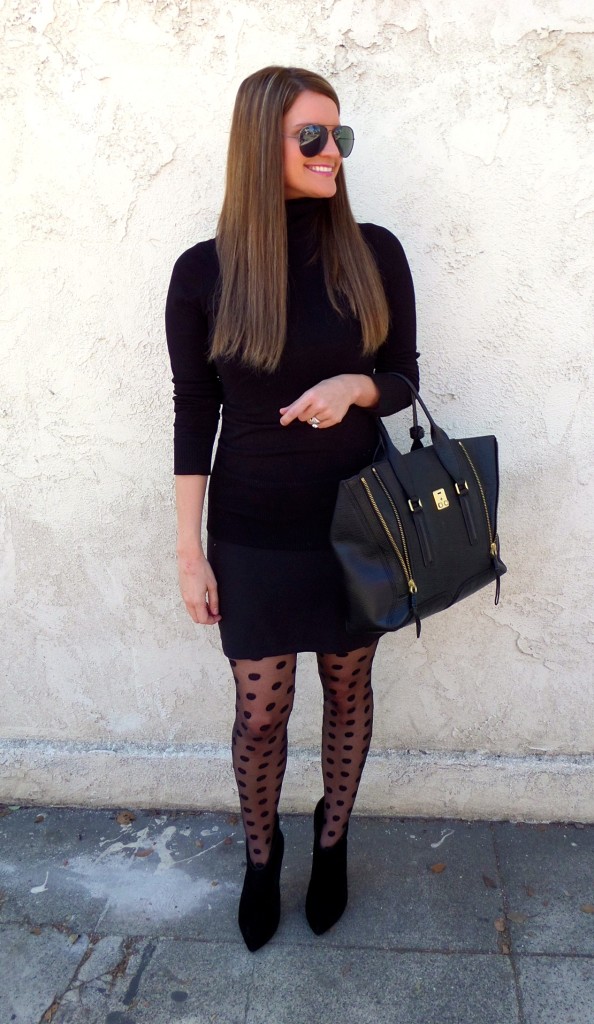 Dress: old
(

similar

)
| Tights:
Asos
| Booties:
Charlotte Russe
| Sunglasses:
Ray-Ban
| Bag:
Phillip Lim
I'd been hoping to pair these tights with a really cool outfit idea that I had thought of, but when that imaginary outfit never actually happened, I was forced to use the next best thing –  a simple black dress.  It's classic, and my all time fav, but I can still see the original idea floating around in my head when I look at these pics – sigh- maybe next year…
P.S. – How can Thanksgiving be next week? I am way behind on the outfit planning. This coming from a girl who already knows what she's wearing NYE.  Stressing!
  xo-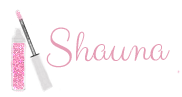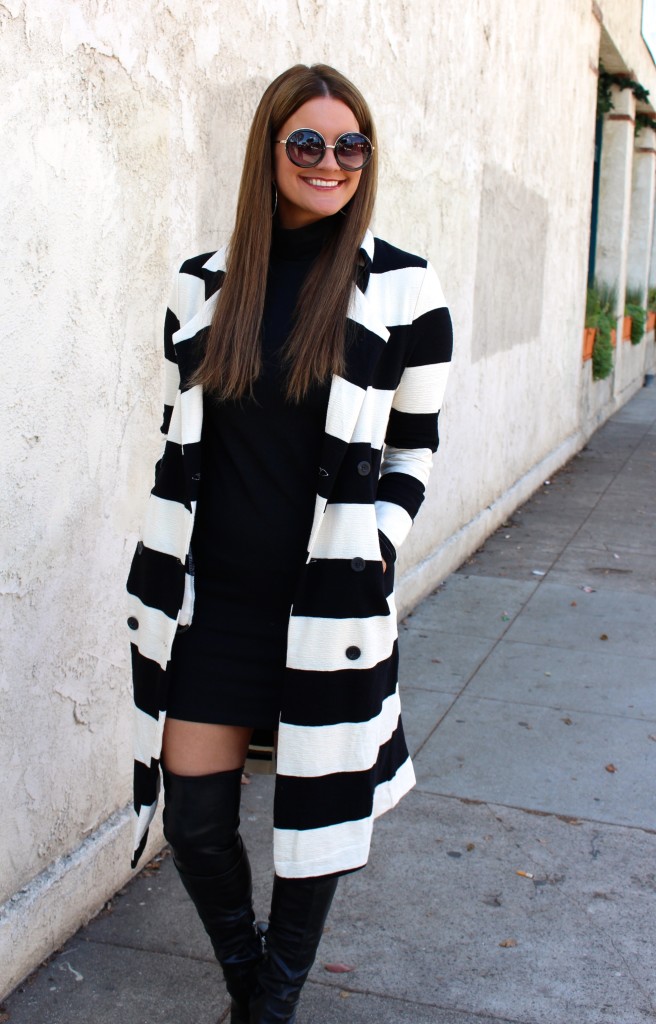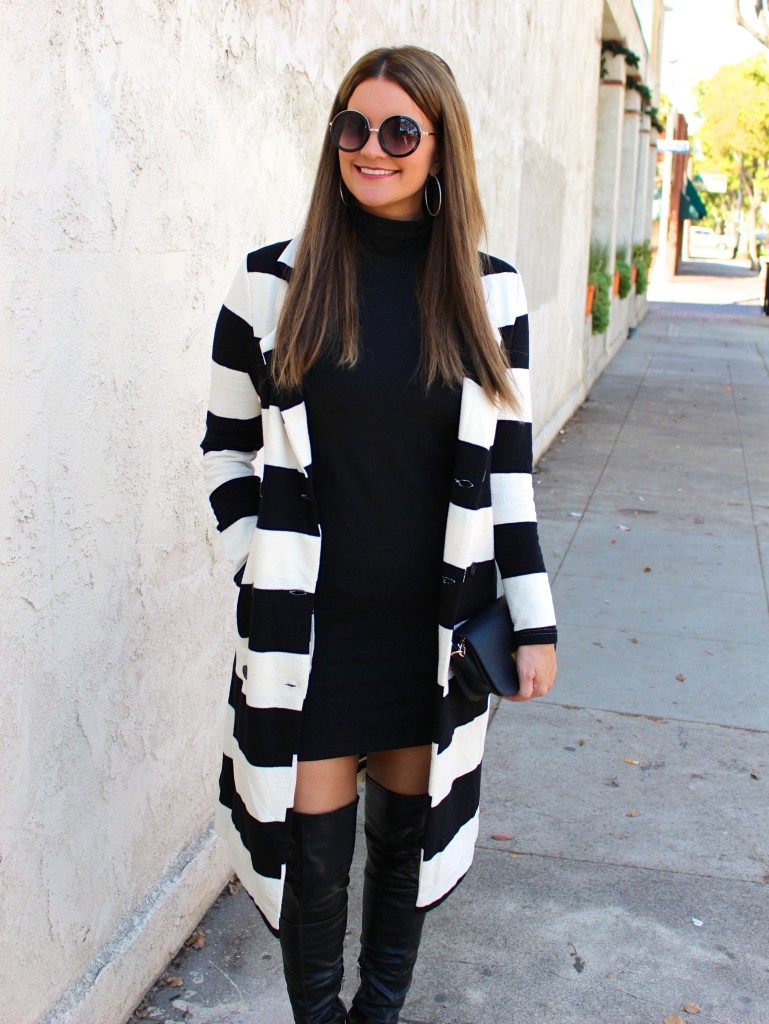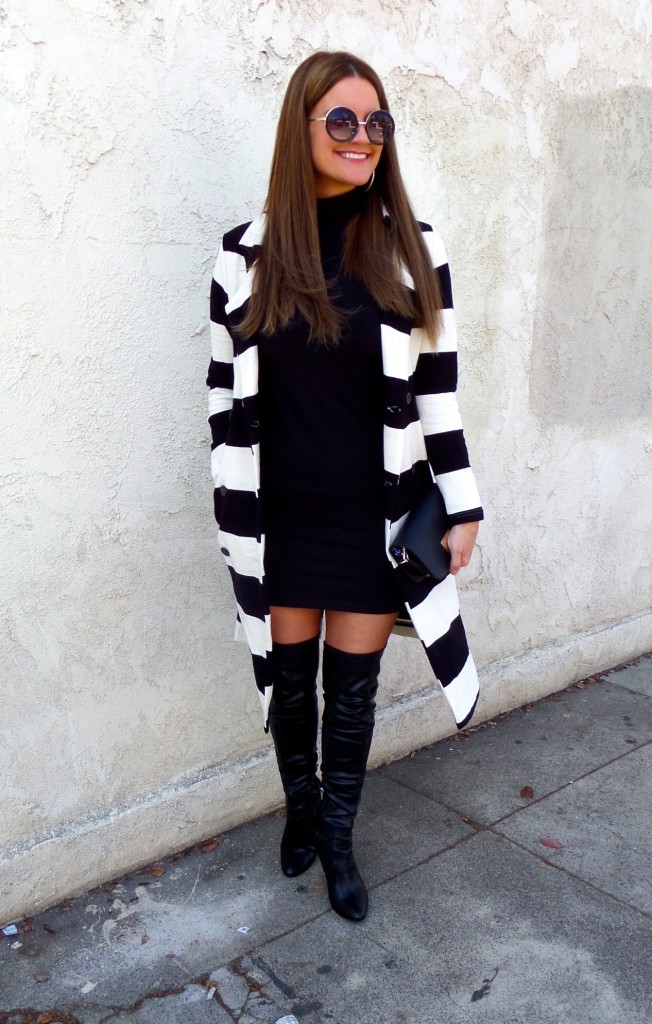 Trench:
Nasty Gal
| Dress:
Asos
| Boots: Mark Fisher, old
(

similar

)
(

similar

)
| Clutch:
Nasty Gal
| Sunglasses: Topshop    
Mod style is all about sleek lines, shift dresses, knee-high boots and tailored coats. Needless to say – I am definitely having a mod moment here, and loving every minute of it. 

♥
We used the new camera for these shots, just kind of testing it out. Wow. Officially obsessed. 
Have a fab week! -xo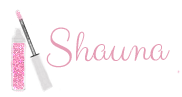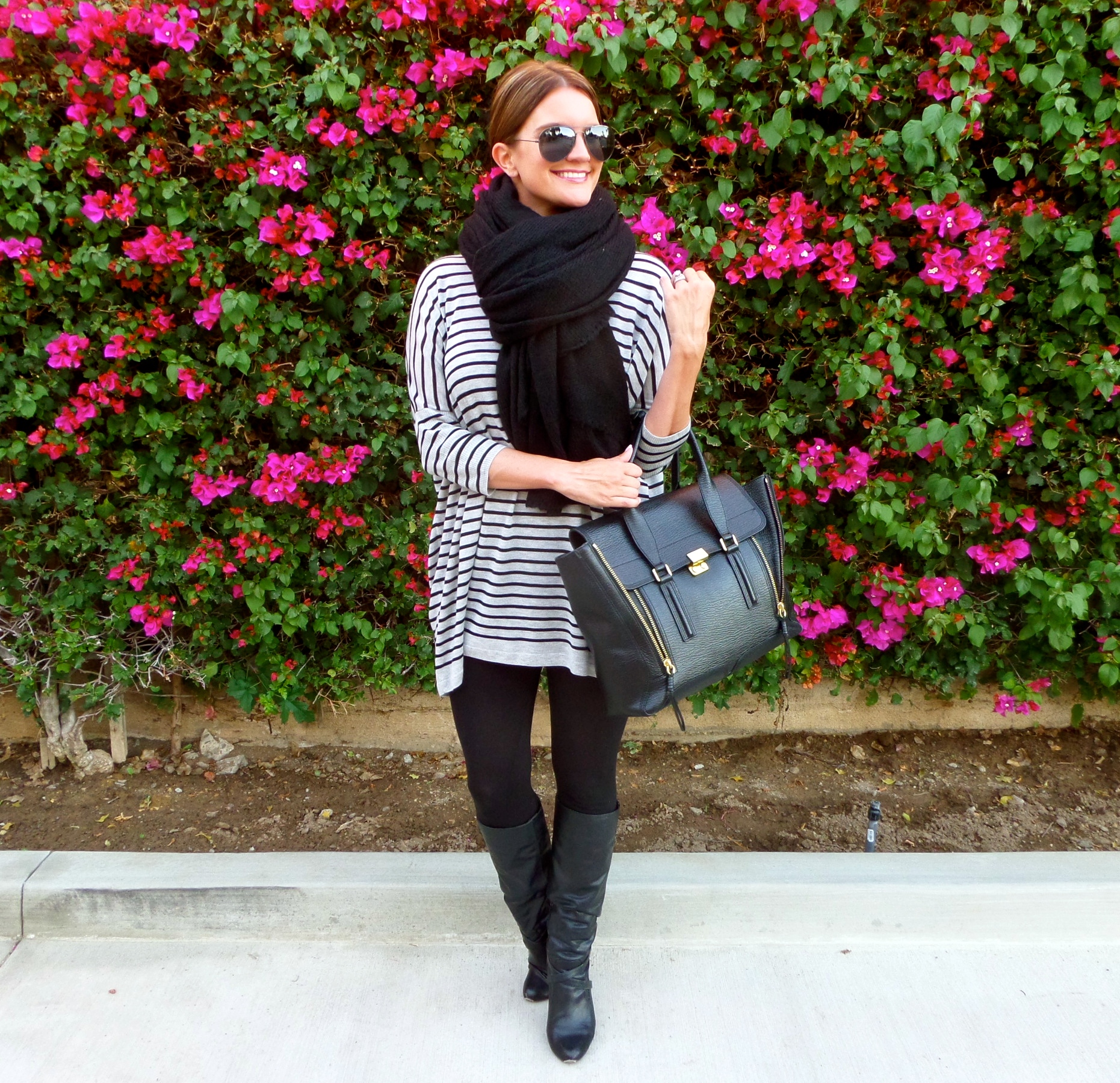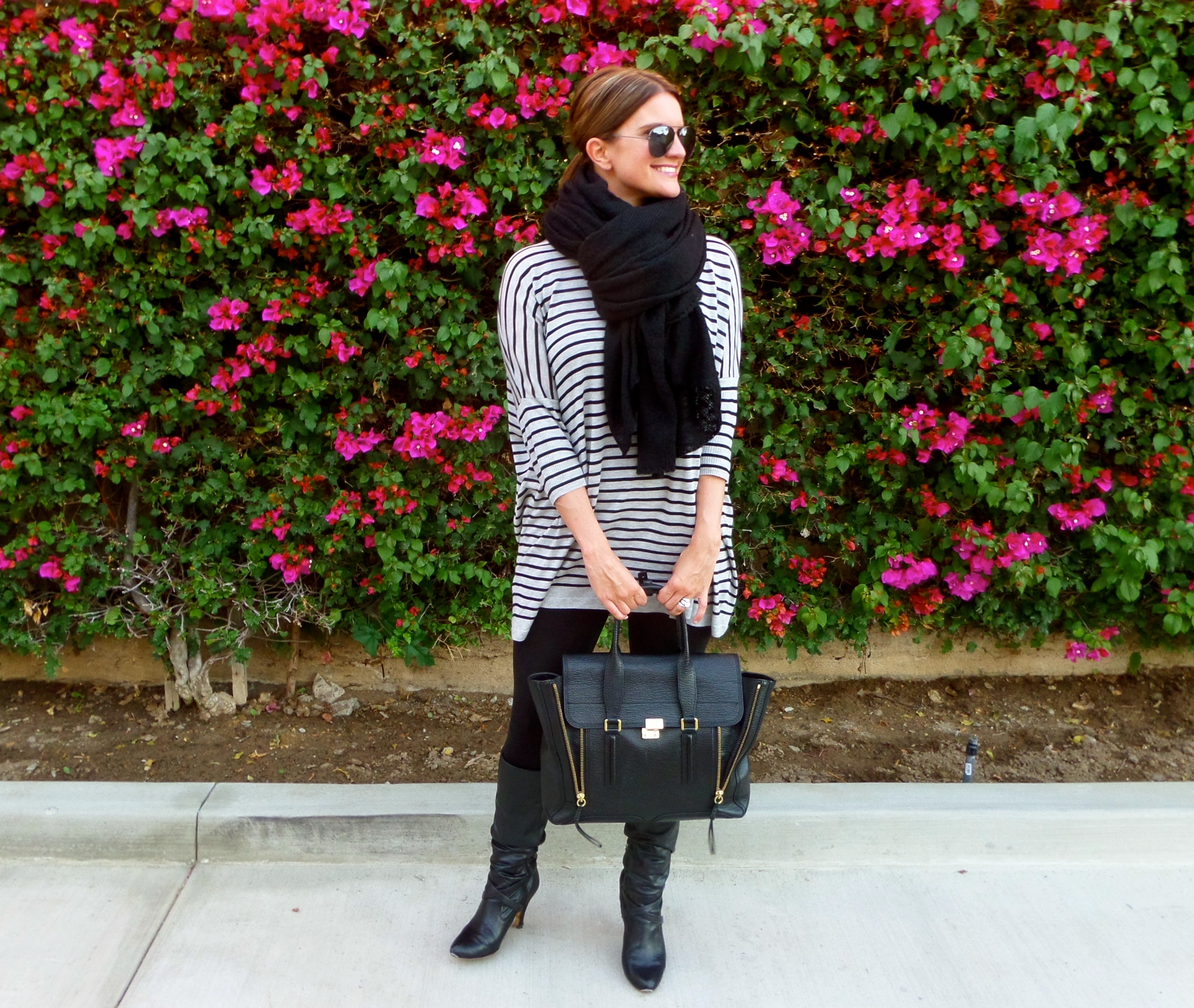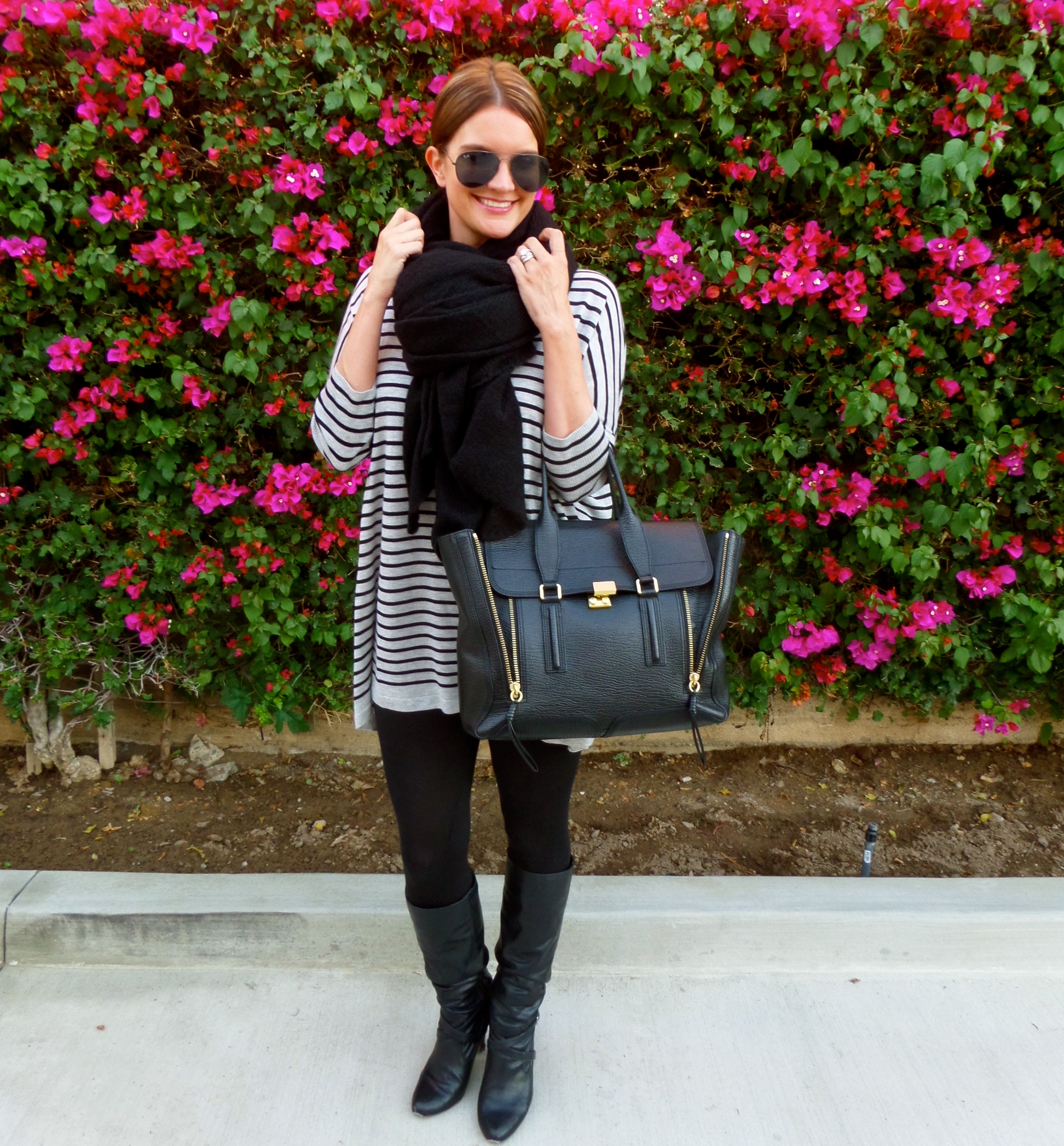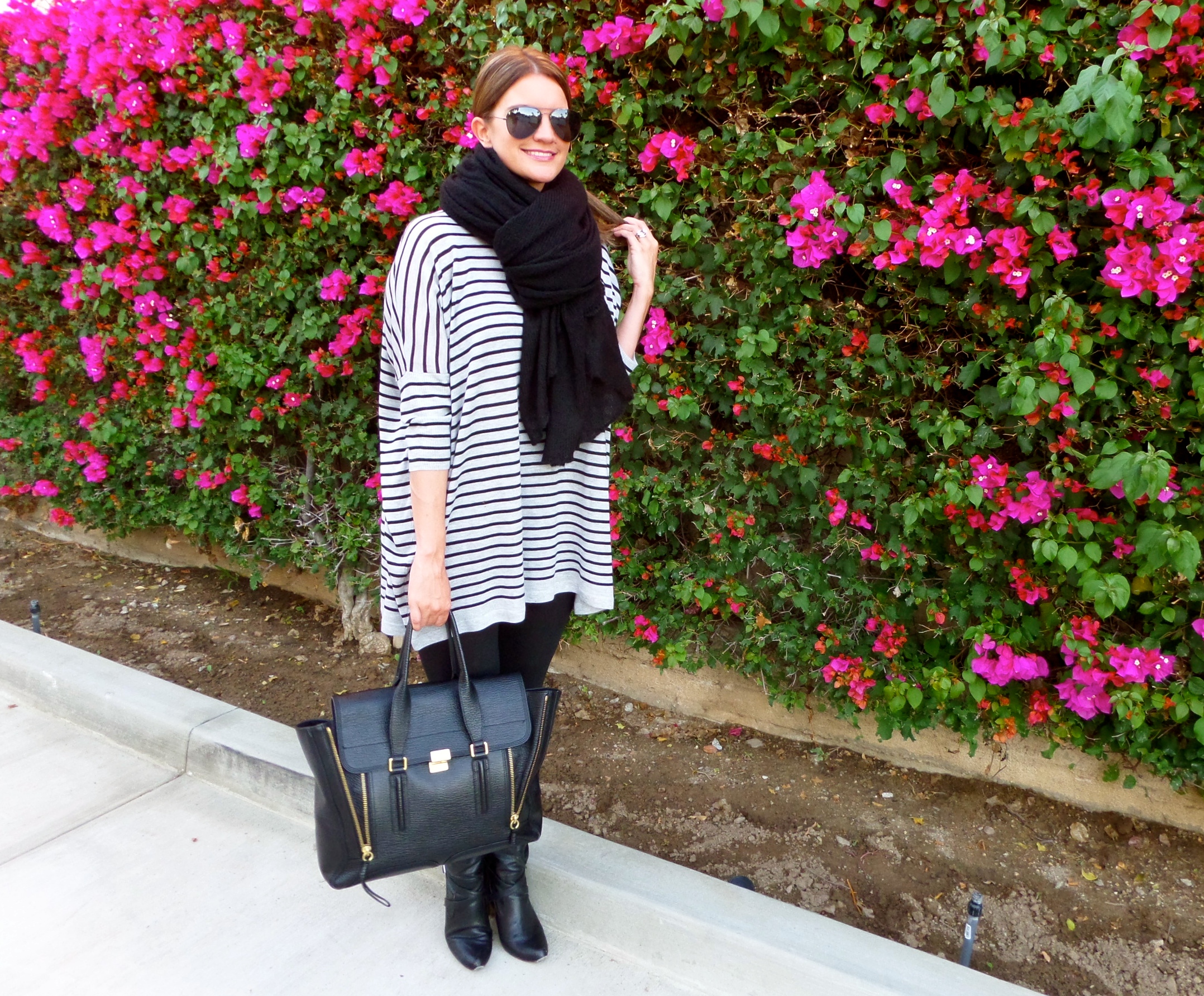 Sweater : H&M
(

loving

) (

loving

)
| Leggings: old  | Boots: old | Scarf :
Asos
| Bag: 
Phillip Lim
| Sunglasses:
Ray Ban
Oversized sweaters are one of my favorite pieces for fall. I'm a total sucker for adding a chunky scarf to any outfit, and this one from Asos is officially my new fav. Super soft, super giant, and super affordable!
P.S. – Not sure why my hair is looking red in these pics, but it is literally driving me nuts. Oh well. Cheers to the weekend, ladies! -xo