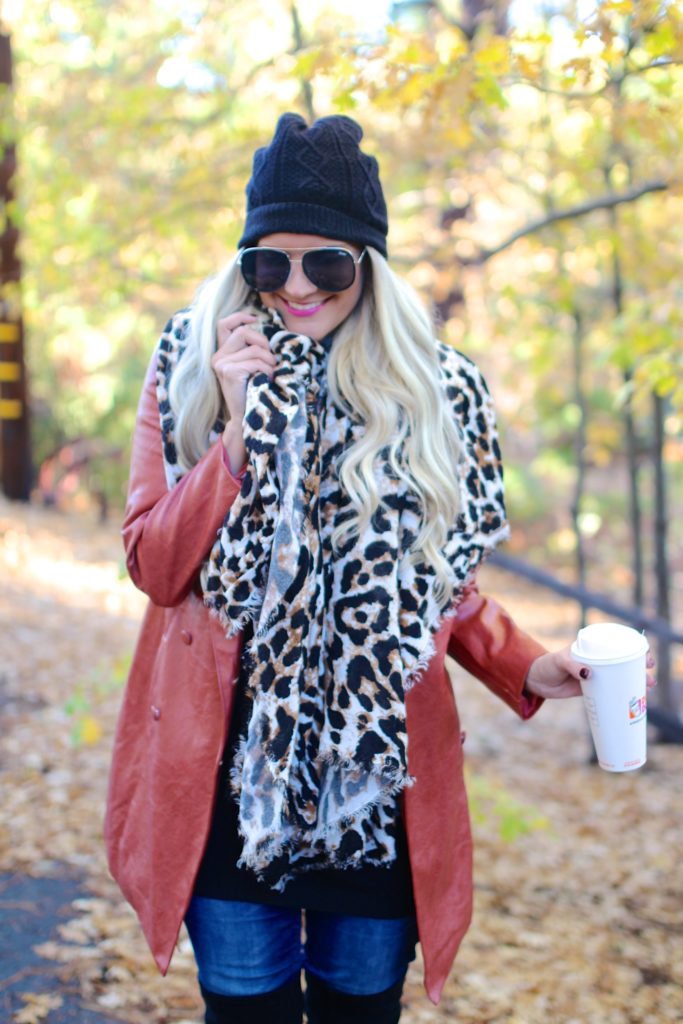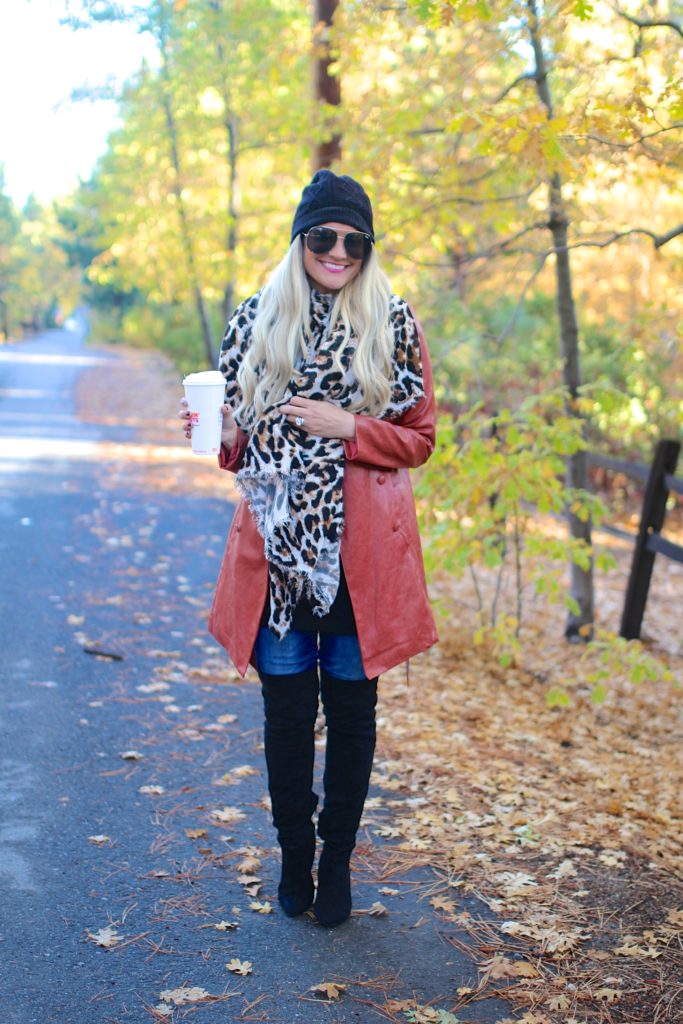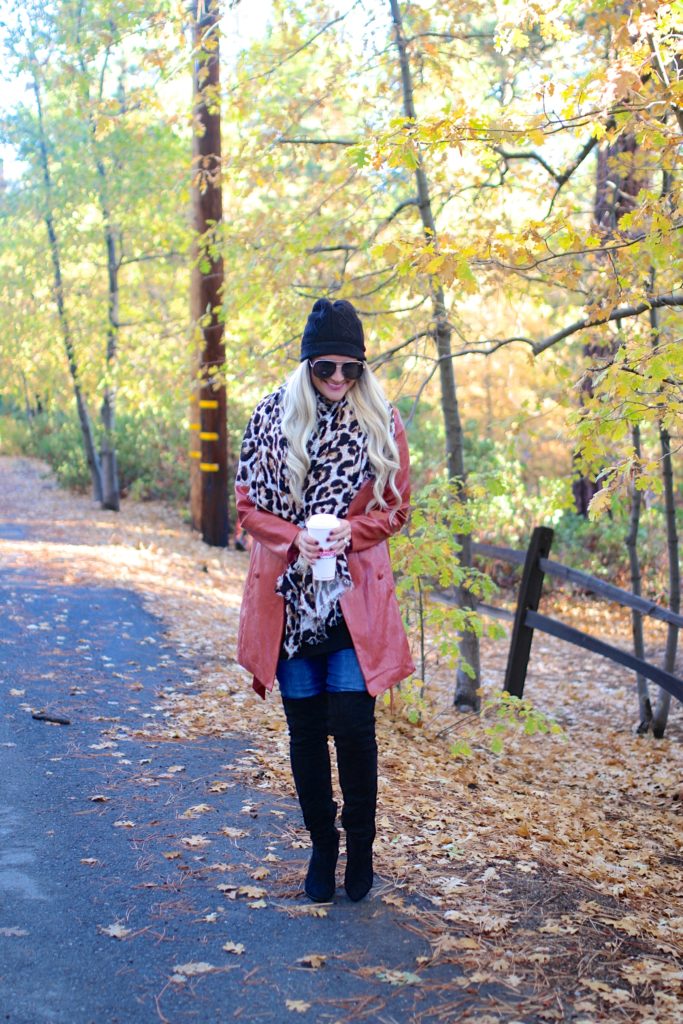 Jacket: Majorelle | Sweater: H&M | Scarf: old (similar) | Denim: old | Boots: Forever 21 | Glasses: Quay | Beanie: H&M
Remember this look, because you'll be seeing it in many forms this season…
Oversized blanket scarf – CHECK
Fall colored trench coat – CHECK
OTK boots that are comfy & chic – CHECK
Basically, it's as easy as 1, 2, 3!
Happy weekend! Thank you so much for reading!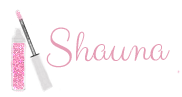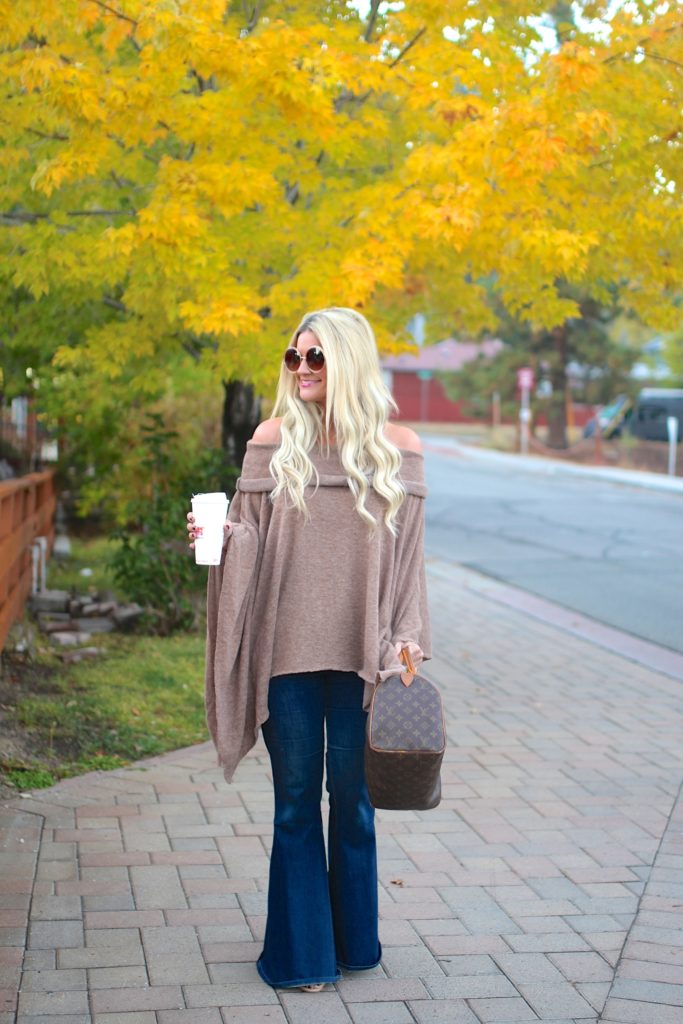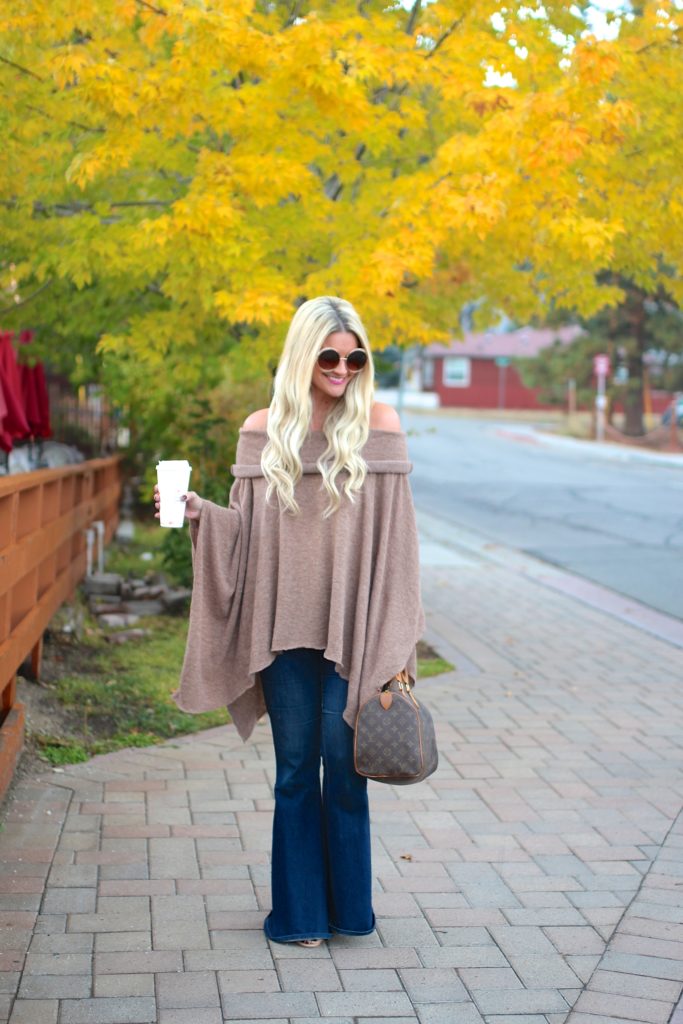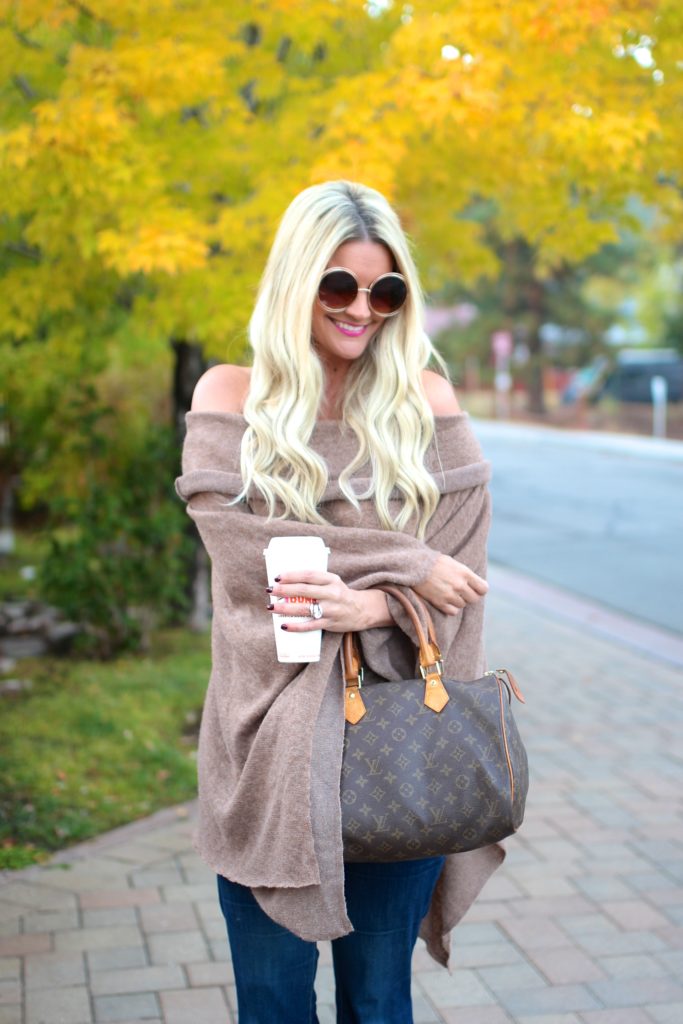 Poncho: Forever 21 | Denim: old | Glasses: Chloe
Well hello there, Big Bear! She sure is showing off for us with all of her vibrant and amazing colors everywhere we look! Truth be told; I've always wanted to visit Vermont to peep on all of the leaves, but only an hour and a half away from us is Big Bear Lake, so I'm able to get my fill of Fall close to home. No planes or full travel days required. Huge score.
Are you traveling anywhere pretty for the fall season? Tell me so I can be jealous!! XO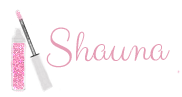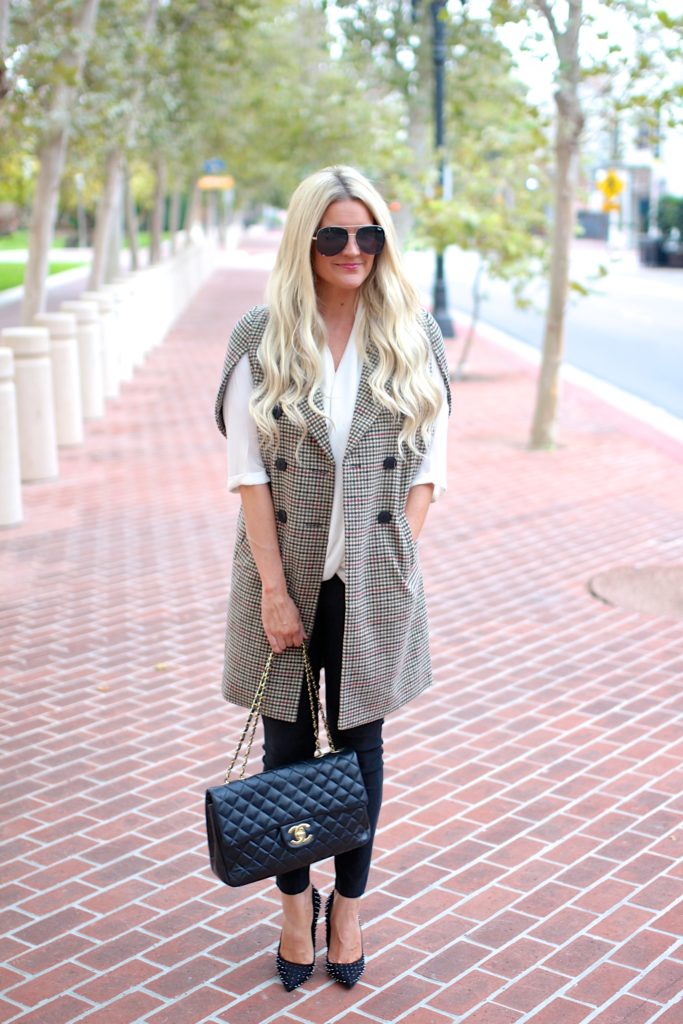 Cape: Asos | Top: old (similar) | Pants: Asos | Glasses: Quay | Shoes: Steve Madden
It's finally time we can express our inner superhero with the coolest cover up for fall – THE CAPE. It's the ideal replacement for a jacket or coat because it's so easy to slip on and style. I love how simple it is and how it can go from casual to high fashion in literally seconds.
Thanks so much for reading, and hope you all have a great weekend! We are headed to a Harper's BAZAAR event tonight and then it's off to Big Bear for a little fall weekend getaway. I'm so ready for chilly temps and pretty leaves! Fall is just the BEST! -xo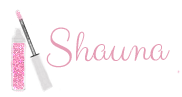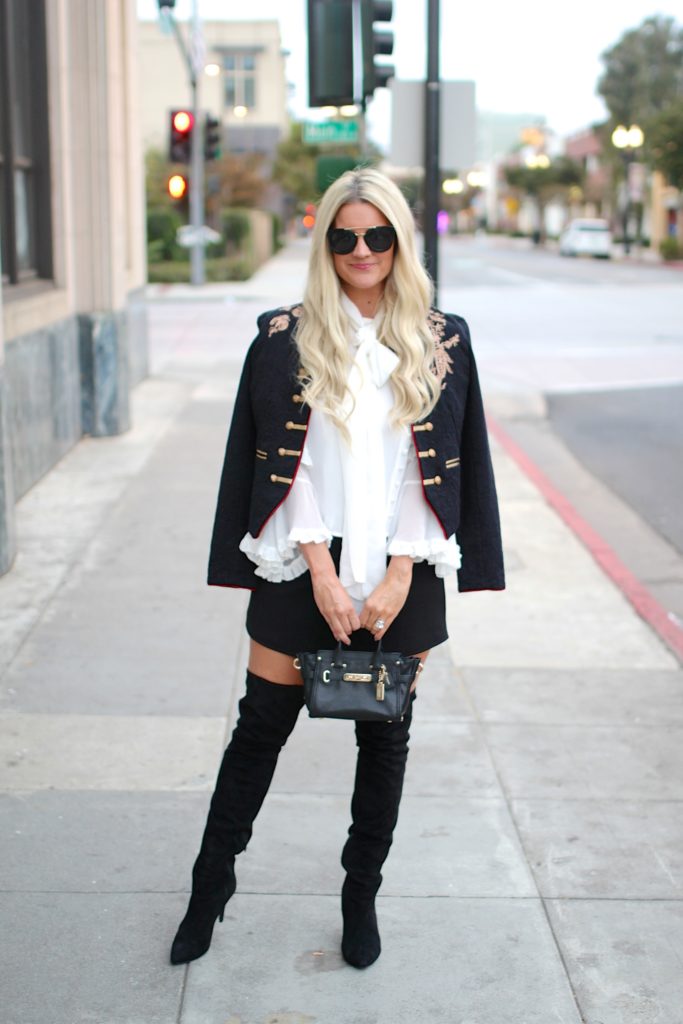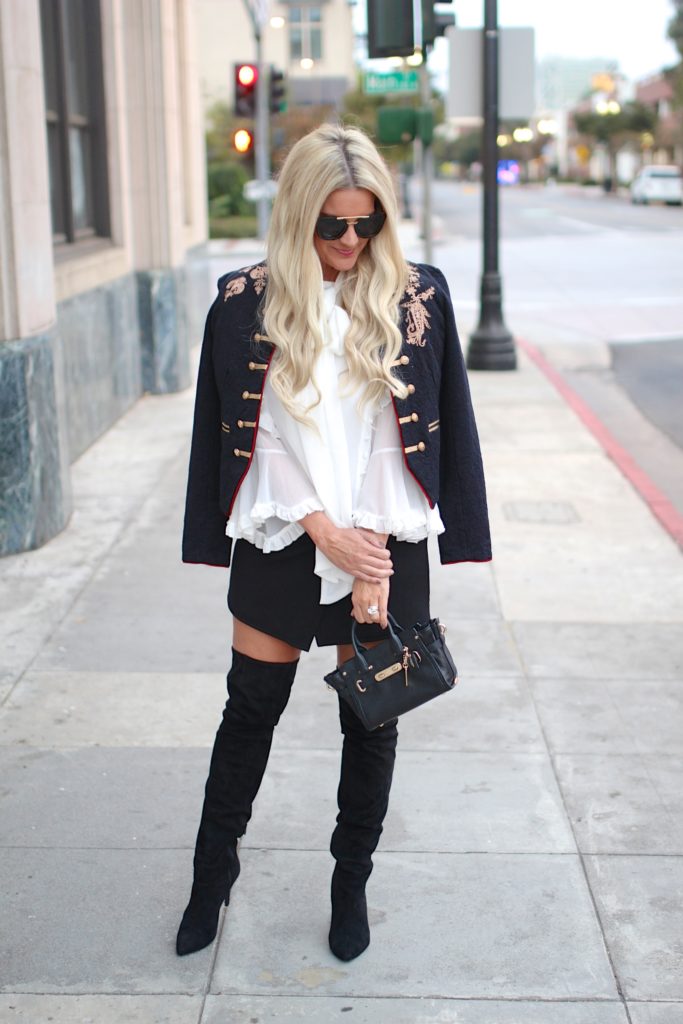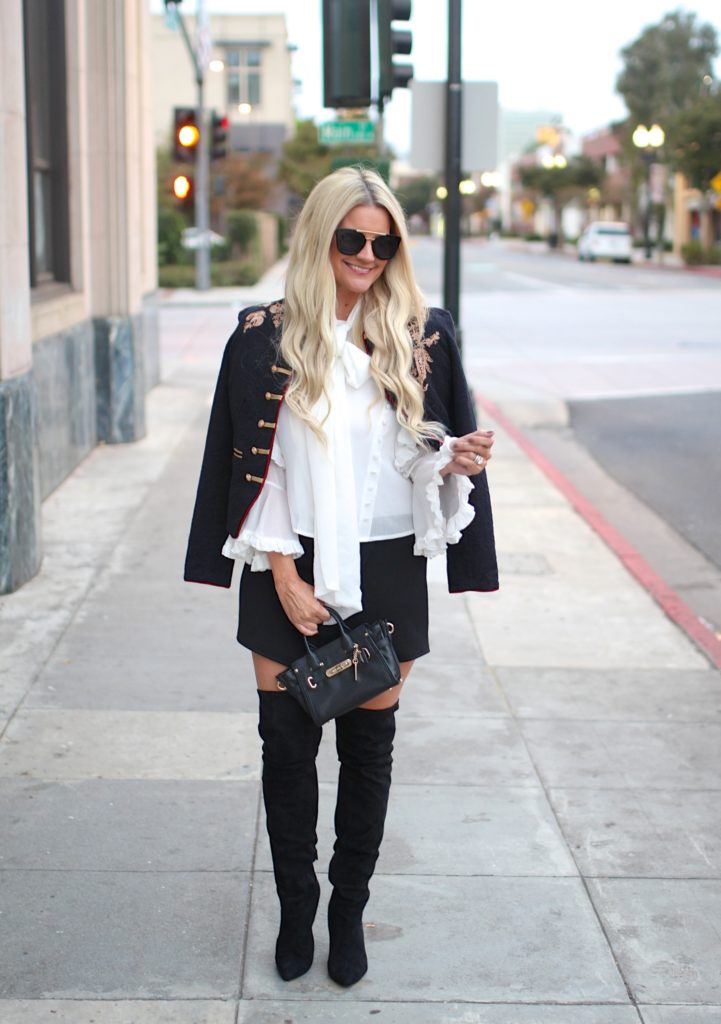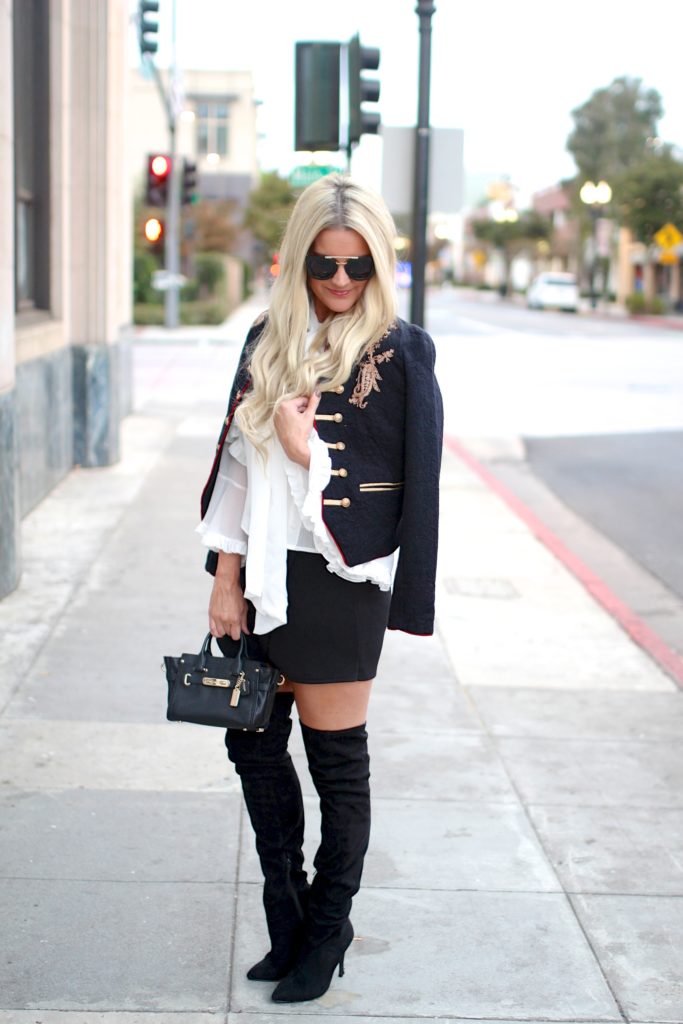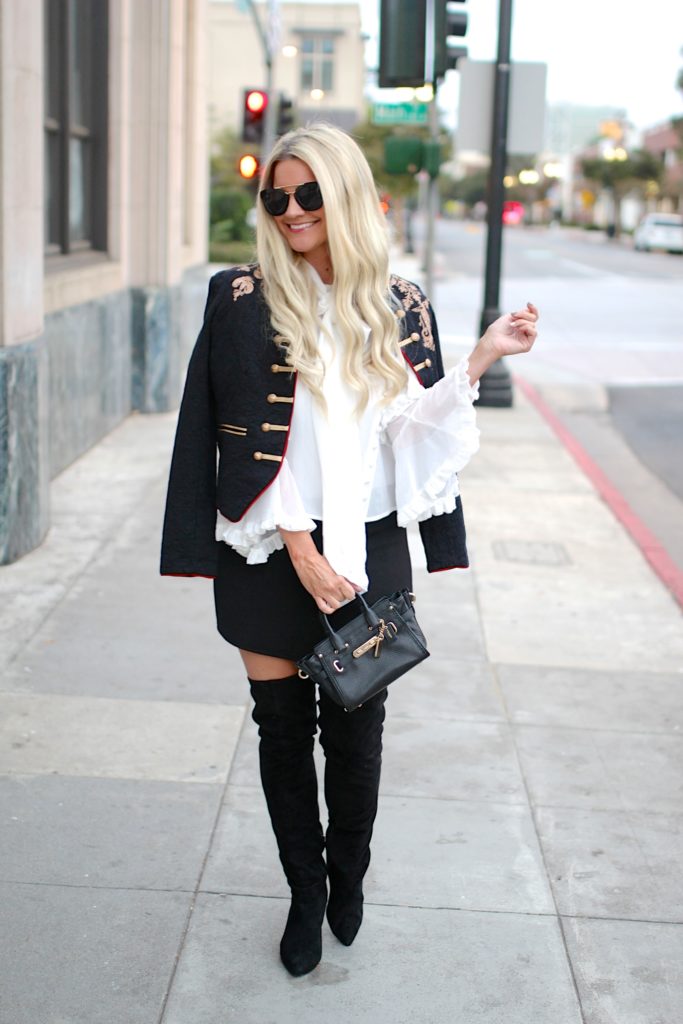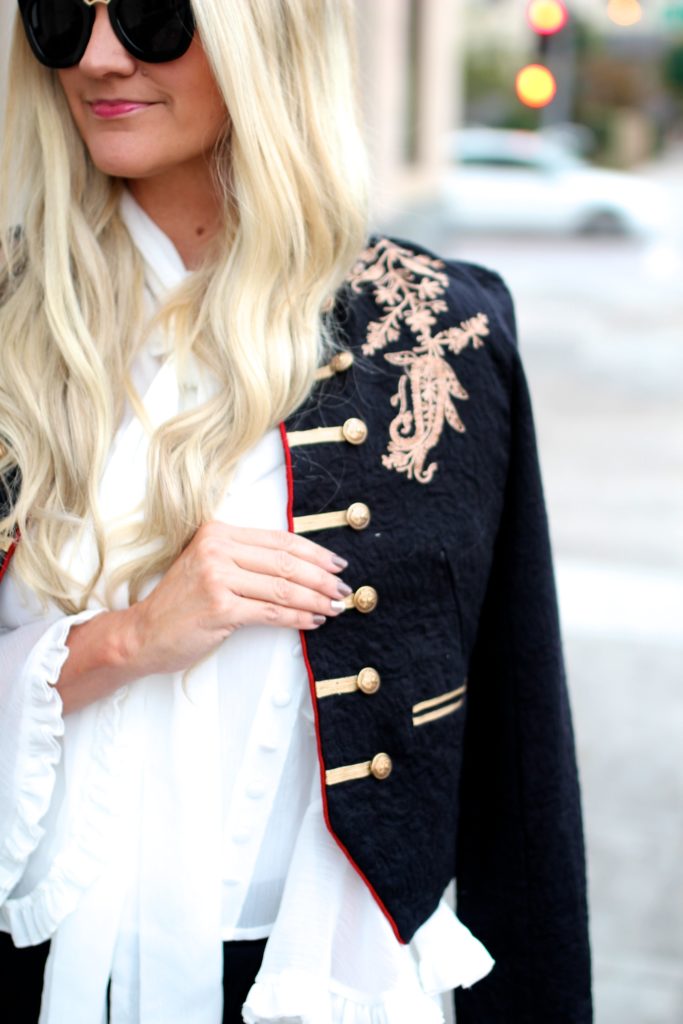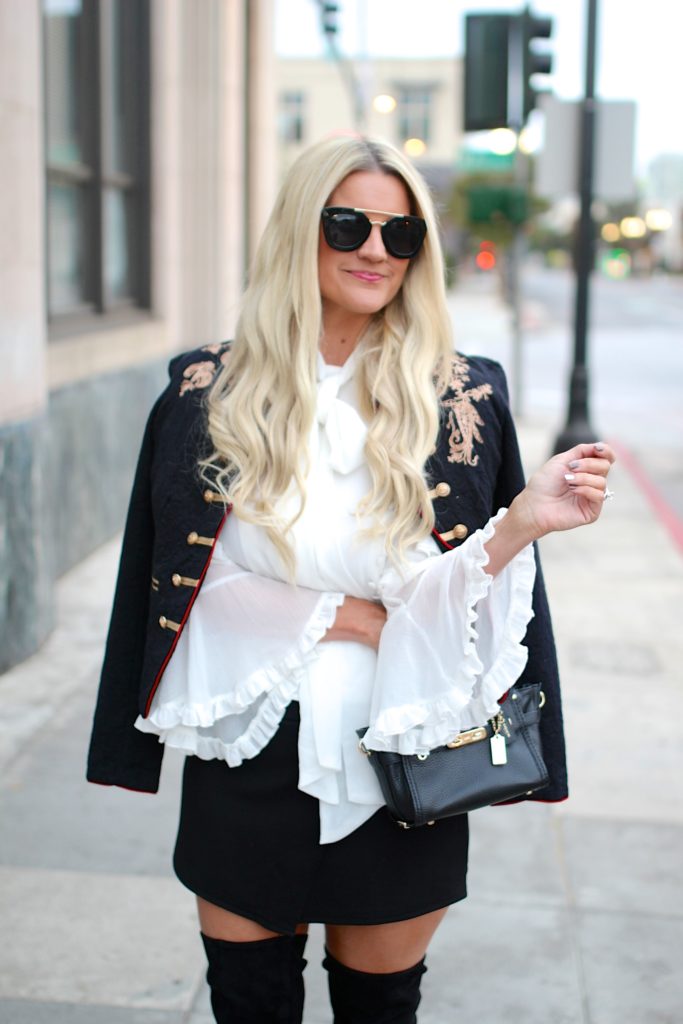 Jacket: Free People | Blouse: Chicwish | Skirt: old (similar) | Glasses: Prada | Bag: Coach | Boots: Forever 21
With Halloween only 3 weeks away, it's got me thinking about how much I've always loved dressing up for the holiday.
As a kid, I would dress up as a witch every year and would go all out, right down to the long black glue-on nails and my face painted bright green. In college it was the ever so original bunny, and even after college I was once an astronaut where literally my whole costume LIT UP.
And for a woman who loves playing dress up even now, isn't it almost like everyday can be Halloween? Everyday I get to march into my closet, stare at the costumes and choose what I will be today. One day it's chic, one day it's classic, one day it's rock-and-roll, or one day even band leader, when I choose to wear this Free People band jacket.
In the end, I've taken my love for Halloween and gone a step further. Instead of throw away costumes on November 1st, I've evolved into investing in costumes that will hang in my closet for much, much longer 🙂
Thank you for reading!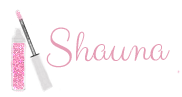 The other day my Sister asked me what the one trend I thought she needed for fall was.
My answer?
None of them.
I believe that our closets should hold the essentials. The pieces that you'll wear over and over again. The pieces that you wouldn't want to be without. The ones that make you feel good!
I've included some of my favorites below. What does your fall essential list look like? I'd love to hear! Thanks for stopping by!
THE CAMEL VEST
THE FLOPPY HAT
THE BLANKET SCARF
THE PLAID SHOE
THE COZY KNIT
THE ANKLE BOOTIE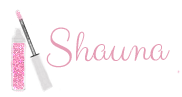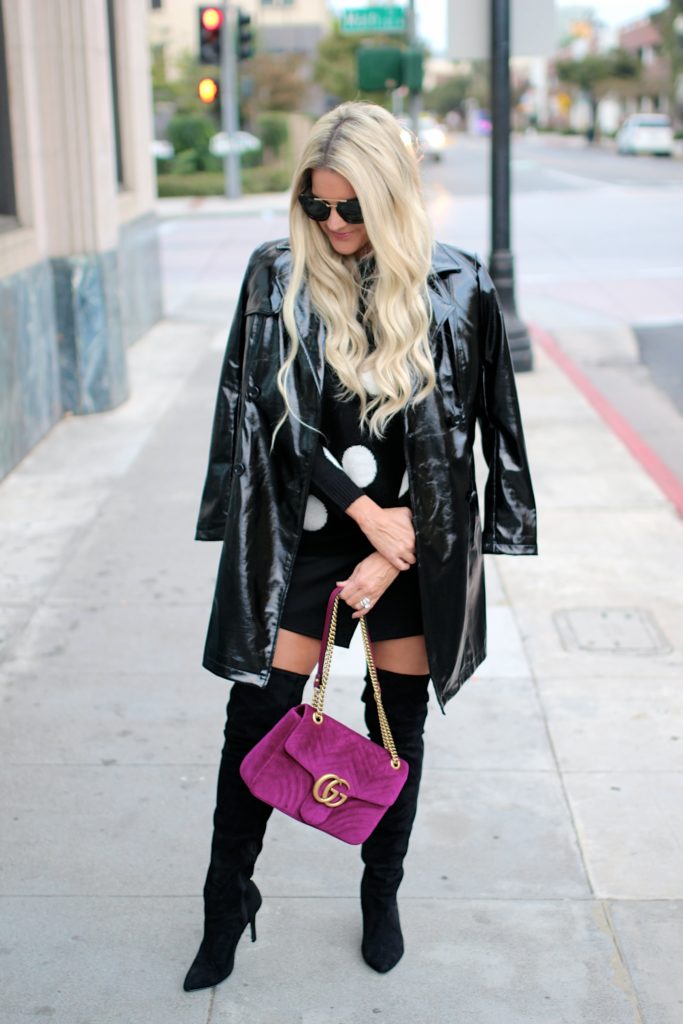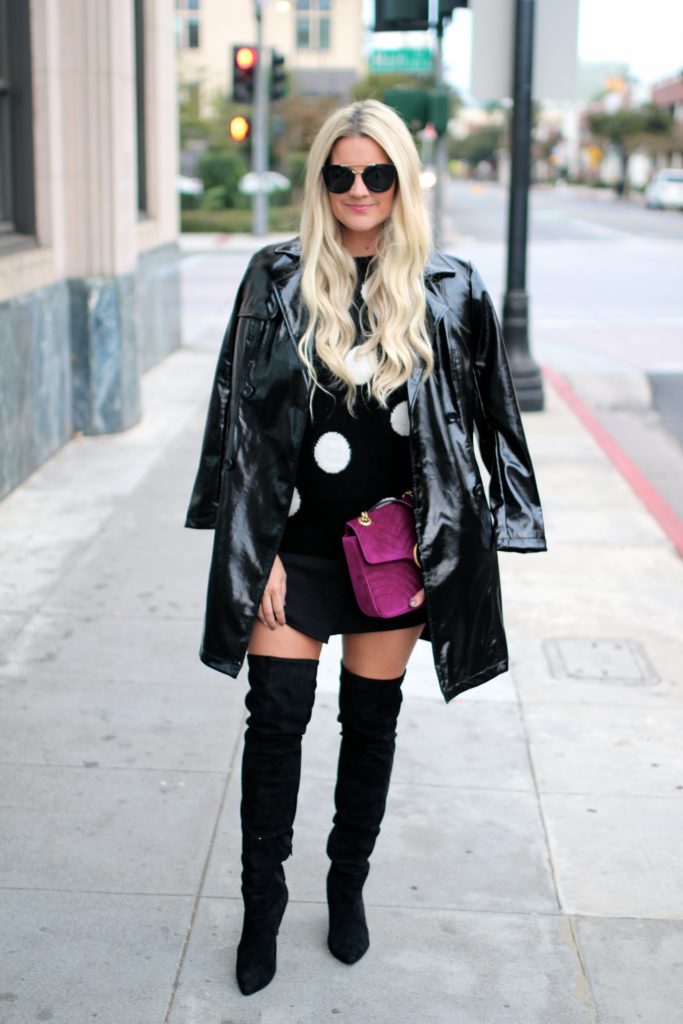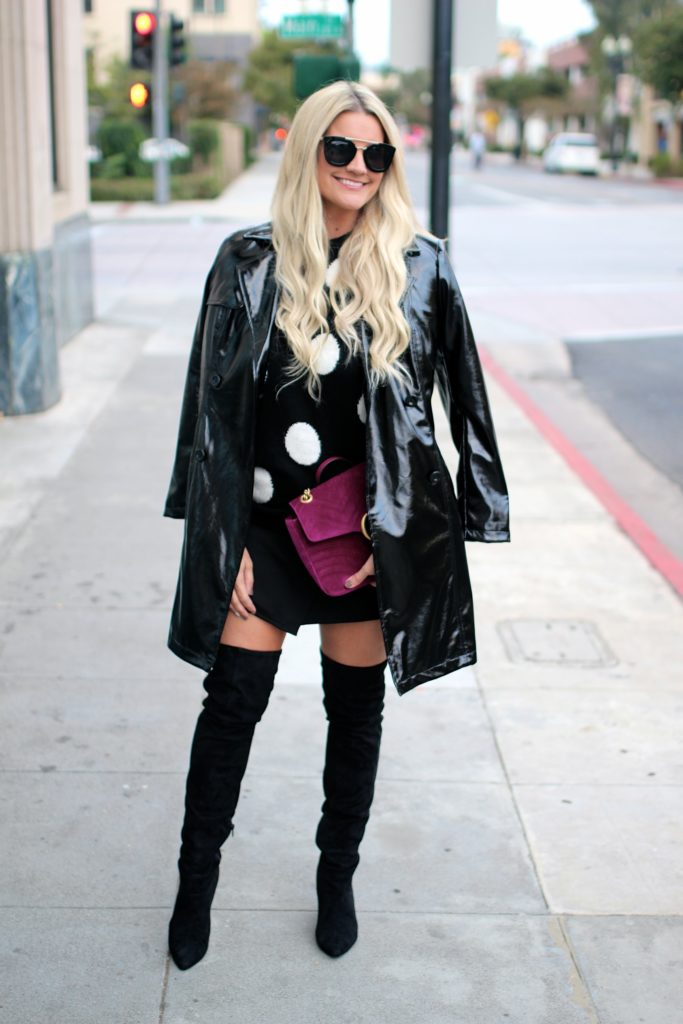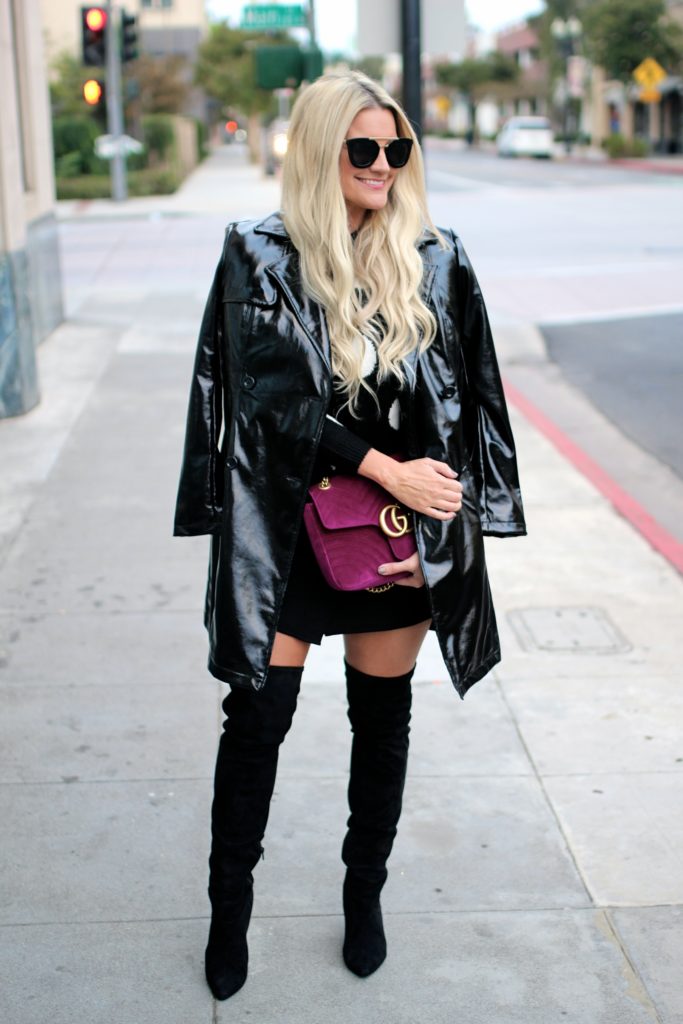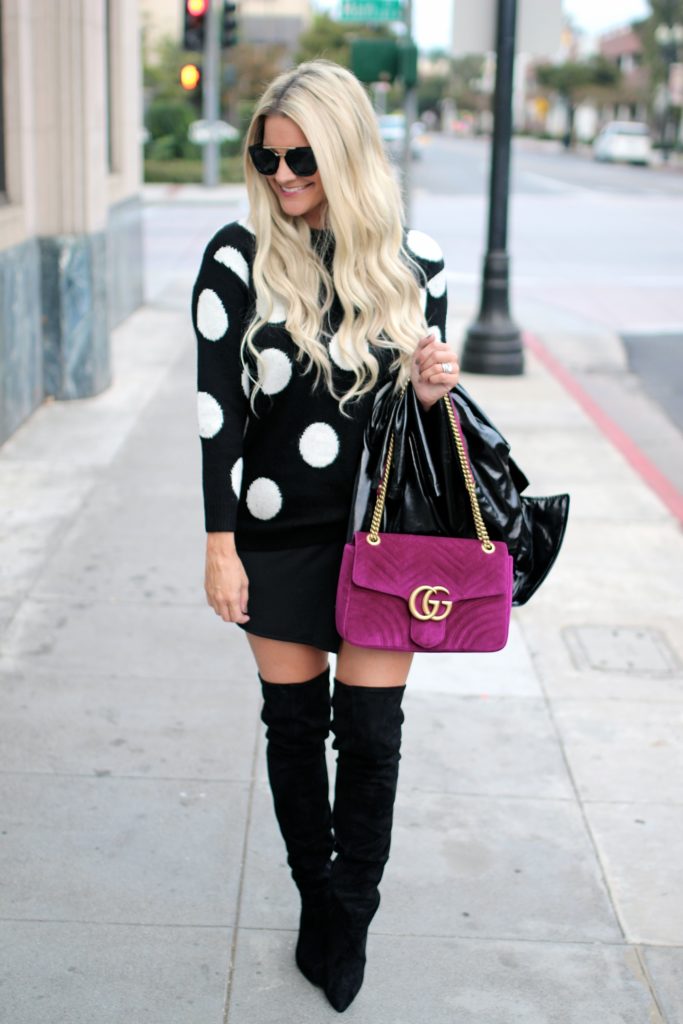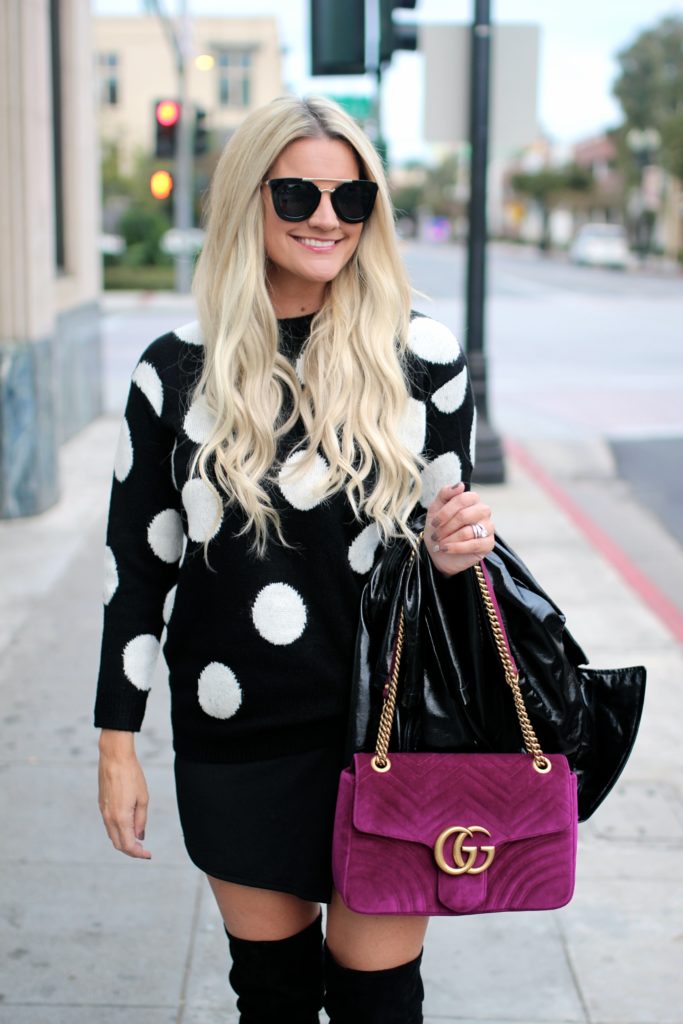 Jacket: Macy's | Sweater: Asos | Skirt: old (similar) | Boots: Forever 21 | Glasses: Prada | Bag: Gucci
Last December I was shopping a crazy after Christmas sale online at Macy's, when I snagged this glossy faux-leather trench for $40. It had been marked down from a way higher price, so by the time I got it, it was basically free! I remember putting it in my shopping cart and thinking "I don't really NEED another trench coat in my closet, but when I feel like it's this cute and on sale for THIS much, I kind of need to buy it, right?" and all thoughts of necessity went right out the window.
Fast forward to a year later and this trench has become one of my favorites in my outerwear closet. It spices up any look and is a full-on showstopper.
$40 bucks well spent if you ask me! ~xo