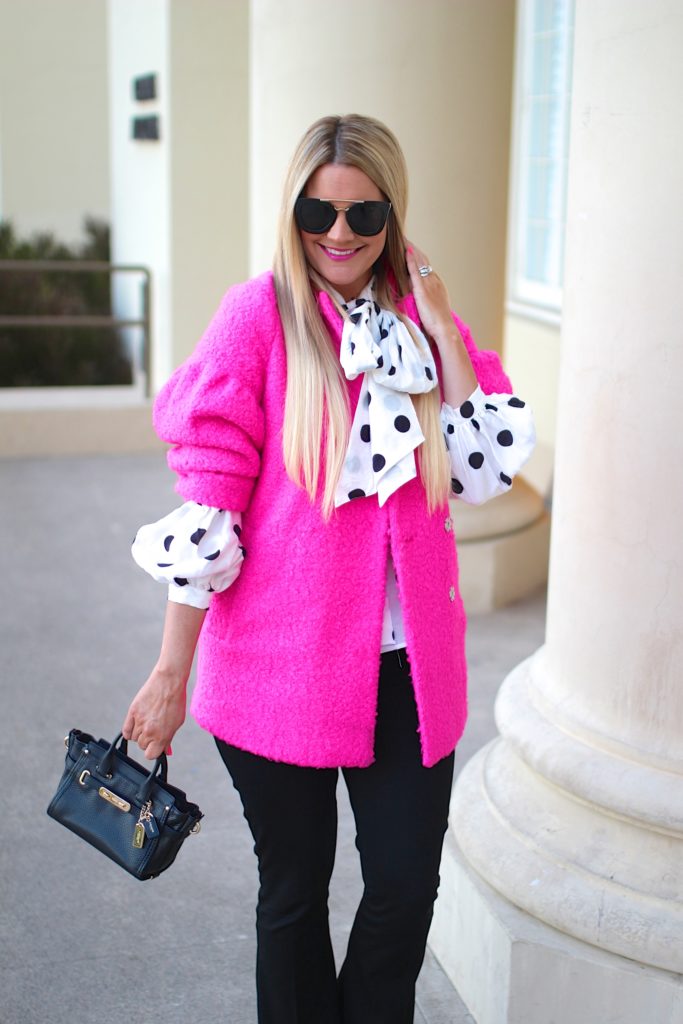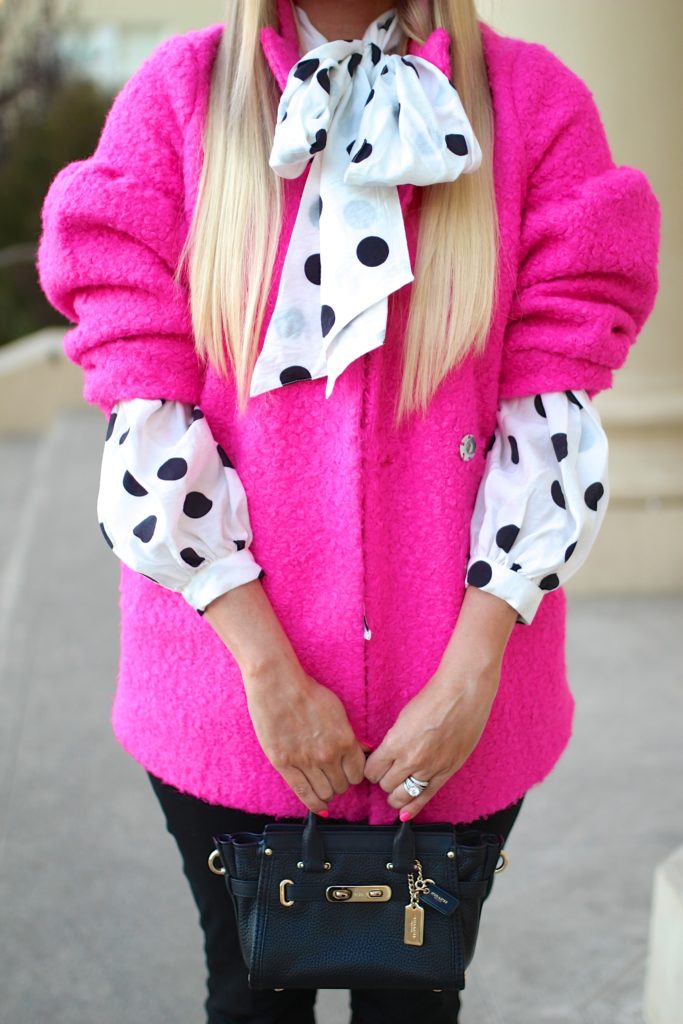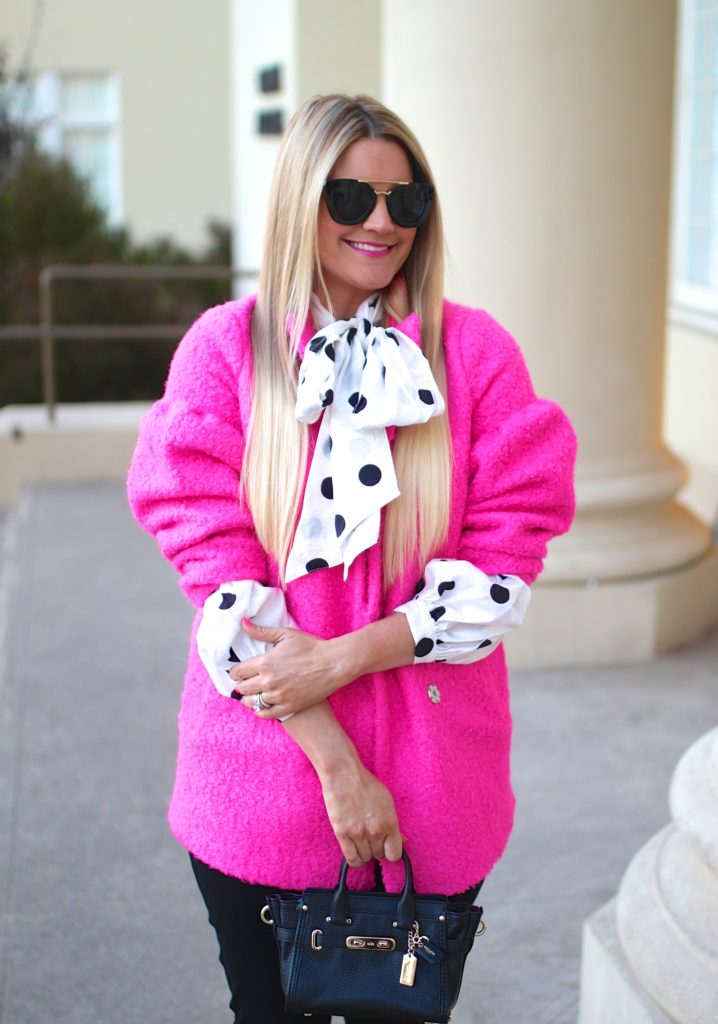 Coat: Asos | Blouse: Shein | Pants: Express | Heels: Louboutin | Glasses: Prada | Bag: Coach
Monday calls for something bold…
So…
Splurge on that extra shot of espresso in your coffee
East all the ice-cream
Skip the gym
Wear the brightest color in your closet
Stay for that extra drink at happy hour
Why? Because…well, Monday
UGH.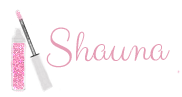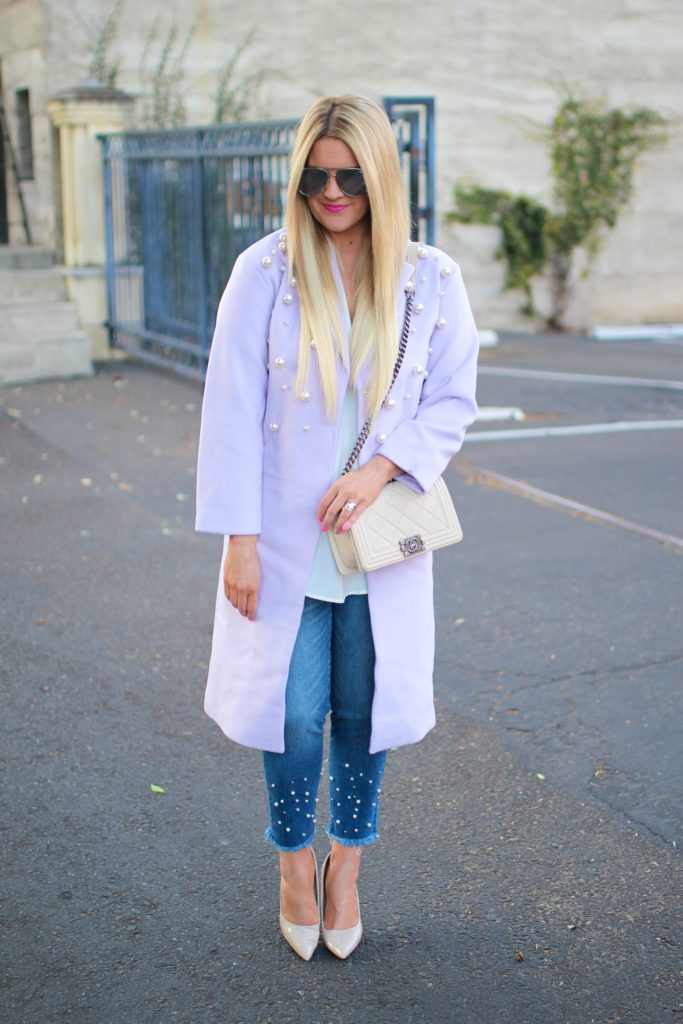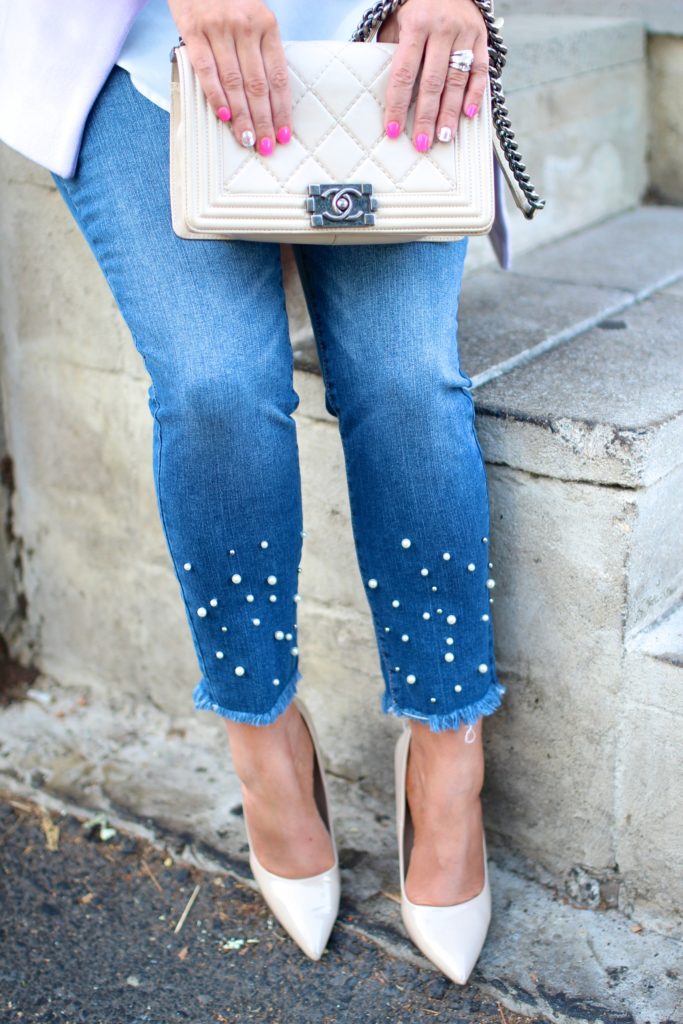 Coat: Asos | Top: Lush | Denim: NY&Co | Glasses: Quay |  Heels: Call it Spring | Bag: Chanel le Boy
One of the hottest trends headed our way for spring will be pearls. Embellished coats, bags and denim are just a few of the things we'll be seeing a lot more of in the next few months! And how can you say no to pearl jeans? After all, denim pants are a go-to for every single one of us, and adding a pearl pair would be an easy way to stay fashion forward without breaking the bank. These NY&Co pair are THE BEST! I love how soft they are too. Currently they're on sale and under $48! 
Thank you for reading, have a wonderful weekend! XOXO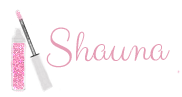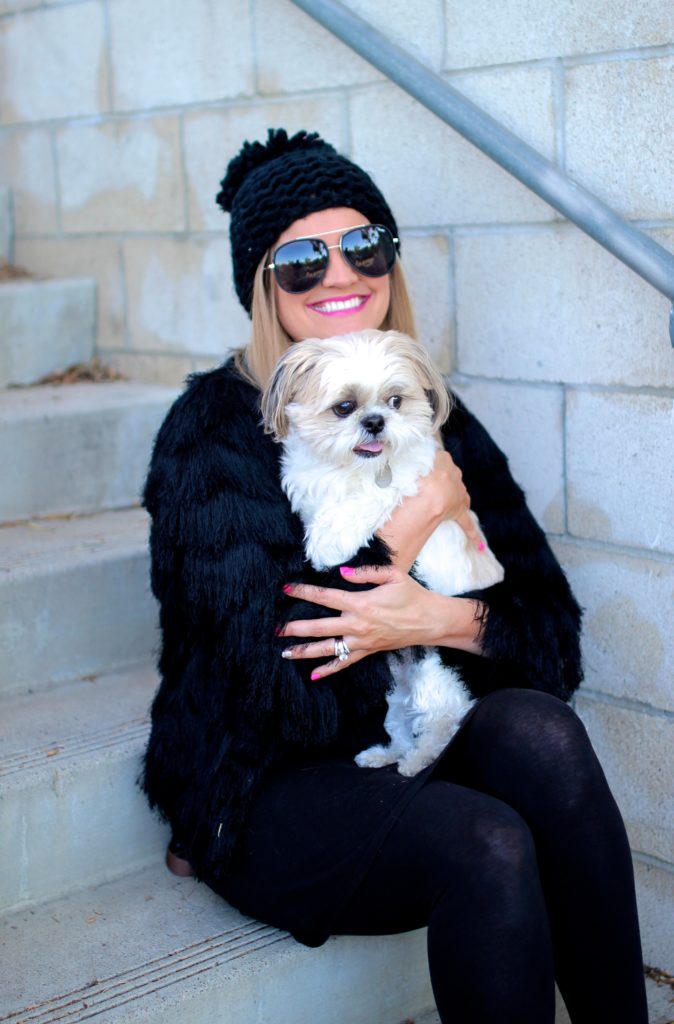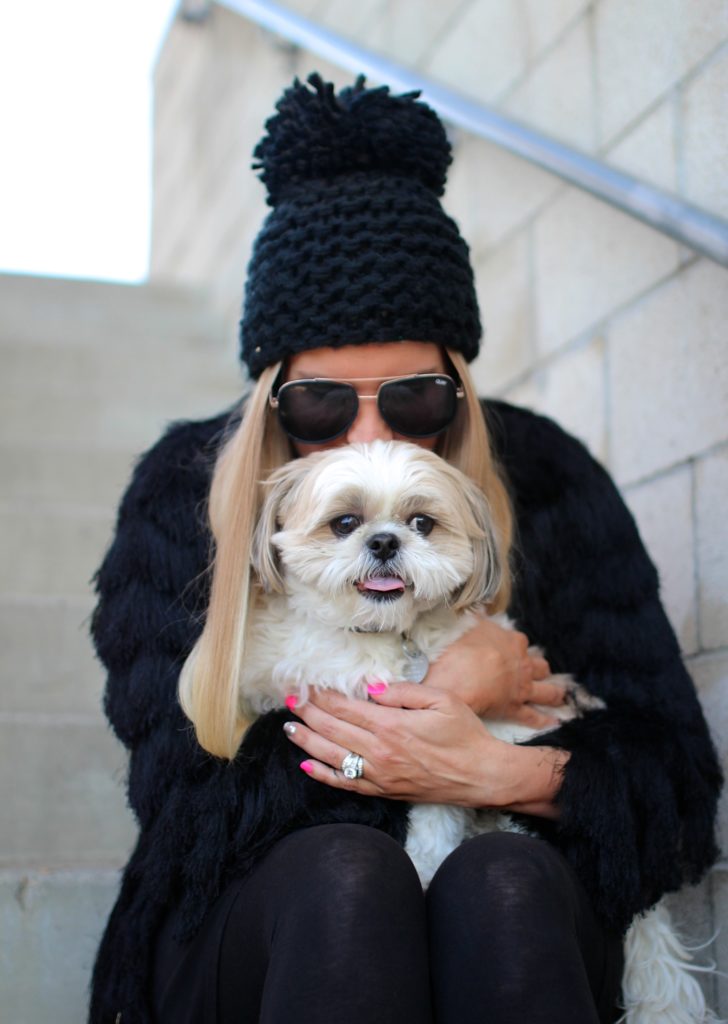 ♥   ♥   ♥   ♥   ♥   ♥ 
So this is a very special post, because my favorite fur baby is turning 6 today! In honor of this little guy's birthday, I wanted to share SIX things I love most about him:
♥  This is a dog that loves playing with his toys at ALL hours of the day! It makes me laugh how much he can shake the heck out of one in the middle of the night. A few of his favorites are green inchworm, piggy, baby lamb chop and blue key (we name each toy – I know…we're a lot)
♥  My favorite trick he can do is "High 5". My sister taught him as a puppy, and when you say "high 5", he gets up on both legs and taps your hands with both paws
♥ I love his soft little snores, they melt my heart
♥  Riley loves to lick…but only my husband. He won't lick me or even strangers, just Dad. Totally OK by me – I'd rather have the cuddles!
♥  I love when he gets a burst of energy and runs around the house like crazy. When he gets that excited, he prances like a reindeer
♥  I love how TRULY happy he makes us. He may be a dog, but a special one he is. Sometimes I just look at him and think "I could not love your cute little face more!" He fills our hearts with so much joy!
♥ Bonus: This was his debut on the blog. Such a baby…
Happy Birthday, sweet Riley! We love you so much!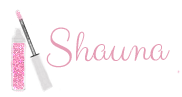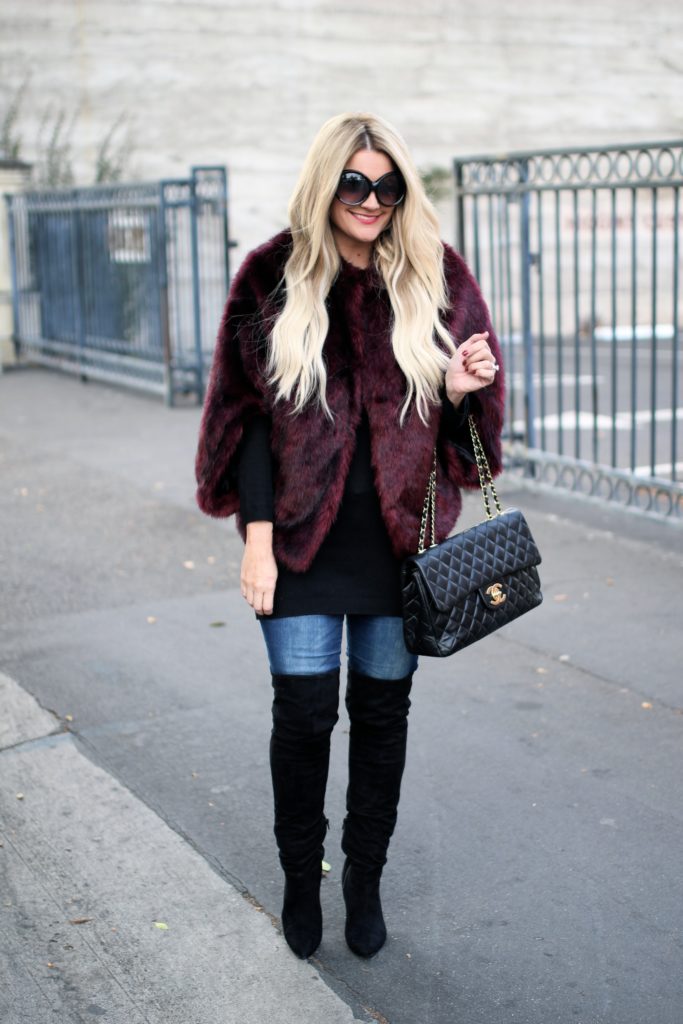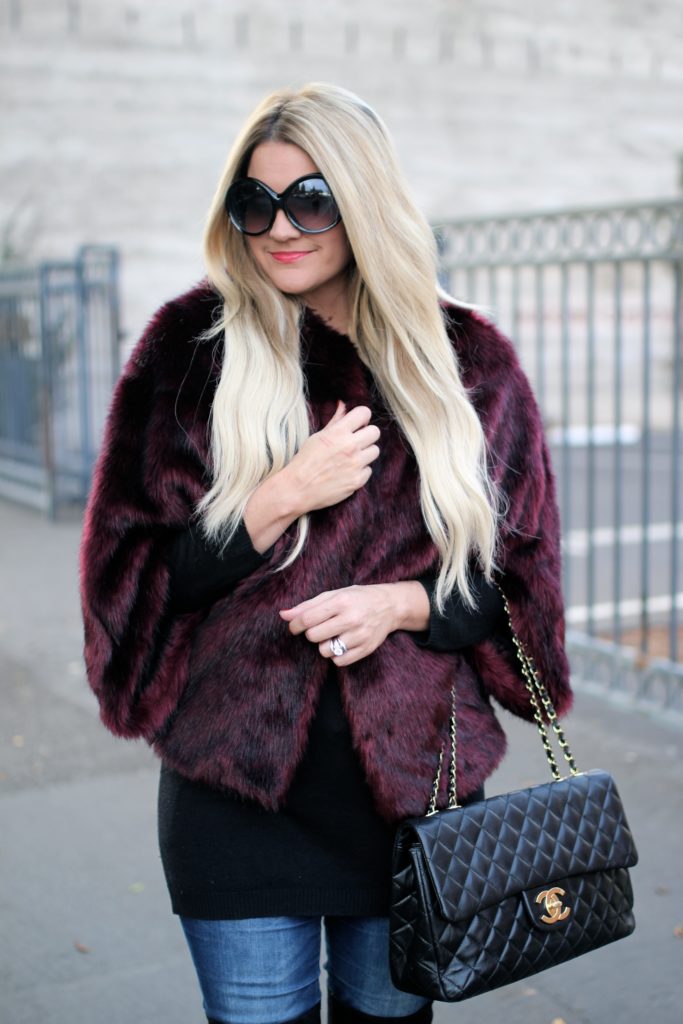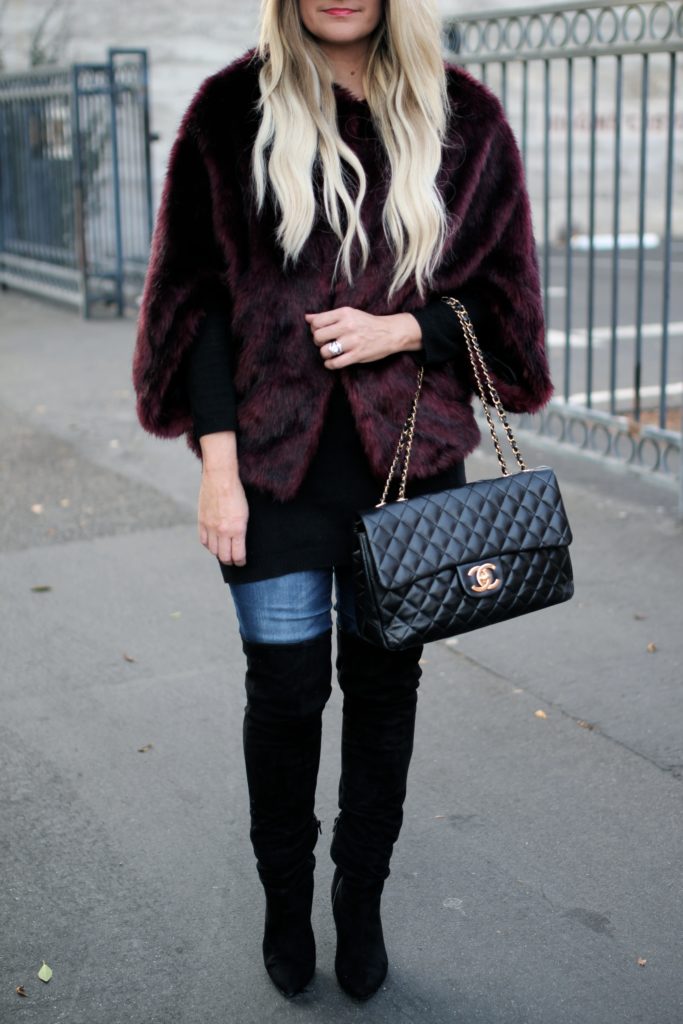 Coat: Asos – sold out (similar, similar) | Sweater: H&M | Denim: old (similar) | Boots: Forever 21 | Glasses: Tom Ford
We usually think the color merlot or burgundy as best worn in the fall, since its such a deep purplish red. It just has that "fall" feeling. But I like to continue wearing the color deep into winter, especially when it comes as a fabulous faux fur! The color is a great alternative to navy or grey and adds a rich pop of color for those chilly days. This berry trend is here to stay, and I couldn't love it more!
And speaking of chilly days, we have a full weekend of them headed our way. Rain and lows in the 30's? That's California cold! But I'm excited – it's faux fur time!
Thanks for reading, happy weekend!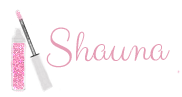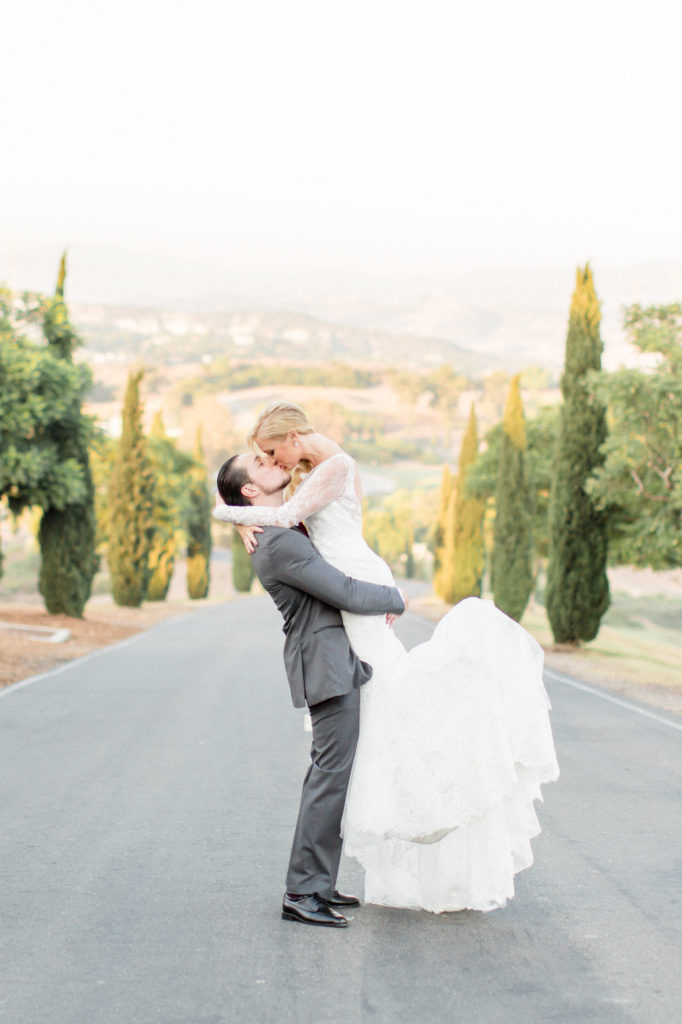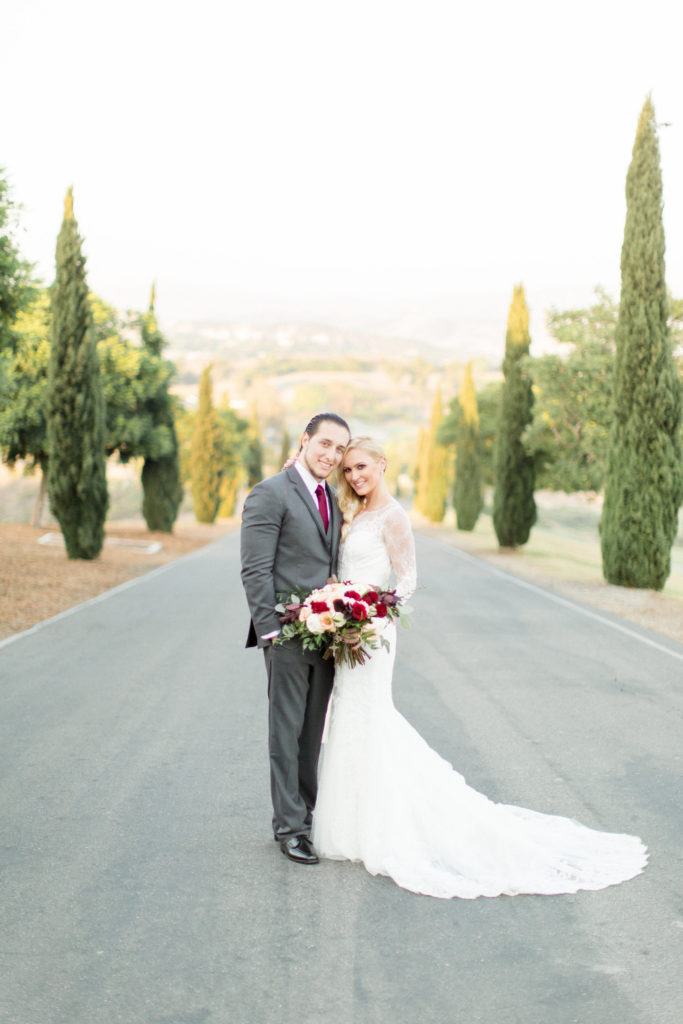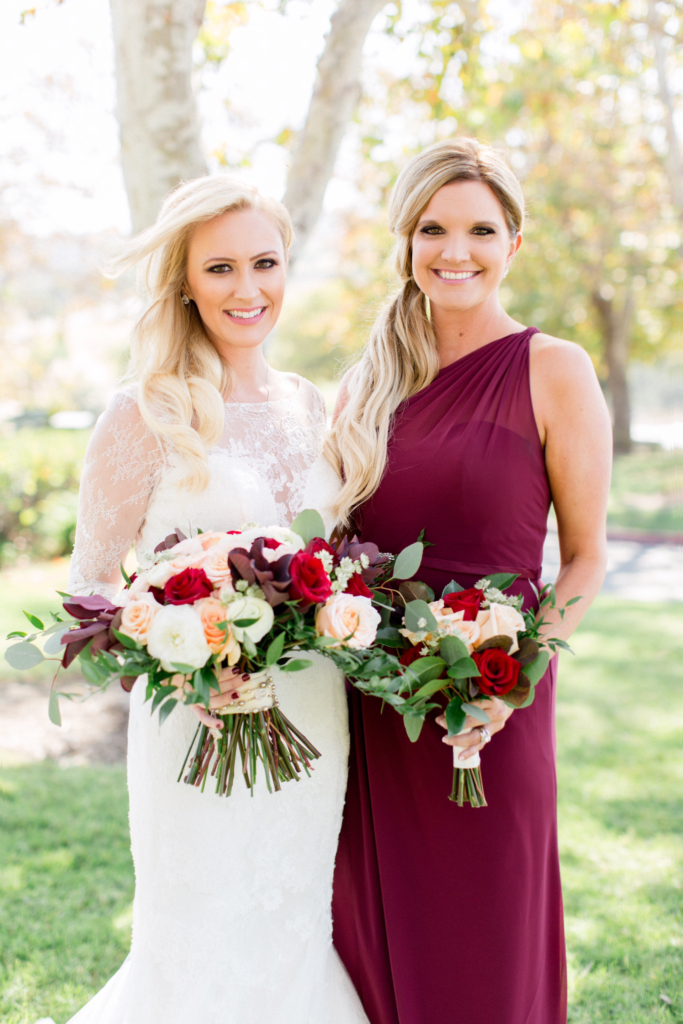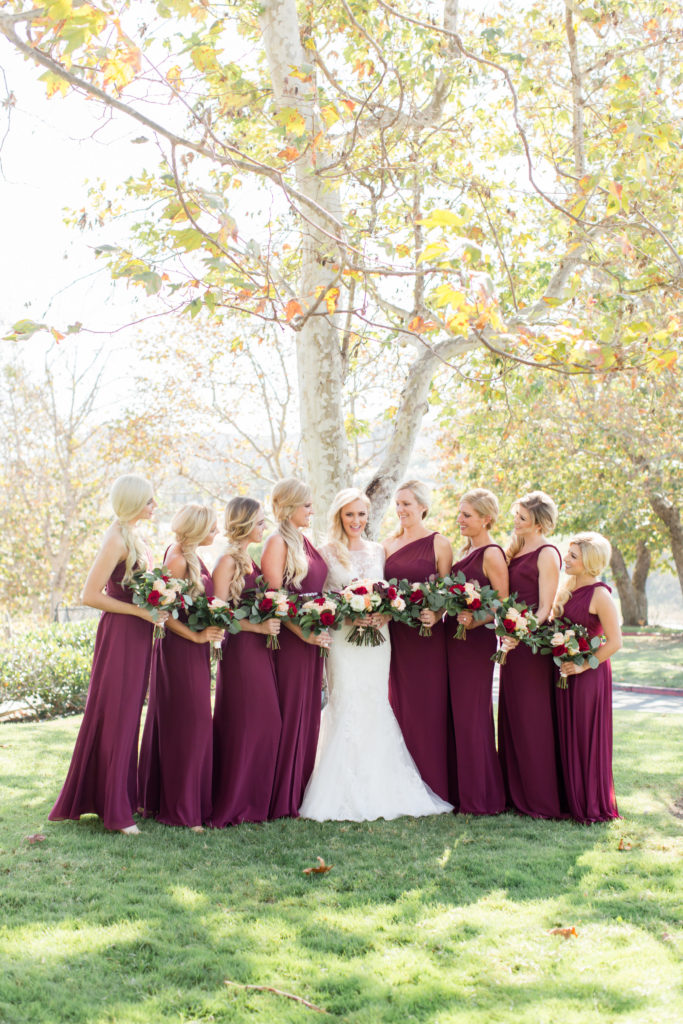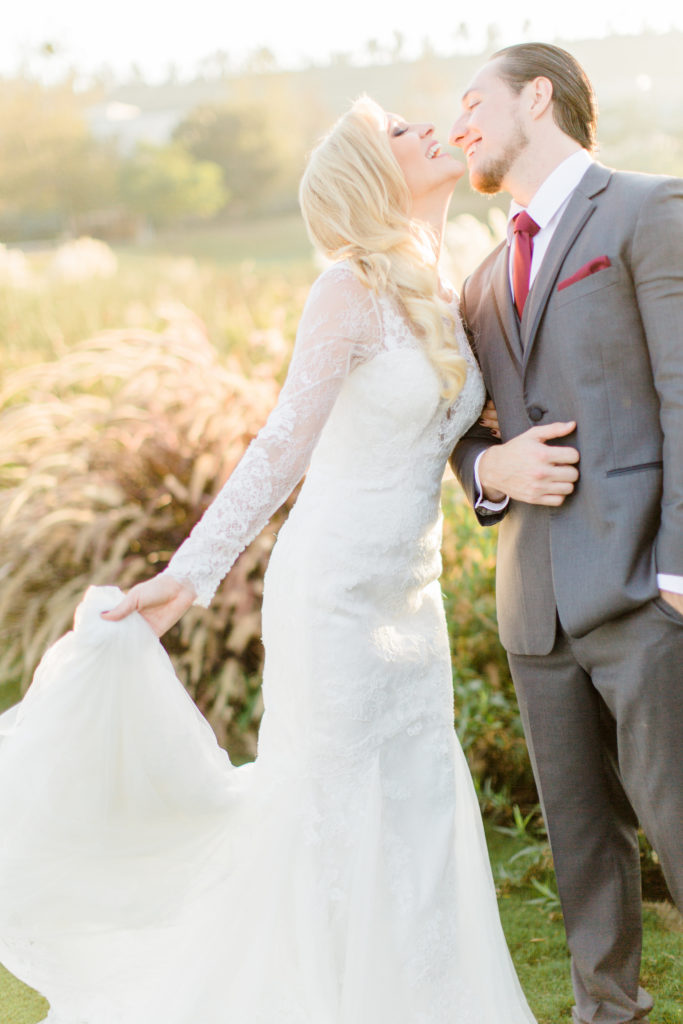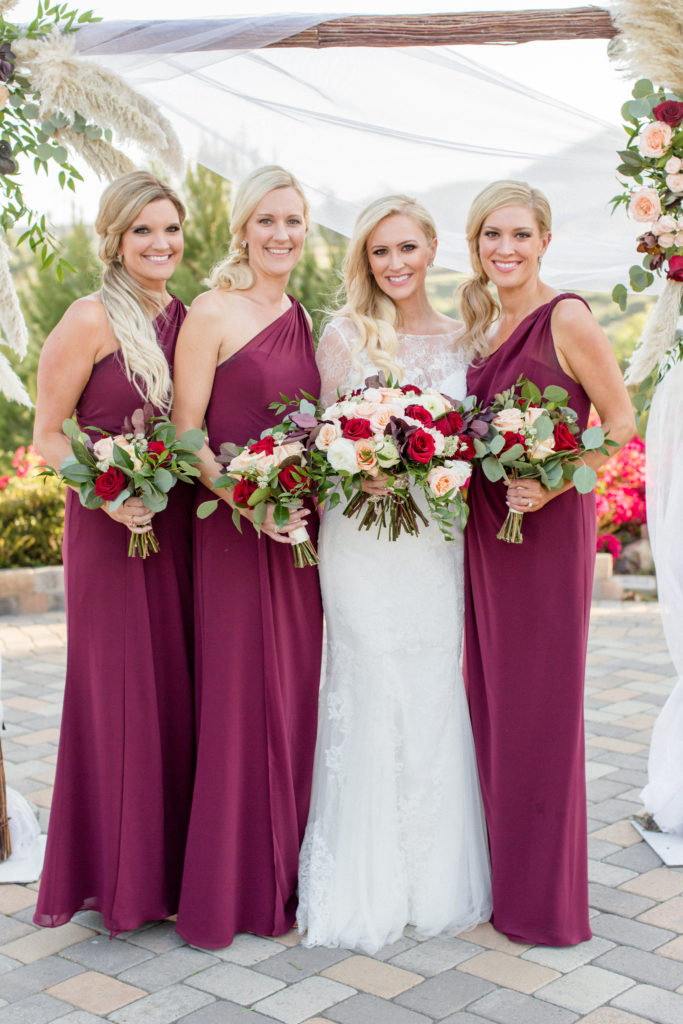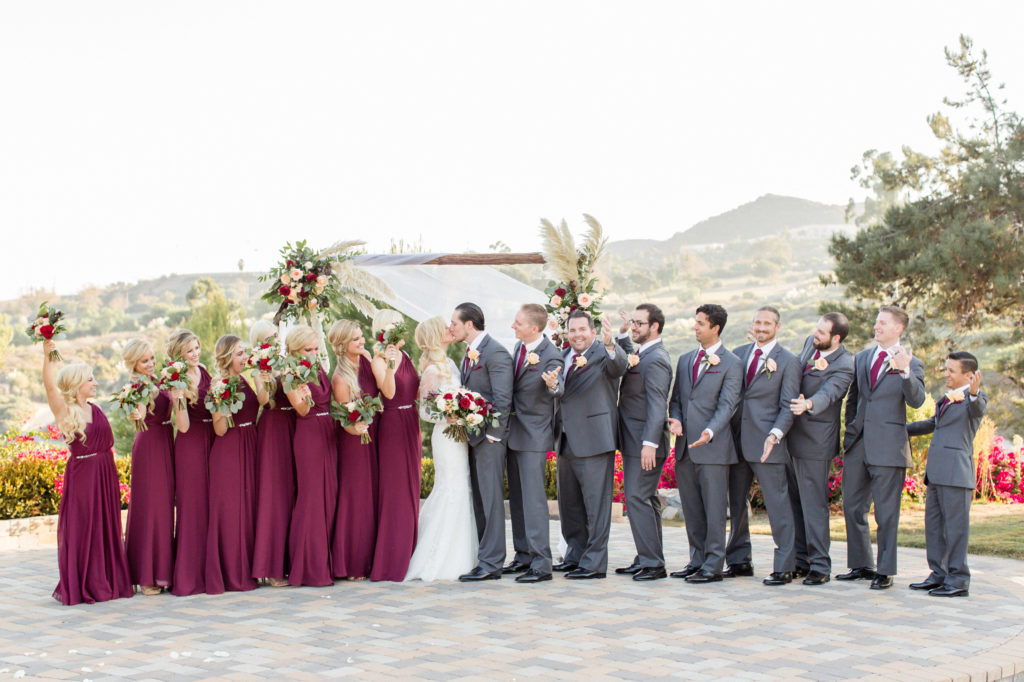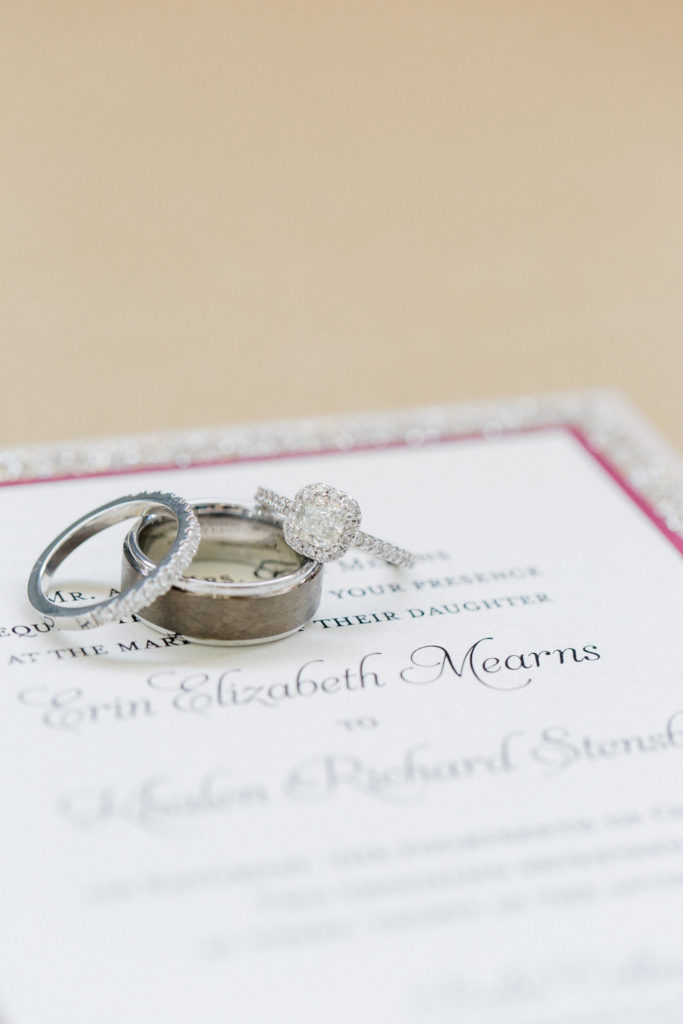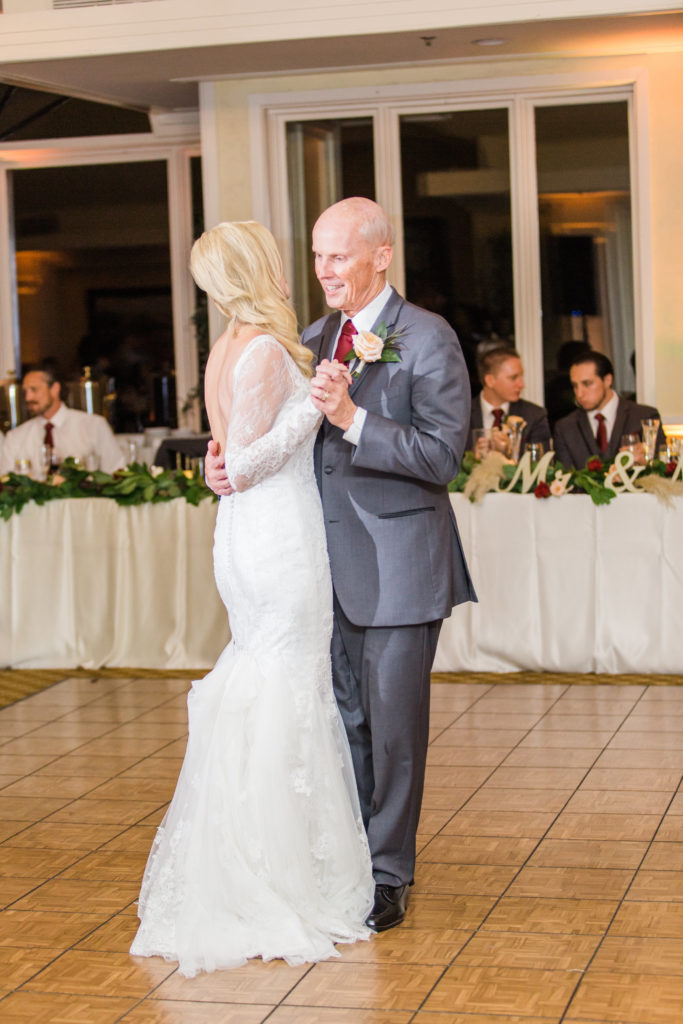 ♥ FINALLY! ♥
I'm able to share with you guys a little glimpse into my sister Erin's wedding last October. It was a completely magical day filled with so much love & laughter. I know every single person had the best time celebrating and dancing the night away with the bride and groom. While there are a million things I could write about that day, I'll just let the pictures do the talking 🙂
(You can see what my wedding wishes for my sister were here).
Congratulations, Khalen & Erin!
Wishing you a lifetime of absolute love & happiness!
♥ Location: Bella Collina San Clemente
♥ Wedding Dress: Casablanca Bridal
♥ Bridesmaid Dresses: Alfred Angelo
♥ Tuxes: Mens Warehouse
♥ Flowers: Beautiful Savage Flowers
♥ Photography: Gabe and Brit Photography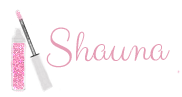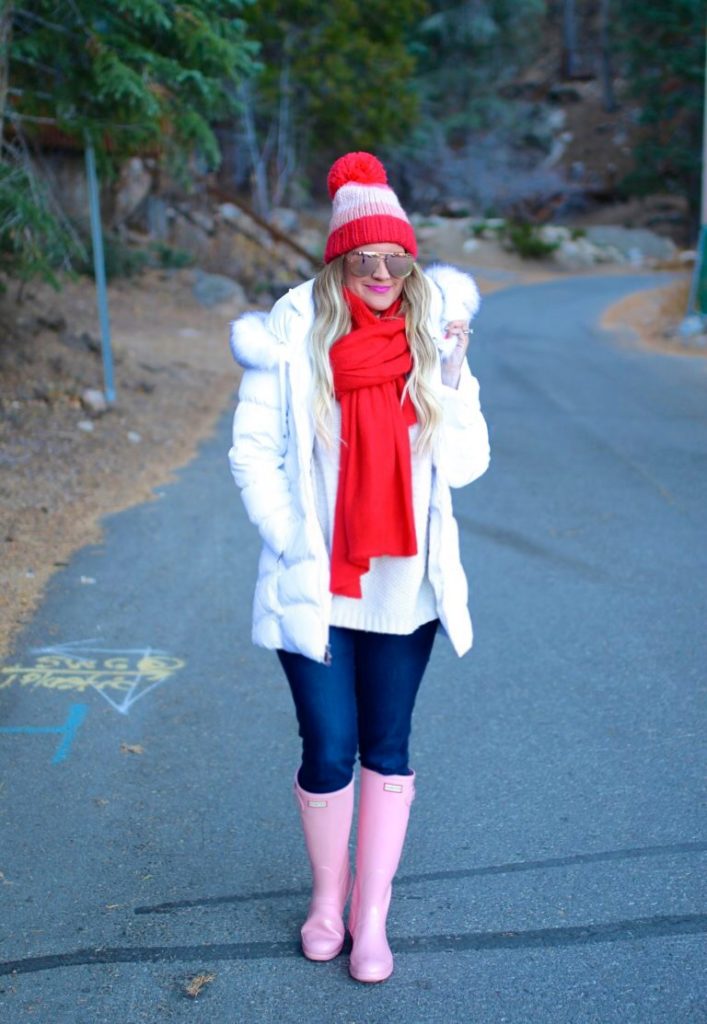 Coat: Macys | Sweater: old (similar) | Denim: NY&Co – sold out | Scarf: Free People | Beanie: Kate Spade (similar) | Boots: Hunter | Glasses: Quay
I bought this down puffer coat last winter, and actually got so much use out of it because of the amount of rain we got. It sold out right after Christmas, but luckily it's back this year AND in 2 additional colors. For all you gals in freezing cold climates –  this is your coat! (it always helps when it's on major sale too…)
What are your plans for the holiday weekend? We are headed up to LA to scout a location for a fun Valentine's Day post. I know…it's a little early for all of that, right? Most of us are still putting Christmas decorations away, lets be honest 🙂 But it's the only free weekend we've got, so to LA we go. The Hubbs really is a trooper ♥
Have a great weekend! Monday I'll be sharing pics from my sister's wedding, so hope to see you then! XO