♥ My favorite heart sweater
♥ Couldn't pass up this cute script pillow
♥ 12 ways to say "Happy Valentine's Day" with food
♥ My front door wreaths
♥ Using your Christmas tree as a Valentine's tree!
♥ 16 Valentine's Day cocktails that are better than a boring glass of wine
Happy weekending!
X ♥ O ♥ X ♥ O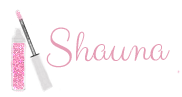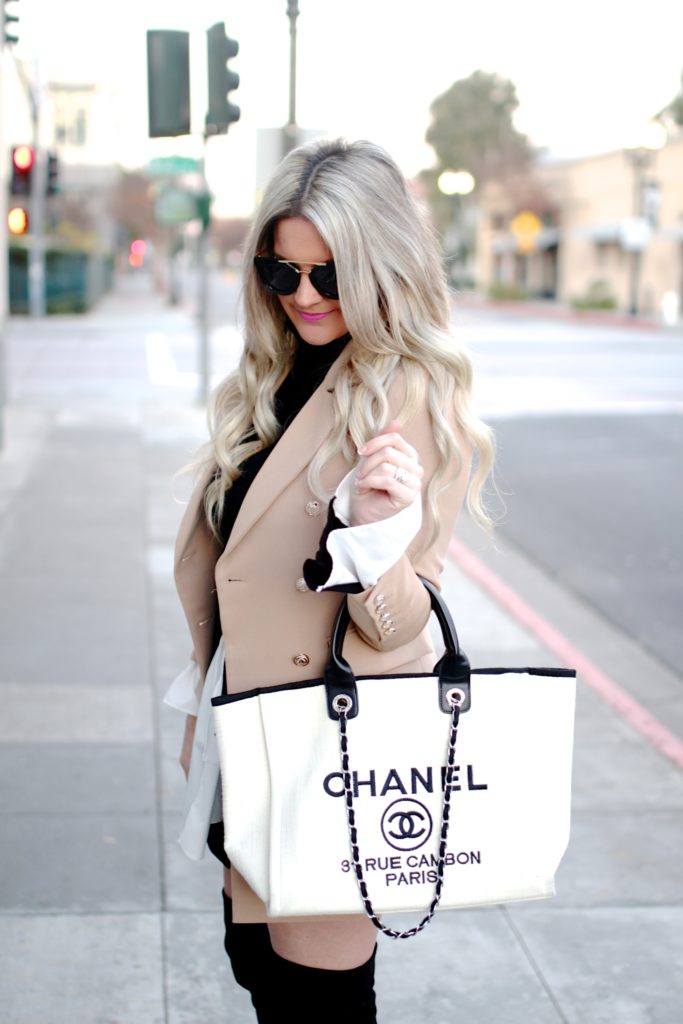 Coat: LuLu's | Top: old | Skirt: old | Boots: Forever 21 | Glasses: Prada | Bag: Chanel
I'm such a fan of the classic military coat. And all I can say about that is: Thanks, Gentlemen!
There's a reason women have been taking fashion cues from men's closets since the dawn of fashion. With a few styling twists, you can take a masculine design look effortlessly chic on a feminine silhouette.
The key here is to look like your jacket is "borrowed from the boys". There is a fine line between trendy and oversized blazers, and looking like you fished it blindly out of your boyfriends closet.
This one from LuLu's is my all-time fave and I own it in 4 colors! The notched lapels and gold button cuffs are so chic and the perfect finishing touch.
Thanks for stopping by! XO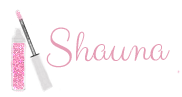 ♥ Feeling the need to add these neon running shoes to my closet this spring
♥ My go-to hoodie for early morning workouts
♥ The best yoga leggings
♥ The cutest gym bag (with a special place for shoes!)
♥ The weights I use at home (love all the colors)
♥ Bike post found here!
Thanks for reading!!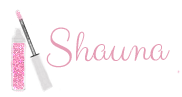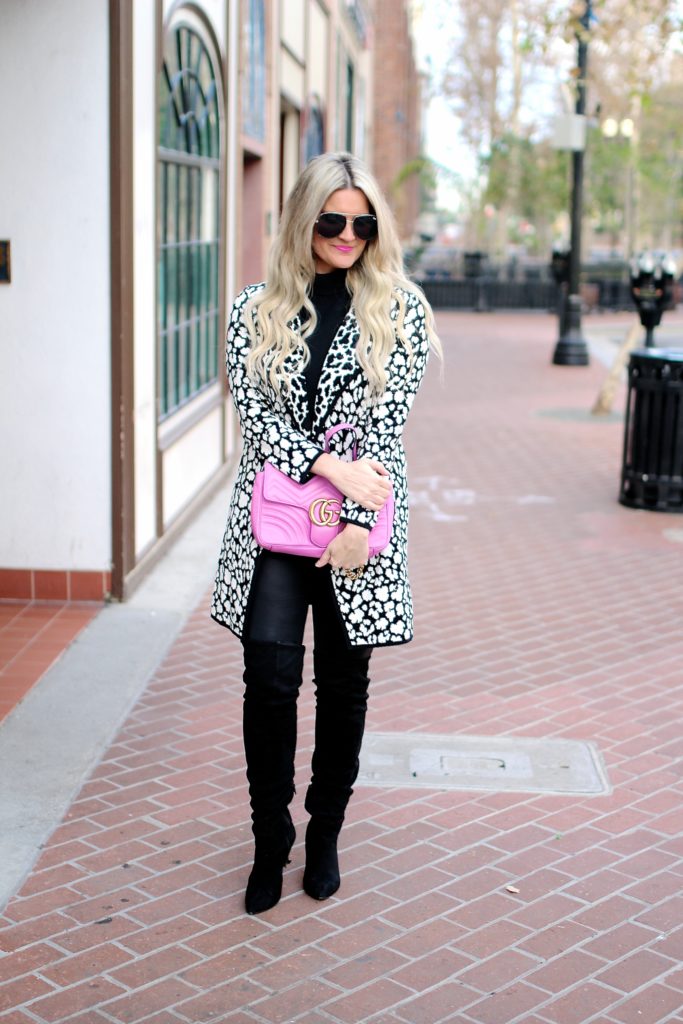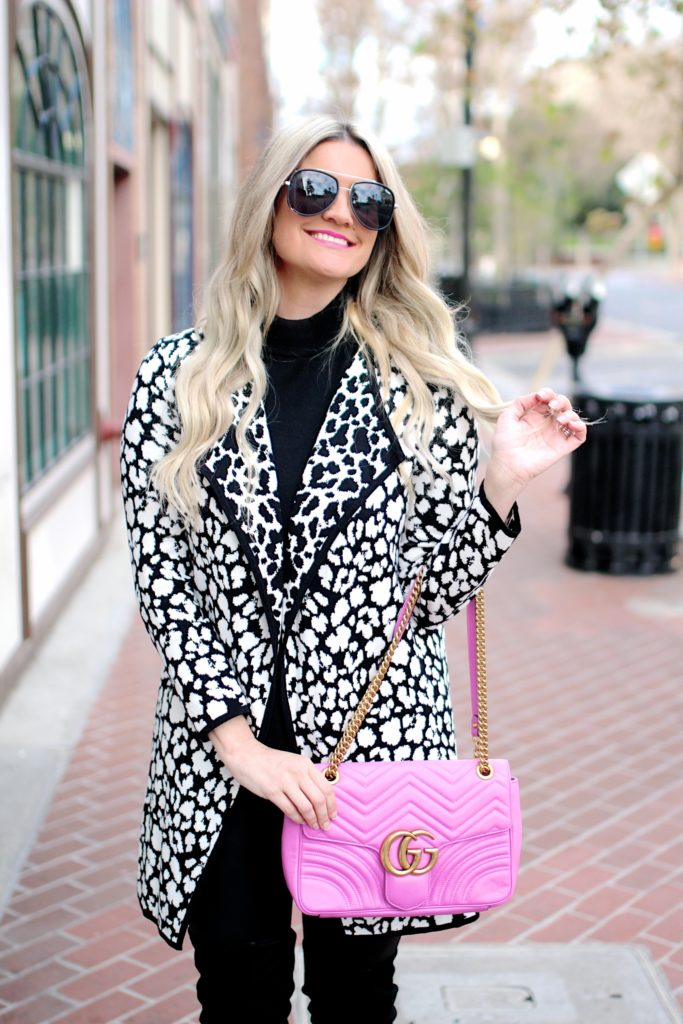 Cardigan: Vince Camuto | Leggings: Spanx | Boots: Forever 21 | Glasses: Quay | Bag: Gucci
I've officially entered that period where getting dressed, while trying to look put together and not repeat the same outfit 20x in a row, has gotten slightly challenging.
With the holidays being over, I'm a bit less (as I'm sure we all are), inspired to reach for certain colors and "fun looks". More than anything, it's the temps that are a real buzz kill.
So lately I've been keeping my looks pretty basic. Sweater + leggings = DONE.
What about you? I feel like we're all in the same boat come January?! -xo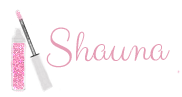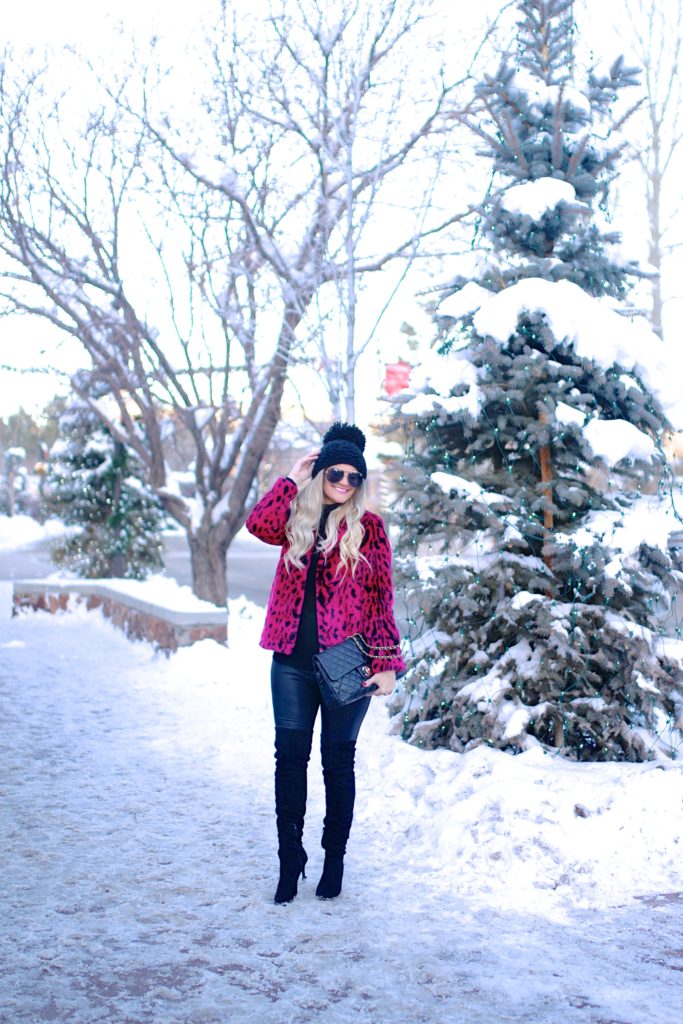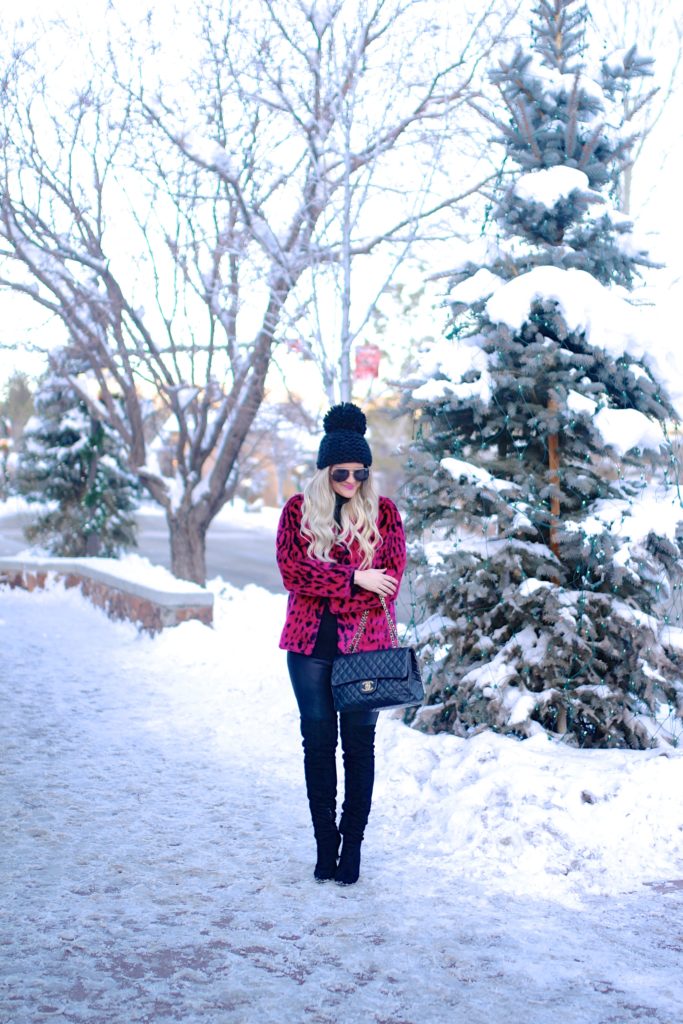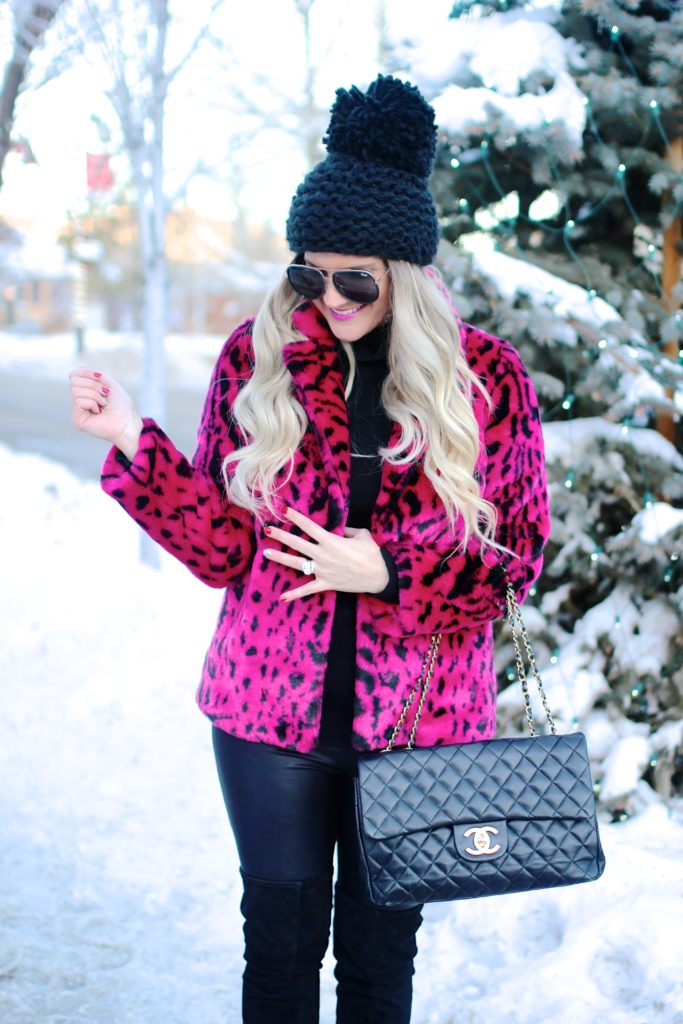 Coat: Revolve | Sweater: H&M | Leggings: Spanx | Boots: Forever 21 | Beanie: old (similar) | Glasses: Quay | Bag: Chanel
Oh, hi!
Don't mind me…I'm just over here serving up some some super practical snow leopard fashion for you 🙂
But really, I love this fun fur so much! While it didn't keep me super warm (oops), you know how much I love a good pop of color all year long…so the coat was definitely coming with.
Thank you guys for reading and happy long weekend!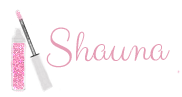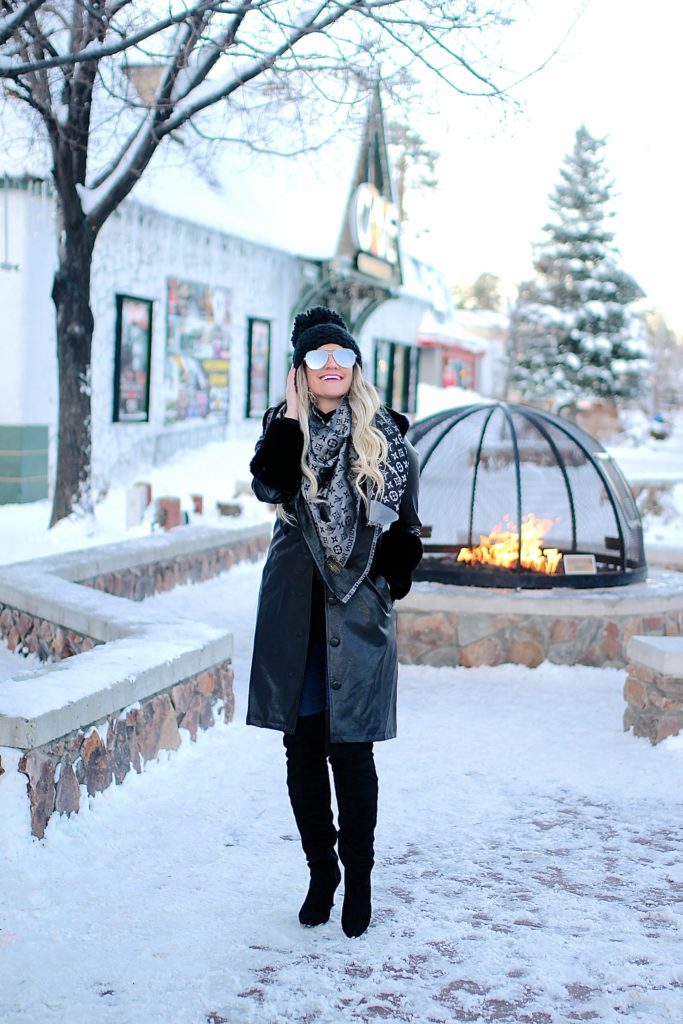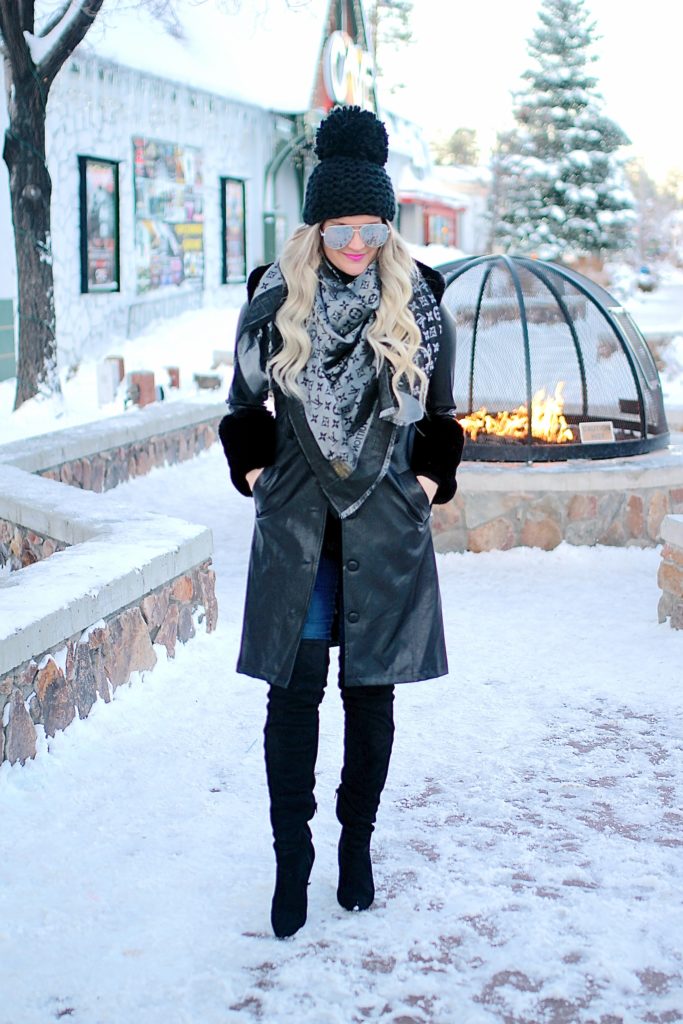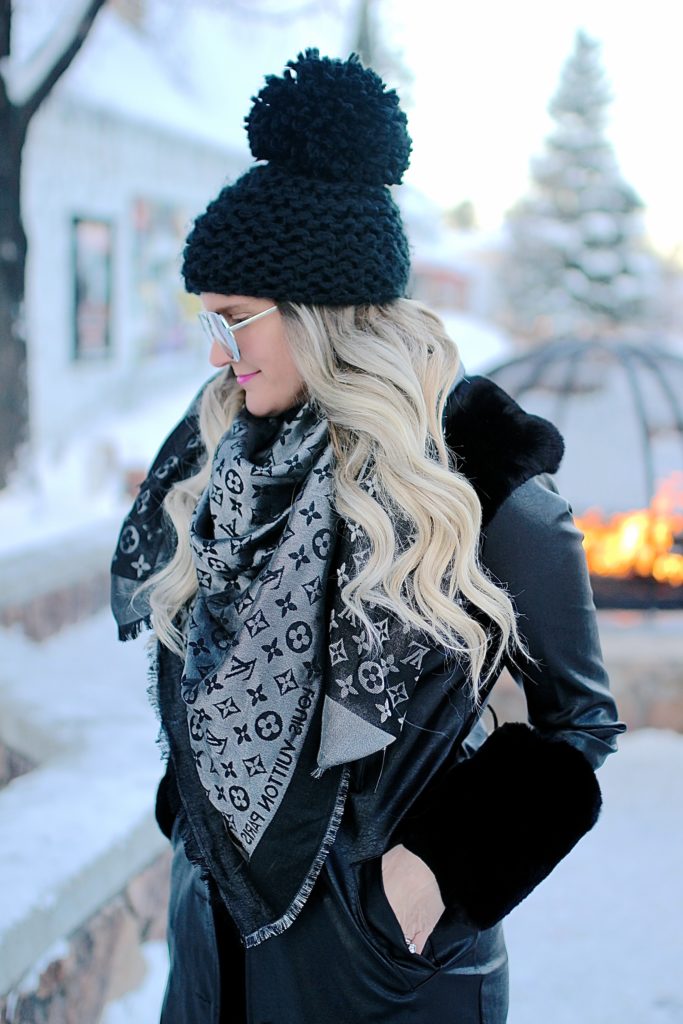 Coat: Nasty Gal | Scarf: Louis Vuitton | Boots: Forever 21 | Beanie: old | Glasses: Quay
Thank goodness I don't live in the Midwest because I don't do cold weather very well.
Yes, the leather and fur and cashmere's are all so fun to wear, but in freezing degrees? I don't think so!
Lucky for me, we were only in our local mountains which means it was nowhere near negative anything degrees, so this leather/fur trench and a chunky scarf was all I really needed. 
Thinking of all my readers who deal with the cold and snow daily! Y'all are my heros! Stay bundled!!