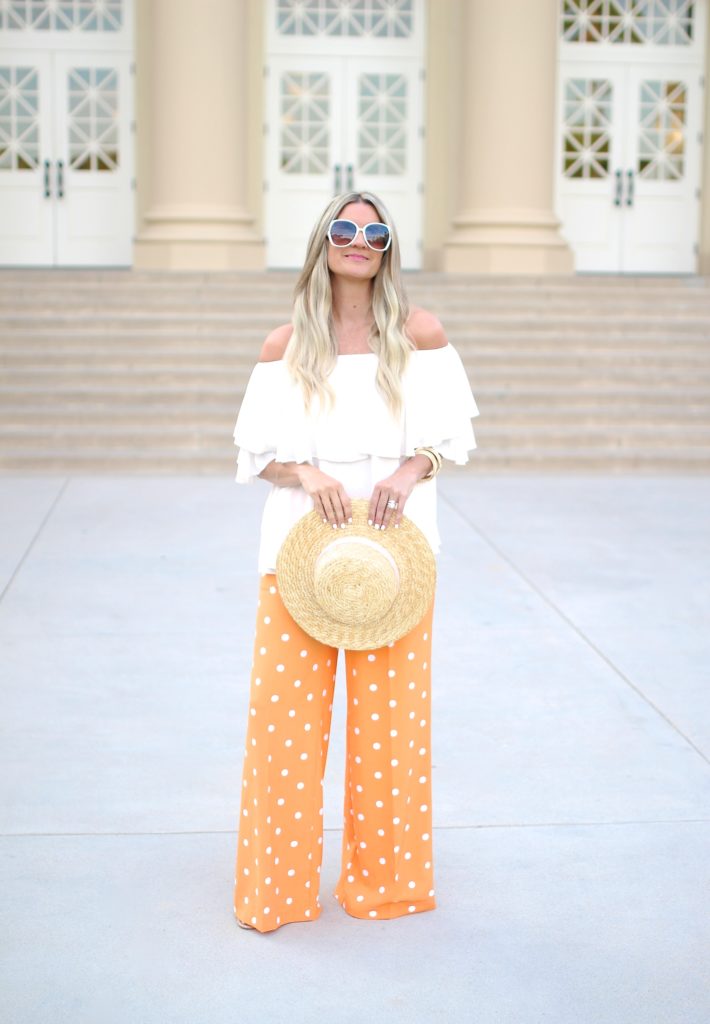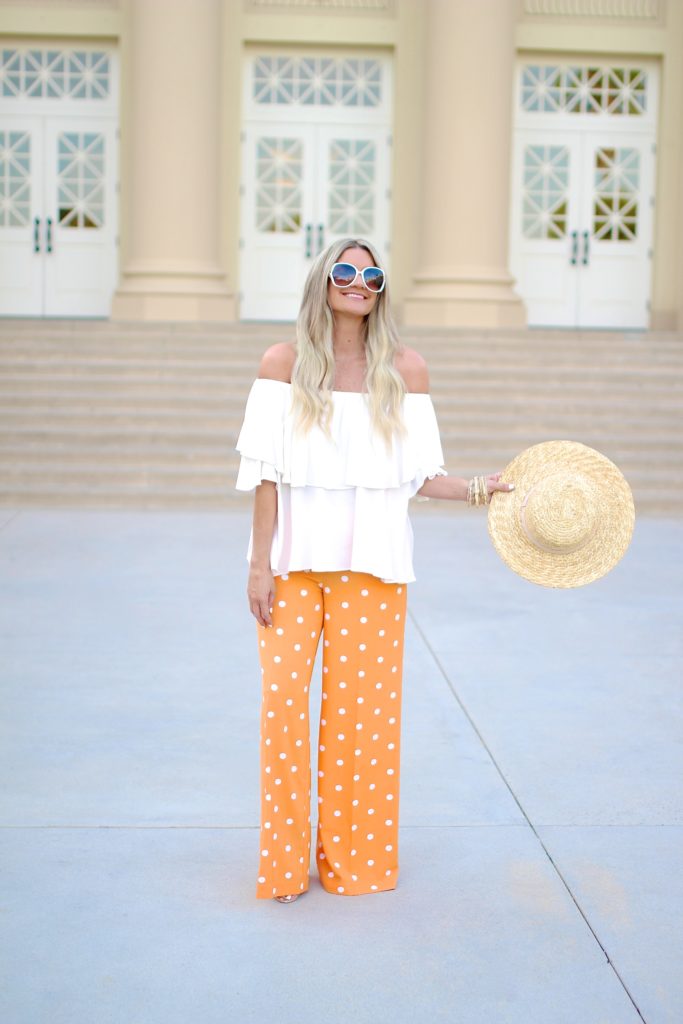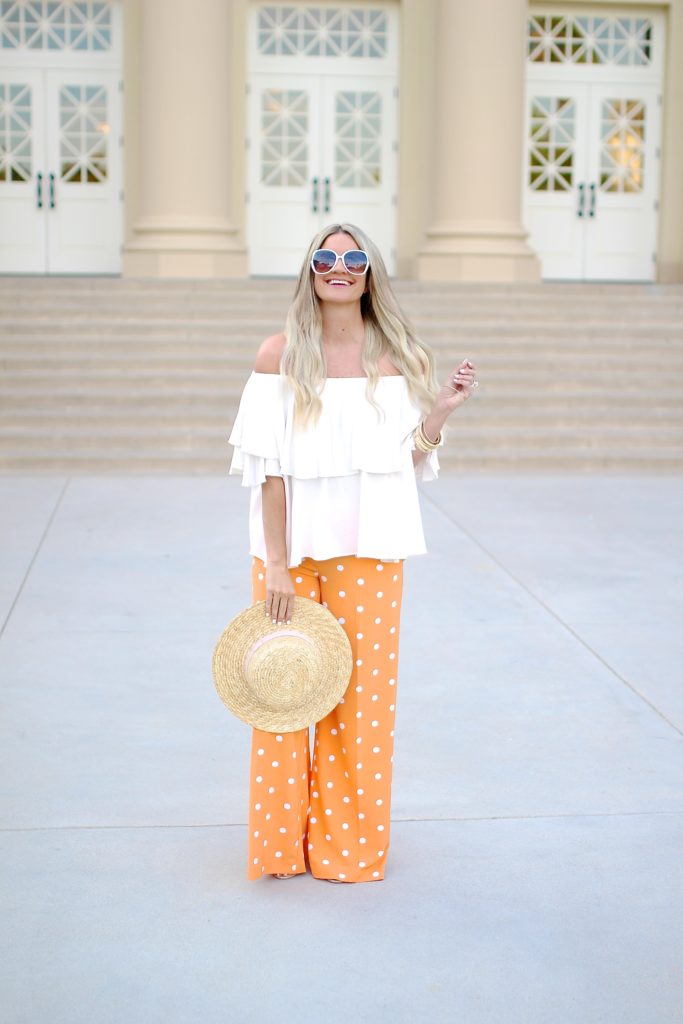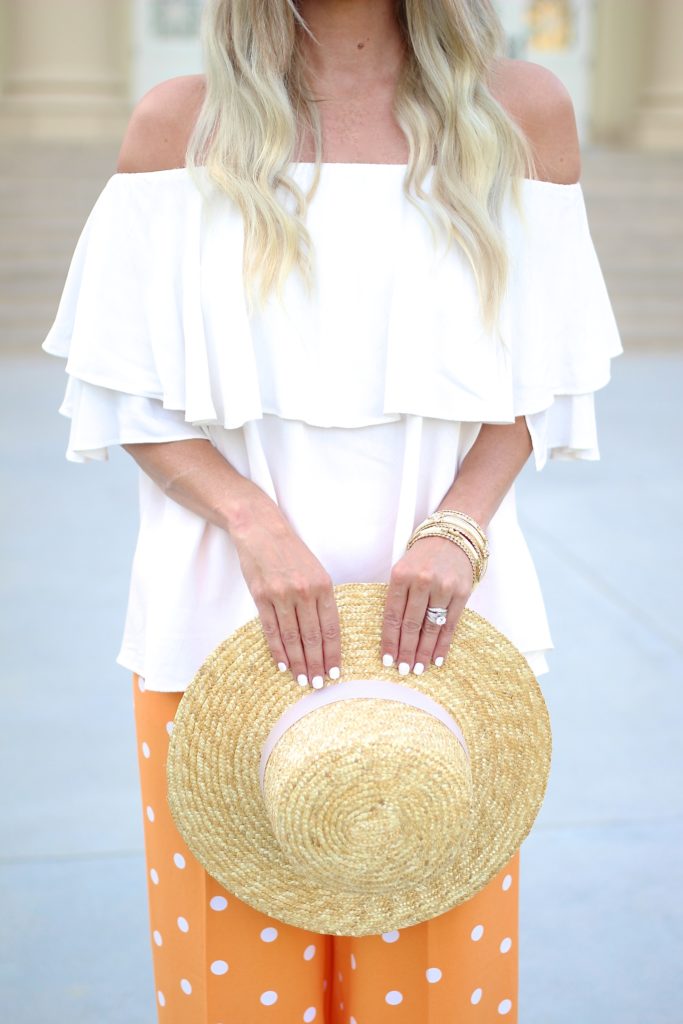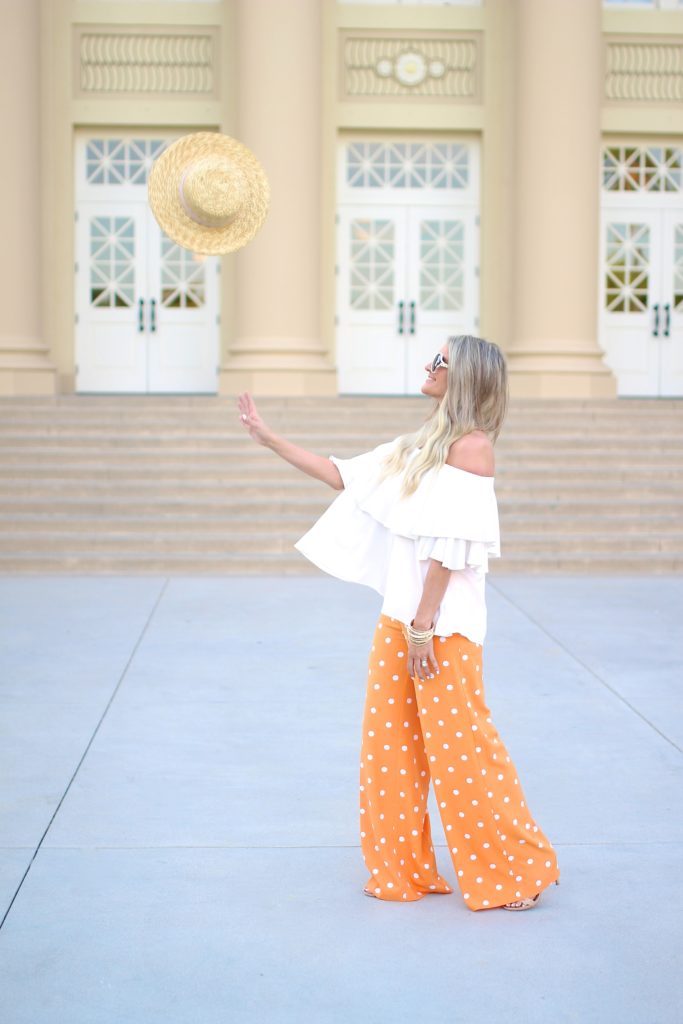 Top: old (similar) | Pants: NYandCo | Hat: Asos | Glasses: old
And here we are, our last Monday in August. Where did the summer go? I know that technically summer is still a few more weeks, but there's always something about Labor Day weekend that feels like the start of fall. It's a bittersweet feeling. While I adore fall, this year it came way too fast. And for a summer full of doing absolutely nothing, it sure flew by!
How are you spending the upcoming holiday weekend? We might take a bike ride if the weather is nice! -xo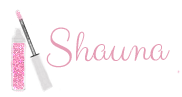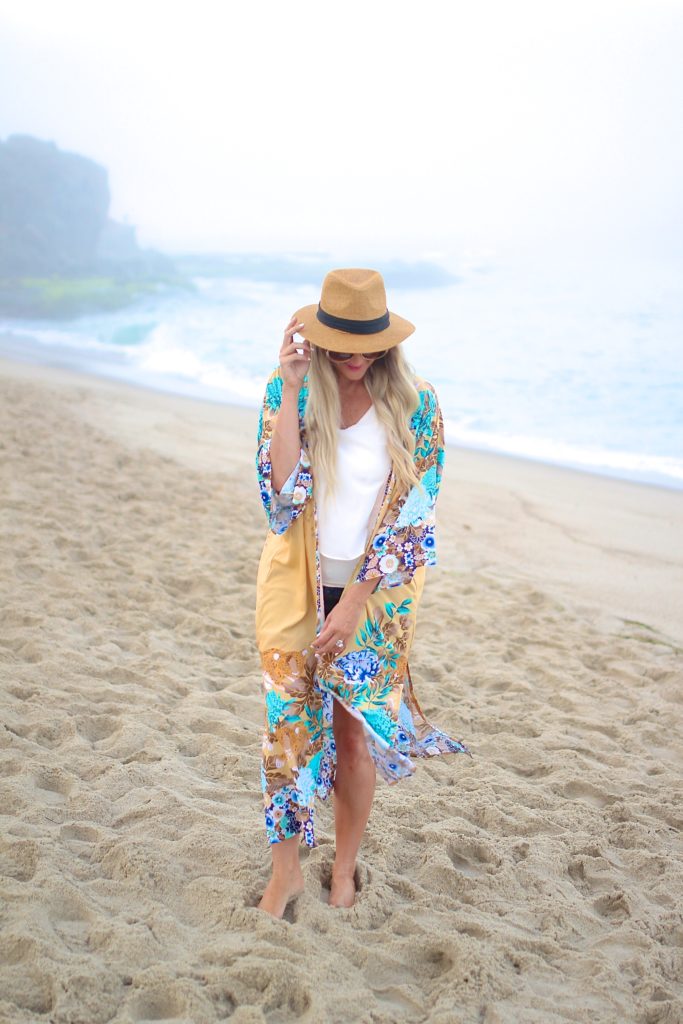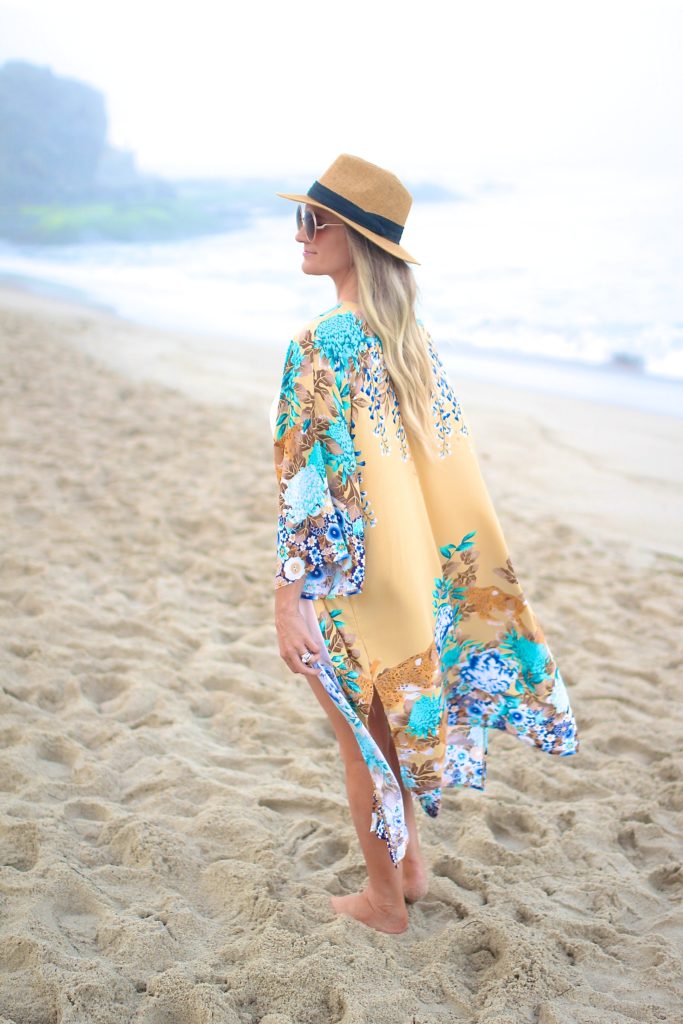 Kimono: Shein | Tank: old | Shorts: Kohl's | Hat: Target | Glasses: Chloe
Let the waves hit your feet
and the sand be your seat…
♥ Happy weekend!! ♥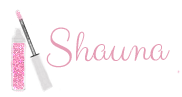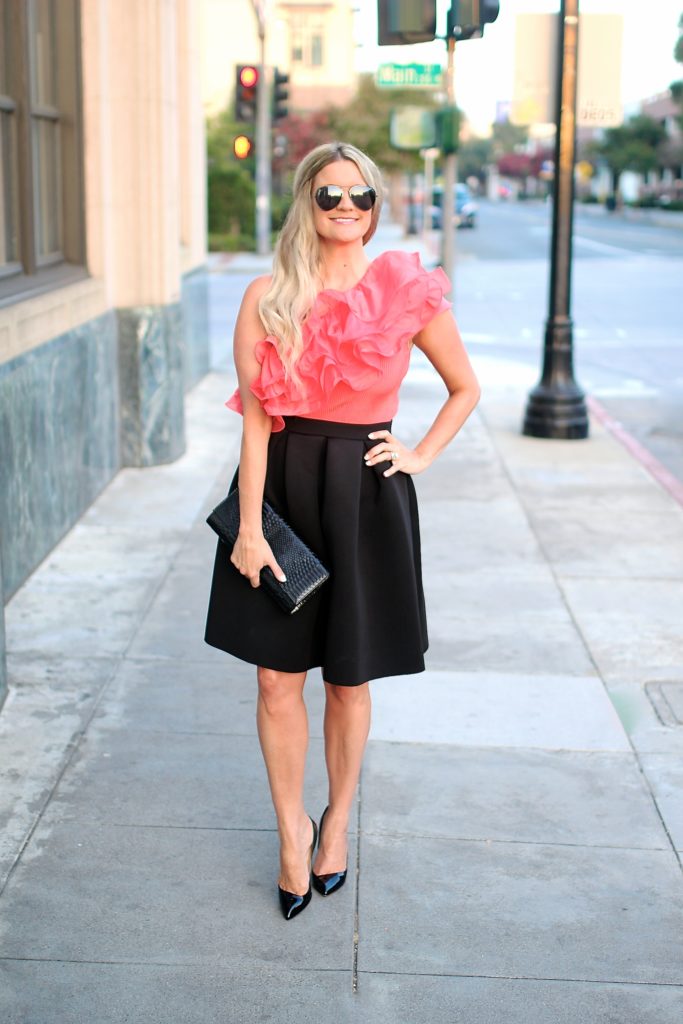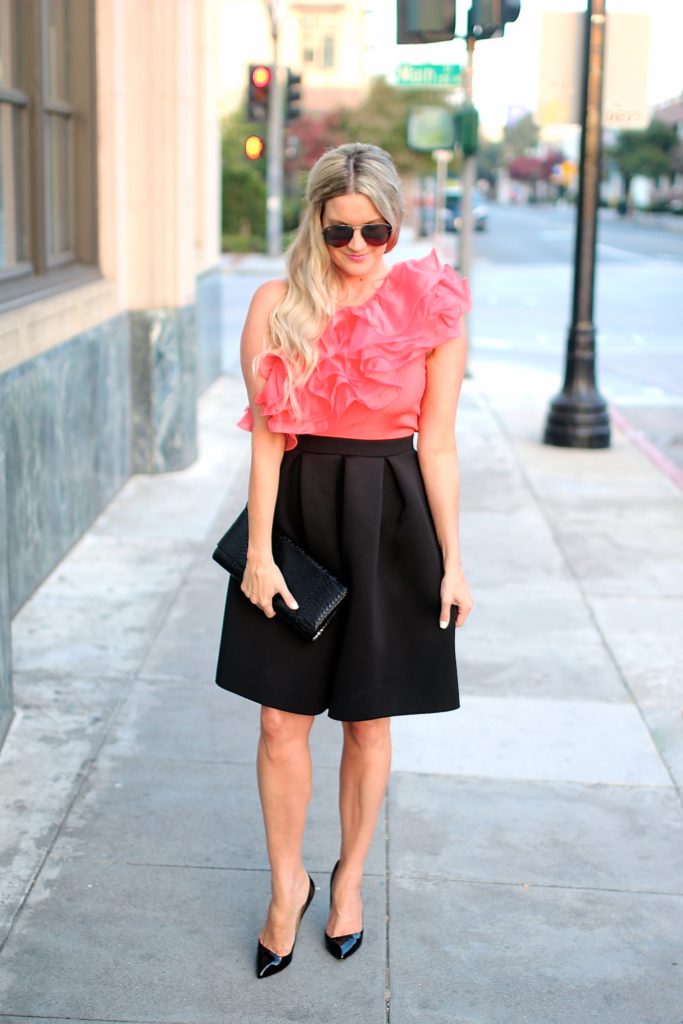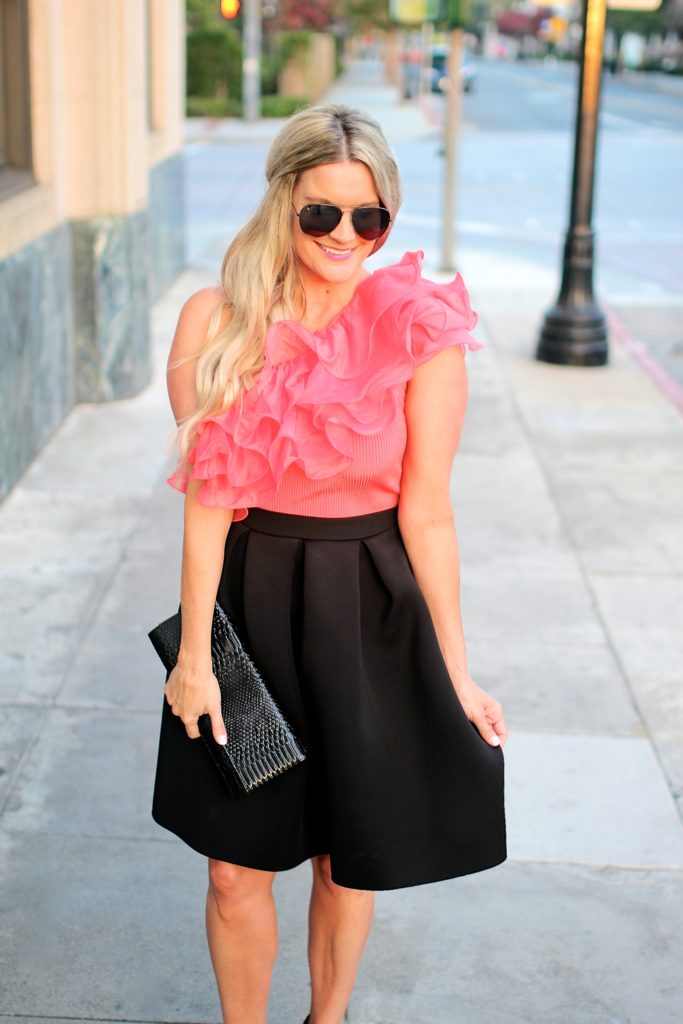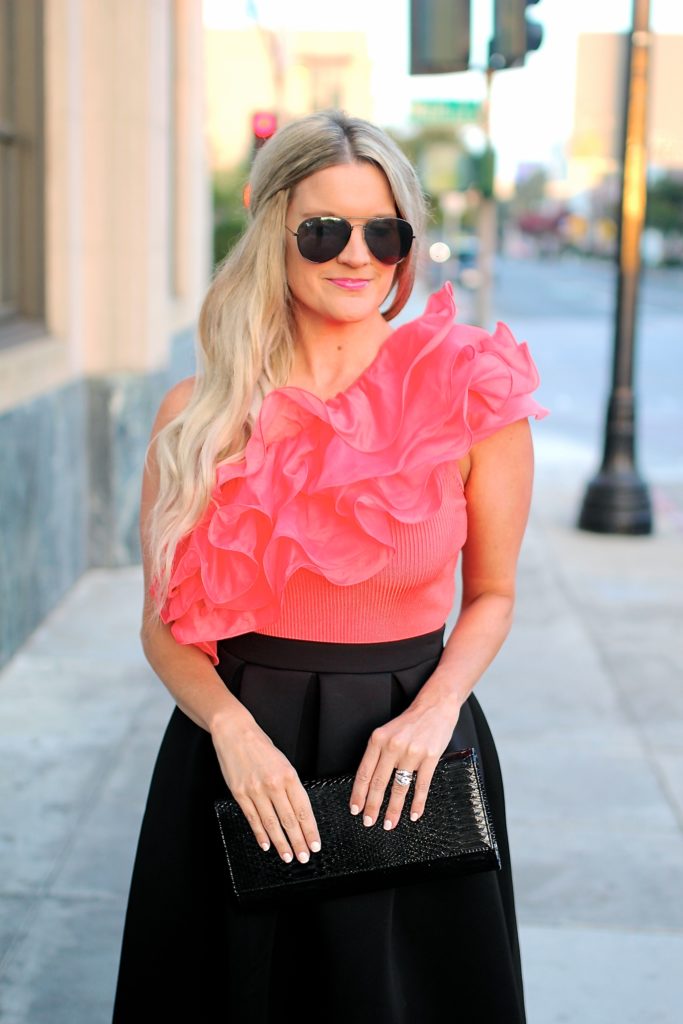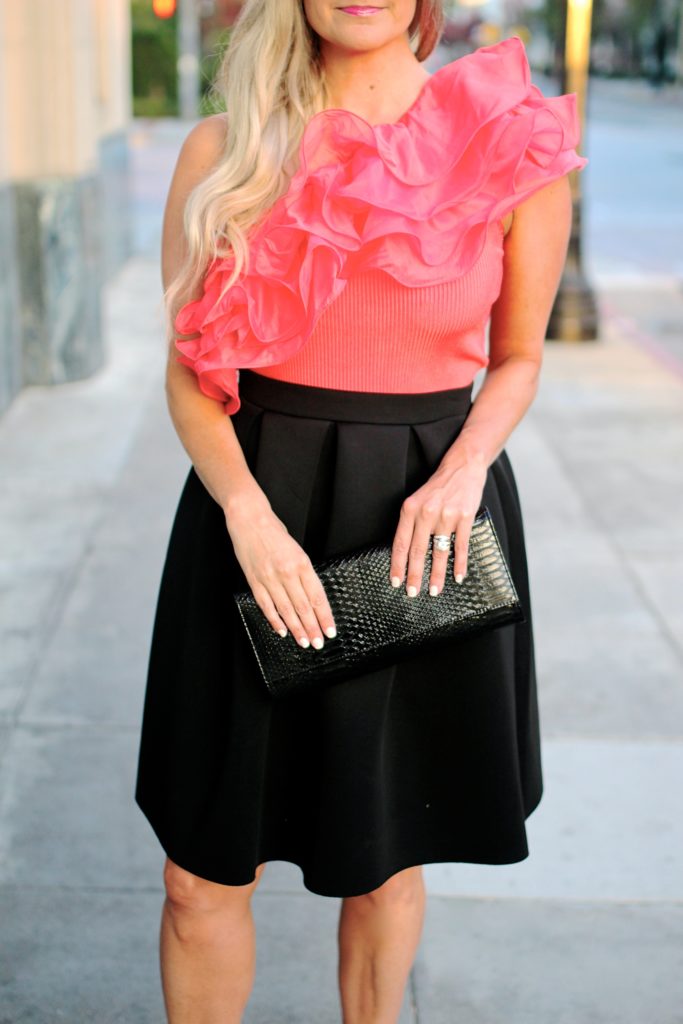 Top: Zara | Skirt: old | Heels: Louboutin | Glasses: Ray-ban | Clutch: Akira
You didn't think I'd let the last week of August go by without wearing one last bright, did you?
I knew this Zara top needed a spot in my closet as soon as I saw it. Between the vibrant color and the over-the-top organza, it was meant to be. 
I want to say thank you to those of you who reached out and asked about our safety and the fires. Luckily, we are located in Southern CA and are safe at this point (even though we had a mini scare on Saturday in the hills behind our house). It's a frantic and frightening feeling when you see those flames so close to your own home. My heart is broken for our state right now.
*If you'd like to donate and make a difference for those in need, please visit the Red Cross Wildfire Disaster Relief website here. Anything helps! xo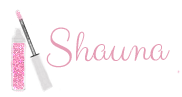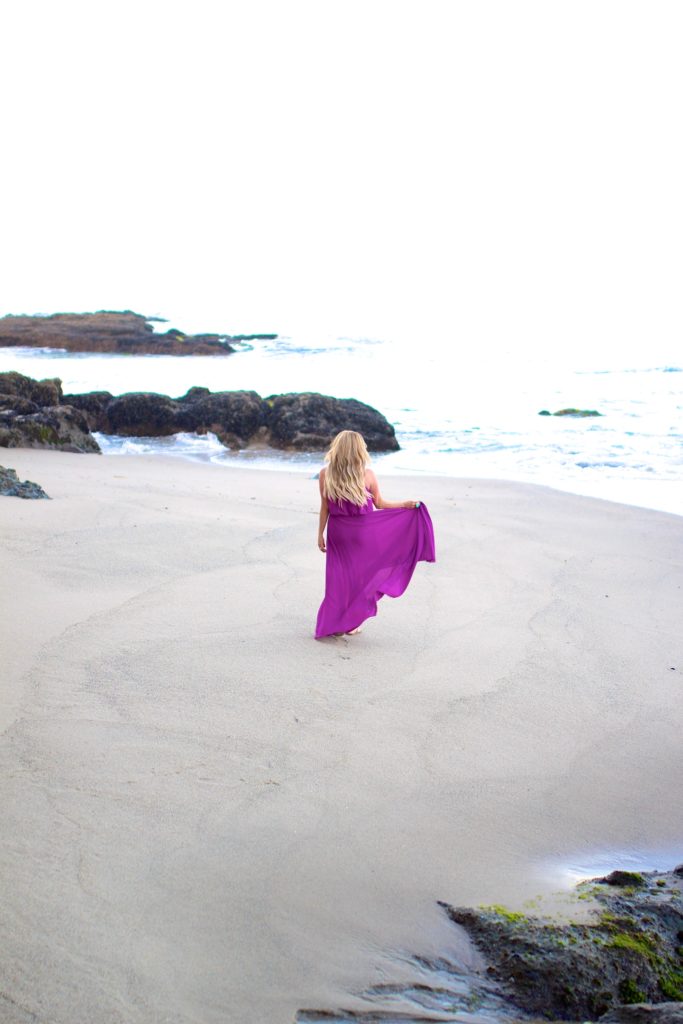 Taking a little blogging break this week to enjoy a mini staycation at home. While I'm looking forward to the rest and relaxation, my heart is heavy because I know my family and I should all be together right now for our annual vacation to Lake Tahoe.
The truth is, sometimes I envy other people's social media as they pose together with family & friends, gathered in warm embraces in different states. While I miss spending time with my family tremendously, I realize what's more important to me than vacations and hugs right now is that everyone I love will still be in this world when this pandemic is over.
Hope you guys have a beautiful week. See you back here Monday! XO.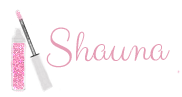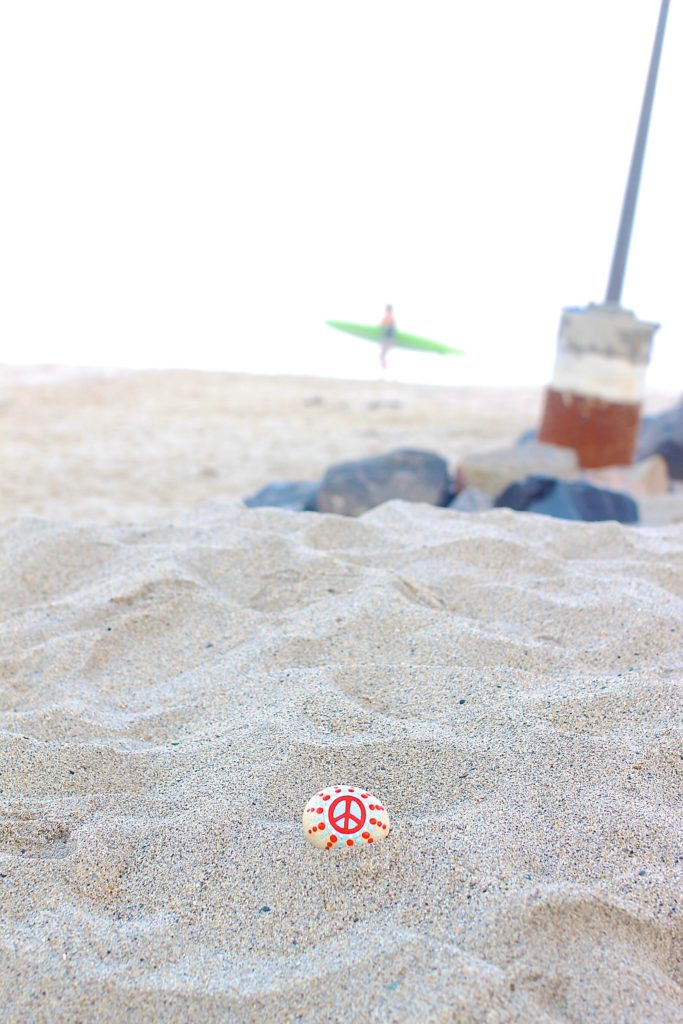 ♥ Lately I've been painting inspirational rocks and leaving them around Orange County using this kit.
♥ My only Nordstrom sale purchase
♥ 11 cocktails for the end of summer
♥ The cutest Halloween pillow (and yes, I grabbed it)
♥ S'mores, 4 different ways
♥ This time on the blog last year
Thanks so much for reading. Stay healthy, & stay safe!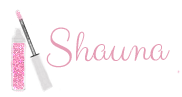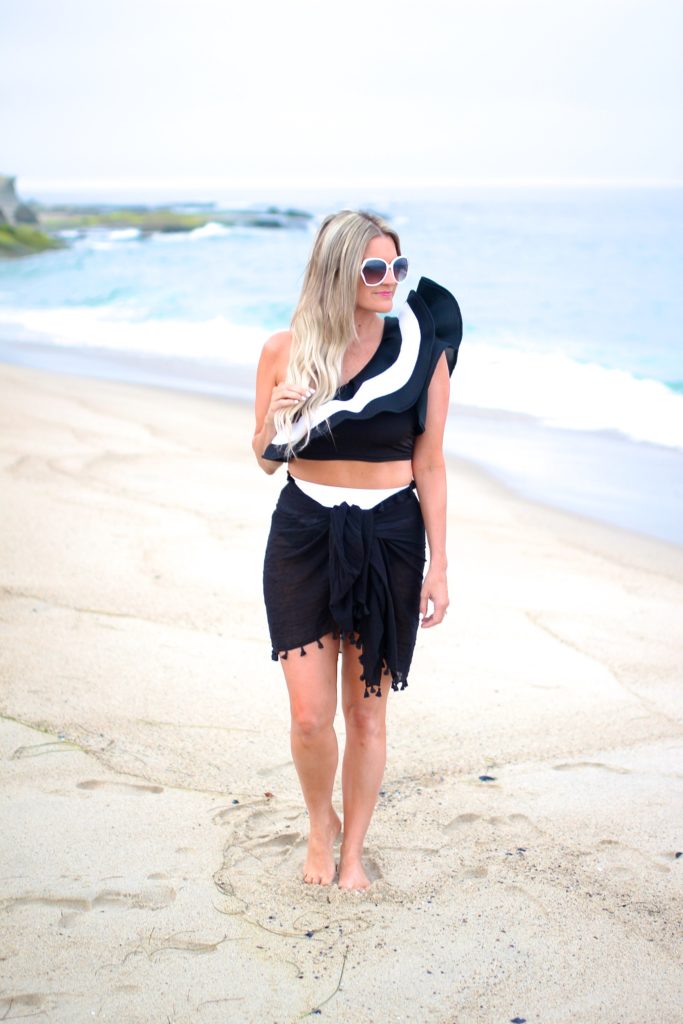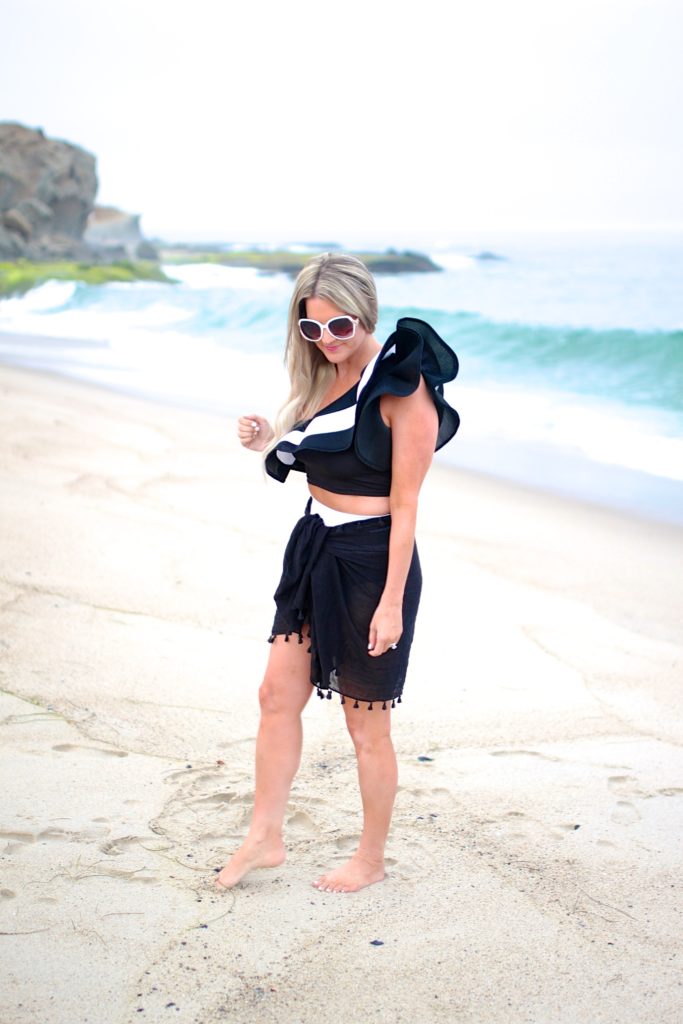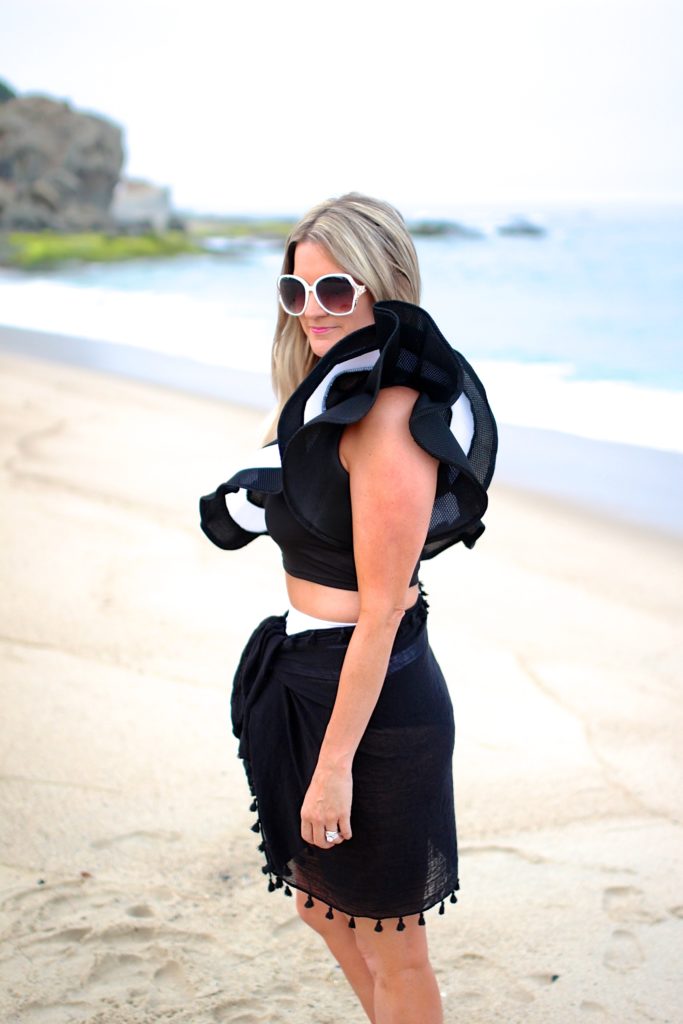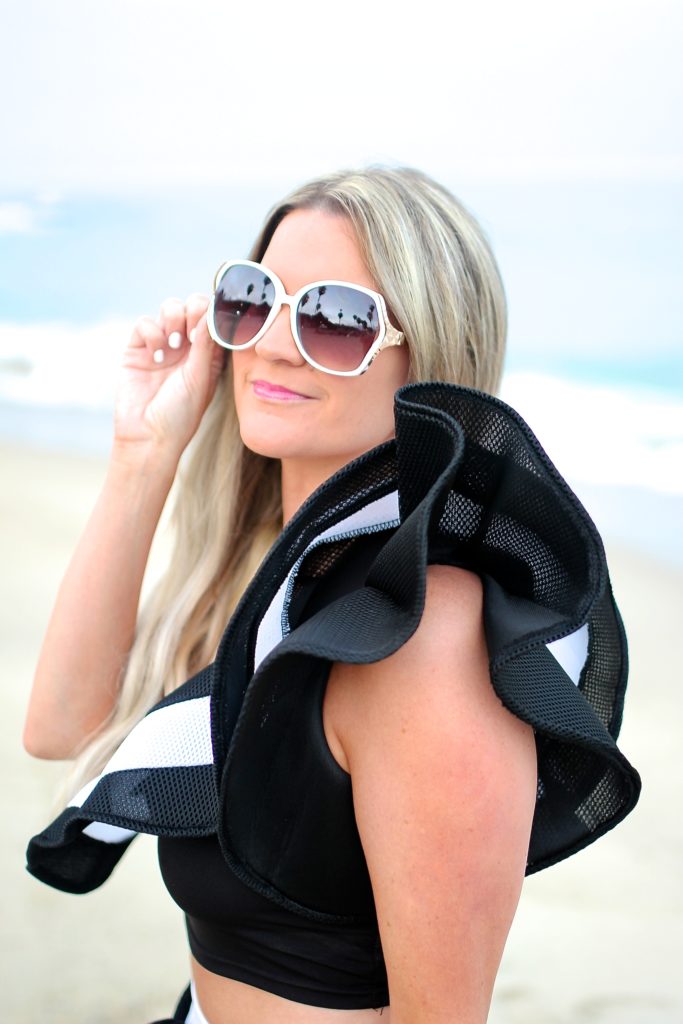 Suit: Elegant Taste | Sarong: Seafolly | Glasses: Impressions
I grabbed this swimmie last year for our trip to Bora Bora, except it was delivered the day we left.
Bummed.
Then I had planned on packing it this summer for a girls trip to Palm Springs.
Postponed.
My last hope was our vacation to Lake Tahoe next week.
Except: Cancelled.
So I decided that since it was destined to go nowhere fun and exciting this summer (and well, neither was I), it was still going to see the light of day, only this time in our pool or local beach.
Because if Covid has taught us anything these past few months, it's why wait for that perfect moment? In 2020, you just gotta make it work!