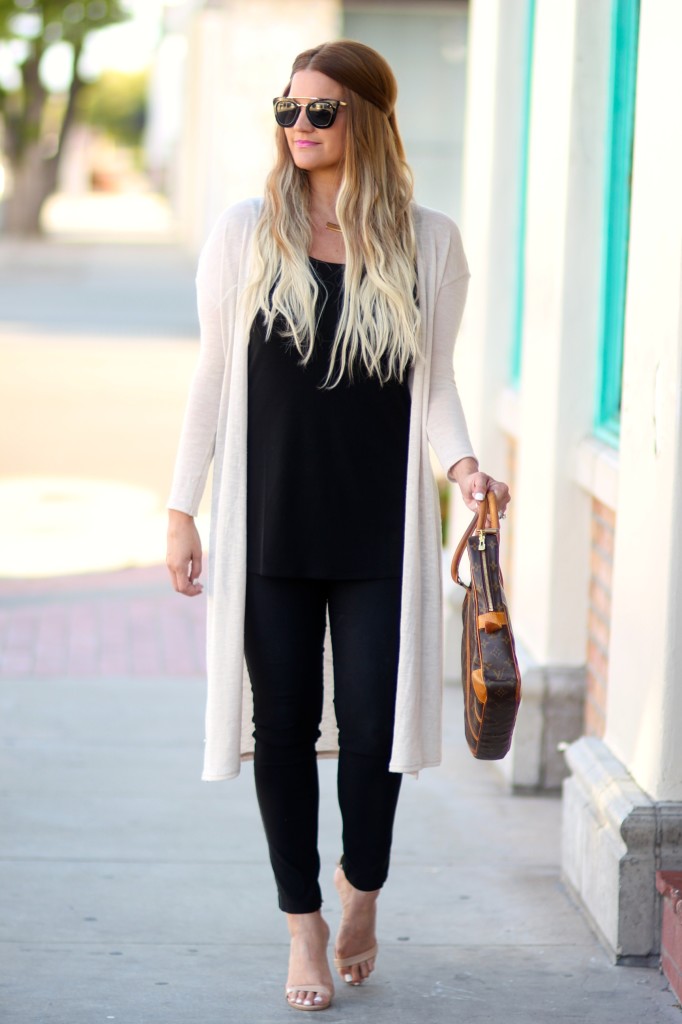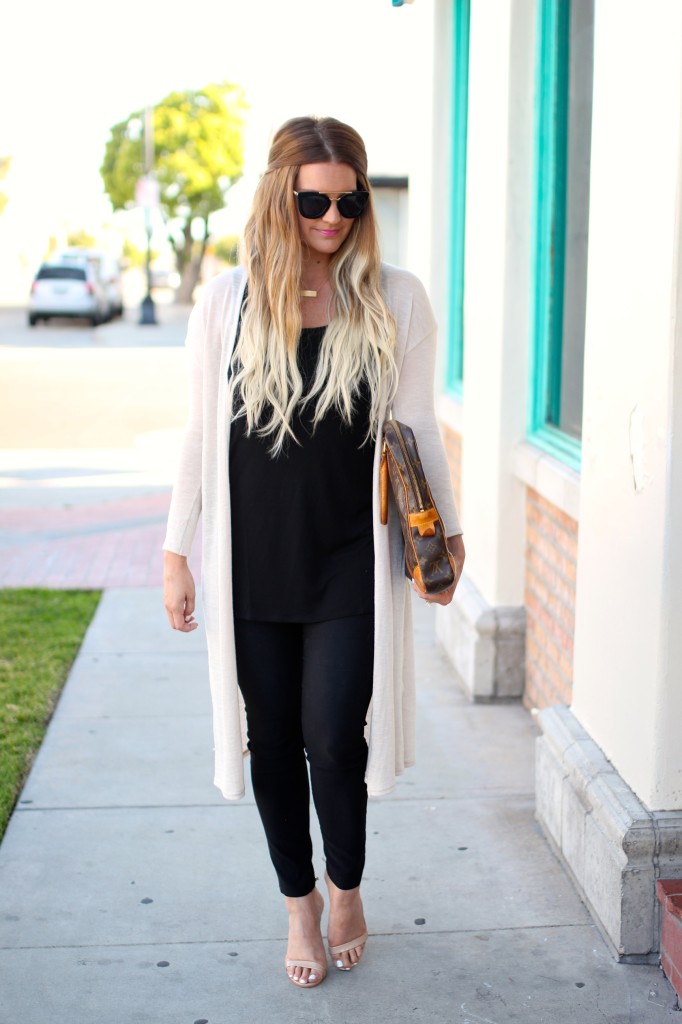 Tank:
Eileen Fisher
| Pants:
Eileen Fisher
| Sweater:
H&M
| Heels:
Steve Madden
| Necklace: H&M | Glasses:
Prada 
H&M has the best selection of loose-knit cardigans. I always grab a few every season because they are inexpensive, and so easy to wear to work. They come in handy during the summer when it's blazing outside, but the office is ice cold!
Hope you are doing something fun today for Memorial! Have a great one!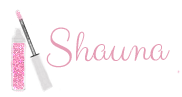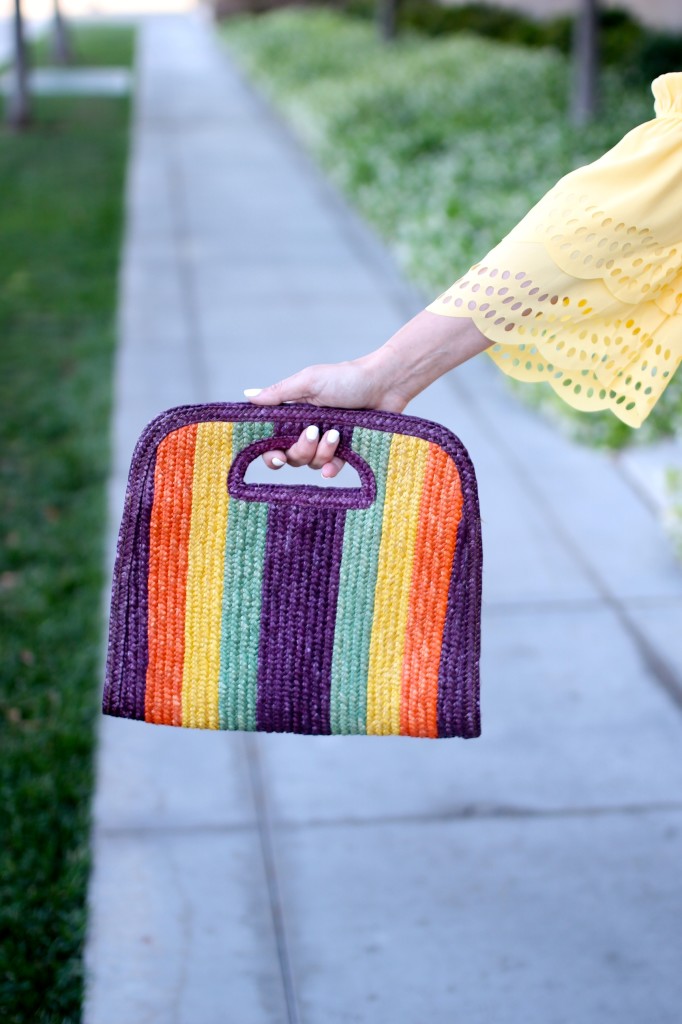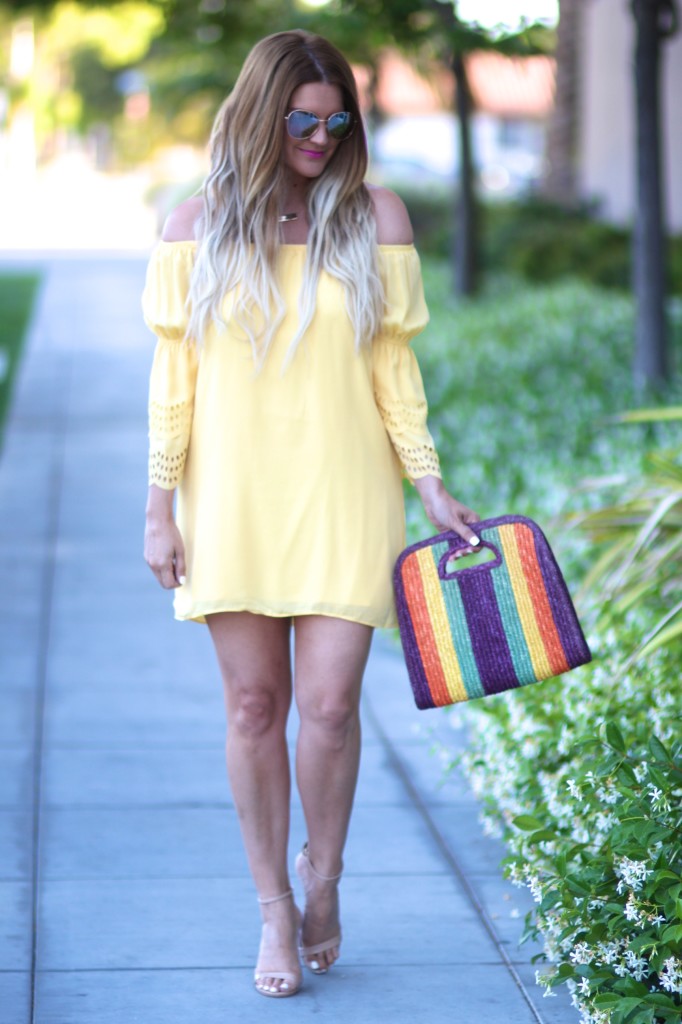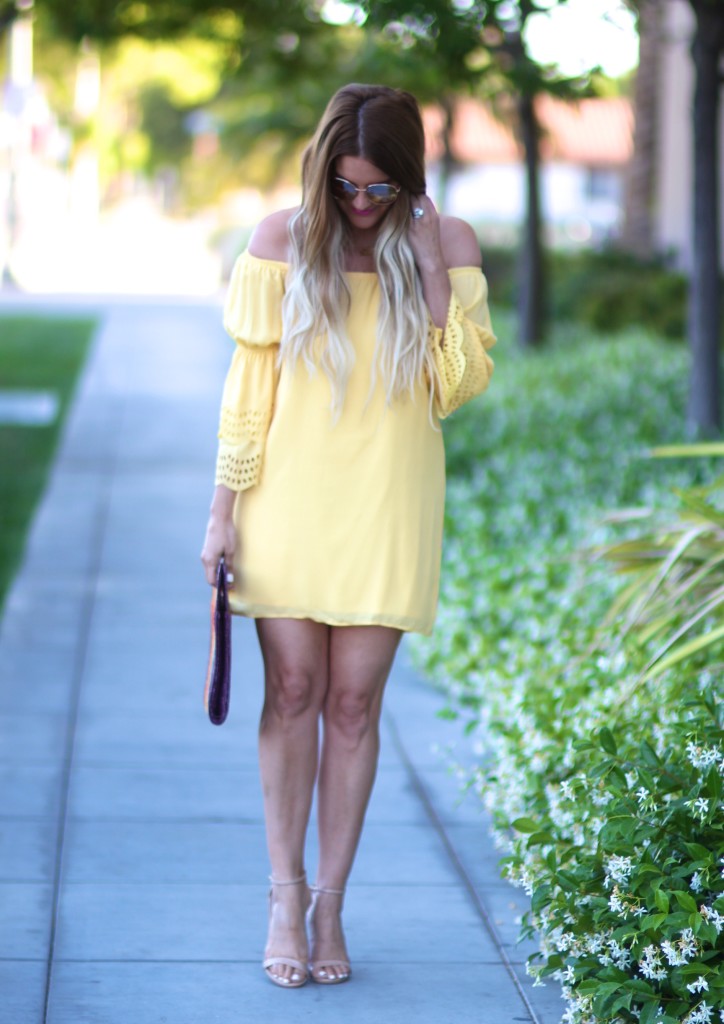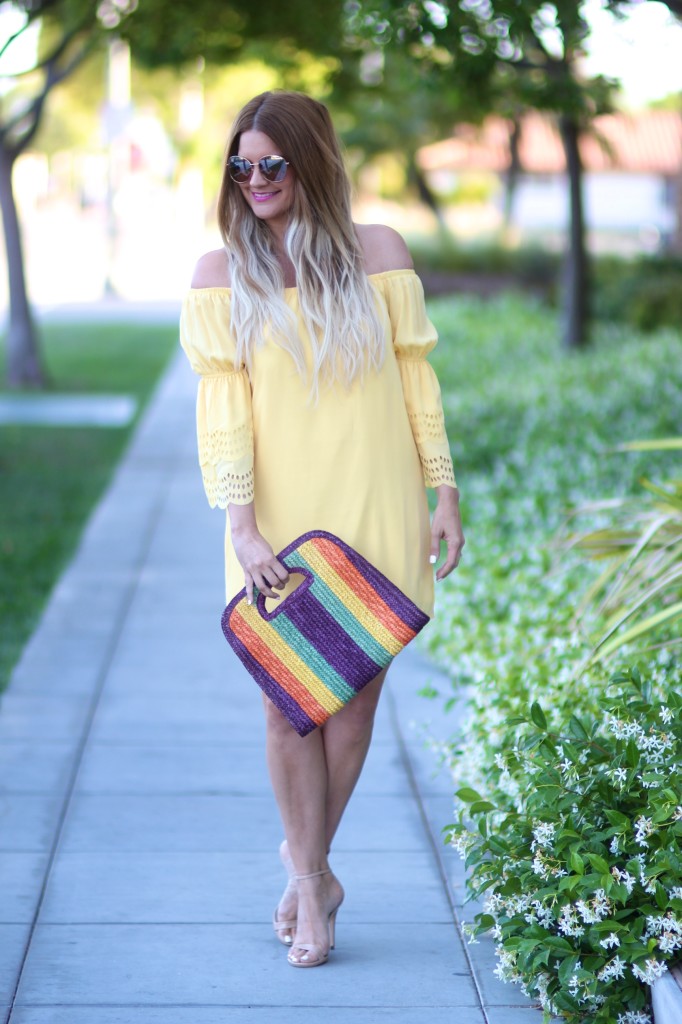 Dress:
Impressions
(

getting this one too!

)
 | Heels:
Steve Madden
| Clutch: Etsy
(love

this

&

this

)
| Sunglasses: old
(

similar

)
I wore this Impressions dress to a brunch over the weekend, and I can already tell I'll be re-wearing it a lot throughout the summer. With the bright color and cutout sleeve detail – I couldn't resist! 
On a total side note – today is my 200th post! Sometimes I cant even believe that I was able to come up with that many looks, and that I still have so many ideas to share. Does anyone else ever worry that they will run out of content one day? That's always a major fear of mine!!
THANK YOU for being on this journey with me, and a huge thank you for continuing to read this little blog each week. I am so grateful to all of you! Have a great weekend- xo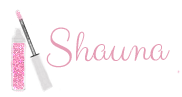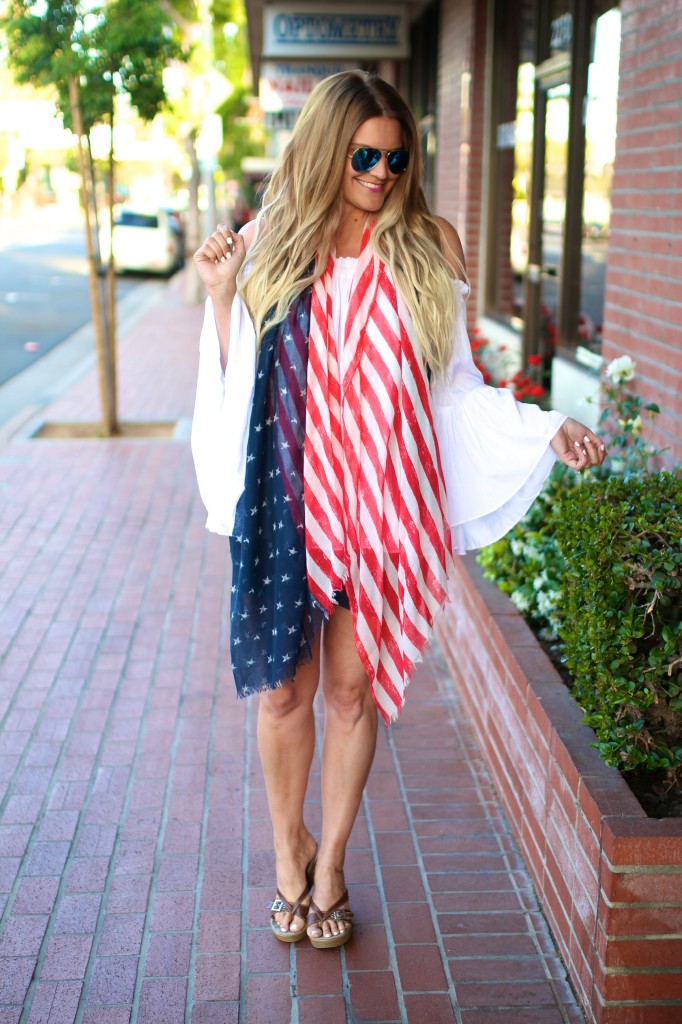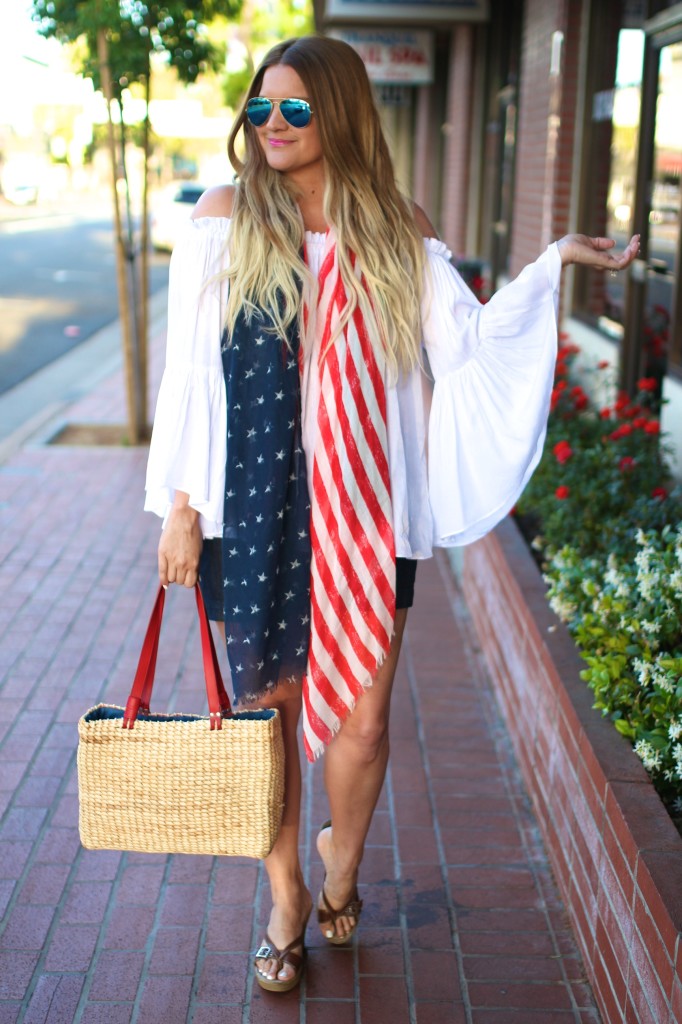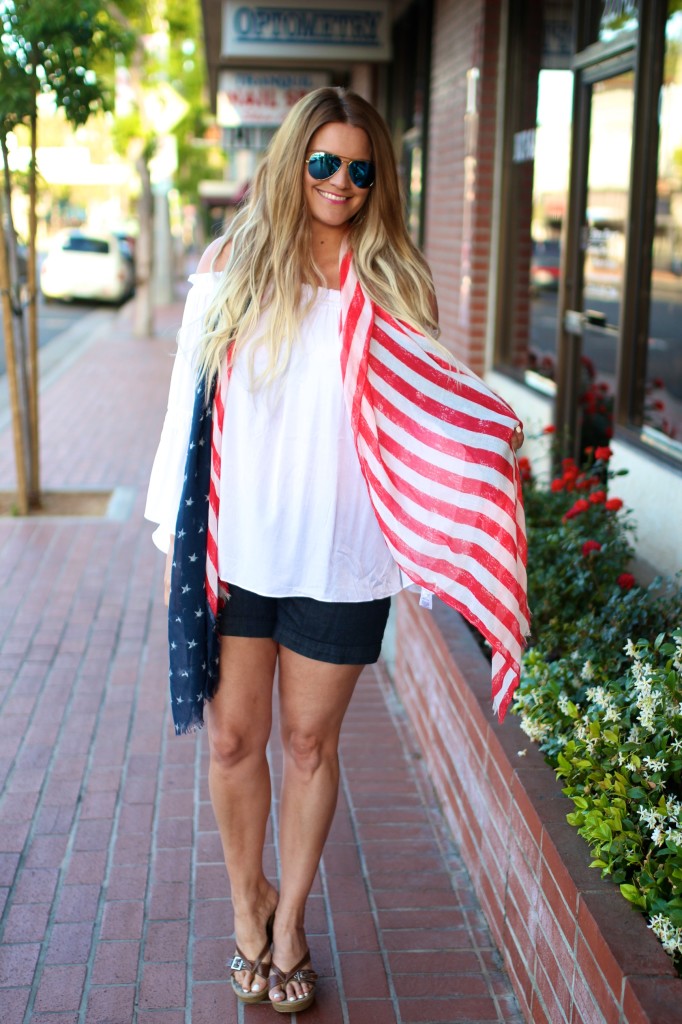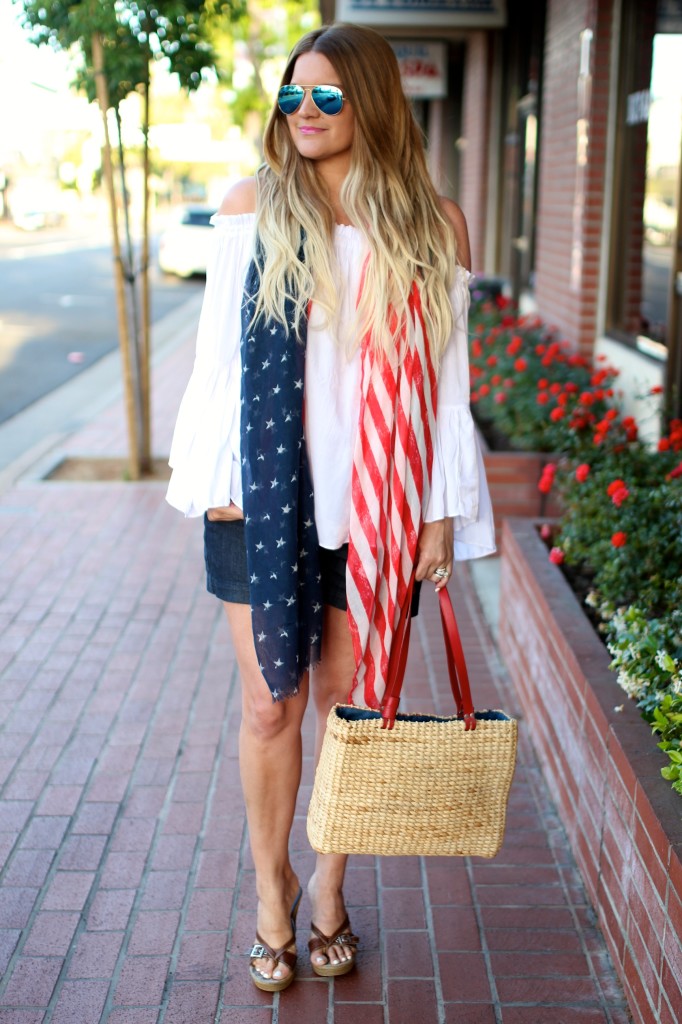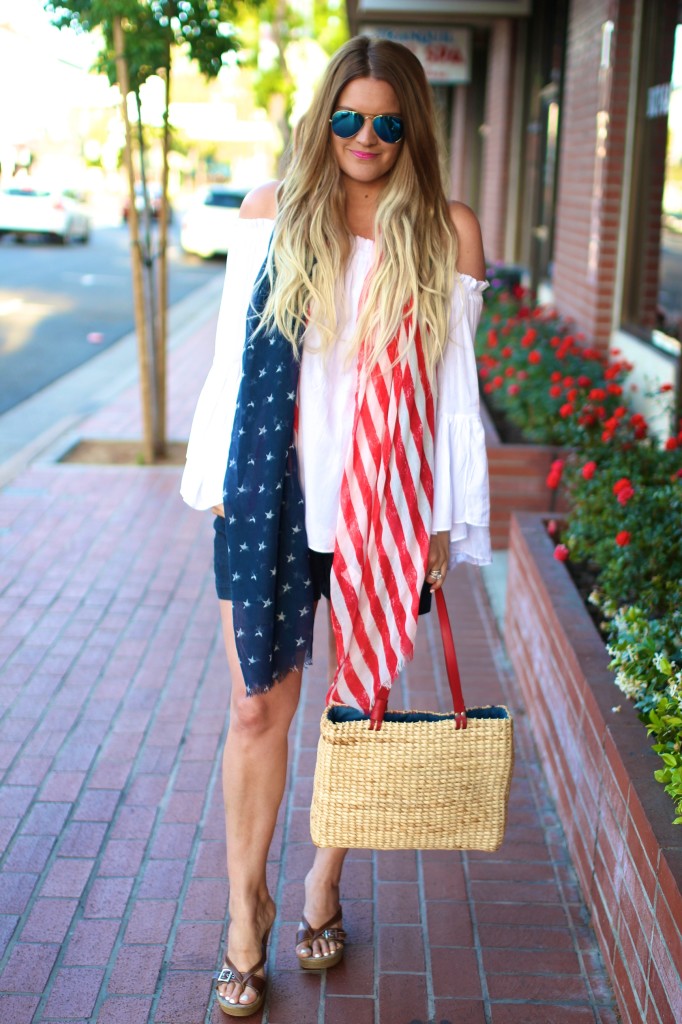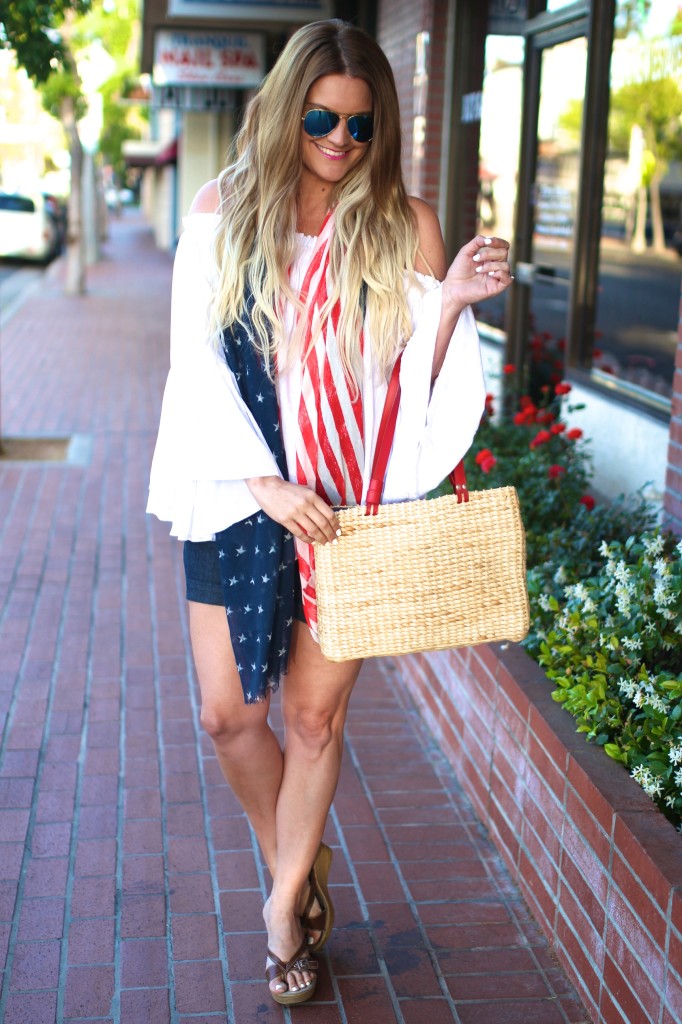 Top:
Shein
| Shorts:
The Limited
| Scarf: Target (
similar

,

similar
) | Wedges: old (have
these
) | Tote: Etsy | Glasses:
Ray-Ban
Is it me or is this whole 2016 thing just totally sailing by? It's hard to believe that Memorial Weekend is right around the corner! Time needs to s-l-o-w the heck down…
Like most of us, I always love this weekend because it's the unofficial kick-off to summer, and another reason to break out all things red, white & blue. My absolute fave! If the hubbs would let me decorate the house in an all-out nautical theme, it sooo would have happened already.
What are your plans for the holiday weekend coming up? Would love to hear!
♥
♥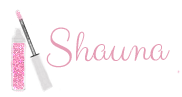 Vest: old
( love

this

&

this

)
| Tank:
H&M
| Denim:
Forever 21
| Heels: Forever 21
(

similar

)
| Bag:
Arizona
| Glasses:
Quay
I recently got this pair of  white denim from

Forever 21

and cannot stress to you how much I love them. They are distressed just enough at the knees and so cute for summer, so I was thrilled when I saw that they were under $30!
It's actually my birthday tomorrow, so I 'm planning to get my party on this weekend! OK, not really…but I will be celebrating with my sisters in a few weeks. It's so hard trying to plan something with the 4 of us girls.  Schedules are nuts the older we get! So it's always the best time when we finally are all together 
♥
Have a wonderful weekend! I appreciate you all so much!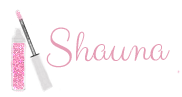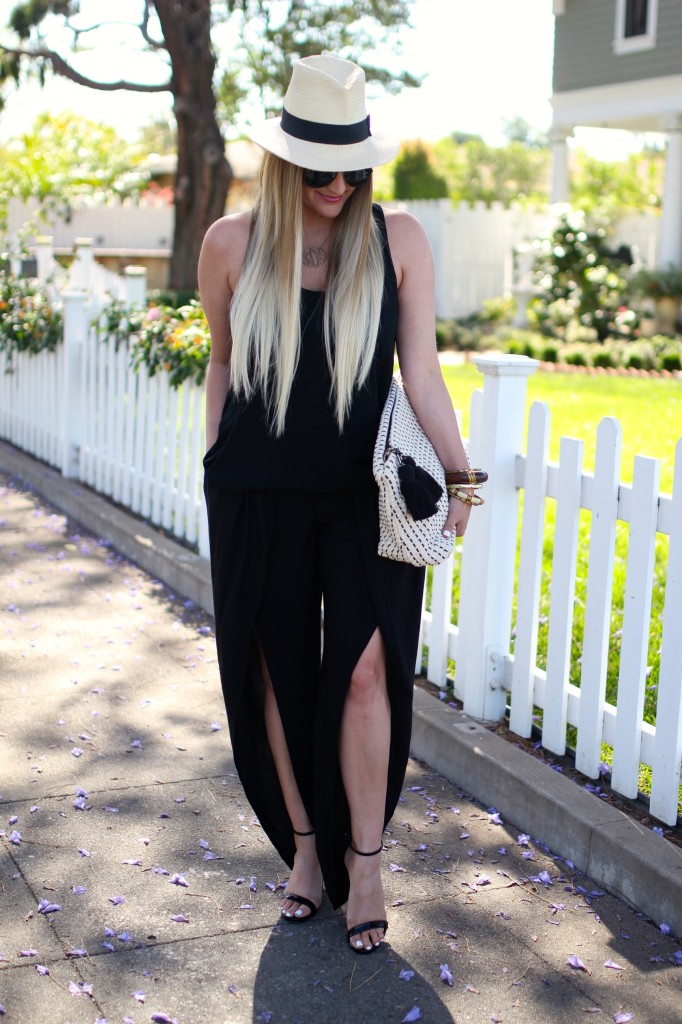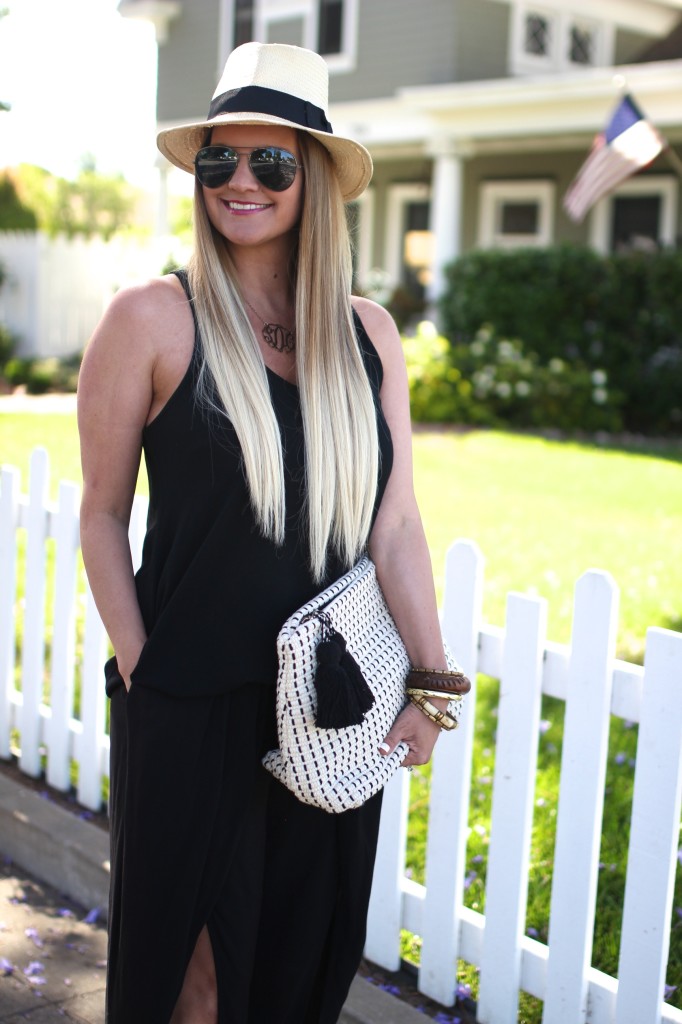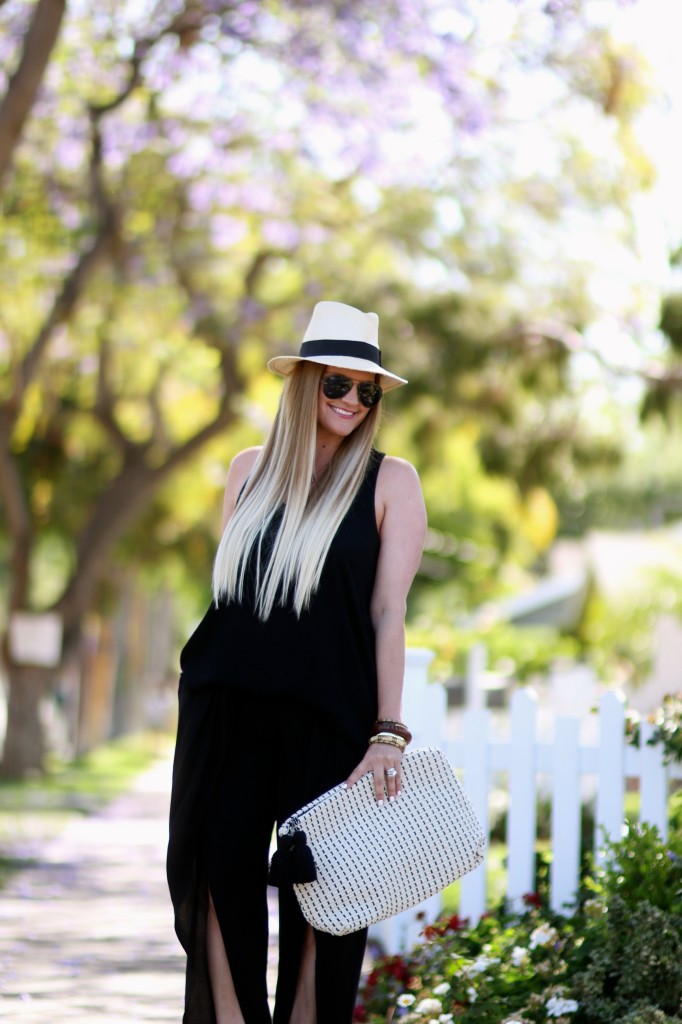 Tank:
Forever 21
| Pants: old
(

similar

)
| Heels:
Steve Madden
| Hat:
H&M
| Clutch:
Zara
| Necklace:
Etsy
 | Bracelets:
Forever 21
| Glasses:
Ray-Ban
There are those special outfits that steal your heart from the minute you put them on, and this one did me in good! I think it was getting me majorly excited for summer, and anytime I can throw on these bold bottoms, my mood seems to lighten. Obviously they are a little out there, so it's not every day I can find a reason to wear them. But gosh, I wish I could! And yes, I'm totally the girl who rocks all black no matter what season it is. I always think black in the summer can be just as chic as it is in the fall.  
Have a great week!  

♥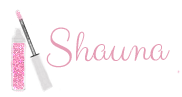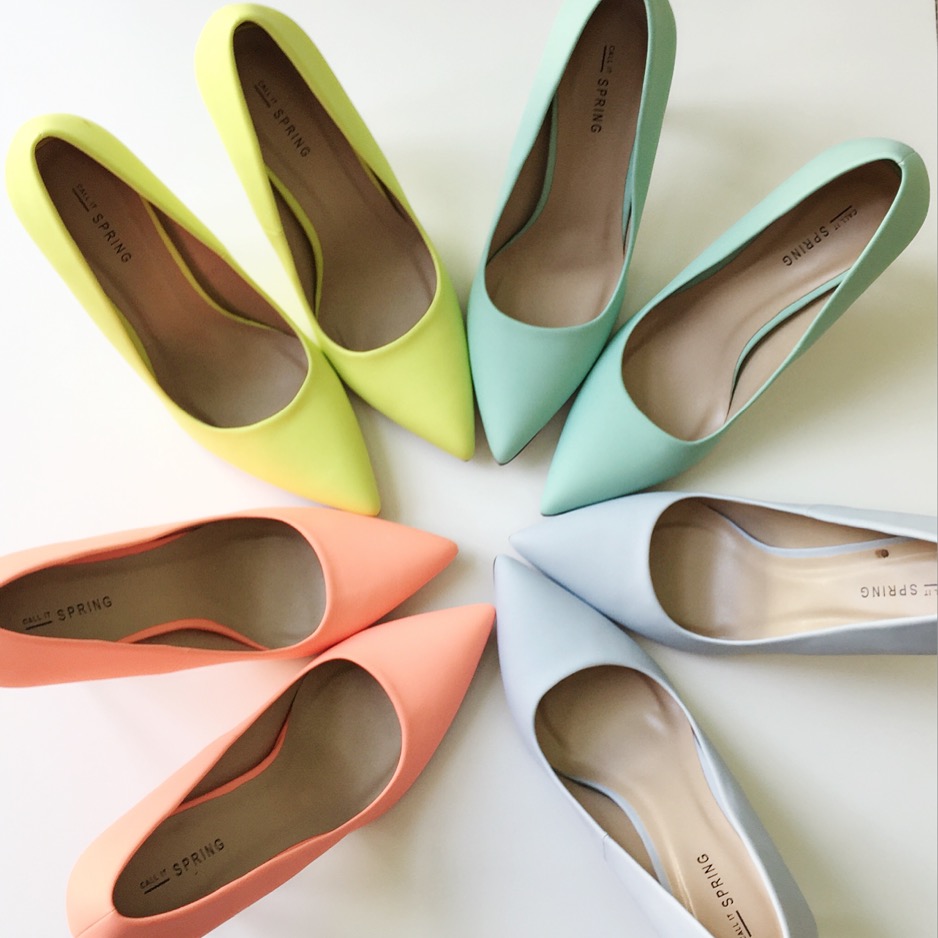 Heels:
Call It Spring
( When you love every color, so you end up buying all of them. Send help…)  
Tunic:
Lush
| Heels:
Kate Spade
| Bag:
Forever 21
Towel:
Las Bayadas
 | Hat:
Target
| Bag: Target, old
(

love these!

)
| Glasses:
Ray-Ban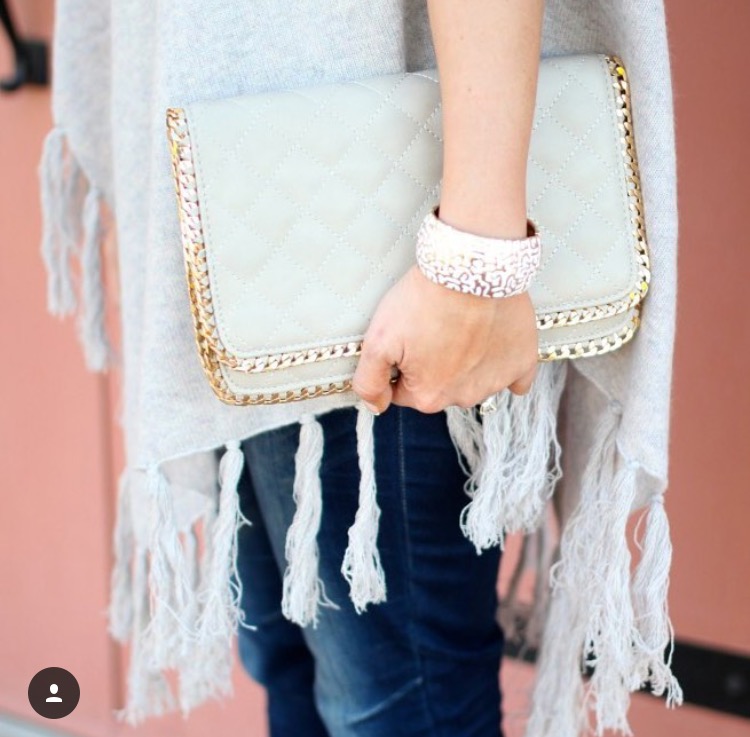 Poncho:
27 Miles Malibu
| Clutch:
Vici
D
ress:
Lulu's
| Sandals:
Tory Burch
| Hat:
H&M
| Sunnies:
Ray-Ban
Dress (worn as a top):
MLM 
| Denim: old
(

similar

)
| Heels:
Call It Spring
| Sunglasses:
Quay 
| Polish:
Essie
Dress: old
(

similar

)
 | Hat:
H&M
Happy almost Friday, ladies! For some reason I was having major trouble uploading the pics for today's post, so instead I'm doing a little Instagram roundup while I figure out the technical kinks on this end. Let me know if you have questions on anything 🙂
Hope you all have a great weekend! I am meeting up with Rachel from

A Blonde's Momen

t

, while she's passing through Orange County! It's so nice to be able to meet fellow bloggers who I've followed and admired over the past few years. I love this little blogging community so much. It really is the best part. Thanks for reading! 

♥♥