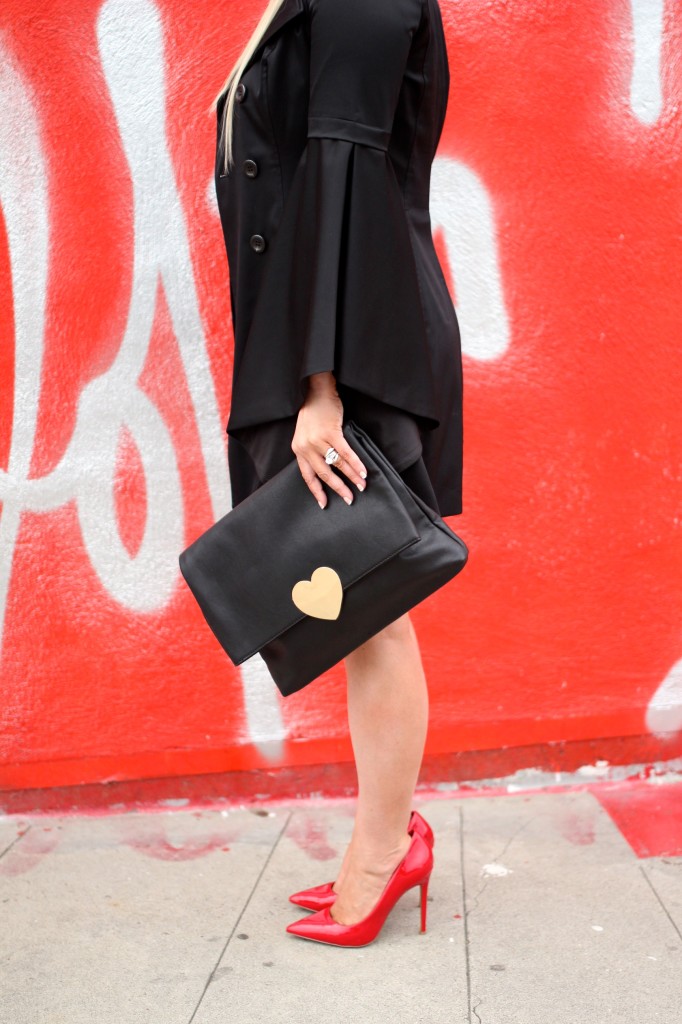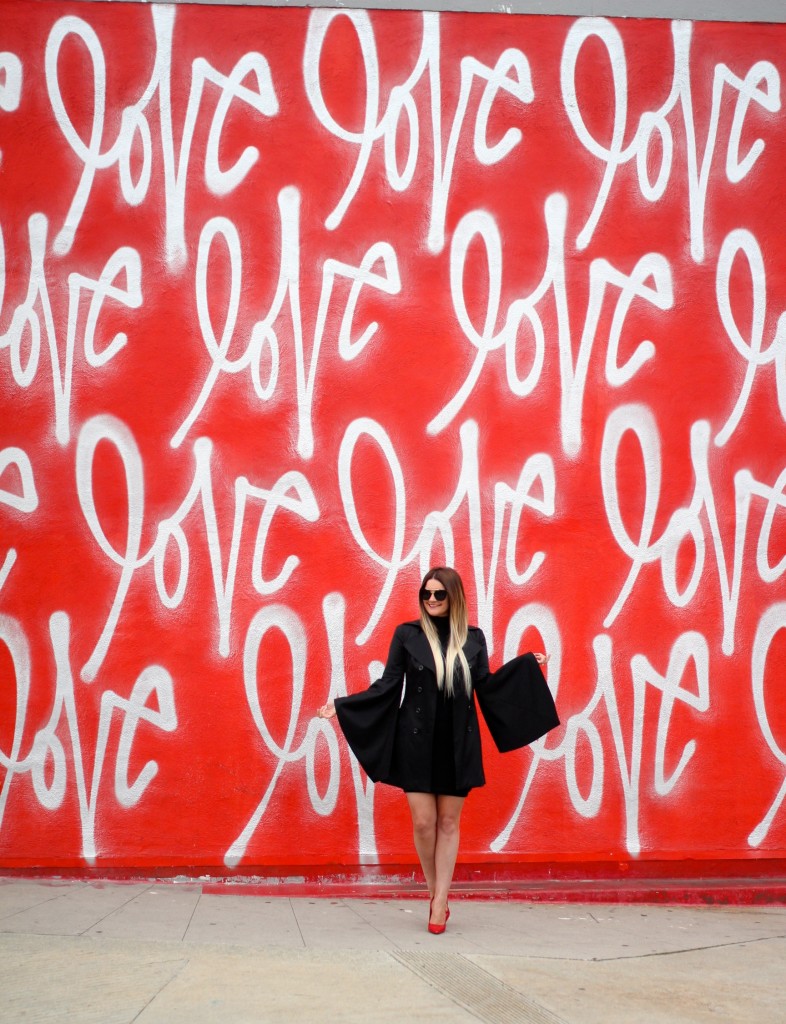 Coat:
Bebe
 | Dress:
Forever 21
 | Heels: old,
(

exact

)
| Clutch:
Asos
 | Sunnies:
Prada
The day of love is right around the corner, so it only made sense to style this cathedral sleeve coat – which I am completely and utterly over the moon in

LOVE ♥

with! I mean…those sleeves! I just couldn't get over the drama of it. What a statement piece, right? That's what I've always loved about fashion. The glamour. The over-the-top aspect of it at times. The piece that dares you, and encourages you to make it into your life. The one thing in your closet that when you put it on you just think "Wow…so good".
That's what's so great about fashion. You get to play dress-up & live in a fashionable fantasy every time you step into your closet. How lucky are us girls?! 
XO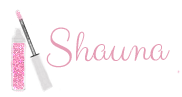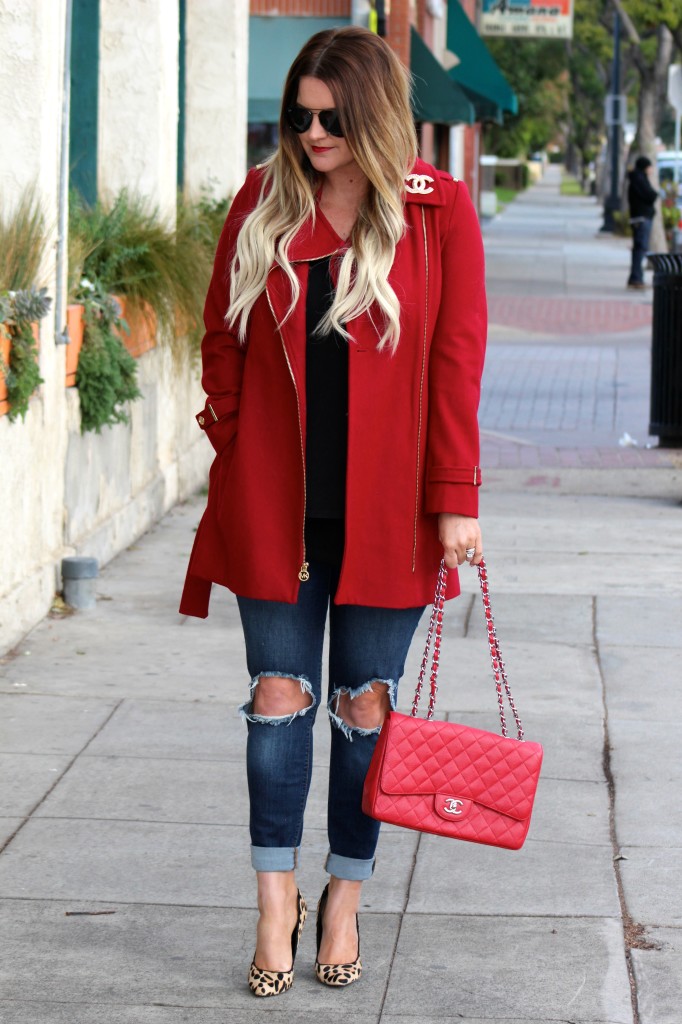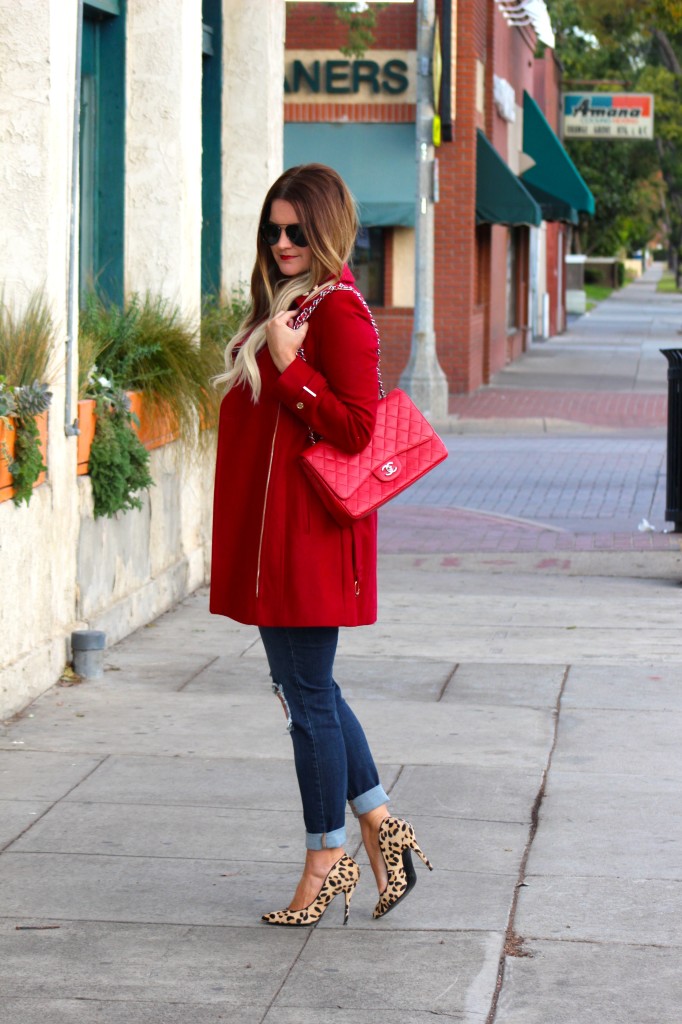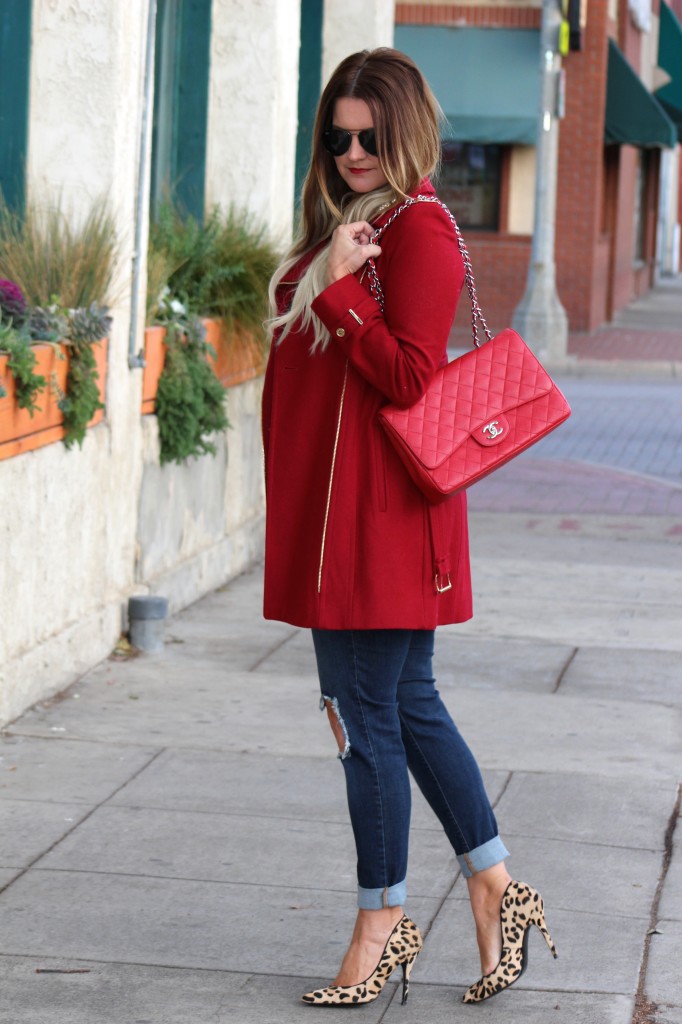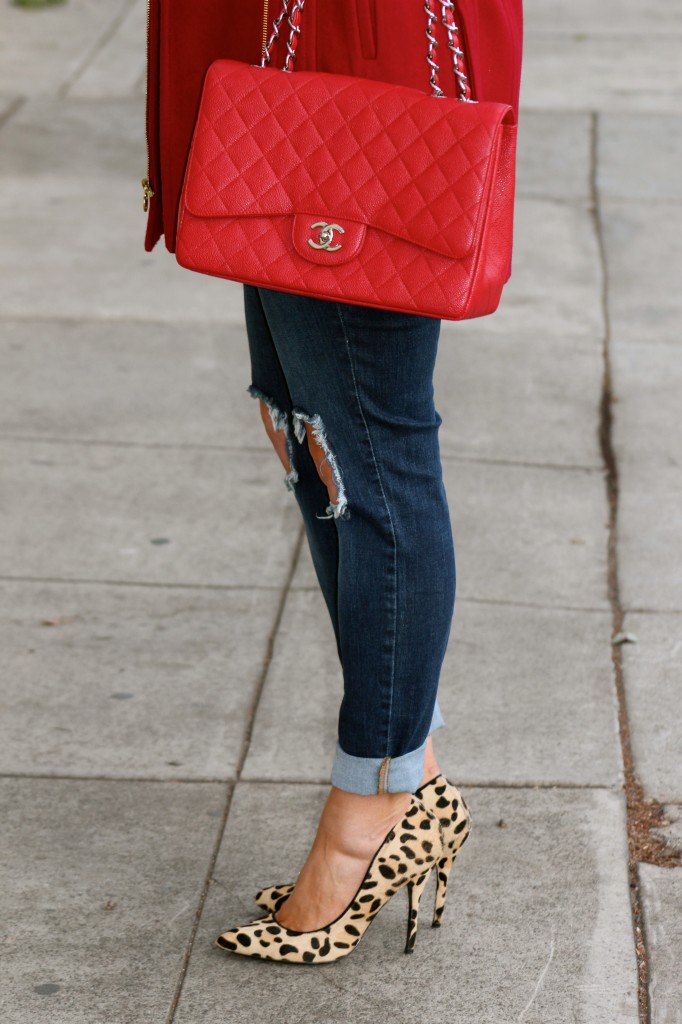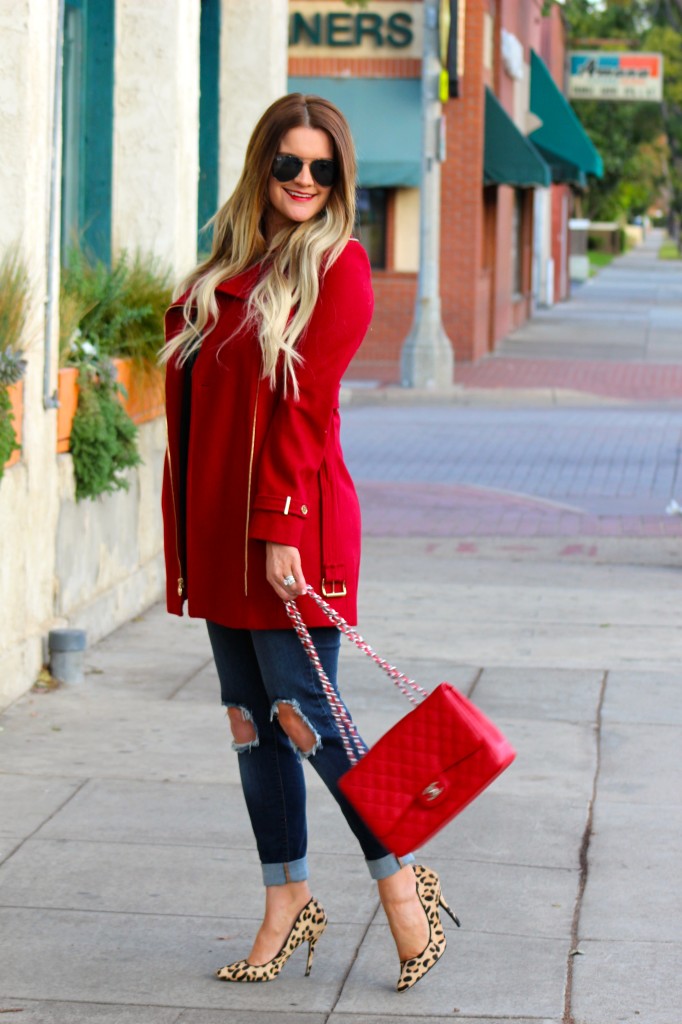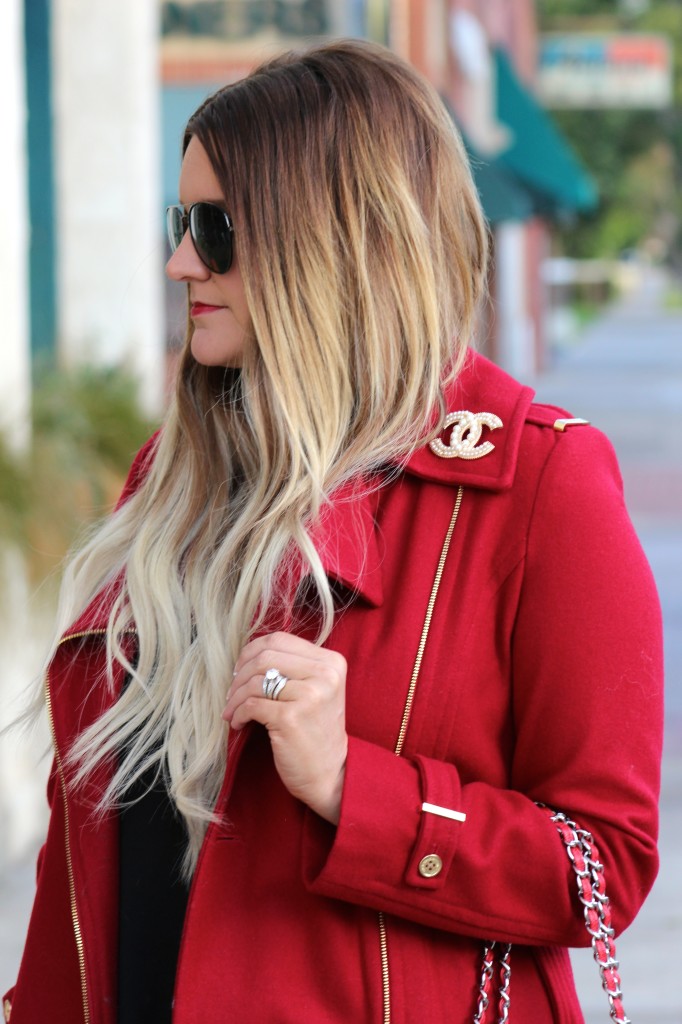 Coat: Michael Kors
(

similar

)
| Top:
Eileen Fisher
| Denim:
(

similar

)
| Heels:
Steve Madden
| Bag: Chanel | Glasses:
Ray- Ban
The closer it gets to Valentine's Day, I always seem to pull out more of my red pieces. This coat has always been a favorite of mine during the holidays, and the gold detailing is what sold me on it in the first place. Looking at these pictures now, I realize that I forgot to have my belt loops removed when I bought it. *Fun fact*: I

always

remove the belts and loops on all of my coats. I never use them anyways, so it just makes sense to cut those babies off 😉
Are you guys doing anything for the Superbowl? The only thing I know is that I want to eat a TON of junk food and wear stretchy pants. Pretty solid plan, right? I will probably throw a little online shopping in there too… 😉
Thanks for reading, and have a fun weekend!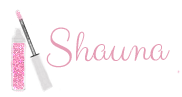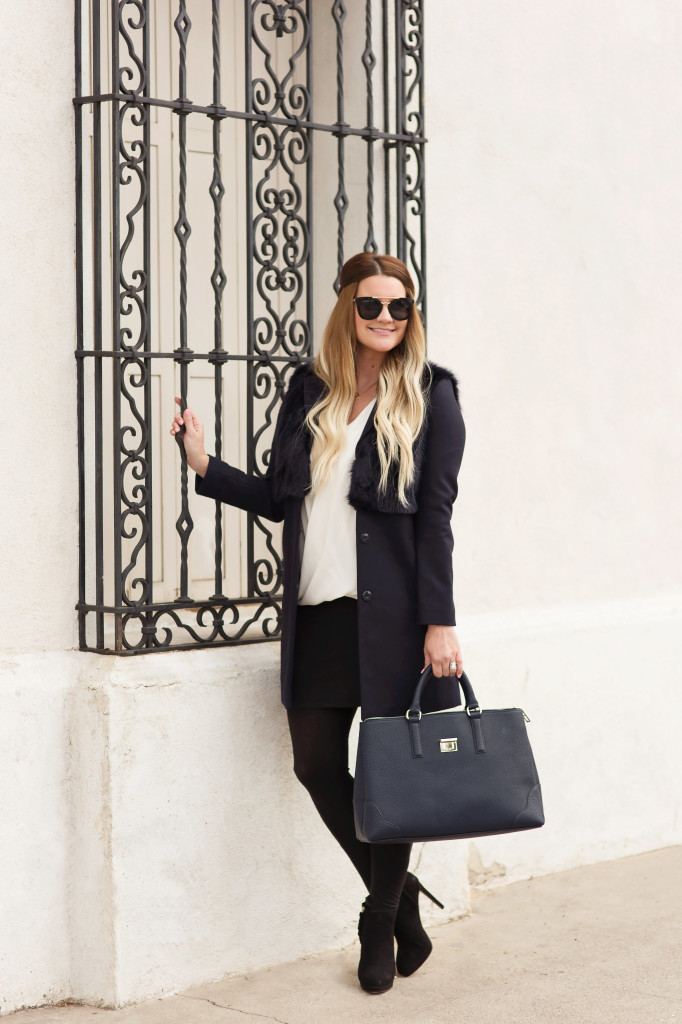 Coat:
Topshop
| Blouse:
(

similar

)
 | Skirted Leggings:
Legacy
| Booties: H&M
(

almost exact

)
 | Sunglasses:
Prada
| Necklace: H&M | Bag:
Zara
I've always been hesitant about mixing black and navy together, mainly because I didn't want to end up looking like a bruise – ha! 😉 But I couldn't pass up the opportunity to try combining these colors when I found this Topshop coat. I loved the faux fur aspect obviously, but I really fell in love with the navy color right away. The coat is such a classic piece, with a little hint of the unexpected which I l-o-v-e-d. 

♥
It was rainy day schedule here yesterday. It poured all day long with crazy high winds, so it gave me an excuse to just veg out in bed and catch up on a very long DVR list. Cuddling with the pup was an added bonus!
Thank you for reading, hope you all had a wonderful weekend! 
    Photos by
Gabi Wells