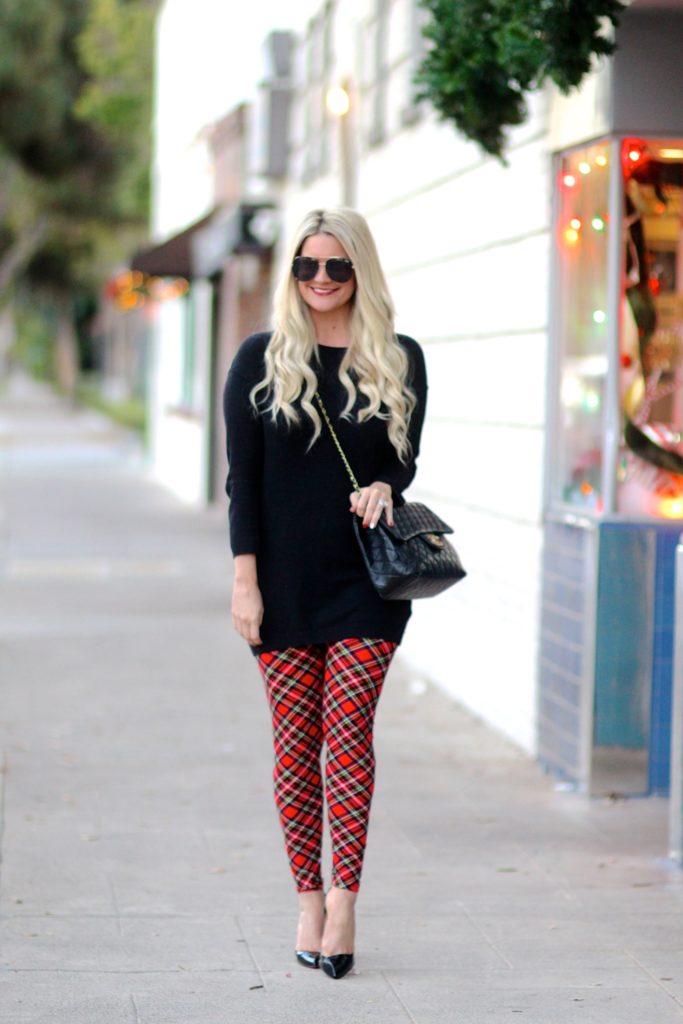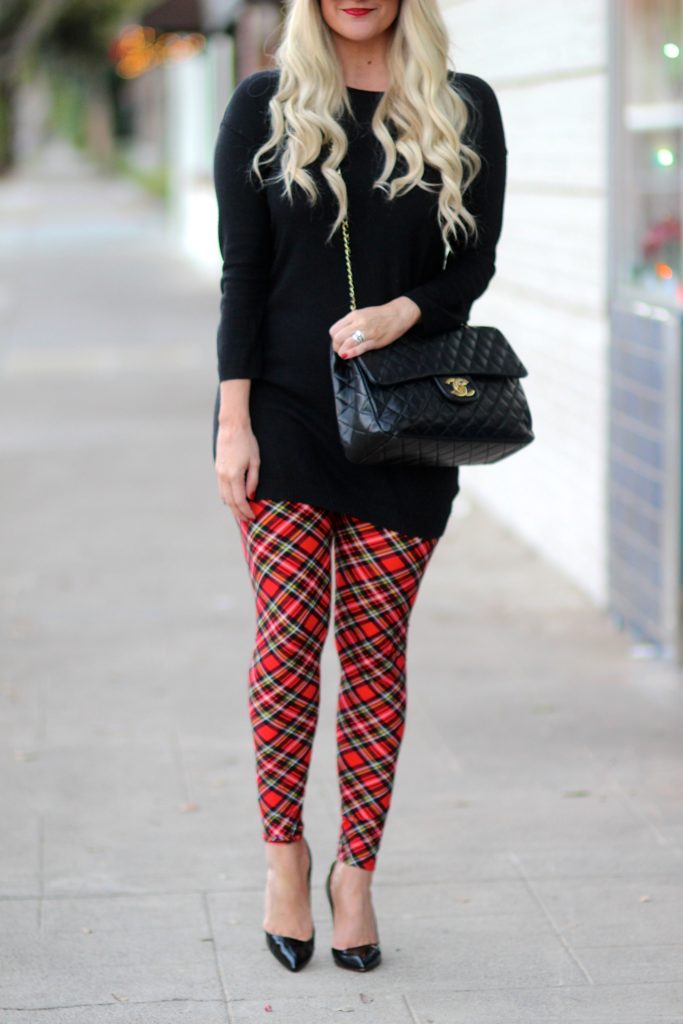 Sweater: H&M | Leggings: Red Dress Boutique (love this version too) | Glasses: Quay
It's officially crazy Christmas shopping time! The aggressive holiday shoppers have already come out to play and they seriously aren't messing around.
I tried my luck at shopping this past week, and let's just say I was glad I dressed comfy (except for when I traded out my flats for heels to snap these pics 🙂 ) These leggings are just the softest and are only $15! Love that they are one size fits all too!
What's your go-to look for quick, comfortable holiday shopping? Share in the comments!  -xo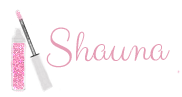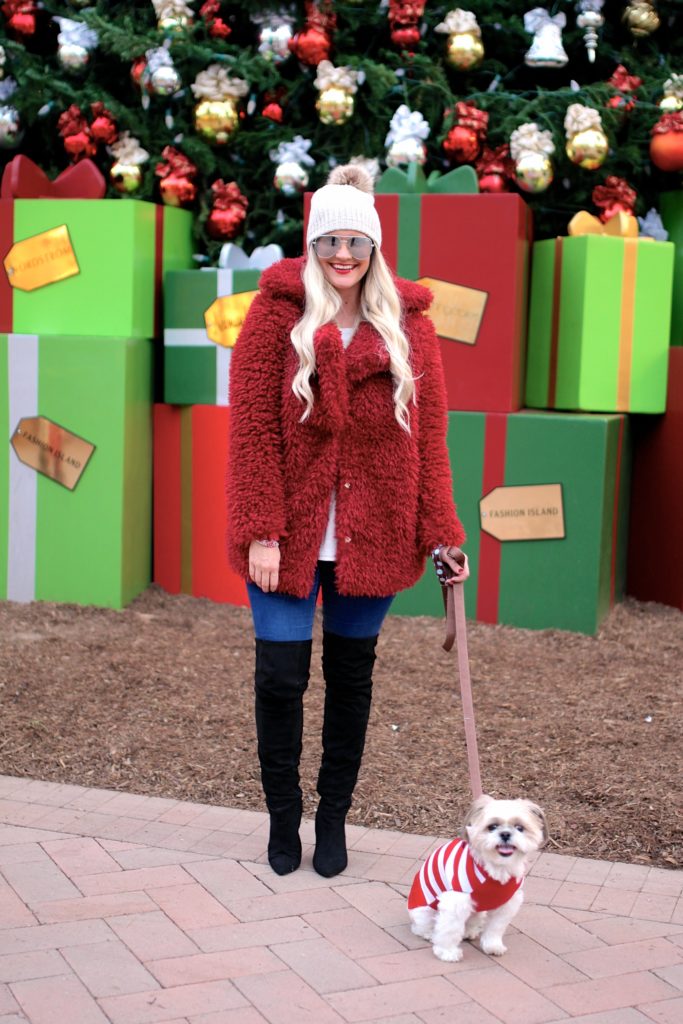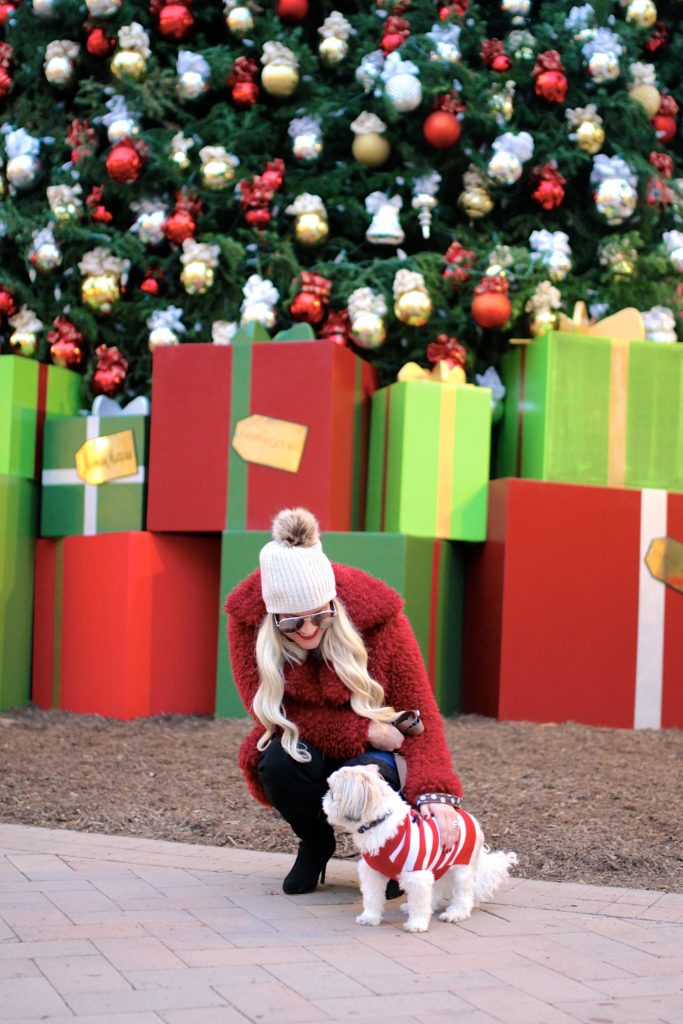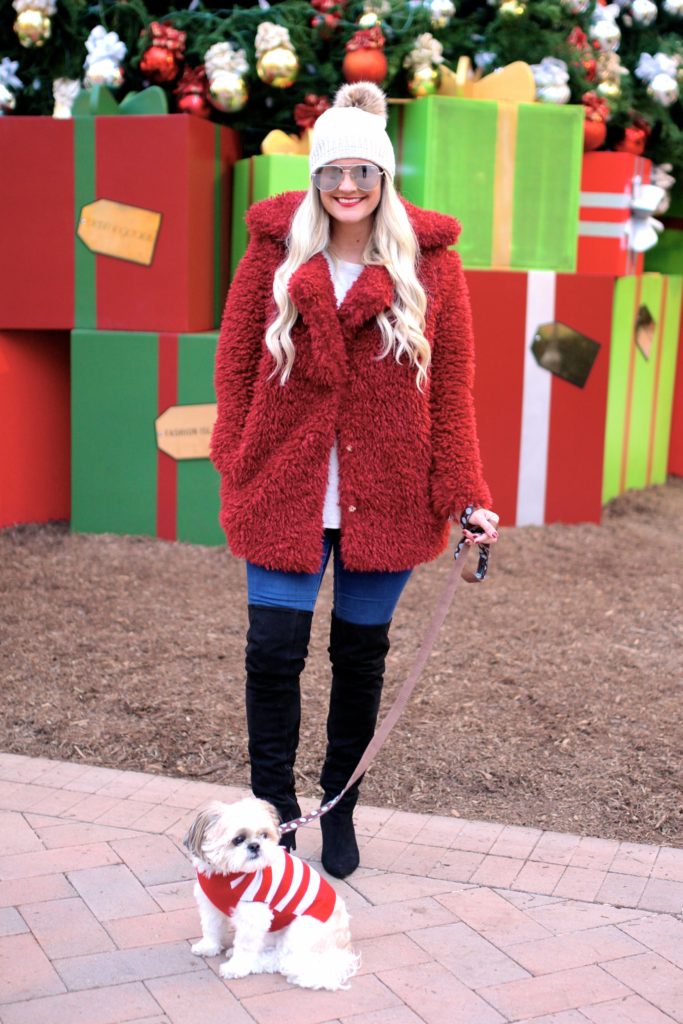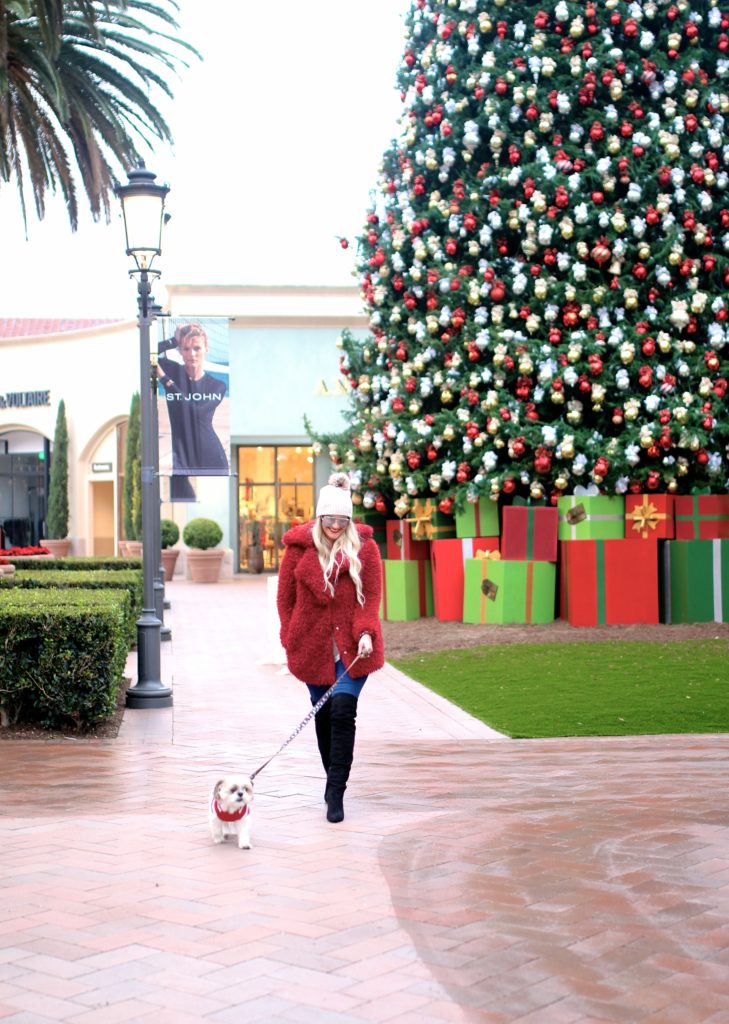 Coat: Forever 21 | Denim: old | Boots: Forever 21 | Beanie: old (similar) | Glasses: Quay
Because sometimes you just need to see a puppy in a Christmas sweater to make it through Monday 🙂
XOXO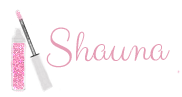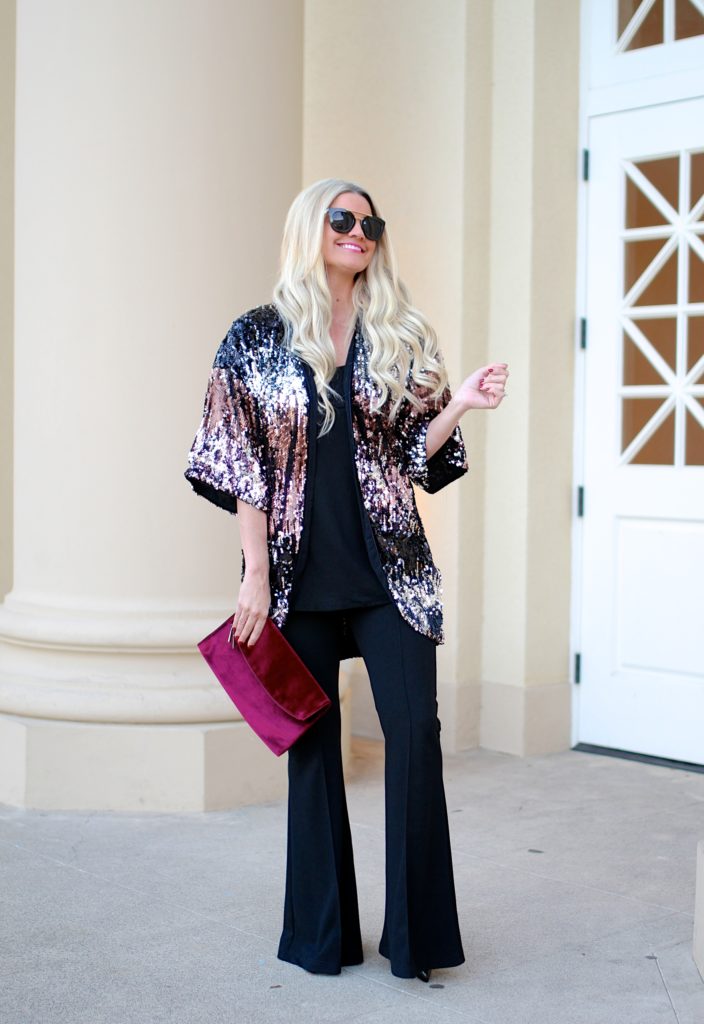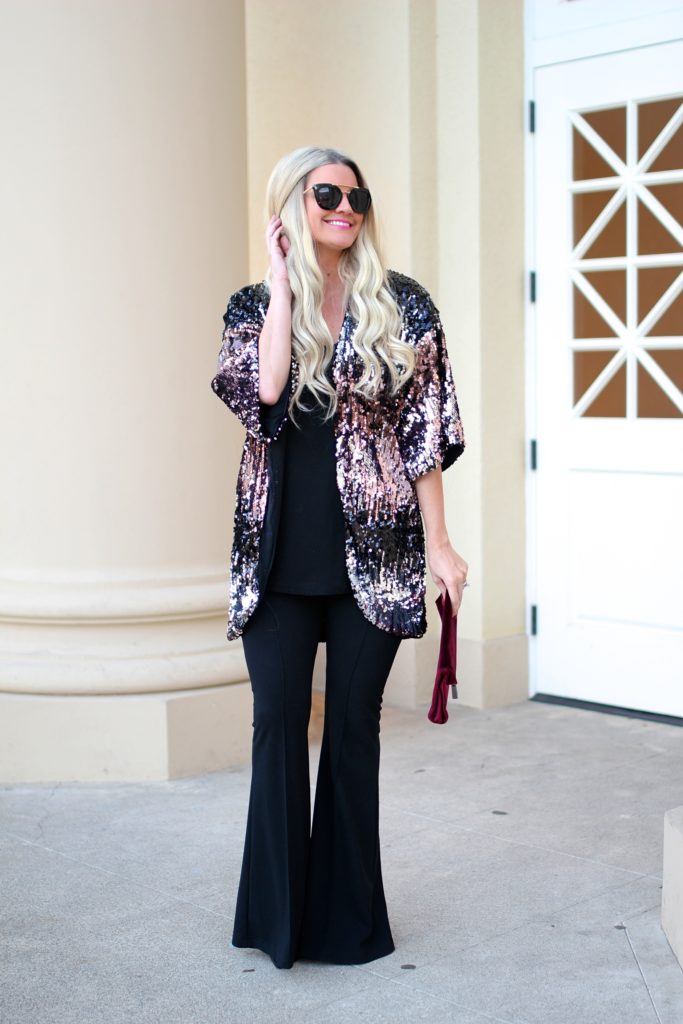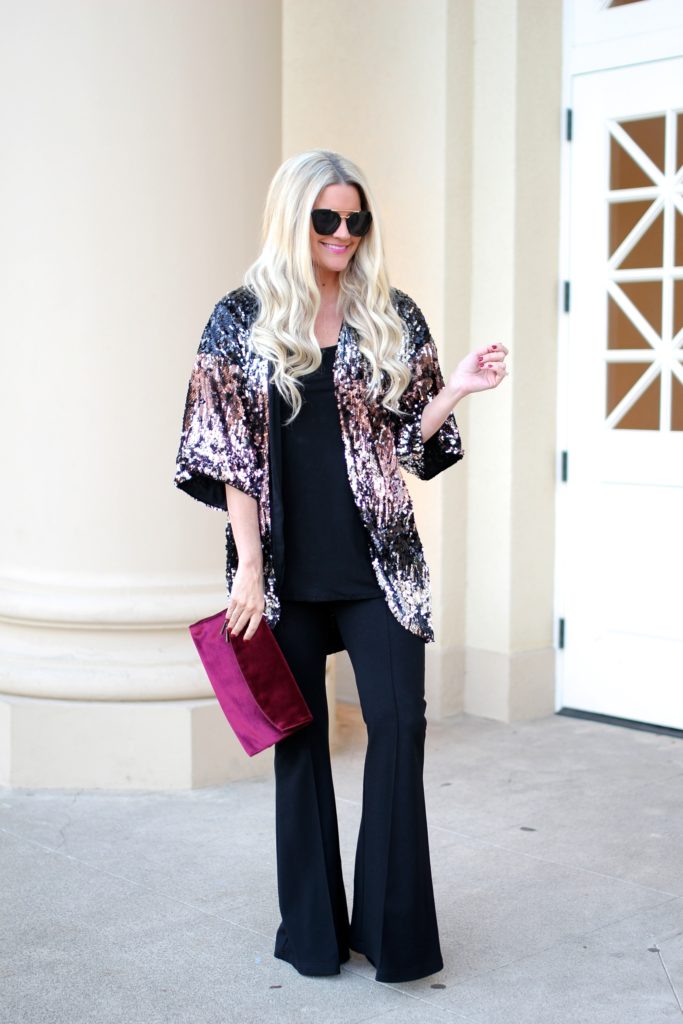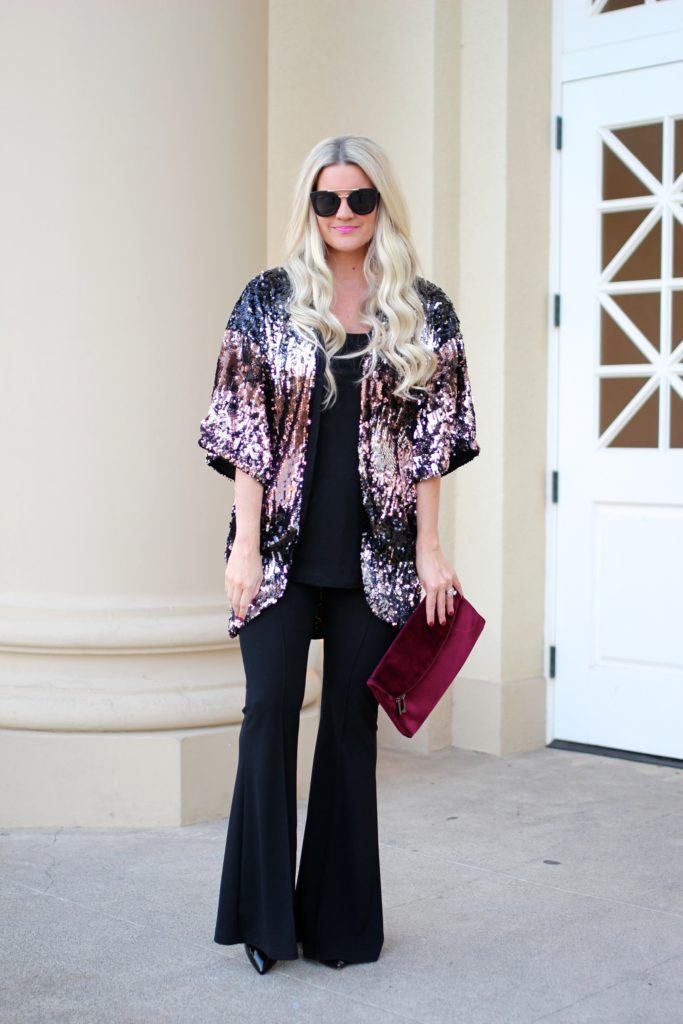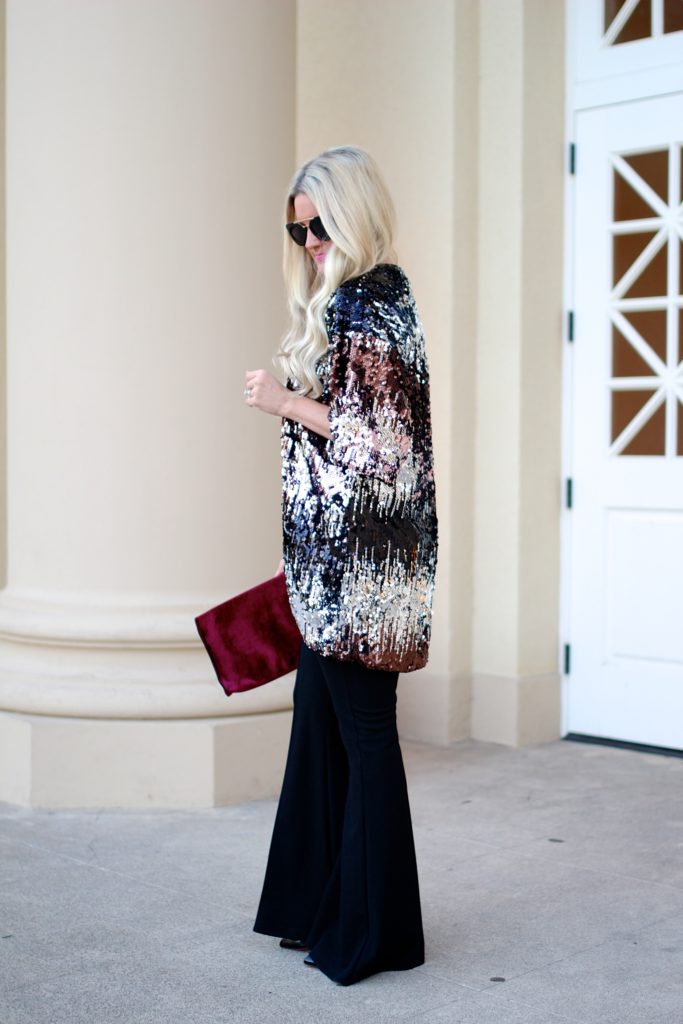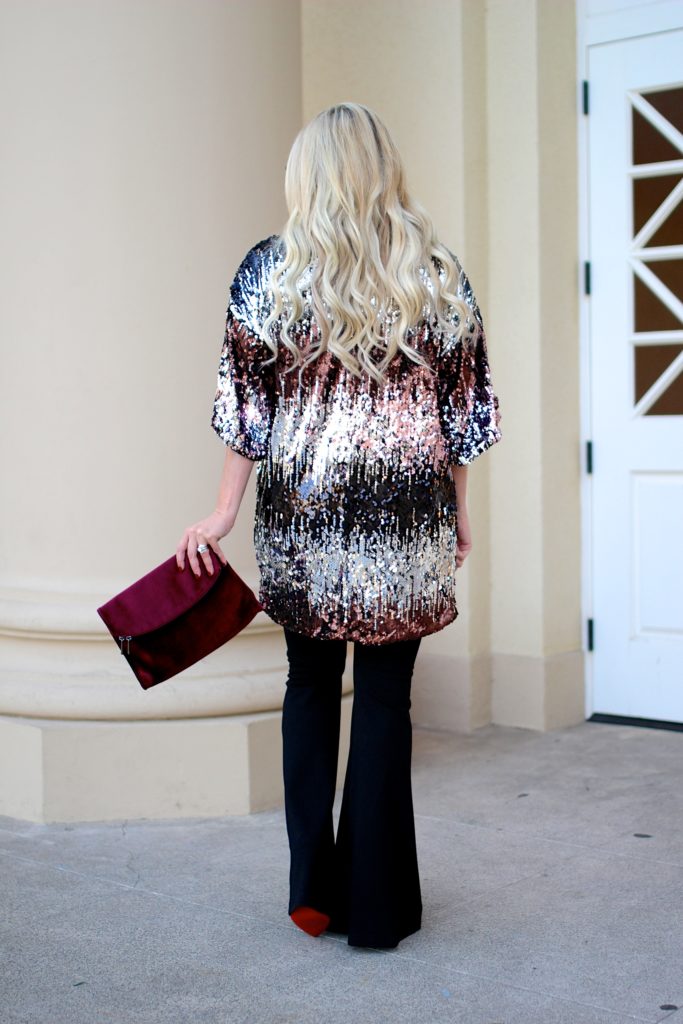 Kimono: old (love this) | Tank: Old Navy | Pants: old | Clutch: old | Glasses: Prada
When it comes to this time of year and clothing options, is there really such a thing as being "over the top"? Like, too much sparkle? Too much shine? Too much fur?
ABSOLUTELY NOT.
If you were to look at any of my online browser windows right now, the first thing you'd see is that they are all a little "loud". Whether it's sequins, studs or faux fur anything, I dive head first from Thanksgiving all the way until NYE.
And if anyone has a darn thing to say about it, my response will simply be: "What can I say? I'm overwhelmed with the holiday spirit".
Yep, blame it all on Santa 🙂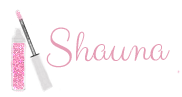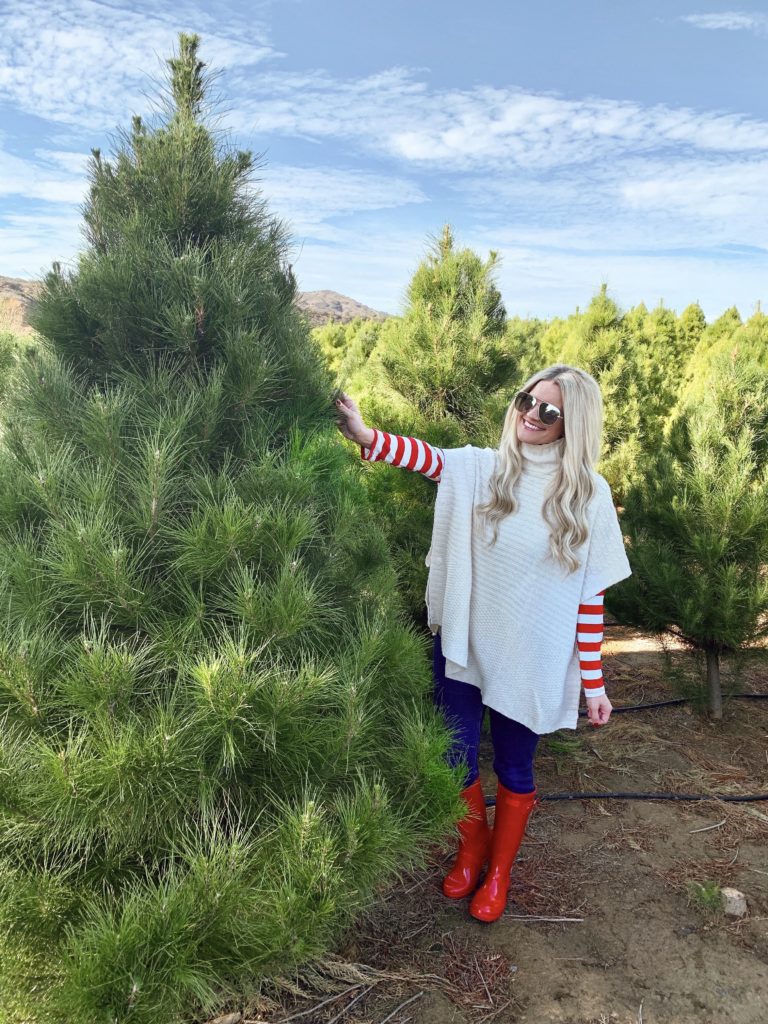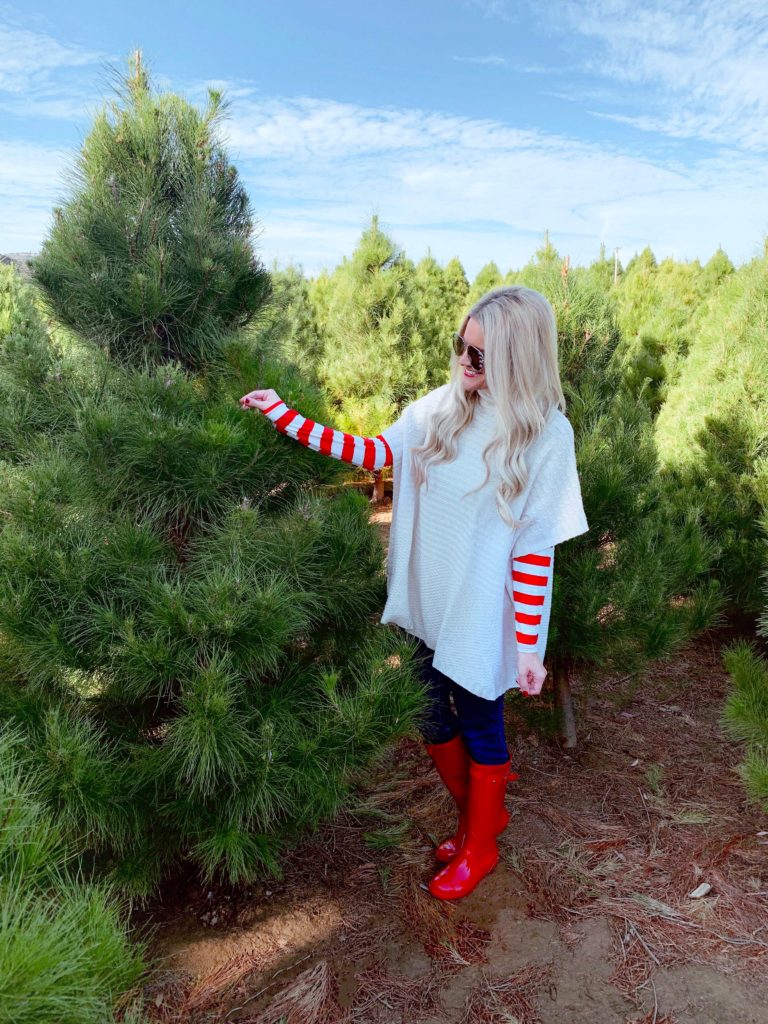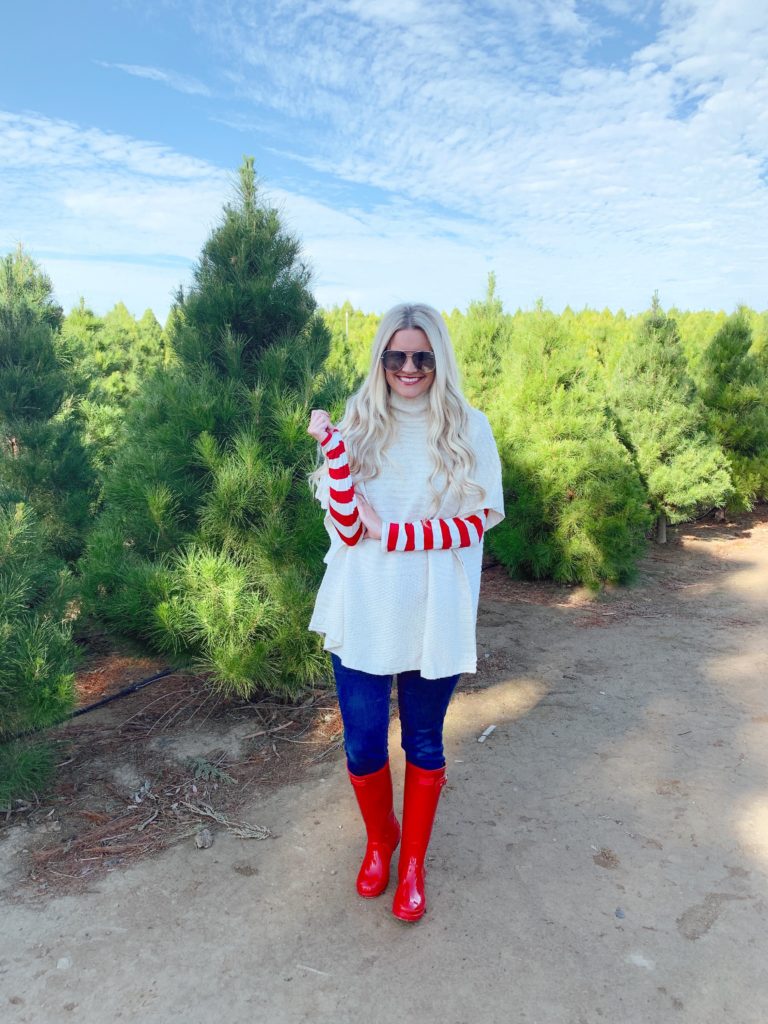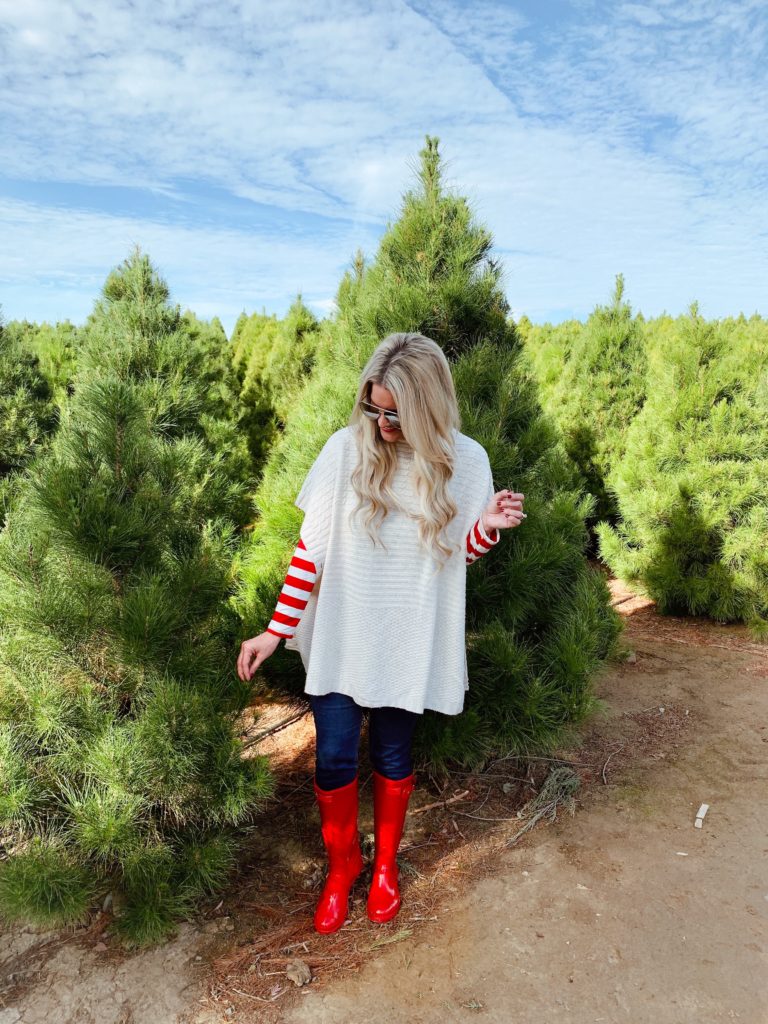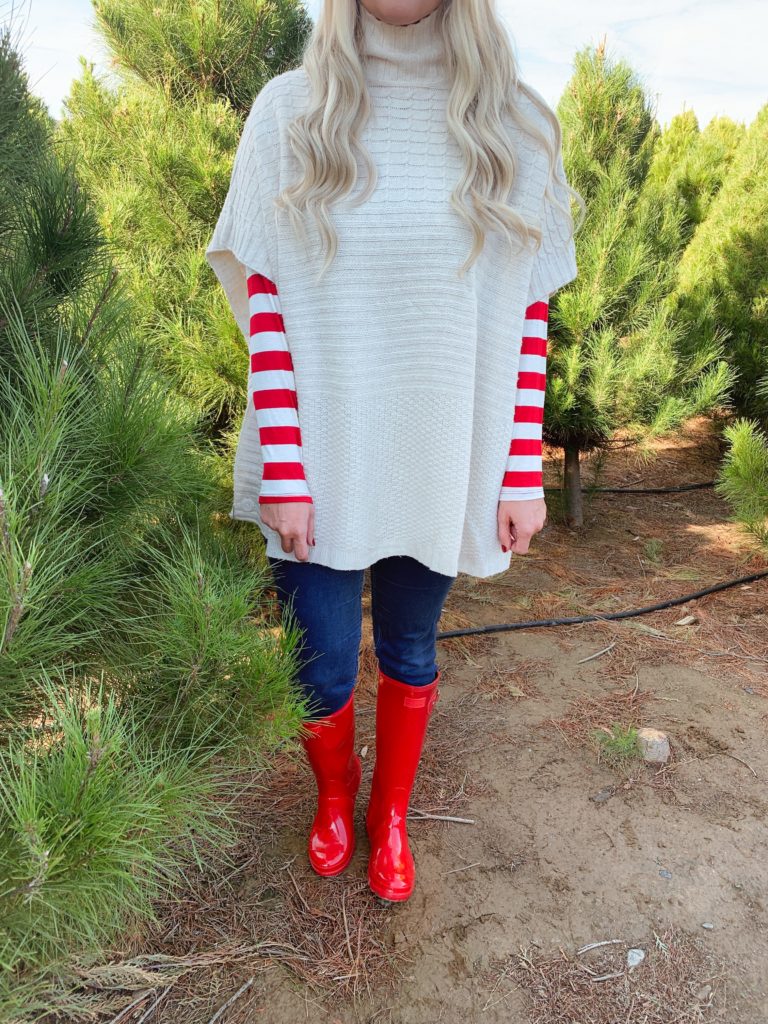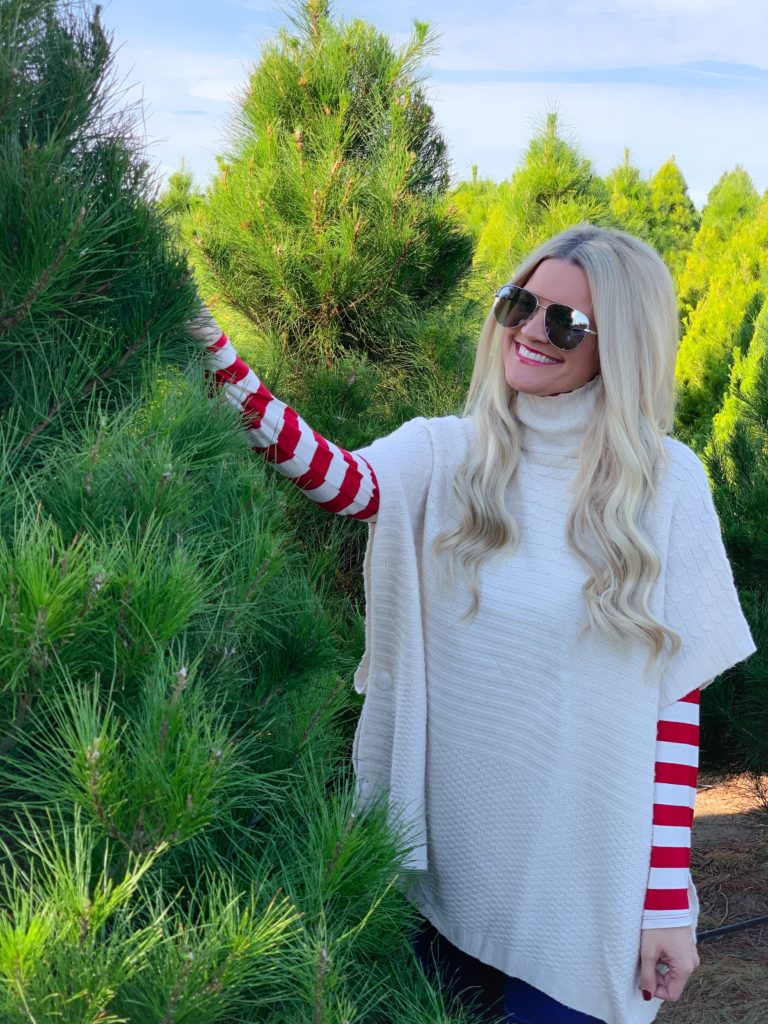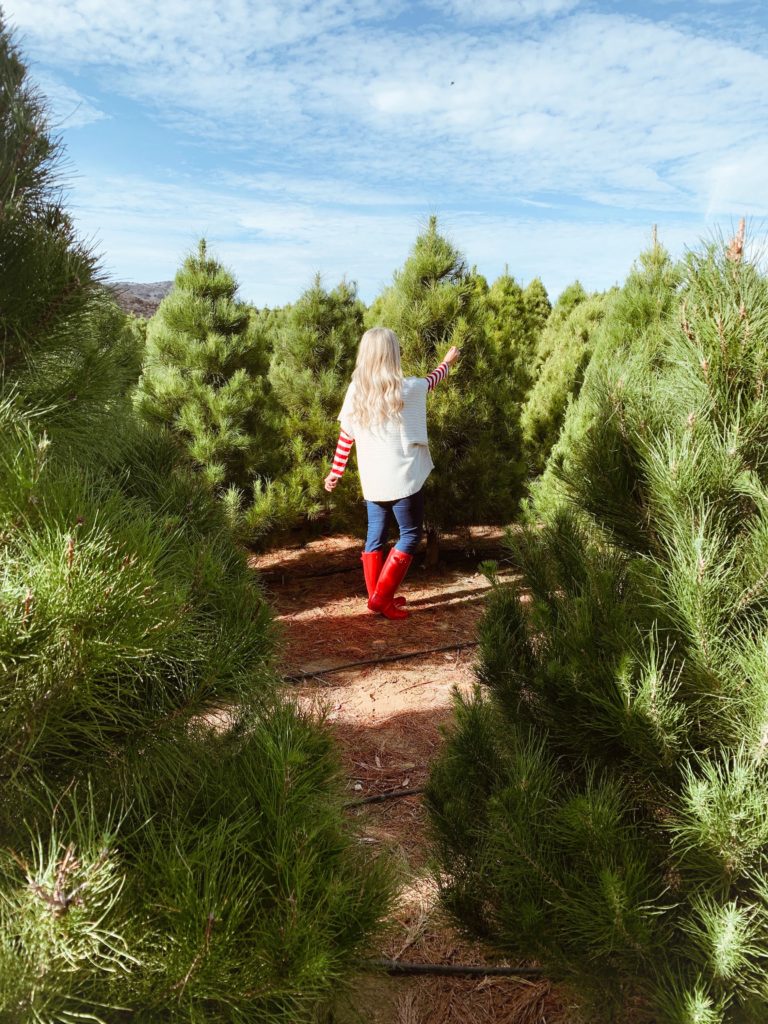 Sweater: old (similar) | Striped top: Pink Lily Boutique | Denim: old | Boots: Amazon | Glasses: Quay
I love all the cliche seasonal activities; from sledding and sipping hot cocoa to decorating gingerbread houses and picking out a Christmas tree…count me in for ALL the holiday fun!
We are lucky enough to live about 10 minutes from a Christmas tree farm, so last weekend we bundled up and headed over for Opening Day. I felt as though I was in a Hallmark Christmas movie! Everyone in their Santa hats, red and green colors everywhere you looked, puppies in sweaters, candy canes and hot chocolate being handed out…it was so much fun. Anyone leaving that tree farm NOT in the Christmas spirit was most definitely a Scrooge!
Thank you for reading! Excited to have you along for all the holiday fashion fun ahead! ♥♥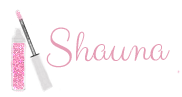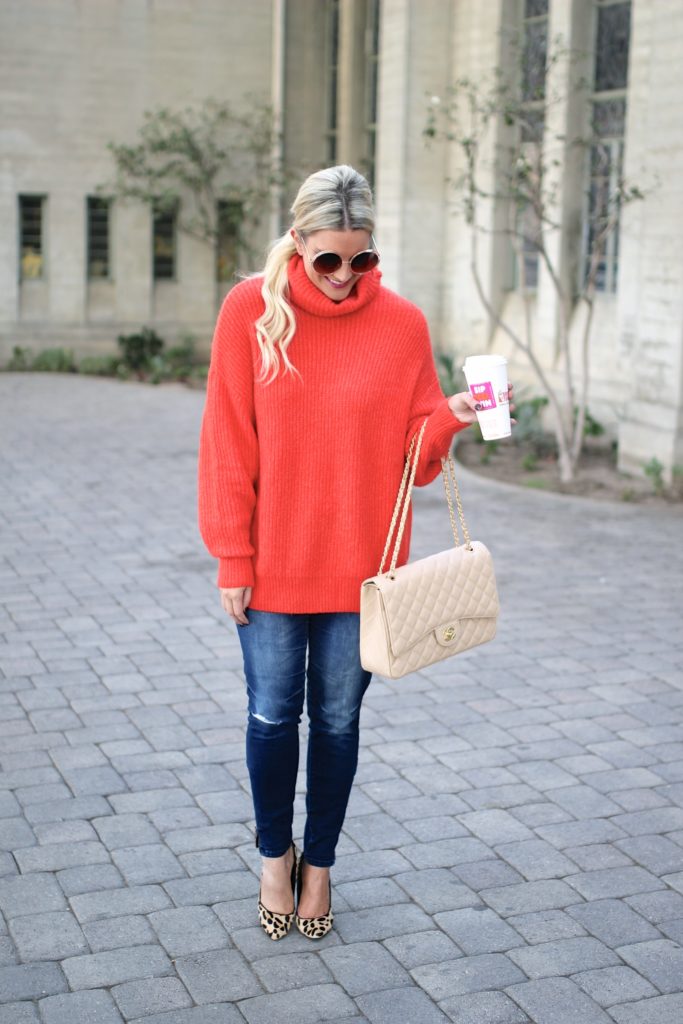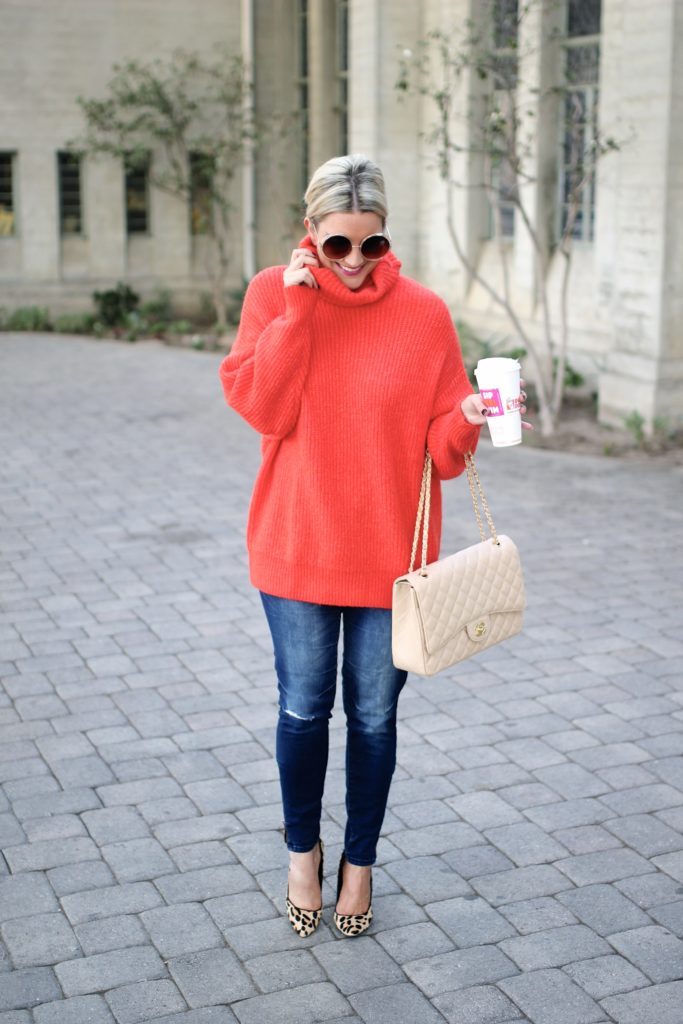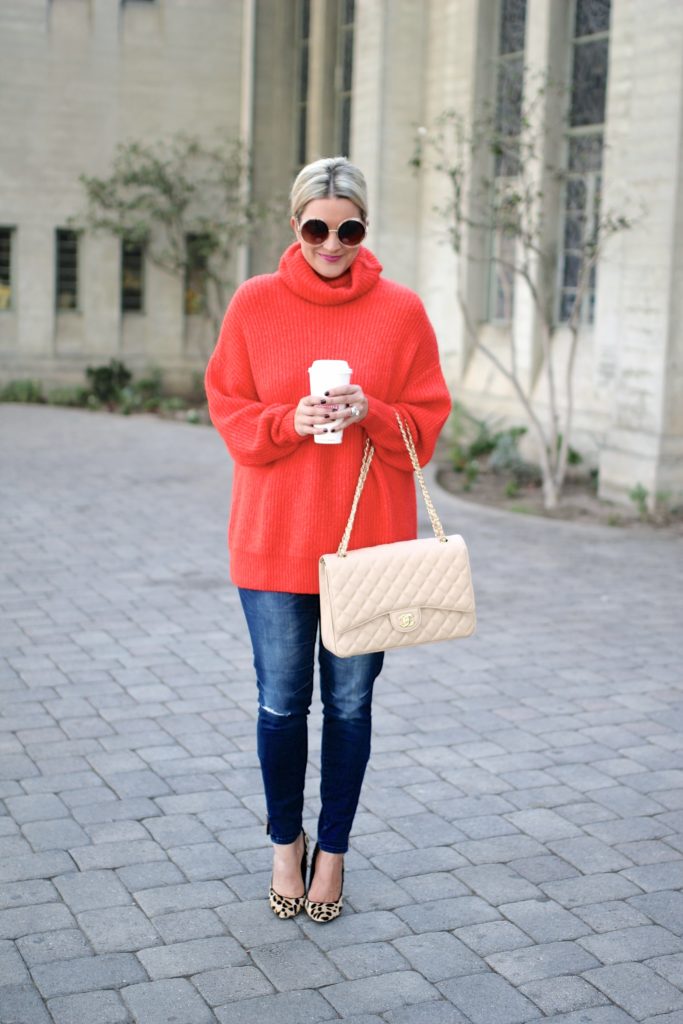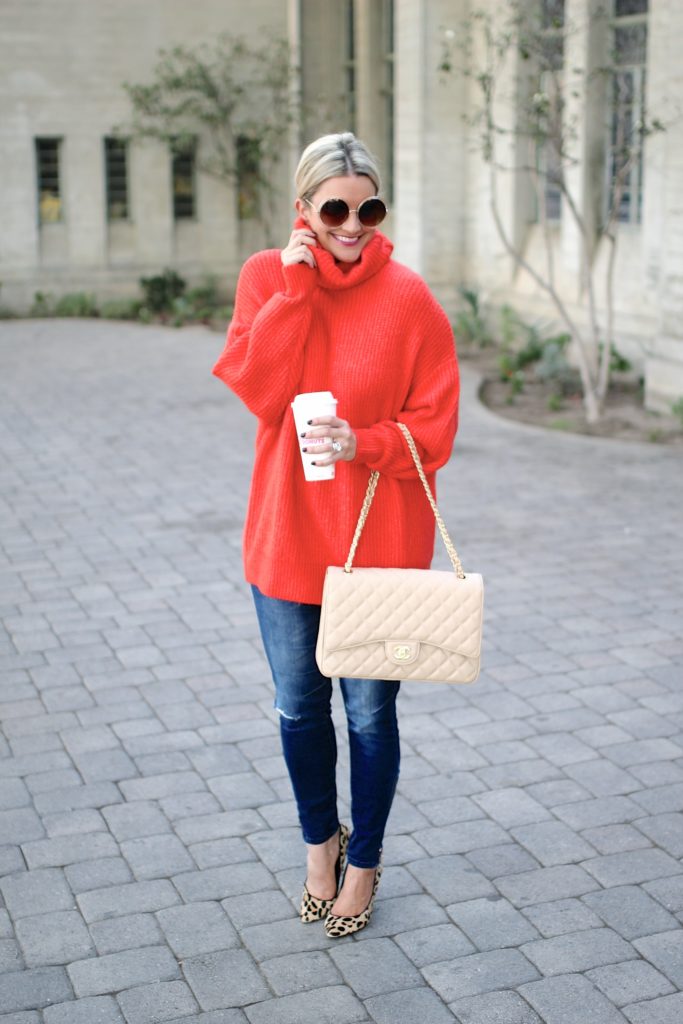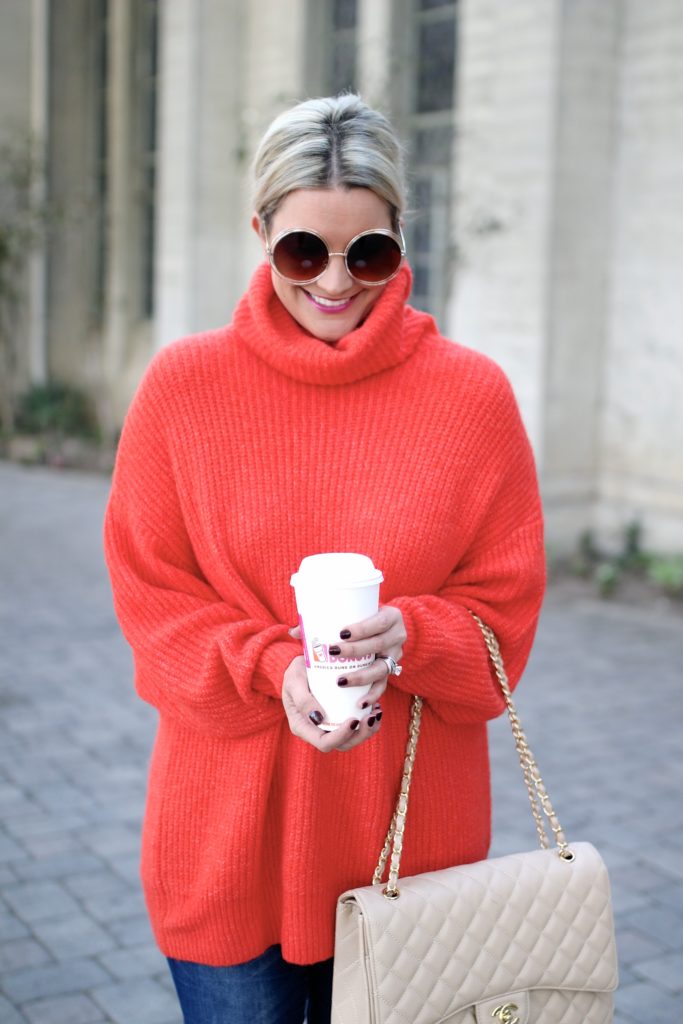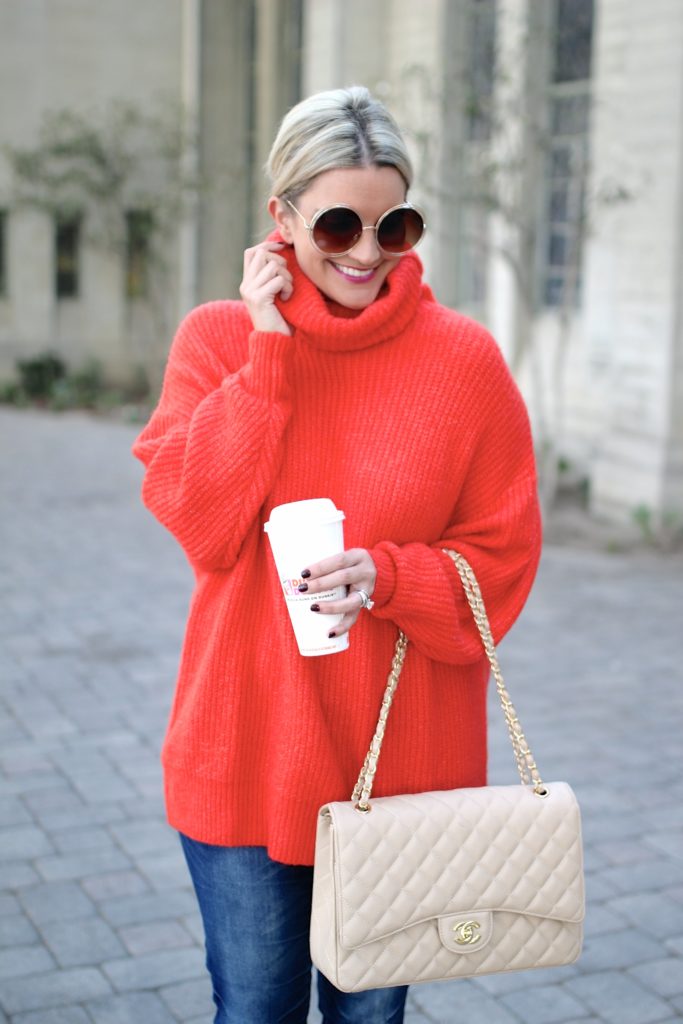 Sweater: Zara (not online yet, but in stores!) | Denim: old | Heels: old (similar) | Glasses: Chloe | Bag: Chanel
Thanksgiving is Thursday, which means we are officially on the bullet train to Christmas. And doesn't it feel overwhelming sometimes? Like, now it's REALLY time to decorate the house, get the tree, buy the gifts, wrap the gifts, attend the parties, bake the cookies, visit the family…ALL THE THINGS.
So take this week to reflect.
Slow down. Breathe. Take it all in. Embrace love, laughter, family, friends, rest & prayer. Smile at a stranger and say thank you for good deeds. Write down what you're grateful for so that you never forget it…then curl up on the couch with a cup of homemade apple cider and send up a prayer of thanks.
Thank you so much for reading Lipgloss and Lace – I'm truly thankful and appreciative of each and every one of you! Happy Thanksgiving! -XO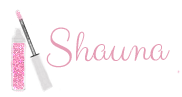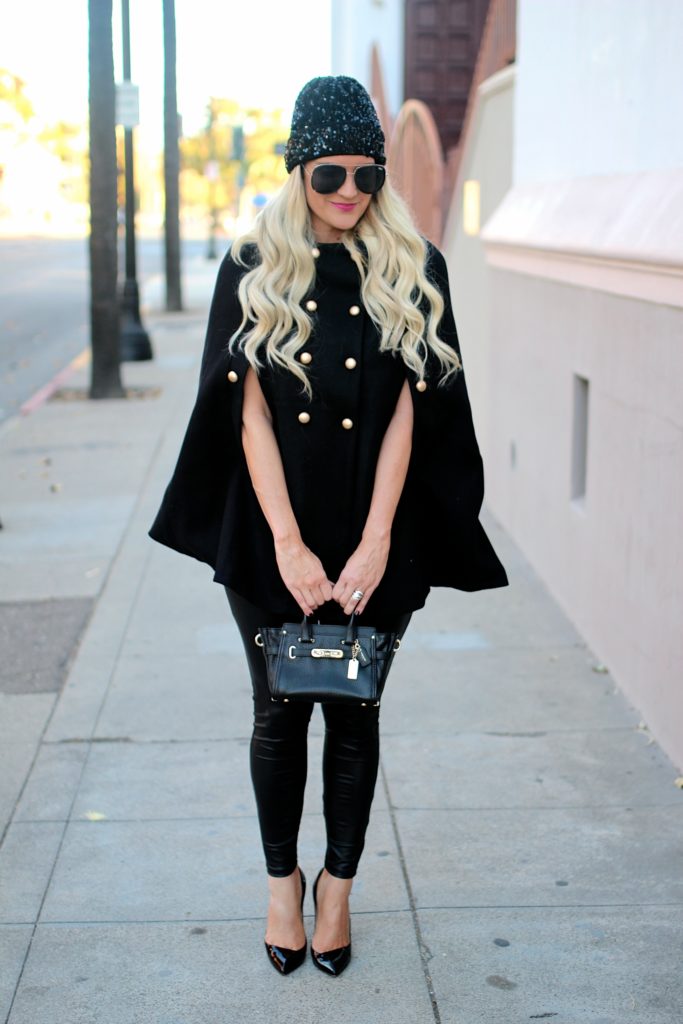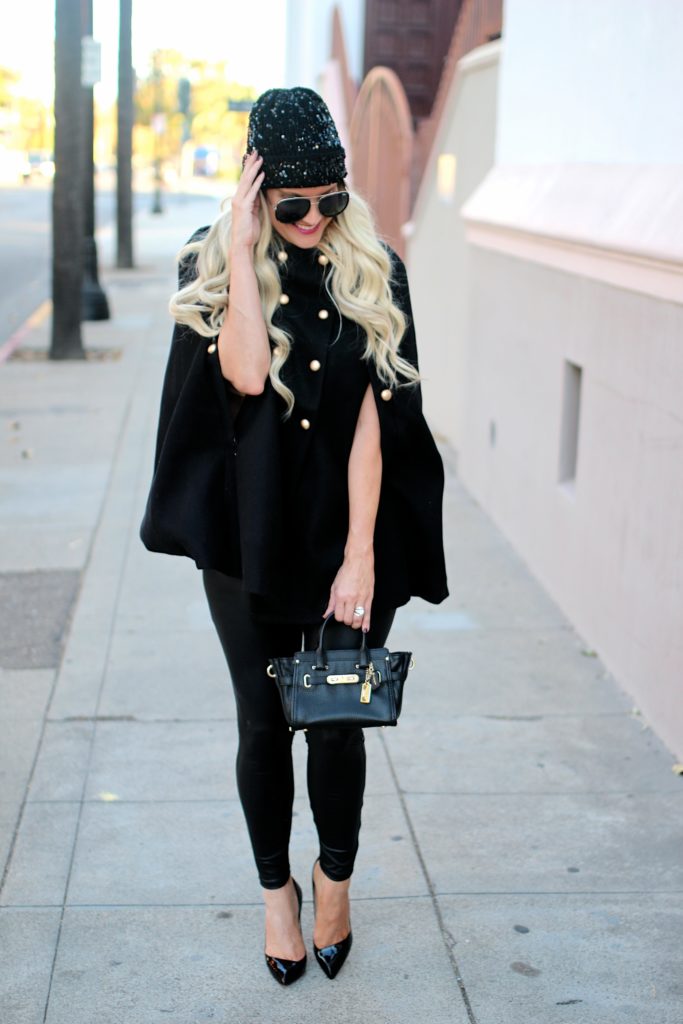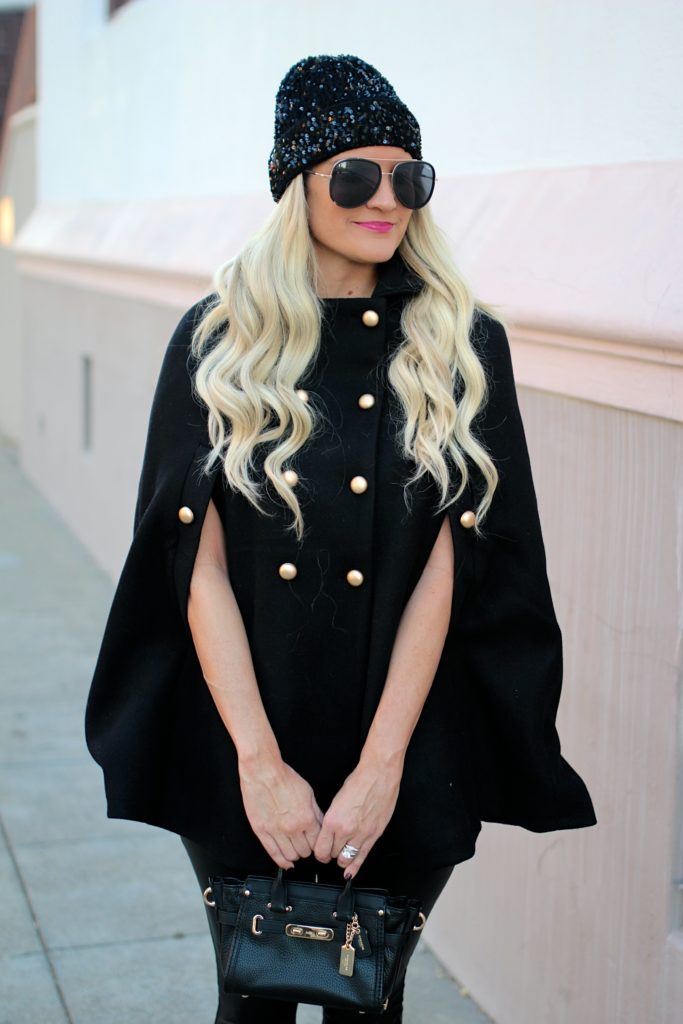 Cape: Chicwish | Pants: Vince Camuto | Heels: Louboutin | Glasses: Quay | Beanie: Zara | Bag: Coach
If you can't tell by now, my favorite thing about Fall/Winter is the outerware!
You all know I love a good faux fur every now and then, but capes are just so chic and classy to me. Chicwish has a WIDE range of capes this season, so if you've never tried one, now is the time! They also carry all of your other Fall basics including scarves, sweaters, and coats (see my favorite coat here from last week). You can easily mix & match your Fall wardrobe with all of the different varieties they offer. 
Hope you guys have a great weekend! Any fun plans? We are shooting a few holiday posts, and I'm so excited! I have so many fun looks that I can't wait to share with you all soon! XO